We have much to be thankful for in Middleburg. From a vibrant and engaged community to our open space and history, there is an abundance of ways to celebrate as 2022 winds down.
The National Sporting Library & Museum, The Byrne Gallery and The Artists in Middleburg have new exhibits on display as well as exciting events. The Middleburg Library's wonderful free programs for all ages offer fresh approaches to education and fun, while the Middleburg Community Center continues to host a plethora of chances to connect and create with your neighbors and friends.
Our restaurants, wineries, brewery, distillery and retail establishments present even more opportunities to gather. With the gift-giving season quickly approaching, November 26th is Small Business Saturday- now is the time to start planning your own local festivities and enjoying local shopping. 
Identity & Restraint: The Art of the Dog Collar
The National Sporting Library's latest exhibit, Identity & Restraint: Art of the Dog Collar, is an innovative traveling exhibition developed in partnership between the National Sporting Library & Museum (NSLM) and The American Kennel Club (AKC) Museum of the Dog in New York, NY. This unique show will present an array of dog collars from the NSLM's collection. The largest publicly held collection of its kind, 187 collars were generously donated in 2015 by Dr. and Mrs. Timothy J. Greenan. Fine art from The AKC Museum of the Dog and American Kennel Club Collections will help develop an understanding of the collar as both art and object and how its design changed in relation to different dog breeds and their uses.
The exhibit runs October 7, 2022- March 26, 2023.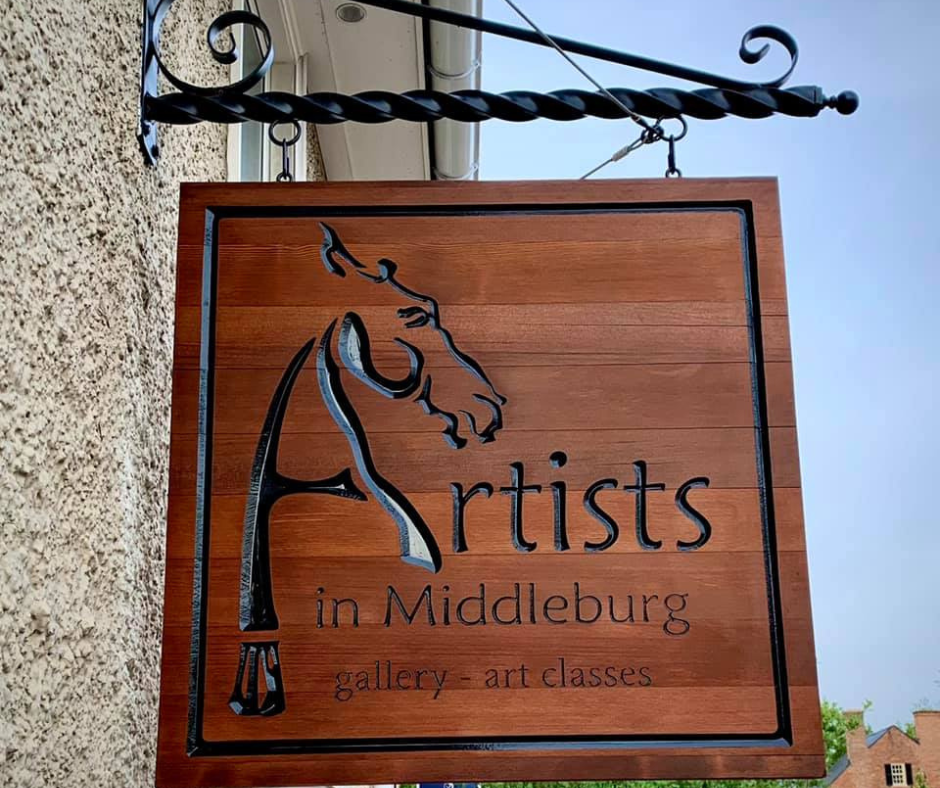 November Exhibit & Classes at The Artists in Middleburg
ART MATTERS and The Artists in Middleburg is bursting with activity this month, continuing to provide art and cultural opportunities that are open to all.
Whether you prefer to browse the Gallery for a new take-home piece or you roll up your sleeves for a painting or drawing class, The Artists in Middleburg has something for everyone.
The "GASP! Great Art, Small Prices" Exhibit opens November 12, while the AiM art education programming includes drawing, painting and sculpture classes, a plein air event at Ayrshire Farm and the AiM Members Art Fair November 19-20.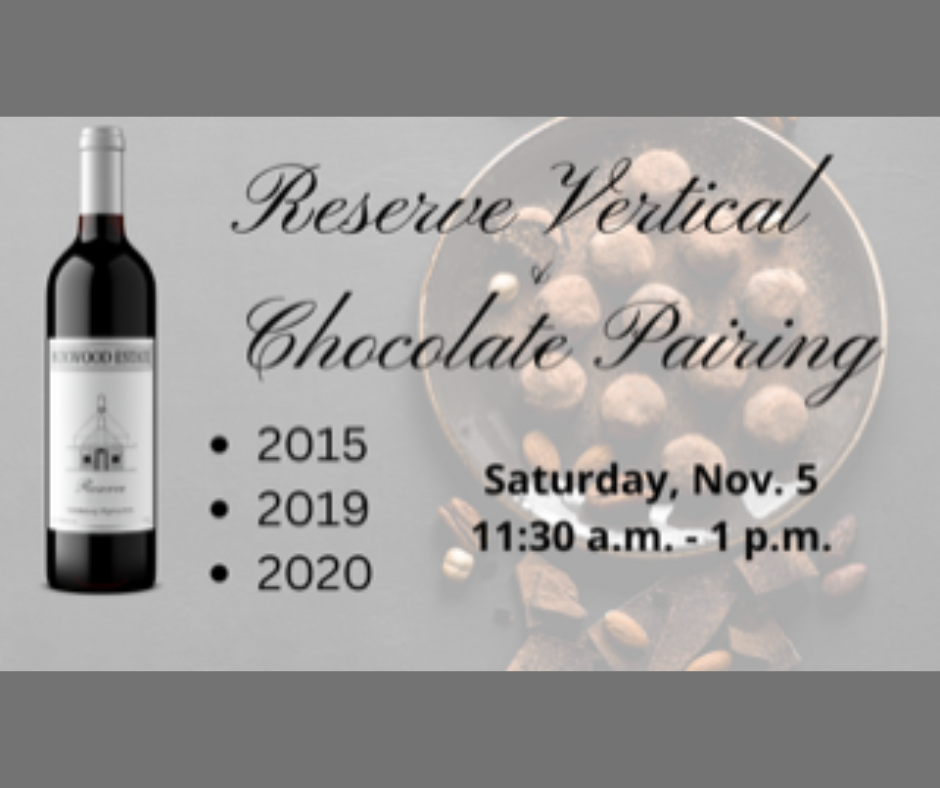 Reserve Vertical Tasting and More at Boxwood Estate Winery: November 5
Join Boxwood Estate Winery for a special wine pairing events this month!
The Reserve Vertical Chocolate Pairing is Saturday, November 5 at 11:30 am and the Thanksgiving Pairing will be held Saturday, November 12 at 11:30 am.
Remember that a Wine Club Membership makes a fantastic gift for yourself or a loved one!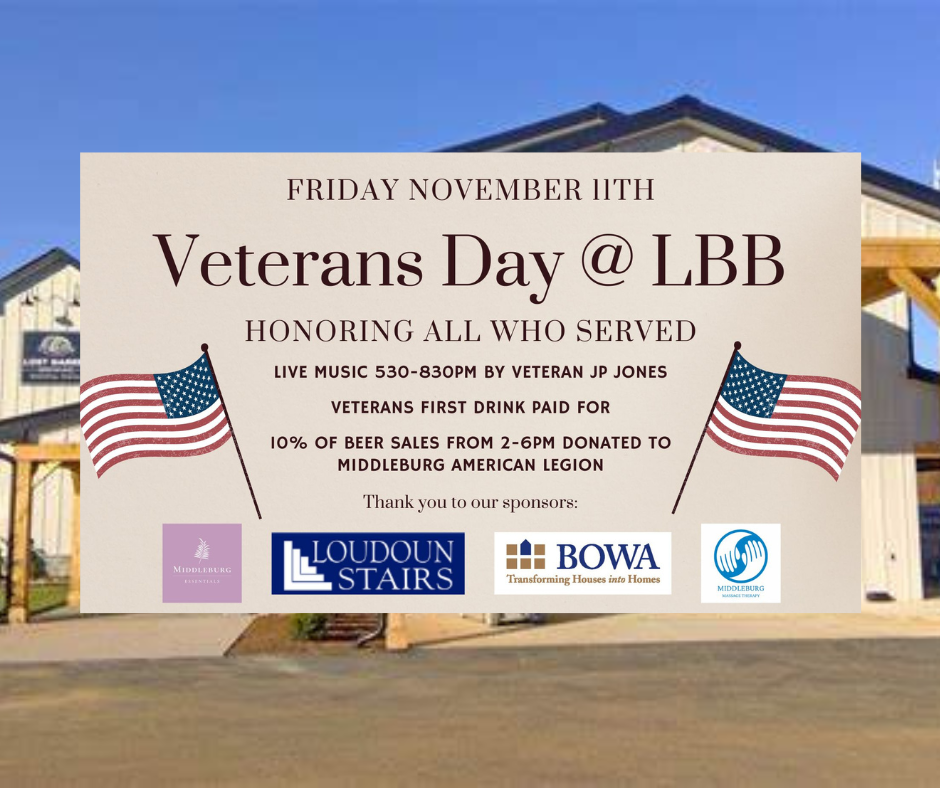 Celebrate Veterans Day at Lost Barrel Brewing: November 11
Join Lost Barrel Brewing Friday, November 11th for Veterans Day from 11 am to 9:30 pm with live music 5:30-8:30pm. Any Veteran's first drink is on the house!
10% of Beer sales from 2-6pm donated to our very own Middleburg American Legion
Questions? Contact events@lostbarrel.com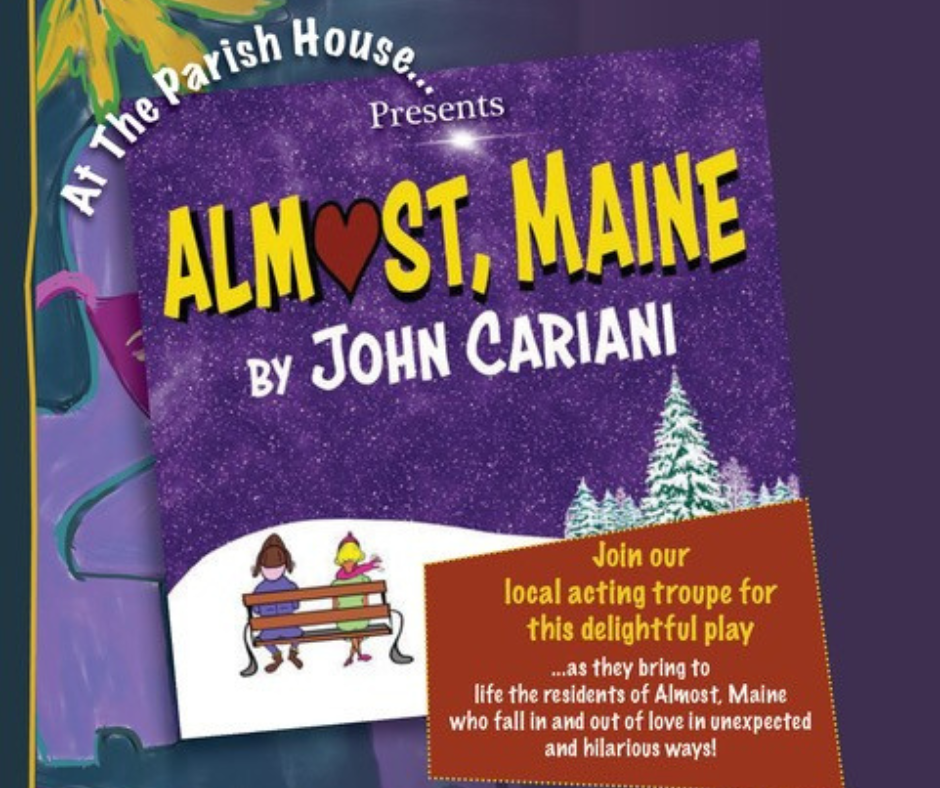 At the Parish House Presents Almost, Maine: November 13
Emmanuel Middleburg's "At the Parish House" Series presents Almost, Maine, an enchanting play about love's ups and downs at 3 pm Sunday, November 13.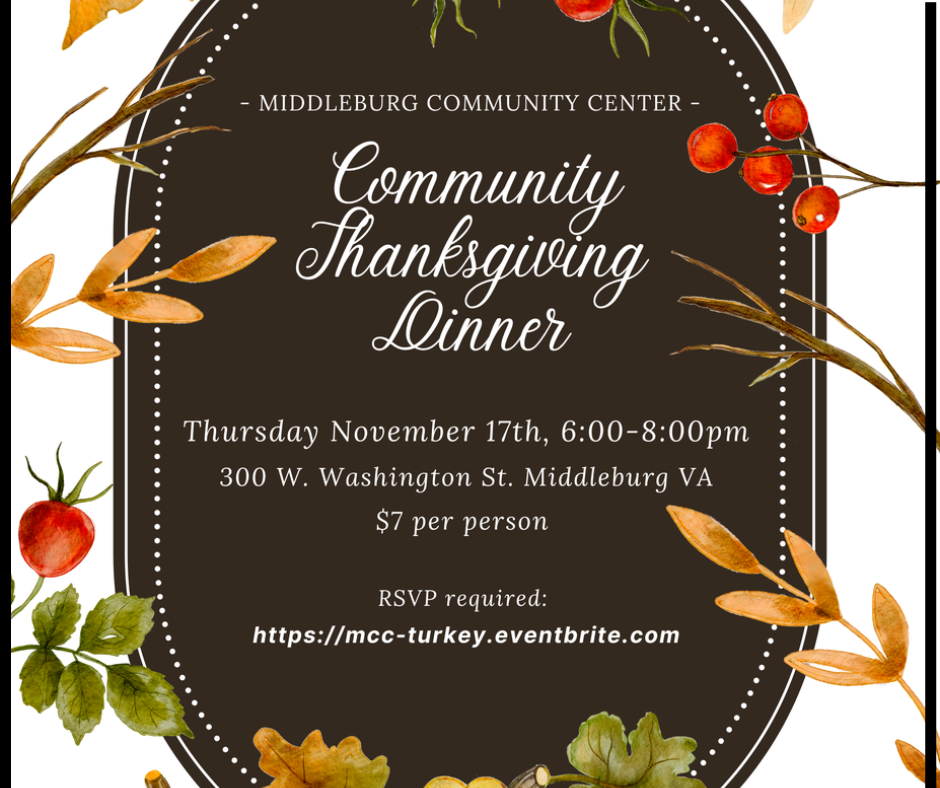 Community Thanksgiving Dinner: November 17
The Middleburg Community Center invites you to the 2022 Community Thanksgiving Dinner. This event is a much-loved community favorite! Start your Holiday Season off early and enjoy Thanksgiving with your friends and neighbors on Thursday November 17th, 6:00-8:00pm. The menu will contain your most loved thanksgiving items, and a movie will be playing on the big screen to help keep the kiddos occupied.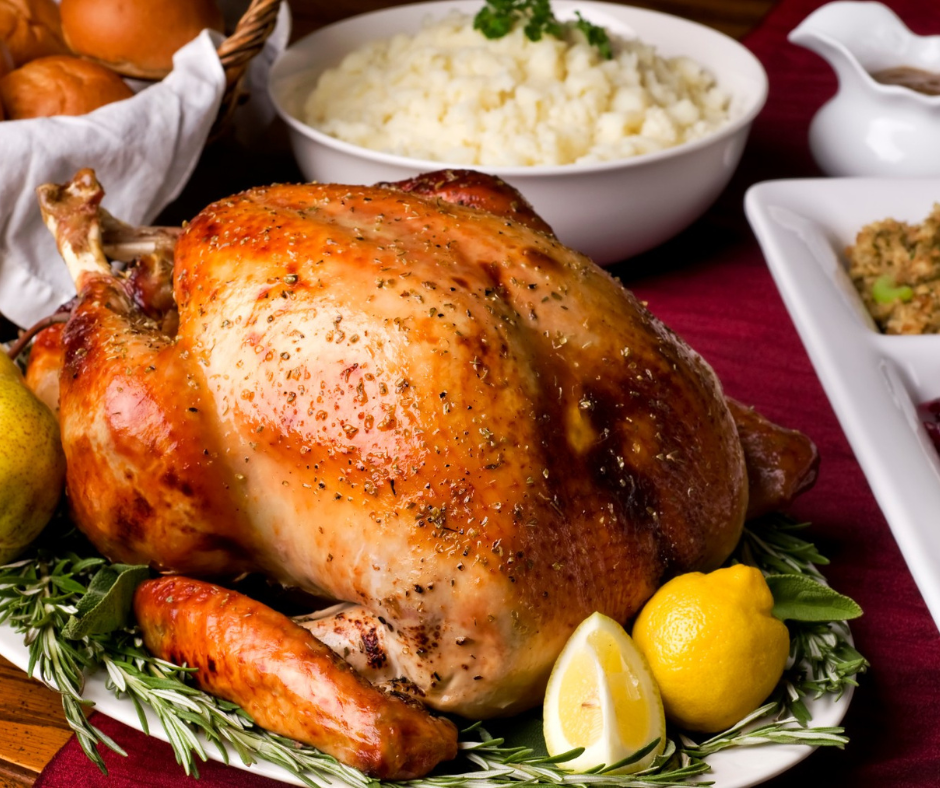 Thanksgiving Grand Buffet at Salamander Resort & Spa
Give thanks this holiday and join the Salamander Resort & Spa for an elaborate Thanksgiving buffet!
Indulge in a cornucopia of flavors, featuring an elaborate raw bar display, pumpkin and sage ravioli, bourbon glazed country ham, roasted turkey, an endless array of delectable desserts and so much more.
Start a new family tradition and come celebrate with us.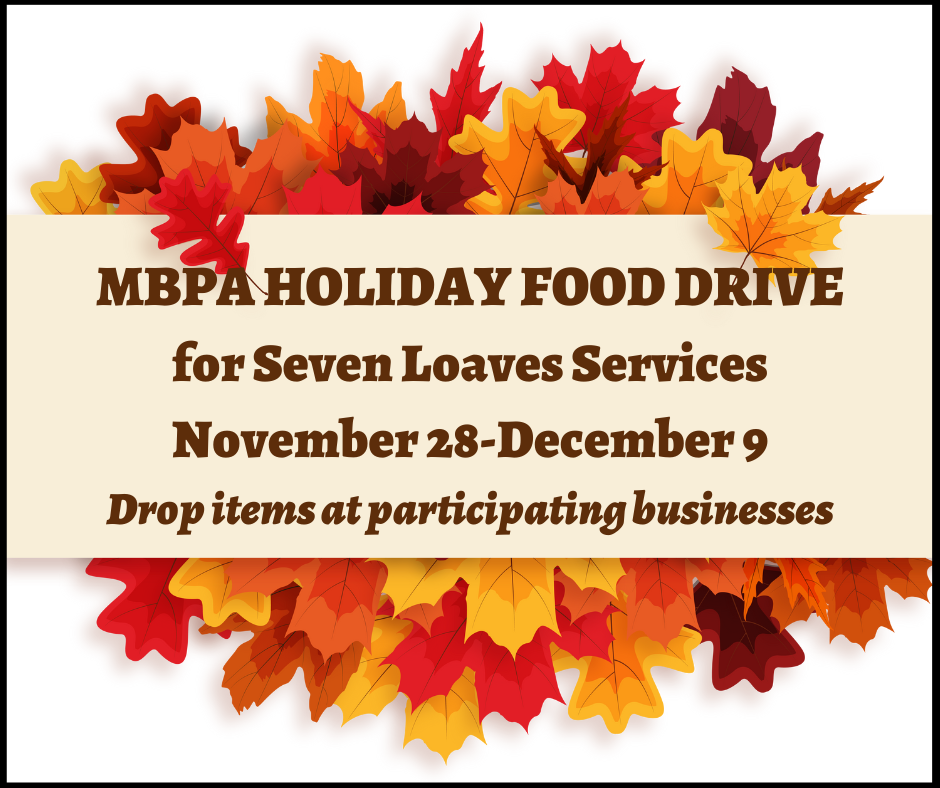 MBPA Holiday Food Drive: November 28- December 9
The Middleburg Business & Professional Association's annual Holiday Food Drive in support of Seven Loaves Services kicks off November 28!
Simply bring donation items to any participating business in the Town of Middleburg or to any of the locations in the Middleburg area.
Donations will also be happily accepted at Emmanuel Parish House, 105 E. Washington St in Middleburg.