Things to Do This Weekend in Middleburg, Virginia
— Our end-of-the-week picks for Sept. 7-9, including the opening of the new "Sidesaddle" exhibit at the National Sporting Library & Museum, NSLM's Polo Classic at Great Meadow, and a military fundraiser at Side Saddle Cafe.
"Sidesaddle, 1690-1935," will present a revealing perspective on the history and culture of women as equestrians, their depictions in sporting art, and the evolution of sidesaddle tack and attire represented in British, Continental and American art from the 17th to the 20th centuries. The exhibition will showcase approximately 50 paintings, works on paper, and sculptures on loan from museums and private collections.
The museum will hold gallery talks at 11 a.m. and 1 p.m.
In celebration of NSLM's newest exhibition, NSLM will host re-enactors demonstrating sidesaddle riding in colonial attire and antique tack from 3-5 p.m. Meet the riders, and see examples of women athletes riding in 4 centuries of art! Free admission to the demonstration and the museum galleries!

Virginia is the sixth-largest apple producing state in the country, creating an abundance of these juicy fruits for the perfect fall treat. We will celebrate these delicious varieties with this class on how to make rustic apple tarts, cider doughnuts, and caramel apple ice cream. $79 per person For reservations, please call 540-326-4070.

It's a Late Night Saturday at 50 West! Enjoy an evening of live music, great wine, and spectacular views as the sun is setting. Shane Gamble will be playing live from 6-8 p.m., and Artemi's Kitchen will be serving delicious Mediterranean dishes to enjoy with your wine! Summer's not quite over — grab a bottle of your favorite wine and enjoy a fun evening at the winery!
Come raise a glass in honor of those who lost their lives on 9/11 and those who made the ultimate sacrifice fighting for our country, while you help Side Saddle Cafe raise funds for our men and women serving in the military. Veterans Shawn Smith and Randy Hughey will be playing some tunes, while burgers and hot dogs will be cooking on the grill!

This event is fun for the whole family with the St. Andrew's Society of Washington, D.C., Pipes & Drums, the U.S. Park Police Horse Mounted Unit, an historic carriage and sidesaddle riders from Colonial Williamsburg Coach & Livestock, a parade of the Orange County Hounds, and more!
As the sole fundraising event for the National Sporting Library & Museum each year, the Polo Classic supports everything we do. From exhibitions to educational programs to preservation of our collections and more, your ticket purchase helps us fulfill our mission: to preserve, promote, and share the literature, art, and culture of equestrian, angling, and field sports. General Admission tickets on sale at the gate that day.
Also this weekend
Upcoming events

Biz Buzz is a monthly networking event held by the Middleburg Business and Professional Association on the second Tuesday of the month, except in January. These events bring local business owners and professionals together to network, provide local businesses with an opportunity to showcase their facilities and services, and help to spread the word about interesting news and events in the Middleburg community.
Members free, non-members $10. Please RSVP via Facebook or by e-mail to info@visitmiddleburgva.com.

Emanuela Stucchi Prinetti, daughter of Piero Stucchi Prinetti and Lorenza de Medici, will join us for a Tuscan cooking class, followed by a dinner with wine pairings from  Badia a Coltibuono. This is truly an exceptional opportunity to experience another region of Italy at Girasole. The cost for the cooking demonstration, dinner and wine pairings is $140 per person, exclusive of tax and gratuity. Guests may also choose to attend only the dinner with wine pairings for $100 per person, exclusive of tax and gratuity.  Additionally, Badia a Coltibuono wines may be purchased at the event. Space is limited so please call 540-253-5501 to make a reservation.

Get ready for our September #PintsforPaws at the Lion & Bull Sports Bar and Restaurant in Haymarket! Lion & Bull will have a Tap Takeover by Flying Dog Brewery and animal trivia! Well-behaved dogs can join their owners on the patio!
Join us for a night of live music by the Anderson Paulson Project on the front steps of the Middleburg Community Center.
Lite bites will be provided and beverages will be for sale by the Middleburg Lions Club. This event is free and open to the public!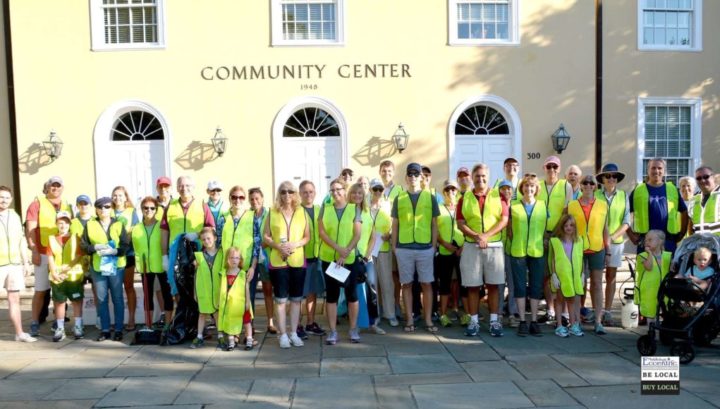 Fall is almost in the air, so it's time to get together once again as a community and give our 230-year-old town a shine. Open to all, we will hit the streets from the community center to the Exxon to clean up the trash, pick up the cigarette butts and have Middleburg ready for fall!
Author Lee Lawrence discusses the abolition efforts of Quakers in the village of Lincoln and their support of refugees. For Grade 9-adult.
Also upcoming
Remember to check our calendar for even more upcoming events!