Weekend Guide for Middleburg, Virginia: Sept. 15-17
— We've packed the weekend with fun again, and with the gorgeous weather we're having, we know you'll want to get outside and enjoy it! The weekend kicks off with the "Concert on the Steps" at the Middleburg Community Center. Saturday will be a great day to spend some time at a local vineyard — you can celebrate the Feast of San Gennaro at Three Fox Vineyards, make your own pottery at 50 West or enjoy the OysterFest at Slater Run Vineyards. Then, dance the night away for a good cause at Sprout's Gallop Gala! And remember to head to Middleburg's United Methodist Church on Sunday for the latest Middleburg Concert Series, "Una Noche en Mexico!"
Enjoy an evening filled with fun! Local musicians The Bottle Shop, treats by Ashbank Farm, drinks by Middleburg Lions and good company of course! See you on the front steps!
Celebrate the Patron Saint of Naples, a huge tradition in New York's Little Italy. They'll have "sausage & peppers" hoagies, as well as artists, crafts and jewelry. Pamela Anderson will be there with her Stella & Dot jewelry; Debbie Cadenas, a local artist, will be there; Jordan Sullivan, an independent consultant for LuLaRoe will be there; and Carly Prow, an independent consultant for Rodan & Fields skincare will be there as well! Father Mark Moretti of Precious Blood Catholic Church in Culpeper will be performing the Blessing of the Harvest at noon. Enjoy live music by The Exaggerations from 1:30-4:30 p.m.!
Enjoy the beautiful background of 50 West Vineyards and wine for sipping while you create your masterpiece! Kiln & Co. of Vienna will be at 50 West Vineyards from noon-5 p.m. to set up a pottery painting studio. Let your creativity flow while you paint wine glasses, cheese platters, bottle holders and more! Pottery pieces will be available for purchase through Kiln&Co. Plus, enjoy live music by Ken Wenzel from 1:30-4:30 p.m. and Mediterranean dishes from Artemi Kitchen from noon-5 p.m. as well.
Enjoy Slater Run's first OysterFest of the year! Tickets are $50/person or $42.50/person for Case Club members. Tickets include all-you-can-eat oysters with four different toppings and four different wine pairings including Thibaut-Janisson Fizz, SRV 2016 Chardonnay, SRV Rosé and SRV Cabernet Franc. RSVP required by Sept. 14 via EventBrite or by contacting Slater Run at info@slaterrun.com or 540-592-3042.
Support Sprout Therapeutic Riding and Education Center's life-changing mission at the 2017 Gallop Gala! This barn black-tie event begins with cocktails and a silent auction, followed by a seated dinner with delicious entrees and sides, a live auction and dancing to a six-piece dance band!
Starting at 4 p.m., the Middleburg Concert Series, in cooperation with the Embassy of Mexico, presents "Una Noche en Mexico," featuring famous Mexican vocalist Dolores Martinez Rengel and accordionist Jose Alfonso Valdez with MCS Artistic Director Alan Saucedo (cello) and Cynthia Saucedo (violin). A tamales and dulces reception sponsored by Briones Auto of Winchester and hosted by Mexican Embassy officials and the artists will follow. Major concert sponsor is Ann MacMahon. The concerts are also made possible by partial grants from the Town of Middleburg, the Virginia Commission for the Arts and the National Endowment for the Arts. Admission is free. For more information, contact middleburgconcertseries@gmail.com or 540-303-7127.
Also this weekend
Upcoming events
Goodstone Inn welcomes dancers of all skill levels for an evening beneath the stars! Stardust Ballroom Dance Studio, located in Berryville, Virginia, will be offering light instruction and beautiful music. Bring your friends, your dancing partner, or come solo to enjoy Goodstone's lighted courtyard with cocktail tables and their indoor wooden dance floor in the upper level of the Carriage House.
As this is open to the public, they will be offering several packages for guests to enjoy:
Moonlight Harvest Dance with heavy hors d'oeuvres and a complimentary glass of Sparkling Wine: $40 per person or $75 per couple
Dining and Dancing Package: Enjoy a 3-course prix fixe dinner in Goodstone's award-winning restaurant followed by the Moonlight Harvest Dance. $225 per couple. Taxes, gratuity, and alcohol not included, only the complimentary glass of sparkling.
Deluxe Experience Package: Enjoy a 3-course prix fixe dinner in Goodstone's award-winning restaurant followed by the Moonlight Harvest Dance, as well as room accommodations in Goodstone's French Farm Cottage, Spring House or Dutch Cottage. Check-in is at 3 p.m. $550 per couple. Taxes, gratuity, and alcohol not included, only the complimentary glass of sparkling.
Click here to purchase tickets.
Let out your inner Lucy or Ricky! This is the original Northern Virginia Wine Country "stomp like Lucy" event. There will also be a Lucy/Ricky/Fred/Ethel costume contest! Movin' On will be playing live music from 1:30-4:30 p.m.! Only 40 teams can compete, so pre-register online.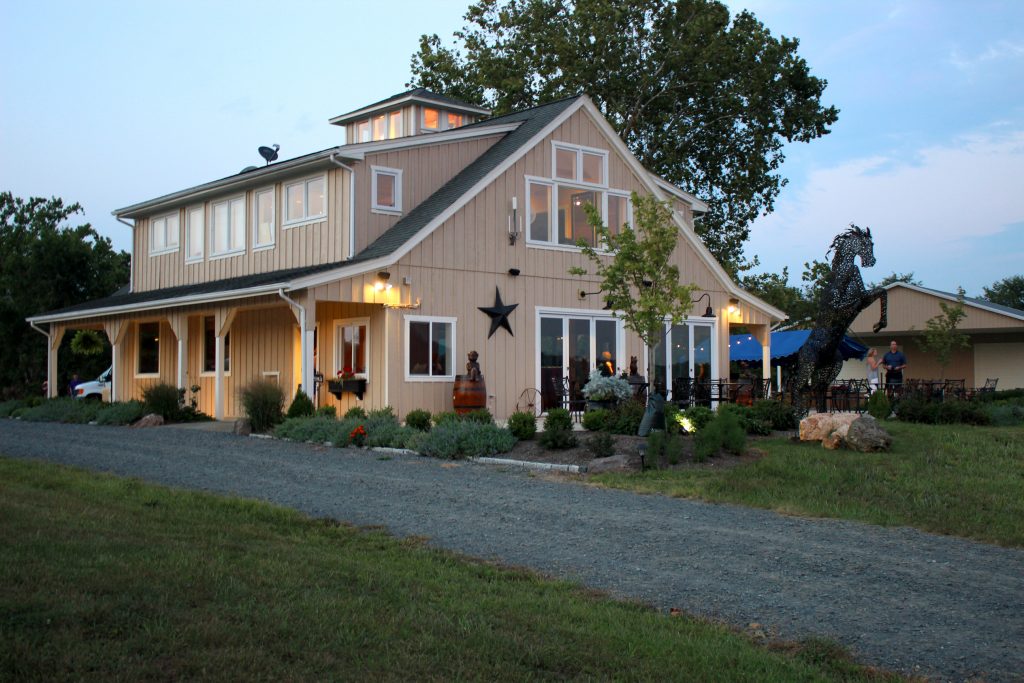 Enjoy a full weekend of events, music, food, great wine, and so much more, including the release of 50 West's newest red wine – Ashby Gap Red – during the anniversary celebration! Plus, they're offering half price tastings Friday through Sunday. Taste all 6 wines, including their newest release, Ashby's Gap Red, at half the price.
The fun starts on Friday with a movie night! Cozy up on the lawn next to a fire pit and watch a special showing of "Bottle Shock" at 7:30 p.m. Middleburg's Popcorn Monkey gourmet popcorns will be sold in the tasting room to enjoy during the movie and Middleburg's Finest Chocolates will be on-site to sell s'more treats and other truffles.
On Saturday, Justin Trawick and the Common Good will be taking the stage from 3:30-6 p.m. Bring your lawn chairs and your dancing shoes – it's going to be a rockin' good time! And bring an appetite because Parallel Food Truck will be serving up decadent dishes for purchase from noon-6 p.m. 50 West will also be raffling off goodies like wine & cheese baskets, a cork purse, and 50 West Wine Maker for a Day tickets. No purchase necessary but you must be present to win!
On Sunday, you can enjoy a club member for a day pass and check out their members-only exclusive club house. If you absolutely love the club house (and we know you will!), then you can sign up for the 50 West Wine Club and receive your member discounts the same day!If you're already a member, bring your friends and you'll receive 50% off a bottle of wine when they sign up for the club. Plus, you can listen to live music by Gary Smallwood will be in the tasting room from 1:30–4:30 p.m. and purchase delicious Mediterranean dishes from Artemi Kitchen from noon-5 p.m.
Also upcoming
Remember to check our calendar for even more upcoming events!