13 Things to Do in Middleburg This Weekend
— Check out our picks for May 31-June 2, including the Equestrian Festival at The Middleburg Barn, "A Romantic Afternoon" concert at Middleburg United Methodist Church, and more.
Enjoy competitive show jumping, craft beer and wine tasting, live entertainment on two stages, an antique auto exhibition, pony rides for the kids, and fantastic food from some of the best food trucks in the region! General admission currently just $5. Upgrades available for beer and wine tasting and a festival after-party.
The Middleburg Barn Equestrian Festival benefits in part the Middleburg Humane Foundation. Get your tickets online now!
Julian Schwarz (cello) and Marika Bournaki (piano) are a dazzling musical pairing each with outstanding credentials, and together a prize-winning and charismatic duo. The concert will be followed by a reception sponsored by Blackwater Beef.
Click here to buy tickets.
Also this weekend
Upcoming events
Take a trip with John Daum to Welsh castle country where you will visit some of the monumental castles built by Edward I as part of his "Iron Ring." Now considered the peak of Medieval castle building, these castles and their accompanying towns offer a fascinating glimpse into the past. Daum has been teaching Renaissance art history for over 20 years at The Hill School in Middleburg and has traveled extensively throughout Europe leading family and adult trips as part of his travel company, Daum Adventures. For Grade 9-adult.
Come celebrate the end of the school year as the Middleburg Community Center kicks off their Saffer Summer Series. This event is free and open to the public!
They will have a DJ, pizza dinner, Moo-Thru ice cream truck, bouncy house obstacles in the ballfields, and free pool entry!
Event details:
4-5:30 p.m.: Pizza dinner in the picnic grounds
4-7 p.m.: Moo-Thru ice cream truck, bouncy house obstacles in the ball field and DJ
5-7 p.m.: Free pool entry (limited to 130 guests)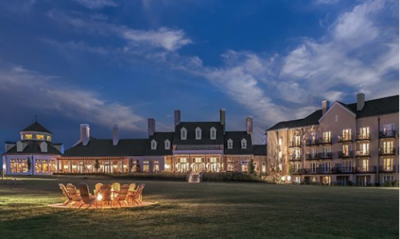 Grab your family, friends and a blanket for a movie under the stars this summer. Join us on Salamander's Grand Lawn for "A Dog's Way Home." Movie starts at 8:30 p.m.
Looking for a European summer vacation? Join certified cheese professional Katie Park on a special exploration of cheeses from France, Italy, Spain, Holland and the United Kingdom! The birthplace of so many great cheeses, Europe has much to offer to captivate your palate. Come enjoy this sensory whirlwind tour as we sample cheeses paired with your favorite Greenhill wine.
Tickets are $35 a person. Includes 5 cheese and wine pairings.
Also upcoming
Please check out our online calendar for even more upcoming events!