Middleburg's Weekend Guide: March 17-19, 2017
— It's St. Patrick's Day weekend and we're ready to celebrate in Middleburg! Get your fill of Irish fare and the traditional Celtic entertainment at Gold Cup, get hooked on fly-fishing at the National Sporting Library & Museum or see just how lucky you can get at Tri-County Feeds, Fashions, Finds' first-ever "Spring Cleaning" sale. Share your favorite Middleburg memories with us using #MiddleburgMoment
Experience an exciting St. Patrick's weekend at Gold Cup, with classic Irish fare paired with the best Irish whiskey and traditional sounds of live Celtic entertainment. This will truly be a weekend to remember!
Show your Irish spirit this weekend by wearing green, and Three Fox will give you two complimentary tastings with the purchase of a bottle!
Tri-County Feeds, Fashions, Finds' first ever "Spring Cleaning Event" brings St Patrick's day weekend even more luck! Preview spring fashions, save huge on seasonal finds in every department, enter to win great door prizes and enjoy light refreshment for sale by Hidden Julles "The Rambler" Food Truck!
Join us in the Thirsty Fox Lounge for the Second Round and award-winning wine! Wear your favorite team's jersey or colors and get 10% off bottle purchases.
Celebrate the release of Boxwood's premier vintage of Sauvignon Blanc and Rose 2016! They will be featuring live music with Tommy Rothman from 2-5 p.m.
The National Sporting Library & Museum is pleased to announce its first public fly-fishing event, Hooked! Come be a part of the legacy and celebrate the changing tides and enduring bonds of fly-fishing!
The event includes a fly-tying demonstration at 11 a.m., roundtable discussion at 1 p.m. and fly-casting demonstration at 3 p.m.
Cost: $25 for an all-inclusive ticket, $15 for an NSLM member all-inclusive ticket; or $10 admission for one session: tying demo, the roundtable or the casting demo. Click here to buy tickets.
This is not your mother's hot cocoa. Top off your favorite winter beverage with your choice of marshmallow vodka, Baileys, Brandy or Peppermint Schnapps. Grab your cup and cozy up next to the fireplace! $14 per beverage.
Spend your Saturday afternoon discovering a new talent or honing your skills in a new way, under the direction of artist Mary Jennings. Choose one theme for the day; first guest to sign up determines what class will be offered. Two-person minimum. For reservations, please call 540-326-4060.
Enjoy a traditional Irish meal paired with the best Irish whiskey at Harrimans Cooking Studio. Salamander's chef will be on-hand preparing and explaining how he made each dish while you enjoy the traditional delicacies. You'll also go home with the recipes from chef's private recipe book. $95 per person. For reservations, please call 540-326-4070.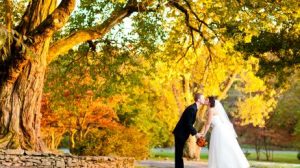 Did the new year bring you a new ring? Whether you are starting to plan your dream wedding or are just looking for those last little details, the Weddings in Loudoun Open House is just for you. This open house is a county-wide, self-guided tour that gives you a chance to visit wedding venues and meet with service professionals such as caterers, photographers, florists and more.
The tour allows you to choose your stops and set your pace as you explore Loudoun's beautiful countryside. As an added bonus, each venue and vendor will be offering a grand prize drawing for you to sign up for with a visit! Begin with a complimentary continental breakfast at West Belmont Place from 10 a.m.-noon.
Participating Middleburg venues include Briar Patch Bed & Breakfast Inn and Greenhill Winery & Vineyards.
Questions? Contact Dana Henry at henry@visitloudoun.org.
Each month, Gold Cup will feature a different local winery and offer tastings of its featured wines. This month's featured winery is 50 West Vineyards.
Join Carol Erickson of PaintNite in the Thirsty Fox Lounge and paint a pair of wine glasses. Click here to register.
Next week
Foxcroft School, known for its excellent STEM program and commitment to preparing students to work in fields where women remain underrepresented, will present a screening of the documentary film She Started It and a presentation by one of the young entrepreneurs it features, Sheena Allen.
Allen, Foxcroft's 2017 Goodyear Fellow, will answer questions about the film and her journey from college senior with a good idea to an owner of two successful mobile app companies and a tech consulting business just six years later.
The public is invited to attend the event, which will be held in the Engelhard Gymnasium on the campus of the Middleburg, Virginia, girls boarding and day school. Admission is free but seating is limited. Please RSVP to 540-687-4510 or events@foxcroft.org by March 17.
Enjoy a fun way to paint and create your own original piece of work while sipping on delicious local wines. Two-person minimum. $85 per person, ages 21 and up. For reservations, please call 540-326-4060.
Each week, the National Sporting Library & Museum gives attendees a personalized sneak peek at traveling exhibitions, permanent collections, and the fascinating stories behind the works in the museum's art collections. No two tours are alike, so come back for more! Reservations are not required and admission is free. Bring your friends! Gallery Talks are every Wednesday at 2 p.m.
Enjoy an evening with Opus One Winery. Taste fine wine paired with exquisite food presented by Sommelier Stephen Elhafdi and his culinary team. The dinner menu includes a chef's selection of passed canapés, roasted squab, braised rabbit, wild boar and a trio of cheese. The cost is $185 per person, not including tax and gratuity. Please call the inn at 540-687-3333 for further details and to make reservations.
The Middleburg Community Center and MCC's Board of Directors invites you to the eighth annual senior luncheon, which includes food, bingo and a jazz band. RSVP by March 20 to 540-687-6373 or olivia@middleburgcommunitycenter.com.
Upcoming Events
Shakespeare in the 'Burg is celebrating its fourth year in Middleburg! The festival brings the plays of William Shakespeare alive in the bucolic countryside of Virginia. In addition, the festival hosts workshops in stagecraft and acting, and a One Act Playwriting Competition, with public readings or performances of the winners!
This year, Shakespeare in the 'Burg is pleased to present its new theater company, Shakespeare in the Square, coming to us from New York City. They will also have a special performance by Nicolo Whimsey for our younger fans.
Beginning at 8 a.m., a 5K will leave from the Middleburg Community Center, run on Foxcroft Road to Glenwood Park and return to the community center for awards. You can register for the 5K and 1-mile fun run here.
At 9:30 a.m., the fair's activities will begin inside the Middleburg Community Center. The goal of the vent is to showcase and introduce many options currently available locally. The community center will be filled with opportunities to hear from experts and sample healthy activities and food. In coming together, we will be able to include our entire community and encourage additional options, such as walking and running groups.
The event will include booths where local businesses and community groups can provide information and interact with the community, talks beginning on the hour for approximately 20-25 minutes, allowing 10 minutes for Q&A, and 20-30 minute exercise classes beginning on the half-hour.
If you would like to participate in any way, please contact:
Come and enjoy Camp Salamander on spring break. Every day has its own fun and unique theme.
Monday: Ahoy Mateys! Learn how to be a pirate by searching for gold, creating your own treasure map and building a cardboard pirate ship.
Tuesday: Nutty about Nature Day- Discover and learn about nature with nature scavenger hunts and build your very own bird house.
Wednesday: Rock & Roll Day- Do you love to sing and play music? Freeze dance, guitar lesson.
Thursday: Super Hero Day- Save the day and become a super hero by creating your own super hero cape, make your way across a daring obstacle course and a variety of pool games that require super powers.
Friday: Track and Field Day- Come earn yourself a Gold medal. Play in sports and competitions that will work up a sweat and after you can cool down with a delicious ice cream sundae.
$100 per child per day (includes lunch). 2-hour and half-day options also available. Ages 4 to 10 years old. For reservations, please call 540-326-4060.
Grab your smart phone and join a team to find the egg-filled caches hidden throughout the property. The first person to reach the caching station wins the grand prize! $45 per team. For reservations, please call 540-326-4060.
Find more upcoming events on our calendar.