Middleburg's Weekend Guide: July 28-30, 2017
— July is going out with a bang in Middleburg! This weekend, we've got a free outdoor concert at the National Sporting Library & Museum featuring the Silver Tones Swing Band, an RdV Vineyards Dinner at Salamander Resort & Spa, Twilight Jumpers at Great Meadow, the King Street Oyster Truck at Boxwood Estate Winery, and more. Here's our weekly roundup of the events you won't want to miss!
Please bring your chairs and join us for great music by the Silver Tones Swing Band, family fun, and food from Hammerdown BBQ on the National Sporting Library & Museum lawn. Concerts and museum admission are free and open to the public 6-8 p.m. Picnics are welcome but no glass containers or outside alcohol is permitted. Cash bar featuring wine from Greenhill Winery & Vineyards and beer.
RdV wines rival the best the world has to offer. They are the culmination of raw science, hard work and pure artistry. Enjoy these exclusive Bordeaux-style blends paired perfectly with a four-course meal prepared by Executive Chef Ryan Arensdorf. The intimate setting of Salamander's private dining room at Harrimans is the perfect atmosphere to discover the intricate art of RdV's winemaking and the hard work, expertise and passion that goes into every bottle. $150 per person. For all reservations, please call 540-326-4070. Prices do not include tax and gratuity.
Bring your friends and family and enjoy a Friday night in the country watching equestrian riders compete for over $5,000 in prize money at Twilight Jumpers. The child/adult class begins at 7 p.m., followed immediately by the main class, where riders compete for bragging rights and a $5,000 cash prize. Bring food, drinks, picnics and enjoy a tailgate spot ringside where you can get right up close to the action. Stay after the riding to enjoy music and dancing in the outdoor pavilion. Gates open at 6:30 p.m., and entry is $40 per car, which includes all occupants.
Create enchanting champagne cocktails paired perfectly with a selection of caviar for tasting. It will be the perfect activity for a stylish summer! $79 per person. For reservations, please call 540-326-4070.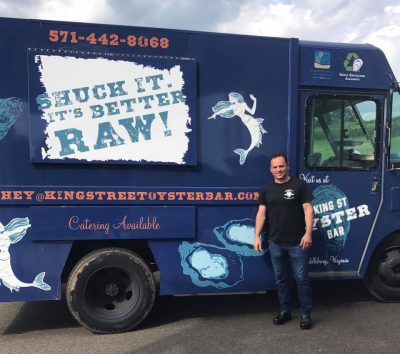 King St. Oyster Bar at Boxwood Estate Winery: July 29 | 1-5 p.m.
The King Street Oyster Truck will be at Boxwood serving up oysters, crab cakes and lobster rolls. Yum!
Also this weekend
Next week
The Middleburg Police Department and the Middleburg Community Center are joining in celebrating the 5th Annual National Night Out. There will be food, entertainment, music, demonstrations, prizes, games and much more!
Hunt for some wonderful bargains for yourself and your loved ones this weekend while experiencing the small town charm of Middleburg during our 11th annual Sidewalk Sale on Aug 4-6! The sale will be held Friday and Saturday from 10 a.m.–5 p.m. and Sunday as posted by shops.
The sale coincides with Virginia's tax-free weekend. From Aug. 4-6, you can buy qualifying school supplies, clothing, shoes, hurricane and emergency preparedness items, and select energy-efficient products without paying state and local sales taxes on those items. You can find out more about what items qualify for the tax exemption here.
This event is sponsored by Middleburg Bank, the Town of Middleburg and the Middleburg Business and Professional Association.
The typical dinner and a movie date night just got updgraded. Bring your blankets and chairs and sit under the stars for a one-of-a-kind outdoor movie date night. With Salamander's delicious picnic baskets and wine avaiable for purchase, it is guaranteed to be a night to remember. On Aug. 4, fall into love with Harry and Sally as you see their love story unfold. Not your average date night movie or chick flick, "When Harry Met Sally" is the romantic comedy that appeals to everyone. Make sure to stock up on popcorn and wine and enjoy every bit of this original film.
Also next week