— Check out our weekend guide to what's happening in Middleburg Jan. 31-Feb. 1, including a tailgating class at Salamander Resort & Spa, a wild game dinner at Market Salamander, and more.
Tailgating 101 at Salamander Resort & Spa: Feb. 1 | 2-4 p.m.
Just in time for the Big Game, you will be able to tailgate like a professional after this class! Learn how to make homemade beer-braised bratwurst, buffalo wings and crockpot chili with a kick. $79 per person. Reservations required; please call 540-326-4070.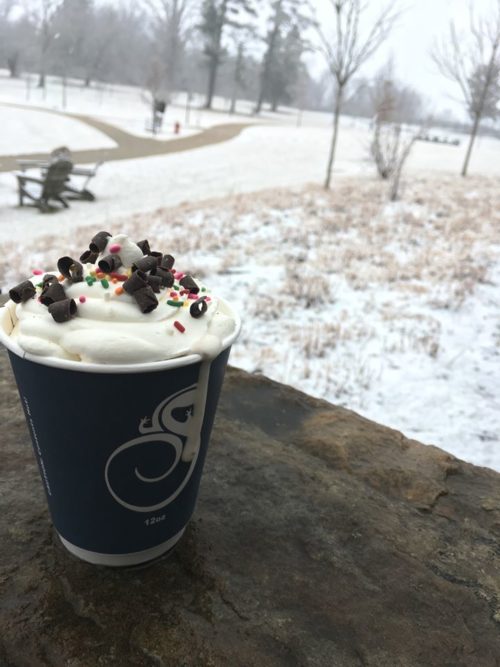 Hot Chocolate Bar at Salamander Resort & Spa: Saturdays | 3-5 p.m.
When the weather outside is frightful, join Salamander for a delightful hot chocolate! This winter in the living room, they are offering a hot chocolate bar with all the fixings including marshmallows, candy, whip cream, sprinkles and so much more. For the adults, add some extra warmth to your cup with a variety of libations. Prices vary.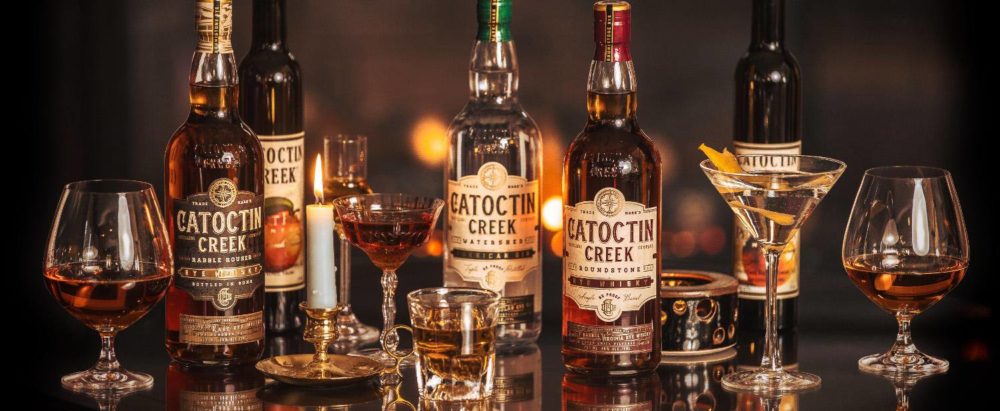 Catoctin Rye Cocktails & Wild Game Pairing Dinner at Market Salamander: Feb. 1 | 6:30-8:30 p.m.
Indulge in Market Salamander's five-course wild game dinner paired perfectly with cocktails created by Catoctin Creek Distillery. Rye Whiskey's spicy tones and intense flavor complements gamey meats and will create a uniquely enhanced combination for this intimate dinner. $99 per person. Price does not include tax and gratuity. For reservations, please call 540-687-9726.
Also this weekend
Upcoming events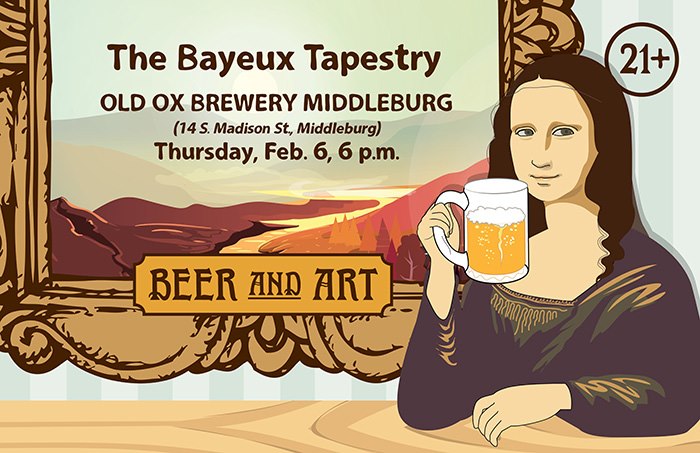 "Beer and Art: The Bayeux Tapestry" at Old Ox Brewery: Feb. 6 | 6-7 p.m.
The Bayeux Tapestry is one of the greatest female works of art and a valuable historical document that illuminates the world of England and France in the months leading up to the epic Battle of Hastings. Join Hill School art history teacher John Daum as you travel back to the year 1066 with the Bayeux Tapestry as your guide.
Join Loudoun County Public Library and Loudoun Arts Council at Old Ox Brewery Middleburg for this free program for adults 21+.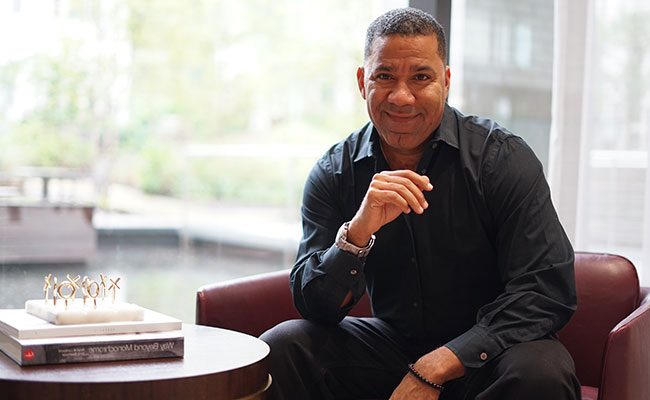 Jazz Weekend with Marcus Johnson at Salamander Resort & Spa: Feb. 7-9
Join Salamander Resort for a special weekend of events with Billboard-ranked musician Marcus Johnson. Weekend options include a once-in-a-lifetime opportunity on Feb. 7 at 7 p.m. to meet and greet jazz legend Marcus Johnson while you enjoy delicious seasonal cocktails and hors d'oeuvres, an interactive truffles and bubbles class with Executive Pastry Chef Jason Reaves and Marcus Johnson in the cooking studio on Feb. 8 at 2 p.m., a cabaret-style dinner and live performance with Marcus Johnson on Feb. 8 at 6 p.m., and a farewell brunch on Feb. 9 at 10:30 a.m. For reservations and more information about any of these events, please call 540-326-4070.
There is also an opportunity to take a flow yoga class with Marcus Johnson on Feb. 8 at 8 a.m. All ages and experience levels are welcome. For reservations, please call 540-326-4060.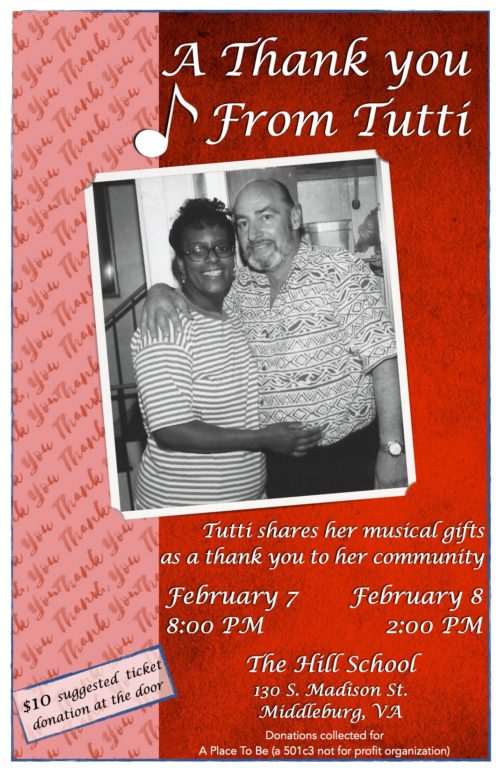 "A Thank You from Tutti" at The Hill School: Feb. 7 & 8
Don't miss this chance to hear Tutti Perricone and celebrate Vincent Perricone, love and music!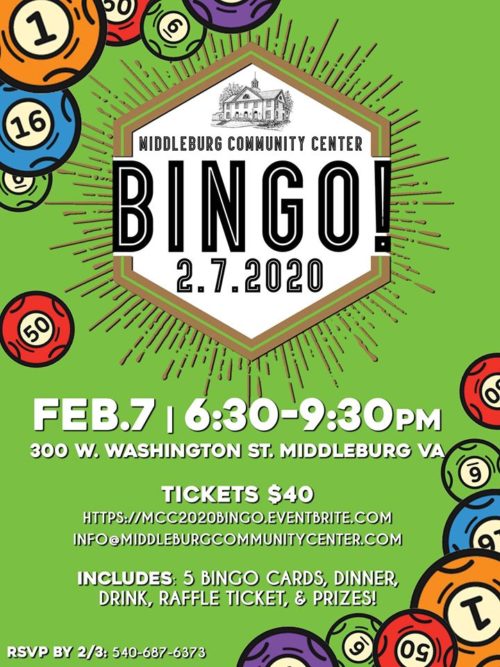 Cabin Fever Bingo at the Middleburg Community Center: Feb. 7 | 6:30-9:30 p.m.
Come to the Middleburg Community Center for an annual favorite, Bingo night! Tickets are $40 and include bingo cards, dinner, a raffle ticket, and a drink ticket. Additional drink tickets for an open bar, bingo cards and 50/50 raffle tickets will also be available for purchase. Prizes will be awarded to Bingo winners! This event sells out every year, so RSVP by Feb. 5 to info@middleburgcommunitycenter.com or call 540-687-6373.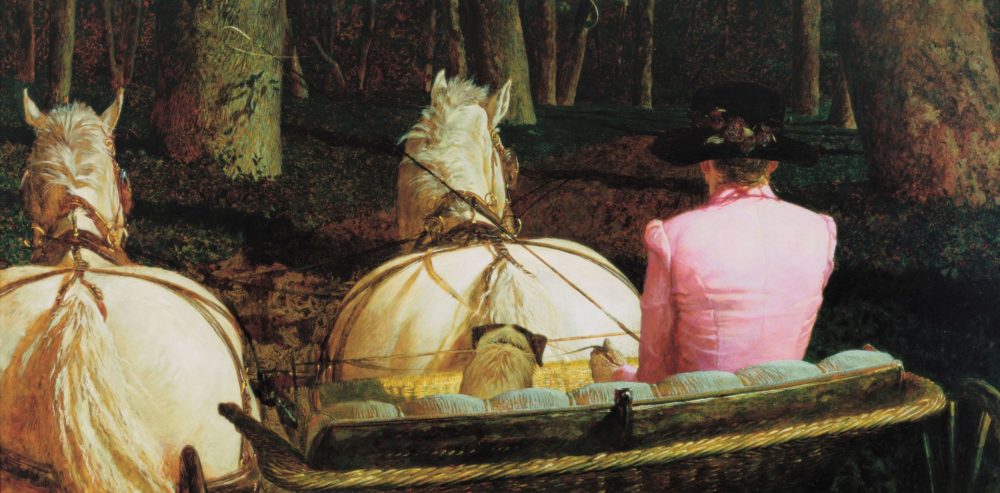 "Phyllis Mills Wyeth: A Celebration" at the National Sporting Library & Museum: Feb. 8-June 28
On view at the National Sporting Library & Museum, a memorial exhibition celebrating the life of Phyllis Mills Wyeth (November 13, 1940–January 14, 2019) features a selection of portraits created by her husband, contemporary artist Jamie Wyeth. From the late 1960s, and throughout the decades of their marriage, Phyllis Wyeth was his muse. He created intimate works that capture moments from her life. On view Feb. 8–June 28, 2020, "Phyllis Mills Wyeth: A Celebration" reflects Phyllis' vibrant spirit and love of nature, horses, and her ever-present dogs. She lived here until she married and is the sister of Mimi Abel Smith.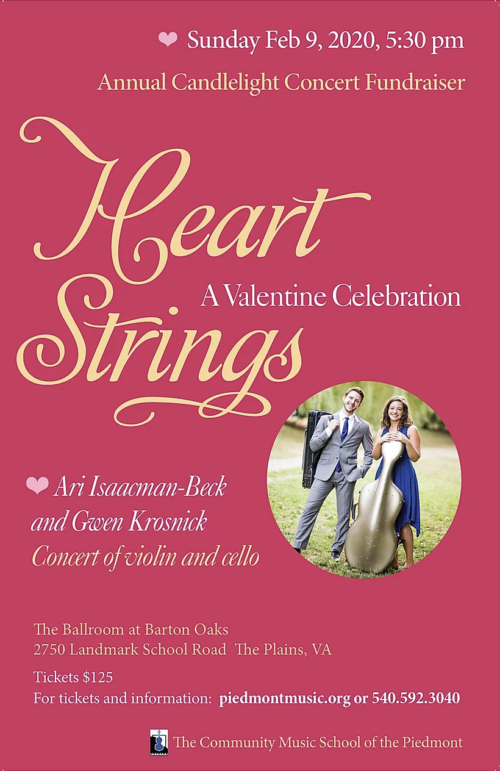 "Heart Strings – A Valentine Celebration" at Barton Oaks: Feb. 9 | 5:30 p.m.
Join the Community Music School of the Piedmont on Sunday, Feb. 9, at 5:30 p.m. at Barton Oaks for their 13th Annual Candlelight Concert featuring acclaimed string duo Ari Isaacman-Beck and Gwen Krosnick. Isaacman-Beck and Krosnick bring "high-octane, exuberant, brilliant music-making to audiences across the U.S., Europe, and Asia."
This concert is their sole, annual fundraising event and raises critically need scholarship and outreach funds for CMSP.
Visit piedmontmusic.org or call 540-592-3040 for more information. Purchase tickets at ticketleap.com.
Also upcoming