Middleburg's Weekend Guide: Feb. 10-12, 2017
— Just when we thought it was spring, winter has arrived again. Brrr! No matter. We have plenty to keep you busy and warm this weekend, including lots of fun events to celebrate with your Valentine. We've listed our favorites below, but whatever you end up doing, remember to share your #MiddleburgMoment with us!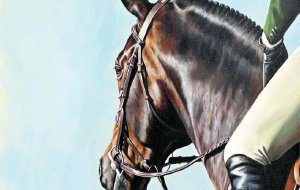 If you want to become a strong rider and enhance your ability to move with your horse, cardio is important. Riders are endurance athletes that need symmetrical strength to create a balanced seat. Learn techniques to increase your stamina so you can maintain balance in ever-changing conditions. Cost: $45 per person. For reservations, please call 540-326-4060.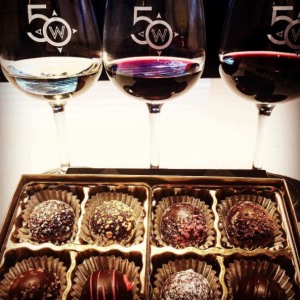 50 West Vineyards will be transforming the Tack Room to a heartfelt ambiance of wine, cheese and chocolates plus a Featured Flight to make it easy! Their '15 Petit Manseng, '13 Petit Verdot and newly released '14 Aldie Heights Cuvee will be perfectly paired with chocolates by Middleburg's Finest Chocolates! Middleburg Chocolates will be joining 50 West on Saturday to provide samples and sales for impromptu gift ideas for the loved ones in your life. And, while you're enjoying handcrafted Virginia wine and chocolates, you can sit back and relax to the live tunes of David Davol on Saturday and Gary Smallwood on Sunday!
Treat someone special to a fun and romantic Valentine's Weekend at Three Fox. Their tasting room is cozy and romantic, so share a bottle of wine with the one you love and let the romance of Three Fox warm your heart and soul on this February weekend! They will have a very special hot chocolate made with Three Fox Cabernet Franc and their Thibaut-Janisson Sparkling Chardonnay will be 10% off all weekend.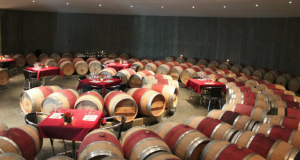 Fall in love … in Cupid's Cave at Boxwood! Enjoy wine, cheese and chocolate with your sweetheart. $55 per couple. Email contact@boxwoodwinery.com or call 540-687-8778 to reserve a table.
For $26 per person, you can enjoy four exotic flavored hand-made truffles from Zoe's Chocolate Co., each carefully paired with four of Greenhill's award-winning wines while a wine educator guides you through them in a seated tasting.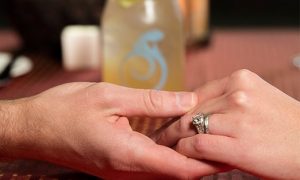 Harrimans Virginia Piedmont Grill is offering an an enchanting five-course dinner created by Executive Chef Ryan Aresndorf, followed by a sweet finish crafted by Executive Pastry Chef Jason Reeves. The cost is $300 per couple, with an additional $60 for a wine pairing. This special menu will be served Feb. 11-14. For reservations, please call 540-326-4070.
You can also celebrate Valentine's Day with your special someone at Goodstone Inn & Restaurant, winner of a 2016 OpenTable Award for the Most Romantic Restaurants in America. This four-course menu will be offered Feb. 11-14 and includes items such as local oysters, seared pheasant and raspberry mousse. The cost is $120 per person, exclusive of wine, alcohol, tax and gratuity. Call 540-687-3333 to make your reservations or book online today!
Are you ready to open your heart this Valentine's Day? Focusing on the heart chakra, this workshop is filled with chest opening yoga postures and backbends to literally "open your heart." Backbends and chest openers have an exhilarating effect on the body, creating feelings of bliss and complete openness. Learn more about your heart chakra during your practice and end with a special Valentine's Day mimosa. Live music during Savasana. All levels are welcome. Cost: $40 per person. Open to the public. For reservations, please call 540-326-4060.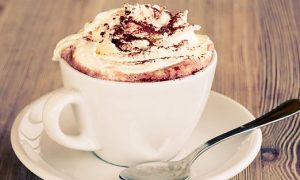 This is not your mother's hot cocoa. Top off your favorite winter beverage with your choice of marshmallow vodka, Baileys, Brandy or Peppermint Schnapps. Grab your cup and cozy up next to the fireplace! $14 per beverage.
What better way to celebrate Valentine's Day than with three favorites — chocolate, bacon and bourbon. In this class, you will learn the art of bacon cupcake designing while drinking bourbon as well as bacon and chocolate martini making using bacon simple syrup. $79 per person. Maximum of 12 people. For reservations, please call 540-326-4070.
Check out Greenhill Winery's new tasting room and sip your favorite wines while listening to live music! Eli Thomas will be playing at the manor house and Emily Rose will be at the tasting room.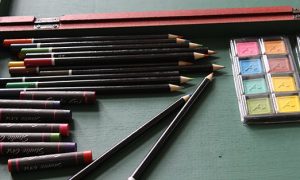 Spend your Saturday afternoon discovering a new talent or honing your skills in a new way, under the direction of artist Mary Jennings. Choose one theme for the day; first guest to sign up determines what class will be offered. Two-person minimum. For reservations, please call 540-326-4060.
Couples will enjoy an exciting class guided by a ballroom expert for a lesson on various styles of Ballroom Dancing. Learn all the right steps and spend the evening having a "ball." $30 per couple. For reservations, please call 540-326-4060.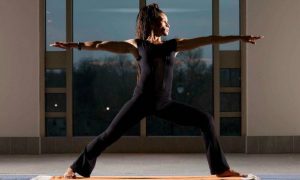 Nourish the mind and connective tissues during an afternoon of Yin Yoga with Jacklynn. You'll explore long, supported holds that target ligaments, bones and joints. This slow practice is suitable for beginners and all levels with props that enable muscular release and relaxation. This practice will bring a more conscientious attention to breath and sensations in the body. The session will conclude with essential oils and a smoothie. Cost: $45 per person. Open to the public. For reservations, please call 540-326-4060.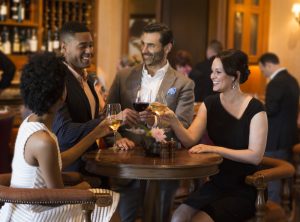 Each month, Gold Cup will feature a different local winery and offer tastings of its featured wines. This month's featured winery is Stone Tower Winery.
The Community Music School of the Piedmont's 10th Annual Candlelight Concert Fundraiser will featured internationally-renowned Israeli-American cellist Amit Peled, voted one of the most influential music professionals of 2015 by Musical America. The New York Times describes his playing as possessing "glowing tone, a seductive timbre, and an emotionally pointed approach to phrasing that made you want to hear him again." In addition to solo recitals and orchestral guest appearances, Peled is a founding member of the famed Tempest Trio and a faculty member at Peabody Conservatory. Contact Martha Cotter at piedmontmusic@aol.com for more info. Doors will open at 5 p.m. A reception and silent auction will follow the concert. Cost: $125 per person. Click here to buy tickets.
Upcoming events
The Middleburg Business and Professional Association invites you to our February mixer. Members free, non-members $10. We'll have a 10-minute Biz Buzz to bring you up-to-date. Please RSVP by e-mail to info@visitmiddleburgva.com. Find out more about joining MBPA here.
Enjoy a fun way to paint and create your own original piece of work while sipping on delicious local wines. Two-person minimum. $85 per person, ages 21 and up. For reservations, please call 540-326-4060.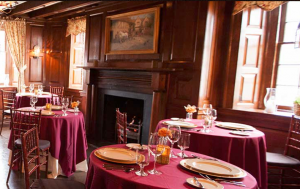 The Red Fox Inn is featuring a five-course game and seafood dinner on Feb. 14. The menu includes items like bacon and cornbread stuffed quail, lobster bisque, grilled venison and bananas foster crème brûlée. The cost is $165 per person, not including taxes, gratuity and beverages. You can reserve your table online or by calling their front desk at 540-687-6301 between 10 a.m.–4 p.m., Monday–Friday.
Spend a romantic evening with your special someone while enjoying a dinner and a show. Stage Coach Theatre Co. presents a romantic performance while you savor a delicious three-course meal. Doors open at 6:30 p.m. Cost: $85 per person. For reservations, please call 540-326-4070.
Each week, the National Sporting Library & Museum gives attendees a personalized sneak peek at traveling exhibitions, permanent collections, and the fascinating stories behind the works in the museum's art collections. No two tours are alike, so come back for more! Reservations are not required and admission is free. Bring your friends! Gallery Talks are every Wednesday at 2 p.m.
Enjoy Betty's chili and more! $20 per family or $5 per person. Call PRCS at 540-687-6375 by 2/13 to RSVP. Reservations required to be able to prepare enough food!
Mark your calendar! Look for blue and white Balloons at participating businesses. Follow Visit Middleburg on Facebook to stay up-to-date on participating retailers. Sponsored by the Middleburg Business &and Professional Association and the Town of Middleburg.