— Fall is in the air in Middleburg. The air is starting to get a little cooler, and soon the leaves will start changing colors, turning the countryside into a vibrant display of nature's beauty. It's the perfect time to explore what Middleburg has to offer. Whether you're sipping local wines, strolling along our tree-lined streets or taking advantage of our fall festivals, you'll find just what you're looking for in Middleburg. So, check out our list of the best activities in Middleburg this fall!
1. Fall Festivities
Fall is a gorgeous time of year in Middleburg, so it's no wonder that some of our most popular events of the year take place this season. The Middleburg Film Festival returns this year with a fully in-person festival from Oct. 14-17 showcasing some of the year's best films.
For equestrian enthusiasts, two major events come to Virginia's hunt country this fall. On Oct. 9, the Virginia Fall Races will take place at Glenwood Park, the oldest continuous race course in the state of Virginia. Here, you can start the day with the finals of the Theodora A. Randolph Field Hunter Championship and then watch steeplechase action against the backdrop of the Blue Ridge Mountains. And on Oct. 23, the legendary Virginia Gold Cup steeplechasing classic will be held at Great Meadow, featuring terrier races, shopping, hat contests, tailgate contests, and some of the best steeplechase racing you'll find anywhere.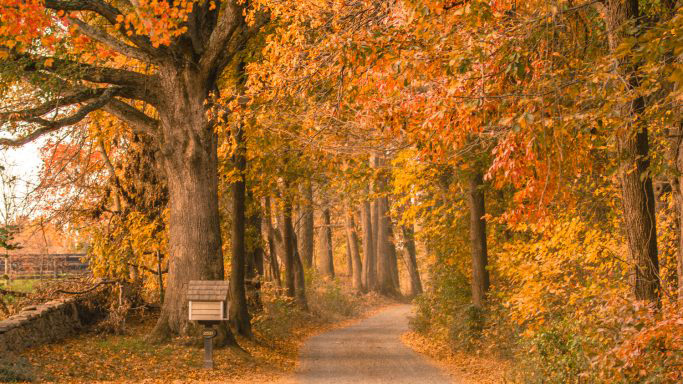 2. Scenic Drives
If you're looking to get away from it all and enjoy the countryside, Middleburg is always a great place to visit. One of our favorite fall activities is to hop in the car and go for a drive to appreciate the beautiful scenery that surrounds us, especially as the leaves are changing color. If you'd like to take a scenic drive, one of our favorite routes starts right in town at the historic Red Fox Inn and follows a loop along Foxcroft Rd., Mountville Rd., Snickersville Tpke. and Sam Fred Rd. You can find the full route here. Wherever you decide to go on your journey, please be sure to drive safely, obey posted speed limits and be courteous to others on the road. Slow down and enjoy the scenery!
3. Spooky Celebrations
If you're looking for a spooktacular Halloween, you've come to the right place. Get spooked on Salamander Resort & Spa's 0.6-mile haunted trail Oct. 27-Oct. 30 from 7-9 p.m. Geared towards children ages 4-12, the trail features 10 actor scenes, but can also be viewed early sans actors for those who frighten easily. Then, get your canine in costume for Lost Barrel Brewing's dog costume contest on Oct. 31. Judging starts at 3 p.m. And, of course, you won't want to miss Middleburg's annual "Hot Dog! It's Halloween!" This year's event features a children's costume parade through town, a raffle for a special item from Playroom, plus a hot dog dinner and goodie bags for the kids at the Middleburg Community Center. It's the perfect way to kick off your evening before trick-or-treating in town!
4. Horseback Riding
Middleburg is known as the Nation's Horse and Hunt Capital for good reason, so if you're in town, you might as well experience the equestrian life. And what better way to do that than to get on a horse? Salamander Resort & Spa's equestrian programs provide everything from guided trail rides to riding lessons and horsemanship classes. Not quite ready to get in the saddle yet? Be sure to check out Salamander's unique Equine Communication program, which focuses on leadership, authenticity, clear communication and the impact of body language and energy.
5. Spirited Happenings
Raise a glass this autumn in Middleburg. Toast to fall at Mt. Defiance Cidery & Distillery, whose fall-inspired flavors include Old Volstead's Homemade Cider, Farmhouse Cider, Apple Brandy and more! Or stop into one of our local breweries to experience hand-crafted brews. Lost Barrel Brewing's offerings include Oktoberfest Bier, Pumpkin Ale and Pumpkin Spice Hard Seltzer, and Old Ox Brewery is serving up Oxorcist II, Oxtober Bier and more.
And, of course, no trip to Virginia's wine country would be complete without a trip to Middleburg's wineries. Did you know that the Middleburg American Viticultural Area is home to 30 wineries? Grapes grown in our region benefit from perennial soft breezes coming from the 1,027-foot Ashby Gap in the Blue Ridge Mountains, which also happen to provide a spectacular backdrop to many of our local vineyards. Stop at Boxwood Estate Winery for premium red and white wines in the Bordeaux tradition, but with their own, distinct Virginia expression. Or, indulge in 100% Virginia wines at Greenhill Winery & Vineyards, an adults-only winery.
6. Middleburg's Art Scene
If you're in town, be sure to swing into Middleburg's art galleries and the National Sporting Library & Museum, the largest facility of its kind in the United States. With more than 24,000 books dating from the 16th to 21st centuries, NSLM is dedicated to preserving and sharing the literature, art and culture of equestrian, angling, and field sports. The museum, a newly renovated and expanded historic building, houses exhibits of American and European fine animal and sporting art. Current and upcoming exhibits include: "Field Notes | Walter Matia" (through Jan. 9, 2022) and "2020 Hindsight: 40 Years of the American Academy of Equine Art" (Nov. 12, 2021, through March 20, 2022). Also, the museum also hosts some great free public events, including Sunday Sketch, a monthly sketching session led by a local artist or art teacher.
The Byrne Gallery's new autumn jewelry show features gorgeous jewelry and accessories by artists who are all local to the area. Additionally, the gallery will host "Salute to Autumn," showcasing iconic Virginia landscape paintings by Gerald Hennesy, from Oct. 6-31.
At the Artists in Middleburg gallery this month, you'll find "Landscapes of Near and Distant Lands," which runs from Oct. 9-Nov. 7.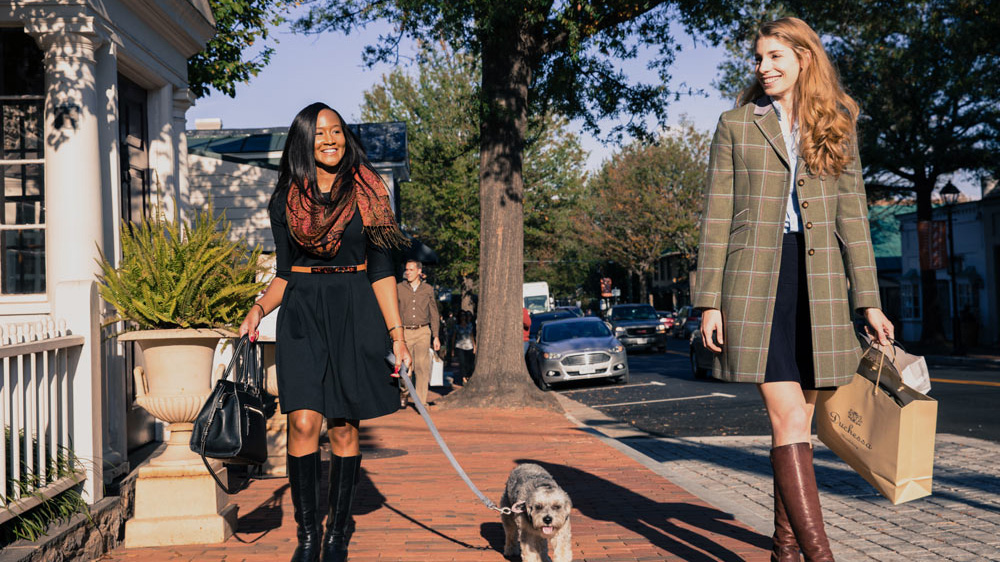 7. Shopping in Downtown Middleburg
If you need some retail therapy, you'll love Middleburg. We have a wide assortment of shops, including many boutique stores that can't be found anywhere else. If you're looking for clothes, we always find something new to love at Country Classics, Highcliffe Clothiers, and Lou Lou Boutiques. For gifts or a little something special, try Les Jardins de Bagatelle for French products; Mystique Jewelers for breathtaking jewelry; Salamander Resort & Spa for unique equestrian-inspired gifts; The Christmas Sleigh for German ornaments and handmade Austrian clothing; The Fun Shop for just about everything (including clothes, housewares and gifts); and The Tack Box for equestrian gifts. Make sure to take a trip to nearby Marshall to visit Tri-County Feeds, Fashions, Finds, the most eclectic and unique shopping experience in hunt country.
8. Try a New Dish
Middleburg is fortunate to have a wide variety of excellent eateries, with everything from fine dining to a corner café. If you're looking for a quick bite, we recommend organic and locally grown pub-inspired fare at the family-friendly Hunter's Head Tavern or gourmet sandwiches at Market Salamander's inviting café. Try a cup of coffee and locally inspired sandwich from Middleburg Common Grounds or stop into Cuppa Giddy Up, which serves up fresh, organic coffee blends and specialty beverages, along with a wide array of delectable bagels and cakes. Other favorite spots include the Piedmont-inspired cuisine at Salamander Resort's Gold Cup Wine Bar, intimate dining at the Red Fox Inn & Tavern, and farm-fresh fare at Side Saddle Cafe. For gourmet fine-dining, try Harrimans Virginia Piedmont Grill at Salamander Resort or Goodstone Inn & Restaurant with its innovative farm-to-table cuisine. And don't forget to pick up some of The Upper Crust's famous cow puddle cookies!