— Don't let the winter blues get you down! We've got all sorts of fun activities in Middleburg this month to keep you moving, from yoga with jazz legend Marcus Johnson to ballroom dancing. Plus, we have lots of ways for you to experience the romance of Middleburg with your valentine. Check out our list of the events you won't want to miss this month!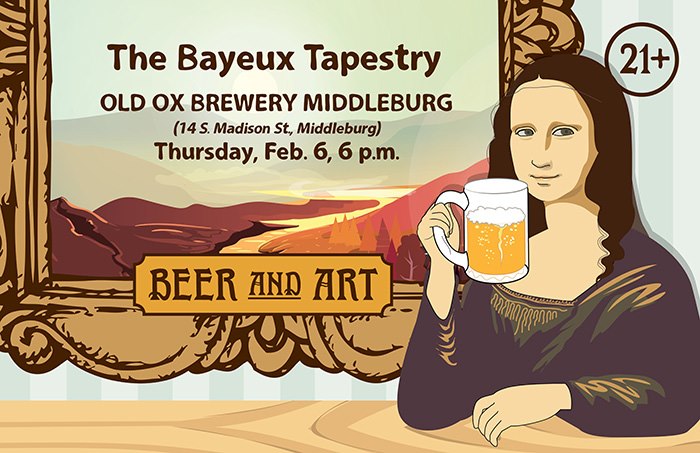 "Beer and Art: The Bayeux Tapestry" at Old Ox Brewery: Feb. 6 | 6-7 p.m.
The Bayeux Tapestry is one of the greatest female works of art and a valuable historical document that illuminates the world of England and France in the months leading up to the epic Battle of Hastings. Join Hill School art history teacher John Daum as you travel back to the year 1066 with the Bayeux Tapestry as your guide.
Join Loudoun County Public Library and Loudoun Arts Council at Old Ox Brewery Middleburg for this free program for adults 21+.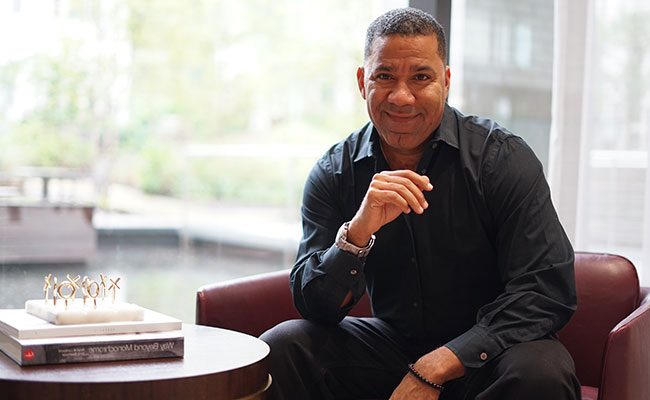 Jazz Weekend with Marcus Johnson at Salamander Resort & Spa: Feb. 7-9
Join Salamander Resort for a special weekend of events with Billboard-ranked musician Marcus Johnson. Weekend options include a once-in-a-lifetime opportunity on Feb. 7 at 7 p.m. to meet and greet jazz legend Marcus Johnson while you enjoy delicious seasonal cocktails and hors d'oeuvres, an interactive truffles and bubbles class with Executive Pastry Chef Jason Reaves and Marcus Johnson in the cooking studio on Feb. 8 at 2 p.m., a cabaret-style dinner and live performance with Marcus Johnson on Feb. 8 at 6 p.m., and a farewell brunch on Feb. 9 at 10:30 a.m. For reservations and more information about any of these events, please call 540-326-4070.
There is also an opportunity to take a flow yoga class with Marcus Johnson on Feb. 8 at 8 a.m. All ages and experience levels are welcome. For reservations, please call 540-326-4060.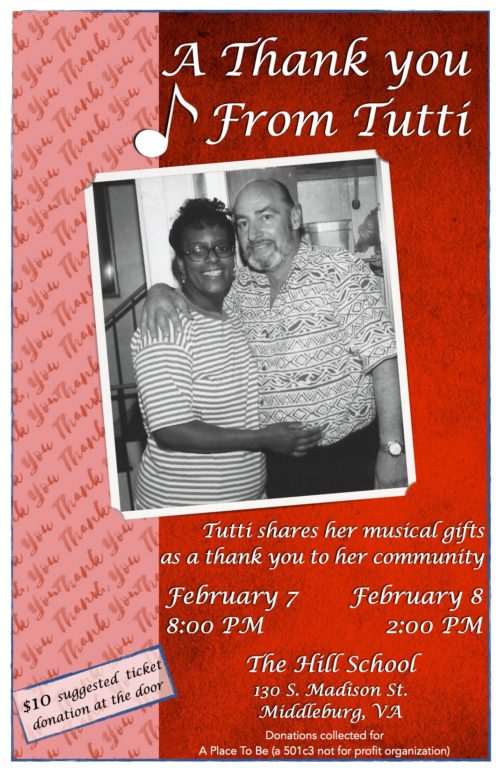 "A Thank You from Tutti" at The Hill School: Feb. 7 & 8
Don't miss this chance to hear Tutti Perricone and celebrate Vincent Perricone, love and music!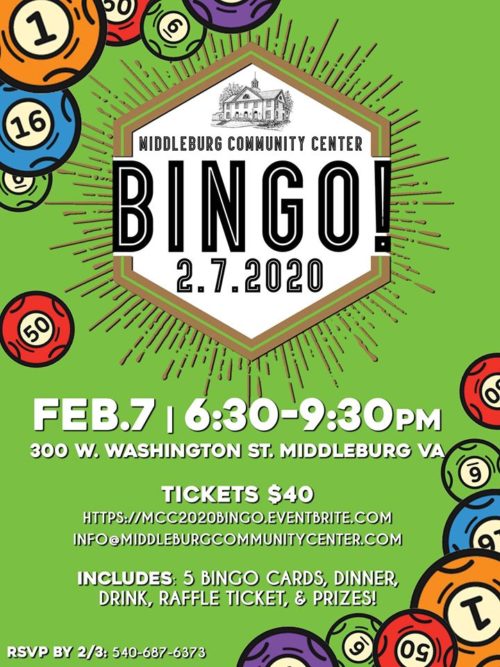 Cabin Fever Bingo at the Middleburg Community Center: Feb. 7 | 6:30-9:30 p.m.
Come to the Middleburg Community Center for an annual favorite, Bingo night! Tickets are $40 and include bingo cards, dinner, a raffle ticket, and a drink ticket. Additional drink tickets for an open bar, bingo cards and 50/50 raffle tickets will also be available for purchase. Prizes will be awarded to Bingo winners! This event sells out every year, so RSVP by Feb. 5 to info@middleburgcommunitycenter.com or call 540-687-6373.
"Phyllis Mills Wyeth: A Celebration" at the National Sporting Library & Museum: Feb. 8-June 28
On view at the National Sporting Library & Museum, a memorial exhibition celebrating the life of Phyllis Mills Wyeth (November 13, 1940–January 14, 2019) features a selection of portraits created by her husband, contemporary artist Jamie Wyeth. From the late 1960s, and throughout the decades of their marriage, Phyllis Wyeth was his muse. He created intimate works that capture moments from her life. On view Feb. 8–June 28, 2020, "Phyllis Mills Wyeth: A Celebration" reflects Phyllis' vibrant spirit and love of nature, horses, and her ever-present dogs. She lived here until she married and is the sister of Mimi Abel Smith.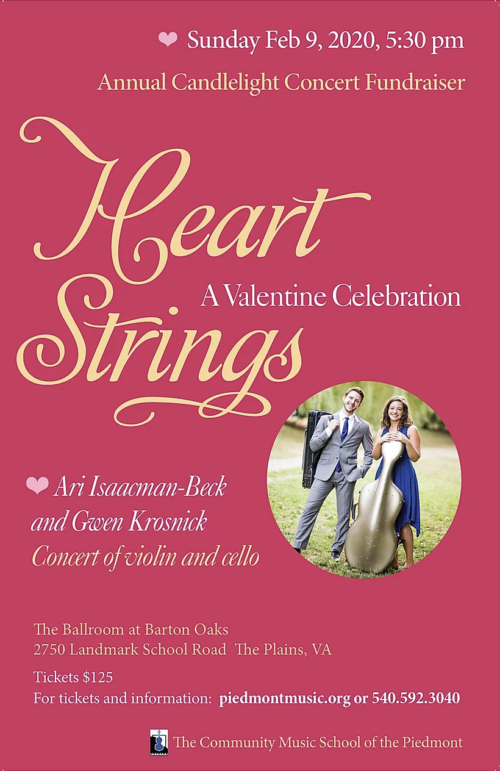 "Heart Strings – A Valentine Celebration" at Barton Oaks: Feb. 9 | 5:30 p.m.
Join the Community Music School of the Piedmont on Sunday, Feb. 9, at 5:30 p.m. at Barton Oaks for their 13th Annual Candlelight Concert featuring acclaimed string duo Ari Isaacman-Beck and Gwen Krosnick. Isaacman-Beck and Krosnick bring "high-octane, exuberant, brilliant music-making to audiences across the U.S., Europe, and Asia."
This concert is their sole, annual fundraising event and raises critically need scholarship and outreach funds for CMSP.
Visit piedmontmusic.org or call 540-592-3040 for more information. Purchase tickets at ticketleap.com.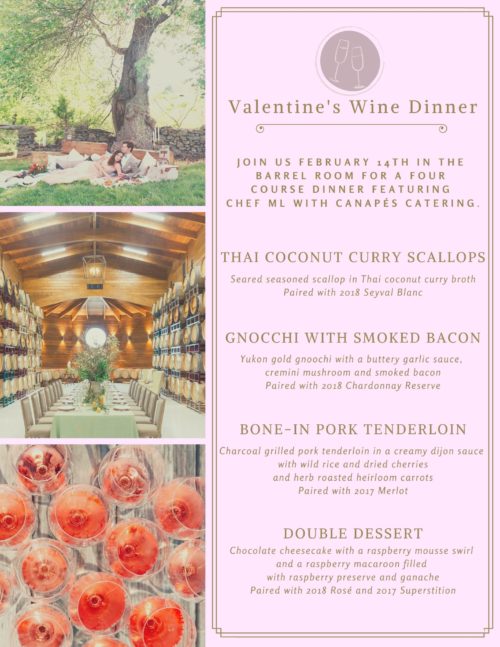 Valentine's Wine Dinner at Greenhill Winery & Vineyards: Feb. 14 | 6:30-9 p.m.
Join Greenhill Feb. 14 in the barrel room for a four-course dinner featuring Chef ML with Canapés Catering. Menu includes thai coconut curry scallops, gnocchi with smoked bacon, bone-in pork tenderloin and a double dessert. Purchase tickets at cellarpass.com.
Middleburg's Winter Weekend Sale: Feb. 14-16
Please join us for Middleburg's annual Winter Weekend Sale! Friday & Saturday from 10 a.m.-5 p.m. Sunday hours as posted by shops. Look for the winter white and blue balloons at participating businesses. Check our Facebook page for updates.
Sponsored by the Middleburg Business and Professional Association and the Town of Middleburg.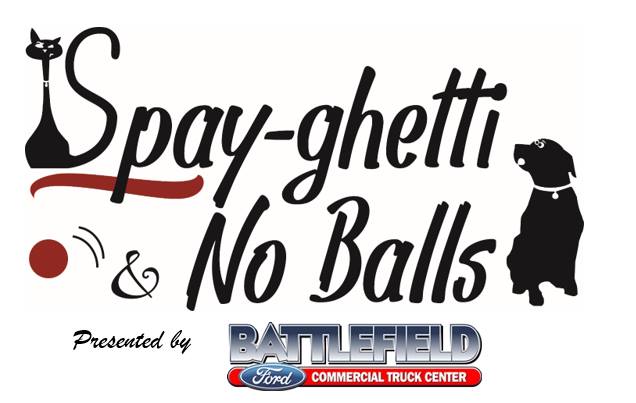 Middleburg Humane Foundation Spayghetti (No Balls) Dinner at Barrel Oak Winery: Feb. 15 | 6-9 p.m.
This event supports Middleburg Humane's Trap-Neuter-Return (TNR) program run by MHF's Community Cat Coordinator, Ashley. In 2019 alone, she TNR'd nearly 450 cats, which equates to the prevention of 2,640 kitten from joining the feral cat community. Her goal in 2020 is 500 cats, so let's ensure she has all the support possible to meet that goal! Purchase tickets at networkforgood.com.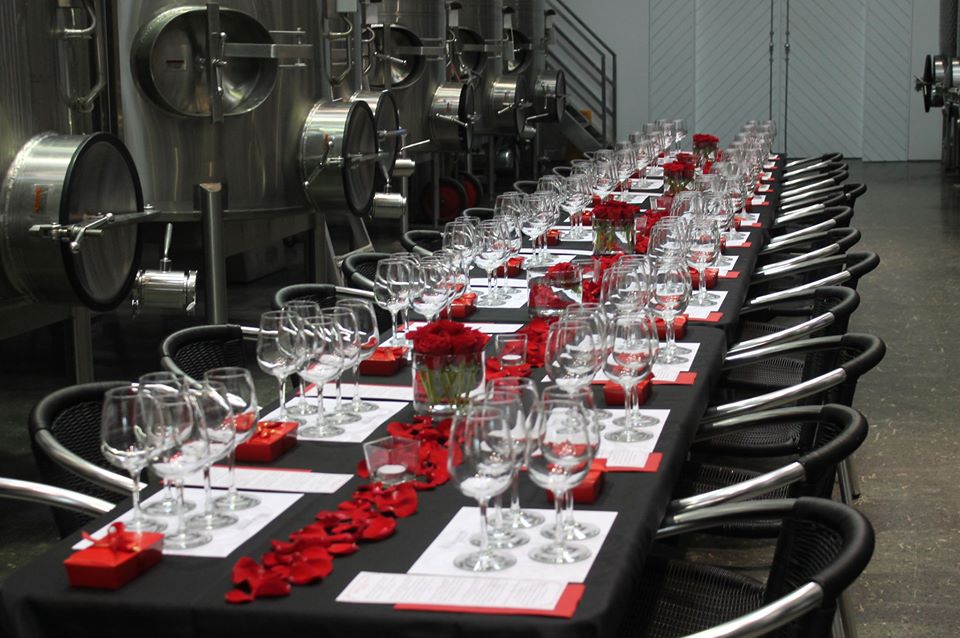 "For the Love of Wine & Chocolate" at Boxwood Estate Winery: Feb. 15 & 16
Celebrate Valentine's Day with Boxwood Estate Winery! Enjoy Boxwood wines paired with assorted truffles. Cost: $27.50 per person. Purchase tickets at cellarpass.com.
"It's All About Love!" at Emmanuel Church Parish House: Feb. 16 | 3 p.m.
Two superb singers will warm our hearts with ageless love songs! Join us at the Parish House as bass James Shaffran and soprano Mary Shaffran sing timeless duets and St. Valentine's Day favorites. Reserve a seat at 540-687-6297. $10 suggested donation. Refreshments served.

"The Biggest Little Farm" Documentary Film at The Hill School: Feb. 21 | 5:30-8:30 p.m.
On Friday, Feb. 21, the Land Trust of Virginia and the Goose Creek Association bring you "The Biggest Little Farm," the acclaimed film that chronicles the eight-year quest of John and Molly Chester as they trade city living for 200 acres of barren farmland and a dream to harvest in harmony with nature. Featuring breathtaking cinematography, captivating animals, and an urgent message to heed Mother Nature's call, "The Biggest Little Farm" provides us all a vital blueprint for better living and a healthier planet.
Through dogged perseverance and embracing the opportunity provided by nature's conflicts, the Chesters unlock and uncover a biodiverse design for living that exists far beyond their farm, its seasons, and your wildest imagination. This film was a runner-up at the Toronto Film Festival and is showing to worldwide acclaim.
Plus, you'll see the public premiere of a short documentary on the Goose Creek, including its history, culture and challenges. Come learn about the Goose Creek's importance to our watershed!
Admission is free and light refreshments will be served beginning at 5:30 p.m. The film runs from 6-7:30 p.m. Register at landtrustva.com.
Questions? Please contact Kerry Roszel at kerry@landtrustva.org or 540-687-8441.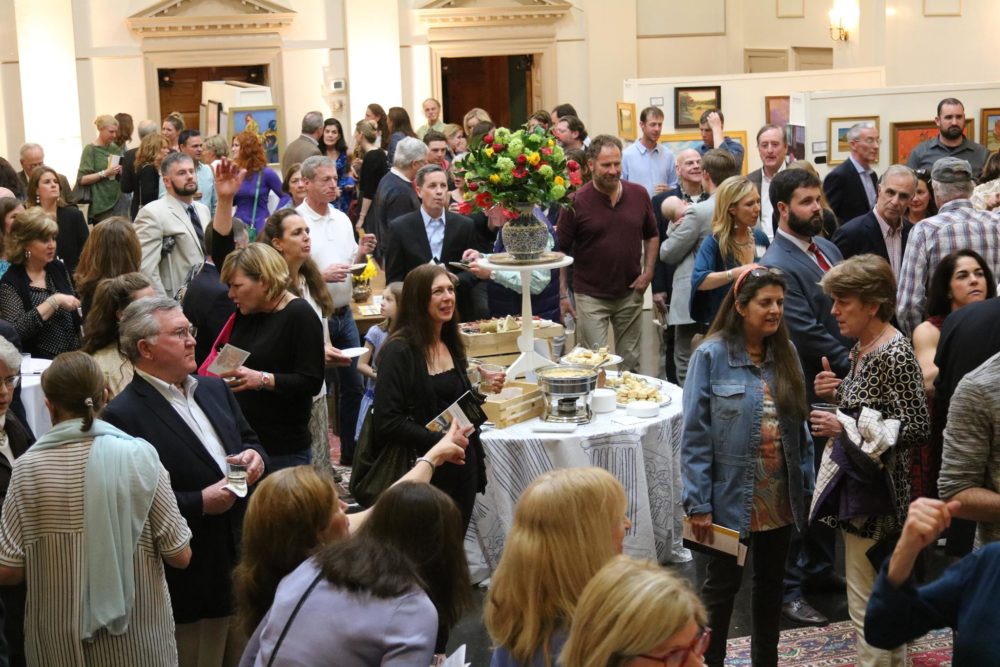 Art of the Piedmont Art Auction and Reception at the Middleburg Community Center: Feb. 21 | 6-9 p.m.
Best place to get the best local art for your home or a friend's all while supporting Middleburg Montessori School's great work in our community! See you there!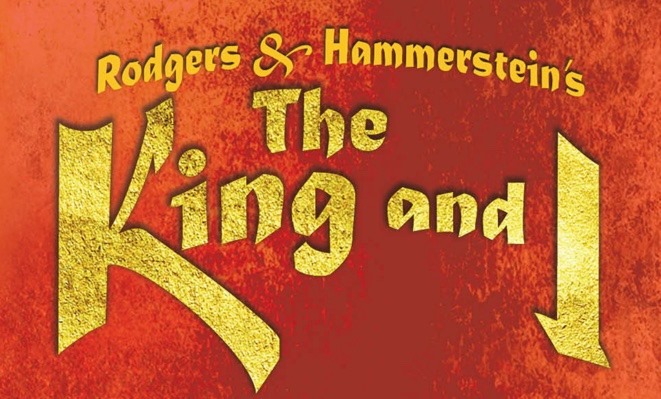 "The King and I" at Wakefield School: Feb. 27-29
This year's annual musical, "The King and I," will be performed by Wakefield School Community Theater from Thursday, Feb. 27-Saturday, Feb. 29, with shows starting at 7 p.m. on Thursday and Friday and a 1 p.m. matinee performance on Saturday. We recommend purchasing your tickets in advance as this show is sure to be a hit! Tickets can be purchased online at veracross.com.
Also this month