— May is a busy month in Middleburg, and it's no wonder. With flowers blooming and the rebirth of spring, it's a great time to enjoy the countryside. This month, we've got everything from the Middleburg Spring Races and Virginia Gold Cup to Mother's Day specials, Memorial Day fun and more! Here are our picks for the events you won't want to miss this month.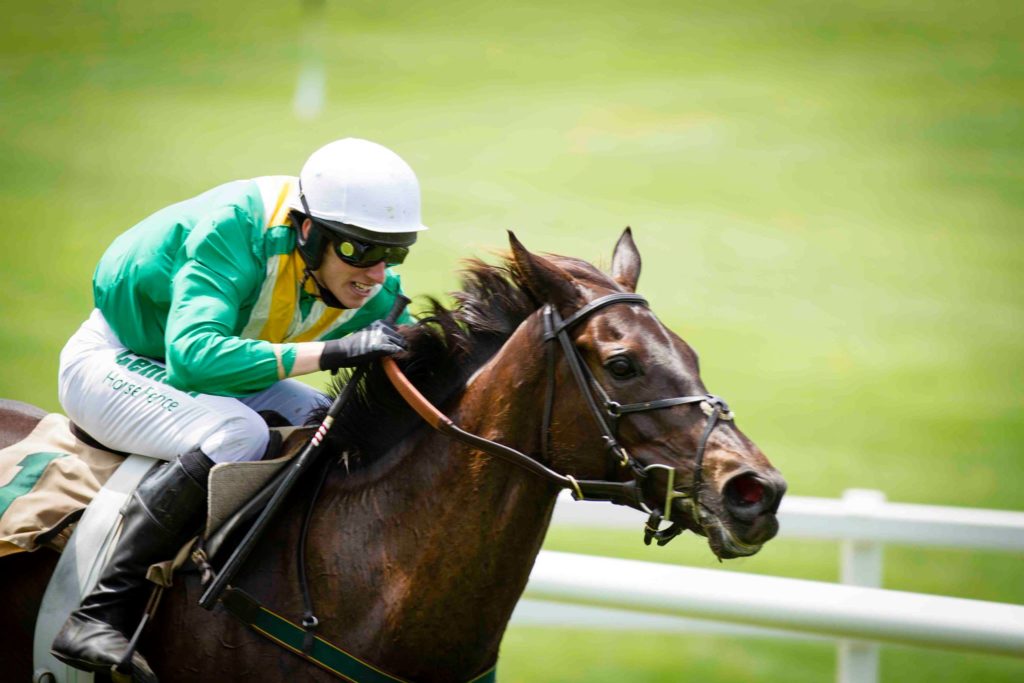 Middleburg Spring Races at Glenwood Park: May 1
Tailgate spots and boxes are available by calling 540-687-6545 or emailing middleburgspring@gmail.com. No individual tickets will be sold ahead of time or at the gate.
The races will be live-streamed on nationalsteeplechase.com.
Foxes on the Fence: April 1-May 15
Artwork in the form of foxes, hounds and hares will be on display around the town of Middleburg from April 1-May 15. Bid to purchase your favorite piece — auction ends May 9. Proceeds benefit beautification projects and promote the arts in Middleburg.
Click here to view this year's foxes, hounds and hares.
Online Events with the Loudoun County Public Library
The Loudoun County Public Library is hosting a variety of online sessions throughout this month. Check out the full library calendar at library.loudoun.gov. Links to specific programs will be added to the library website in the days prior to the event, and will be activated just prior to the program time listed. Programs include:
"Spring is in the Air!" at The Artists in Middleburg: Through May 16
Stop by The Artists in Middleburg to enjoy this juried art exhibit. Or, view it online at theartistsinmiddleburg.org. Gallery hours: Wednesday-Sunday from noon-5 p.m. and by appointment.
Please note: Only four individuals will be allowed in the gallery at one time. Social distancing is a must!
One must:
wear a mask
use the hand sanitizer provided (outside the gallery entrance)
provide your name and contact information (to be used for contact tracing for the visitor and AiM staff/volunteer in the event COVID-19 has been confirmed).
Jude Frances Trunk Show at Mystique Jewelers: May 2 | 11 a.m.-5 p.m.
Mystique Jewelers is hosting a Jude Frances trunk show in Middleburg on Saturday, May 2, from 11 a.m.-5 p.m. Enjoy 15% off during the show! Contact Mystique at 540-687-3100 for details.
Picnics & Pints at Lost Barrel Brewing: May 2
Join Lost Barrel Brewing and Picnic and Peonies on Sunday, May 2, for a one-of-a-kind brewery picnic experience. They'll provide you with experiences you won't forget, where you'll relax at beautifully styled tables, munch on Instagram-worthy food from Lost Barrel Brewing and enjoy freshly arranged flowers. No matter if you're celebrating an anniversary or birthday for your bestie, we'll leave you with a lasting impression.
Reservations are for two hours, from 2-20 people. Contact hello@picnicandpeonies.com for booking and pricing! Picnics are available from noon-2 p.m. or 2:45-4:45 p.m.
"Tucker Smith: A Celebration of Nature" at the National Sporting Library & Museum: Through Aug. 22
"Tucker Smith: A Celebration of Nature" and the accompanying catalogue present a retrospective of the work of American artist Tucker Smith. Featuring more than 75 original oils, this exhibition is a true survey of the painter's life's work, with pieces ranging from his early years as a professional artist to his most recent paintings. This exhibit will present the breadth of subject matter he has tackled, including western wildlife, camp and cowboy scenes, as well as stunning landscapes.
Pop-Up Art Show at the Middleburg Community Center: May 4-8 | 9 a.m.-4 p.m.
Join us for a monthly pop-up art show that will be located in the main foyer of the Middleburg Community Center on the first week of every month!May will feature local artist Cathy Zimmerman. All art will be available for purchase in the exhibit.
The Middleburg Community Center is excited to support our local artists and are taking applications. Contact MCC for additional information at info@middleburgcommunitycenter.com or 540-687-6373.
"Awakening!" at The Byrne Gallery: May 4-June 1
The Byrne Gallery in Middleburg is proud to present "Awakening!" On view from May 4-June 1, the show celebrates the arrival of warm weather and clear skies with a selection of vibrant landscape and still life oil paintings by artists Lida Matheson Stifel and Marietje Chamberlain. Stop by to enjoy the masterful way that these two en plein air artists bring the beauty of the outdoors into the gallery. There will be a special reception for the artists on Saturday, May 8, from 4-7 p.m. Both the reception for the artists and the exhibition is open to the public and all are invited to attend.
"Aloha!" Virtual Auction with The Hill School: May 6-8
This year's 2021 auction, "Aloha" will be held from May 6–8. We are very excited about this virtual celebration and hope you will join us. Please visit thehillschool.org for updates on this year's event.
Mother's Day Weekend at The Red Fox Inn & Tavern: May 7-9
Enjoy a spring tasting experience at The Red Fox Inn & Tavern! This seasonal four-course menu includes brie baked oysters, carrot ginger bisque, seared duck breast, vanilla panna cotta, and more. $125 per person, with optional Virginia and Old World wine pairings. Children: $29. Reservations strongly recommended. Credit card and 48-hour cancellation notice required. Reserve by phone at 540-687-6301.
Mother's Day Quiche Pairing at Boxwood Estate Winery: May 8 & 9 | 11 a.m.-2 p.m.
Celebrate Mother's Day with Boxwood's 2020 spring releases (exclusive to this event) paired with 3 fabulous quiches accompanied with fruit and a chocolate truffle pop!
"The Civil War on the C&O" with the Virginia Piedmont Heritage Association: May 8 | 1-5 p.m.
Join the VPHA historians for a guided bike tour along the Chesapeake and Ohio Canal. The canal served as a vital transportation artery for moving supplies to Washington during the Civil War, but its importance also made it a vulnerable target for Confederate attack.
The bike ride will begin at 1 p.m. at the Brunswick Boat Ramp and Parking Lot, located under the Potomac River bridge. Riders will travel from Brunswick upriver to the vicinity of Harpers Ferry and back, a ride of approximately 14 miles. The ride will be on the flat towpath but there is often uneven terrain. Mountain bikes are highly suggested. VPHA will not be supplying bikes; bringing your own will be required. Please bring helmets, water, and other safety equipment.
Mother's Day Library Dinner at Salamander Resort & Spa: May 8 | 6 p.m.
Treat mom to an intimate and indulgent five-course dining experience in Salamander's Sundlun Library for the ultimate Mother's Day gift. Menu items include grilled Spanish octopus, roasted foie gras, and domestic wagyu ribeye. Cost: $250 per guest (excludes tax and service charge). Advanced reservations required. To reserve, please call 540-326-4070.
Mother's Day at Goodstone Inn & Restaurant: May 9
Celebrate Mother's Day at Goodstone! Menu items include scallop crudo, rabbit roulade, pan-seared red snapper, rhubarb tartlette and more. Cost: $135 per person, wine pairings $75. For reservations, please call 540-687-3333.
Mother's Day Family-Style Brunch at Harrimans Virginia Piedmont Grill: May 9 | 9 a.m.
Salamander Resort is celebrating mom and the special women in our lives with a family-style brunch! Share a special moment with mom over Brioche French Toast, Truffle Roasted Beef Striploin, decadent desserts and more with sweeping views of Virginia's countryside. Cost: $125 per adult, $45 per child. Excludes tax and service charge. Advanced reservations required. To reserve, please call 540-326-4070.
Mother's Day Brunch at Market Salamander: May 9 | 10:30 a.m.
Spend the morning with mom at Market Salamander for a multi-course family-style brunch. Feast on favorites like brioche French toast, roasted pork loin, delicious desserts and more this Mother's Day.
Cost: $85 per adult, $45 per child. Excludes tax and service charge. Advanced reservations required. To reserve, please call 540-687-9726.
Middleburg Hunt Point-to-Point at Glenwood Park: May 9 | 1 p.m.
The Middleburg Hunt hopes that you will join us for a day in the country to enjoy the exciting sport of steeplechase racing at one of the most beautiful race courses in the nation. Glenwood Park is known for offering spectators a spectacular view of the racing action. This year's race card once again includes racing over the timber course, the hurdle course and on the flat. This year, due to COVID-19, there will not be general admission. If you wish to purchase parking spaces and tickets, please contact Lois Tuohy at 540-454-2991.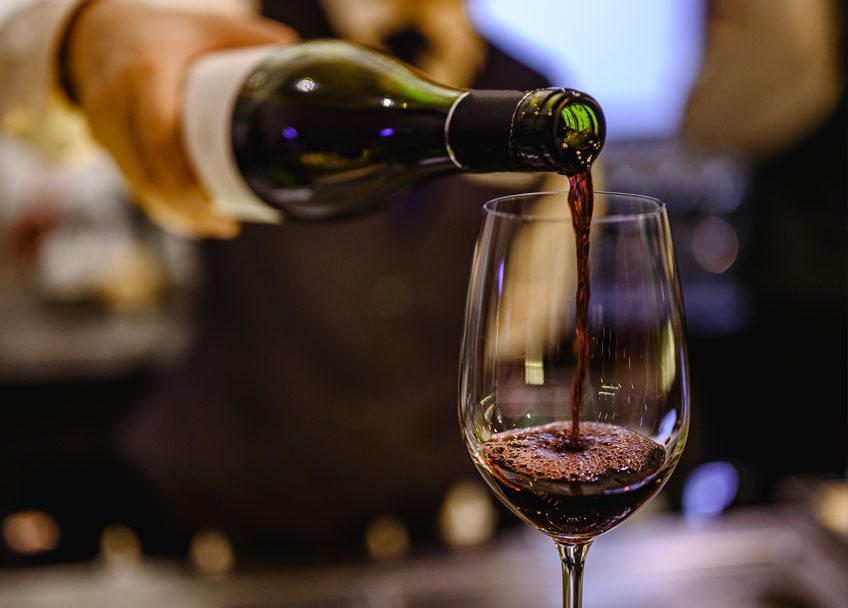 "Salamander Uncorked: New Zealand" at Salamander Resort & Spa: May 13 | 5 p.m.
Join Salamander wine sommelier Catherine Watkins as she walks you through the wines of New Zealand. This casual and interactive wine tasting event will help you hone your wine knowledge and diversify your palate. Pairings will include five wines and five small bites, plus education on the wines and the region. At the end of the tasting experience, you will have the opportunity to purchase your favorite bottles to take home at a 15% discount.
Cost: $75 per person. Does not include tax and service charge. Starts at 5 p.m. Advanced reservations required. To reserve, please call 540-326-4070. Dine in Harrimans following your Uncorked tasting and receive 10% off your bill.

Art in the Burg: May 15 | 10 a.m.-6 p.m.
Join us for a celebration of the arts! We will be placing booths around town to allow for social distancing instead of grouping them all on South Madison Street. Vendors and visitors will be required to wear masks even though the event is outside.
For the first time, Art in the Burg will offer a People's Choice Award. All artists selected to participate in Art in the Burg may submit one piece of art for the People's Choice Award. A digital image will be required. Voting will take place on the Middleburg Arts Council's Facebook page. The winner's art will be displayed during Art in the Burg. The winning artist will receive $100 and a People's Choice Award Certificate.
We look forward to a successful Art in the Burg!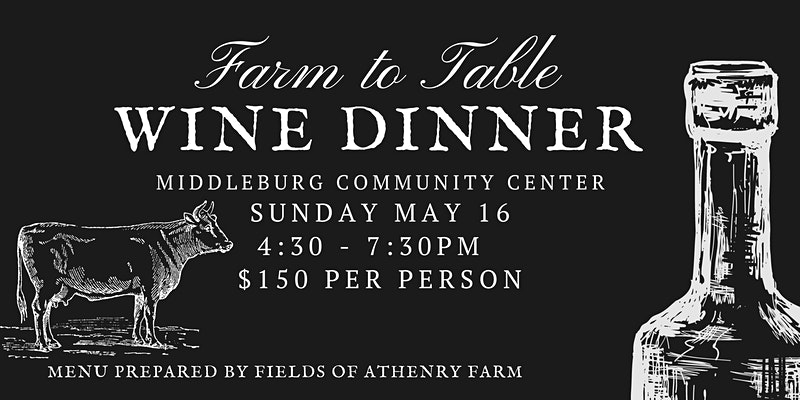 Farm to Table Wine Dinner at the Middleburg Community Center: May 16 | 4:30-7:30 p.m.
Join MCC for a farm-to-table wine dinner prepared by Fields of Athenry Farm! Menu includes spring bruschetta, smoked salmon salad, peach and rosemary filet mignon and boneless chicken medallions, and seven-pound pound cake.
Cost: $150 per person. Advanced reservations required. Limited availability. Tables may be reserved in quantities of two, four or six.
Art of the Piedmont at Slater Run Vineyards: May 21 | 6-8 p.m.
This year, AOTP will be held at Slater Run Vineyard on May 21 from 6-8 p.m. Tickets are required for entry and cost $100 each. You can purchase a ticket and/or get more information at artofthepiedmont.org or calling 540-687-5210. Proceeds benefit Middleburg Montessori School.
Natural Floral Design and Arranging at Nature Composed: May 22 | 10 a.m.-noon
Nature Composed's on-site floral design workshops give guests a complete instruction on how to design without using Oasis foam. Owner and founder Jenn Pineau will educate guests on the foundations of design and how to best utilize nature's own architecture to create sturdy and long lasting arrangements. Due to social distancing, seats are limited. Cost: $150.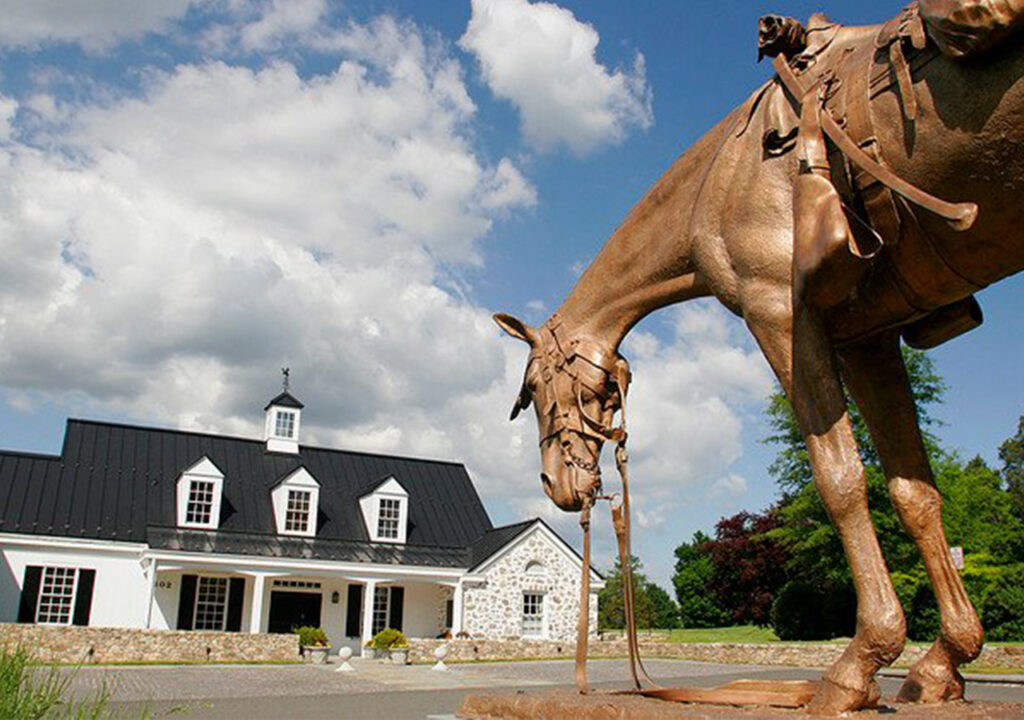 Virtual Artist Talk with Tucker Smith and the National Sporting Library & Museum: May 22 | 10:30-11:30 a.m.
Virtually join Tucker Smith, one of the most accomplished contemporary artists of the American outback, for a gallery talk of his exhibition, "Tucker Smith: A Celebration of Nature." Discover the natural beauty of Smith's work as he walks through the galleries to discuss composition, color, style, techniques, and subjects. Registration required. Free for NSLM members, $5 for non-members.
Virtual Garden Party with the Land Trust of Virginia: May 23
We are excited to invite and welcome our friends and supporters to the Land Trust of Virginia's 23rd annual Garden Party. This year, it is being reimagined and transformed into a live virtual Garden Party event that will take you down the very special garden paths of Bunny Mellon's Oak Spring Garden and then on to Childs and Elaine Burden's Seven Springs Garden as well.
This unique virtual program will feature an introduction by Sir Peter Crane, President of the Oak Spring Garden Foundation and former Dean of the School of Forestry and Environmental Studies at Yale University, a guided tour of the gardens, a mixologist who will whip up a specialty cocktail (with or without alcohol) and the announcing of our very own Virginia residents and annual conservation award winners.
Virginia Gold Cup at Great Meadow: May 29
Join us in the beautiful countryside of Fauquier County for the 96th running of the Virginia Gold Cup! Tickets are now on sale! Spaces will be sold on a first-come, first-served basis for the spring 2021 race by calling 540-347-2612. Guests will be able to choose from Members Hill ($675) or North or South Rails ($500).
Middleburg Community Center Pool Opening Weekend: May 29-31
The Middleburg Community Center pool will be open to the public starting Memorial Day weekend. The pool is open from 11 a.m.-6 p.m., seven days a week (weather permitting). Season passes and private pool parties are available. Please call 540-687-6373 or email info@middleburgcommunitycenter.com to register.
Also this month: