— With many events postponed or canceled for the future, here are our picks for ways you can experience Middleburg from the comfort of home during the month of May.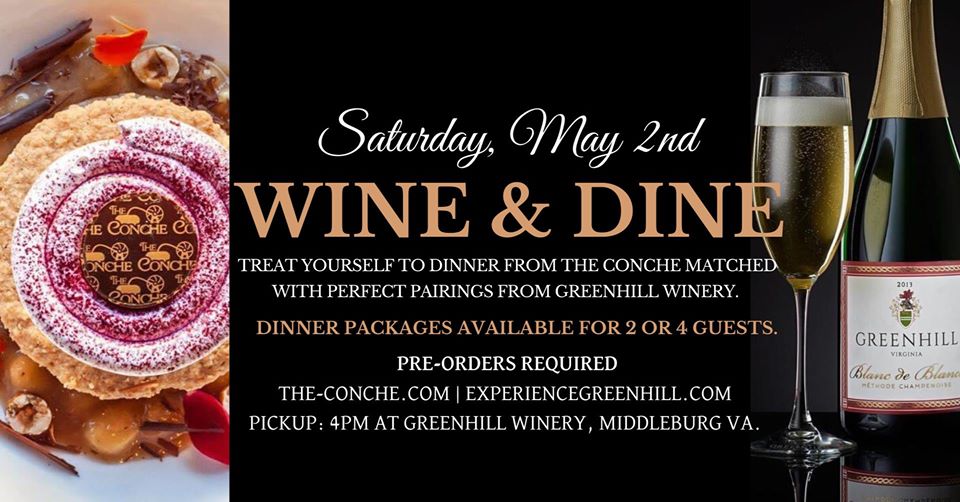 Wine & Dine with Greenhill Winery & Vineyards: May 2 | 4 p.m.
On Saturday, May 2, treat yourself to dinner from Chef Santosh Tiptur and The Conche matched with perfect pairings from Greenhill Winery & Vineyards.
Each dinner entree selection comes with house-made bread rolls and herb butter, classic Caesar salad, and Manjari chocolate parfait (dark chocolate mousse, vanilla bean creme brûlée, salted caramel).
Dinner packages available for two or four guests. Pre-orders required. Pick up at 4 p.m. on Saturday, May 2, at Greenhill Winery & Vineyards in Middleburg. Call for larger orders.
Pre-order dinner at the-conche.com or call 703-779-1800.
Pre-order wine at experiencegreenhill.com or call 540-687-6968.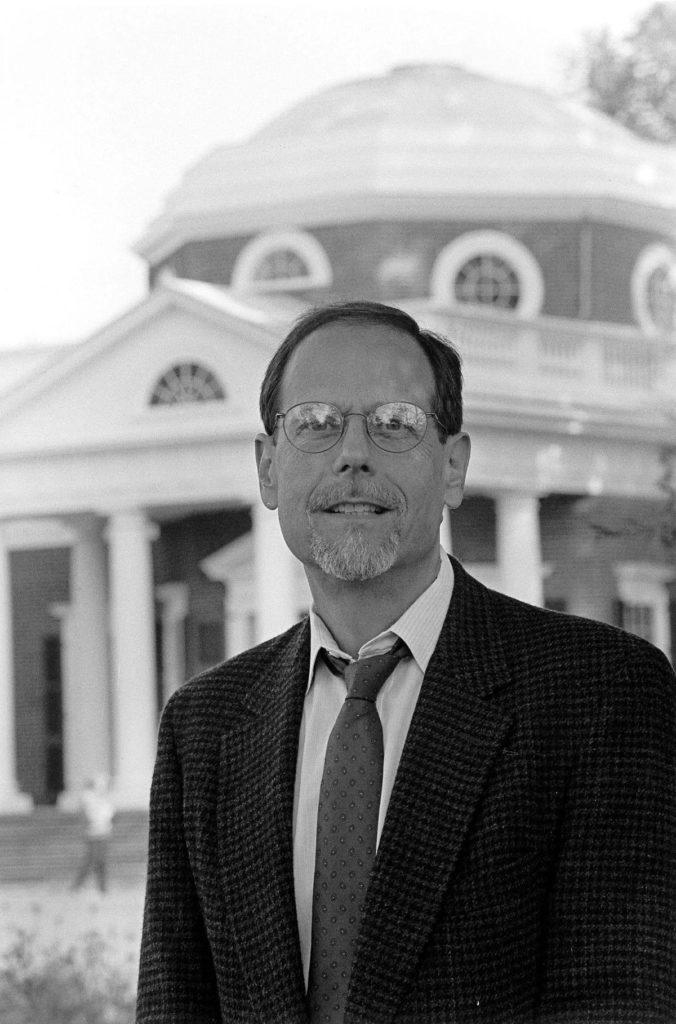 Saving Monticello with Marc Leepson and the Mosby Heritage Area Association: May 3 | 2-4 p.m.
Join author Marc Leepson as he speaks about the surprising history of preservation at one of America's most historic homes.
Burdened by debt, the heirs of Thomas Jefferson were forced to part with Monticello, and over the years the home came perilously close to being lost forever. The preservation and rehabilitation of the home was made possible by the dedication, resources, and tenacity of the Levy family. For ninety years the Levy family held on to Jefferson's home and spearheaded the campaign to save the national landmark for future generations.
Marc Leepson is the author of several historic and biographical books as well as numerous articles for publications including The Washington Post, The New York Times, The New York Times Book Review, Chicago Tribune, The Baltimore Sun and Smithsonian.
This talk will be presented online through Zoom, and tickets will be limited to the first 50 registrations. Following the talk, there will be a question and answer period.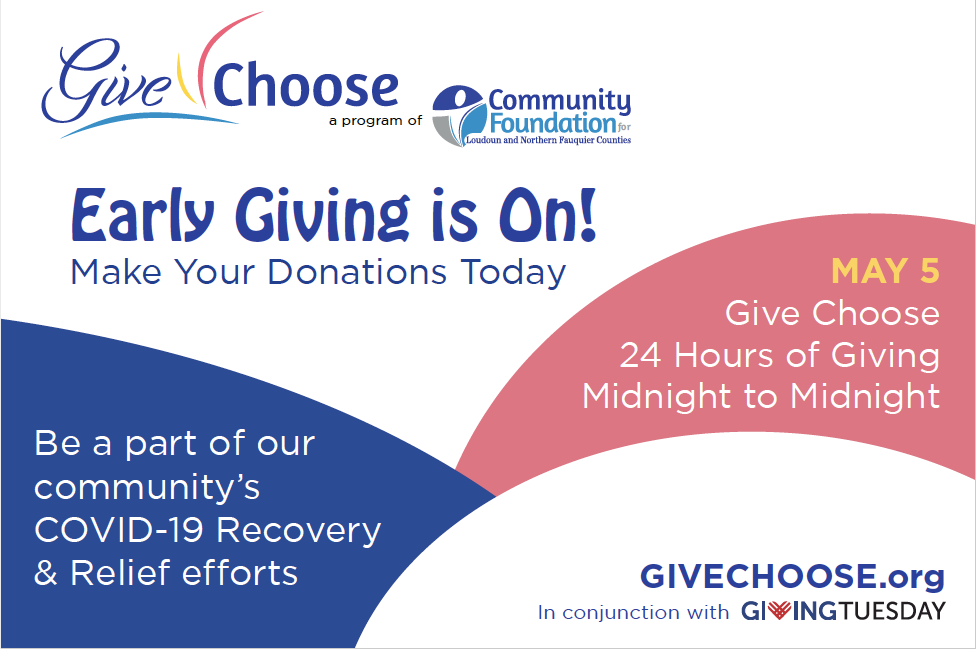 GiveChoose: Through May 5
You choose your charity. You decide to give. The big day of giving is May 5, 2020.
But you can also make a scheduled early giving during the two weeks leading up to Give Choose. It won't appear on the leader board until May 5 at midnight.
Follow along on May 5 throughout the 24 hours to see how each charity is doing to meet their goals, win prizes, and raise funds for needs right here at home. Participating local organizations include A Place to Be, Certified Humane, Middleburg Community Center and Windy Hill Foundation.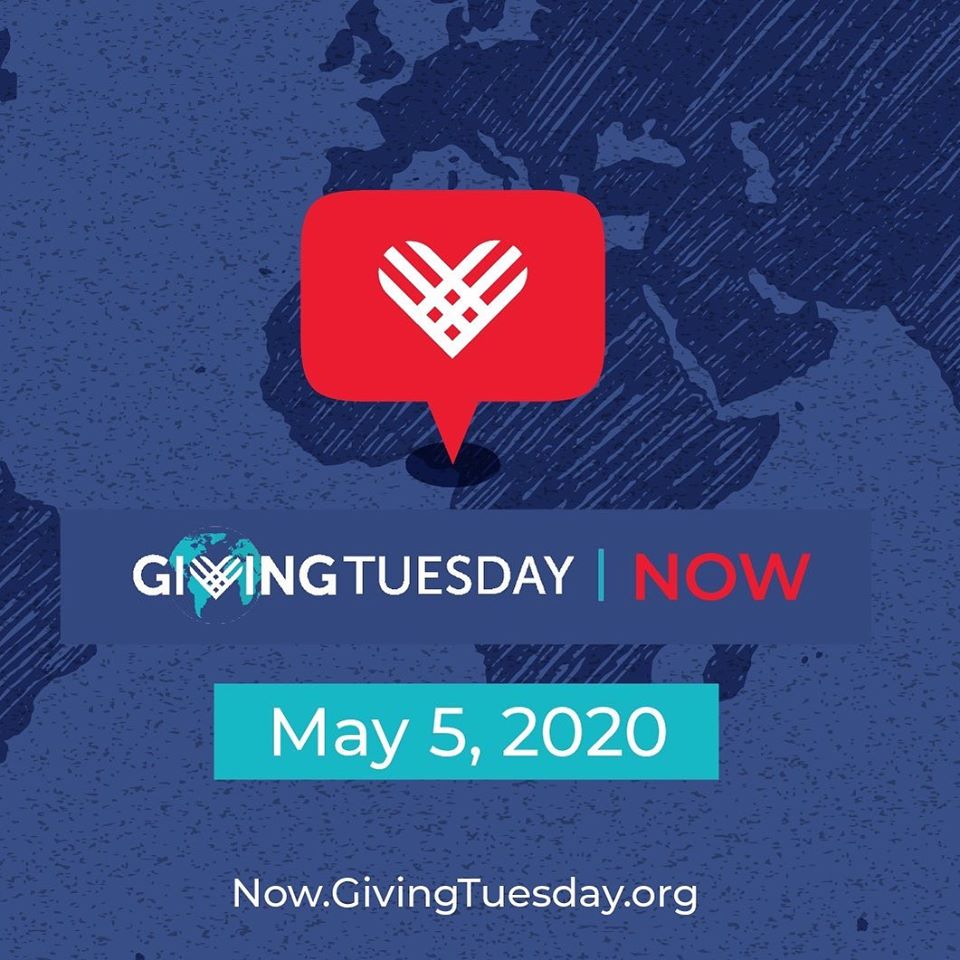 Giving Tuesday: May 5
GivingTuesday is a global generosity movement unleashing the power of people and organizations to transform their communities and the world.
#GivingTuesdayNow is a global day of unity to take place on May 5, 2020, as a response to the unprecedented need caused by COVID-19.
One of the best ways to get involved is in your own community. Check out the directory to find organizations, events, and ways to give back in your own community. Participating organizations include Foxcroft School, Land Trust of Virginia, Middleburg Community Center, Middleburg Montessori School, National Sporting Library & Museum, and The Hill School.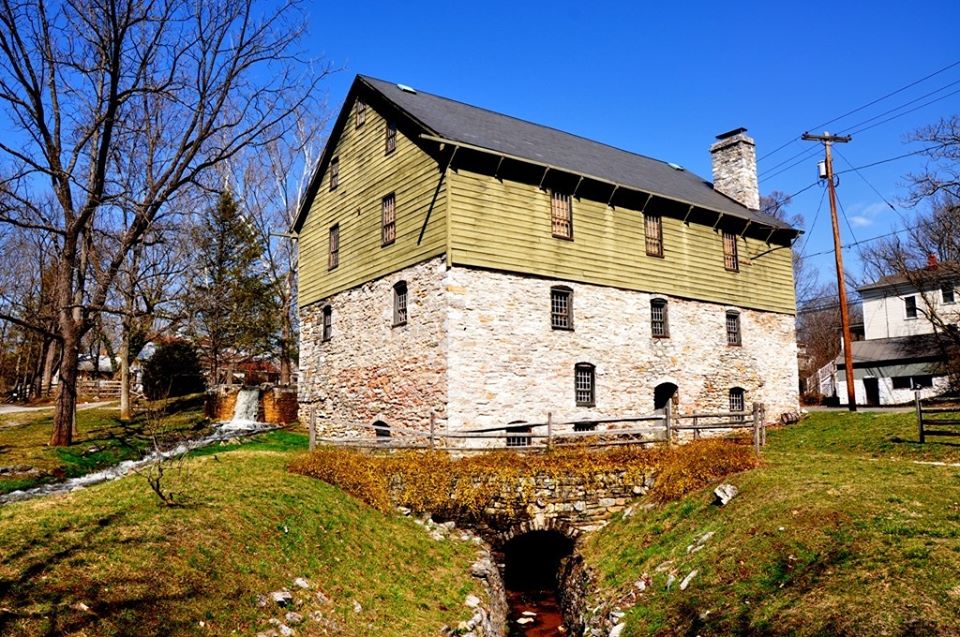 "Historian Happy Hour: Quarantine Draft Day" with tThe Mosby Heritage Area Association: May 6 | 7 p.m.
Join the Clarke County Historical Association and The Mosby Heritage Area Association take a fun spin on the football draft. Instead of football players, they will be drafting influential historic figures from Virginia. They will have a list of potential people and have to pick five to be in their "team." This team will be the people we get to spend a month in quarantine with! They will have to pick wisely to make sure they can survive the month! We hope you can join them for this fun twist of the NFL's Draft Day.

The Hill School's "Lei-Over" Online Auction: May 7-10
Join The Hill School for a virtual auction this year. Auction items include four tickets to a U.S. Marshmello show plus a meet and greet with the artist, a full weekend package at Bryce Resort, two all-access backstage passes to the Middleburg Film Festival, an afternoon Ferrari driving experience, and a 2012 Royal Enfield Bullet 500 Classic motorcycle.
"Between Two Barrels" Virtual Wine Tasting with Greenhill Winery & Vineyards: Thursdays at 4 p.m.
Join Greenhill every Thursday at 4 p.m. for a Facebook Live virtual wine tasting with hosts Winemaker Ben Comstock, General Manager Jed Gray, and a special guest or two!
Wines will be announced in the Facebook discussion tab every week. To view each live tasting, visit each event page at 4 o'clock.
To pre-order your tasting wines, order online by Wednesday.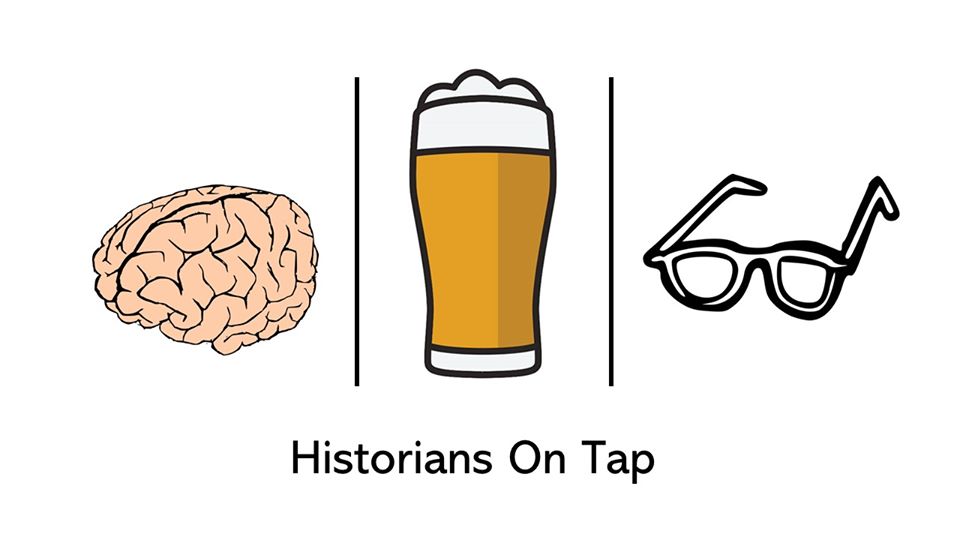 "History on Tap" with The Mosby Heritage Area Association: Thursdays | 7 p.m.
Join The Mosby Heritage Area Association live on Facebook every Thursday at 7 p.m. Historians from the Mosby Heritage Area and Loudoun Museum explore topics in local and national history and sip local brews. The program is fun and informal! BYOB and chime in on the comments section!
This month kicks off with "1862 – Hot to Handle" on May at 7 p.m. Grab a drink and join Anne Marie Paquette and Travis Shaw from the The Mosby Heritage Area Association and Joe Rizzo from the Loudoun Museum as they explore unusual and unknown local history stories during 1862, the second year of the Civil War. Their guest for the episode is Kevin Pawlak from the Prince William County Historic Preservation Division. Cheers!
The schedule for the rest of May includes:
May 14: "Epic Fails in History" with Kate Gruber, Jamestown-Yorktown Foundation
May 21: "Spirits and Seances: 19th Century Spiritualism" guest TBA
May 28: "1863's a Crowd" with Dr. Lauren Thompson, McKendree University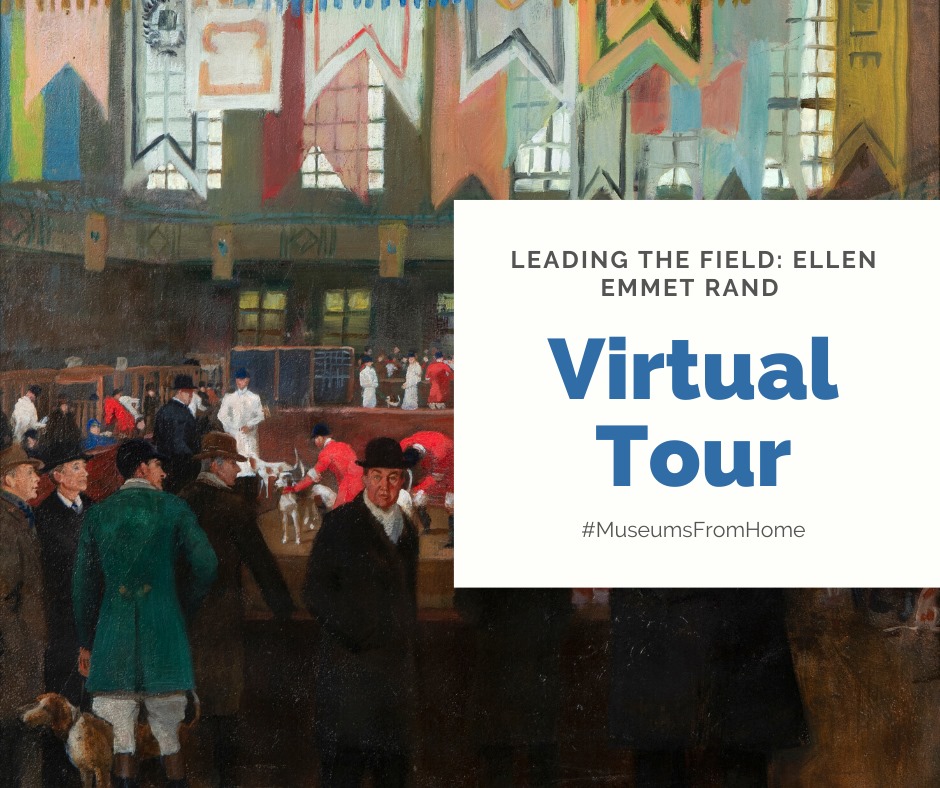 Virtual Gallery Talks and Tours at the National Sporting Library & Museum
Visit the National Sporting Library & Museum on YouTube to see virtual gallery talks that explore works from the NSLM permanent collections. You can also take virtual tours of the "Phyllis Mills Wyeth: A Celebration" and "Leading the Field: Ellen Emmet Rand" exhibits on NSLM's website.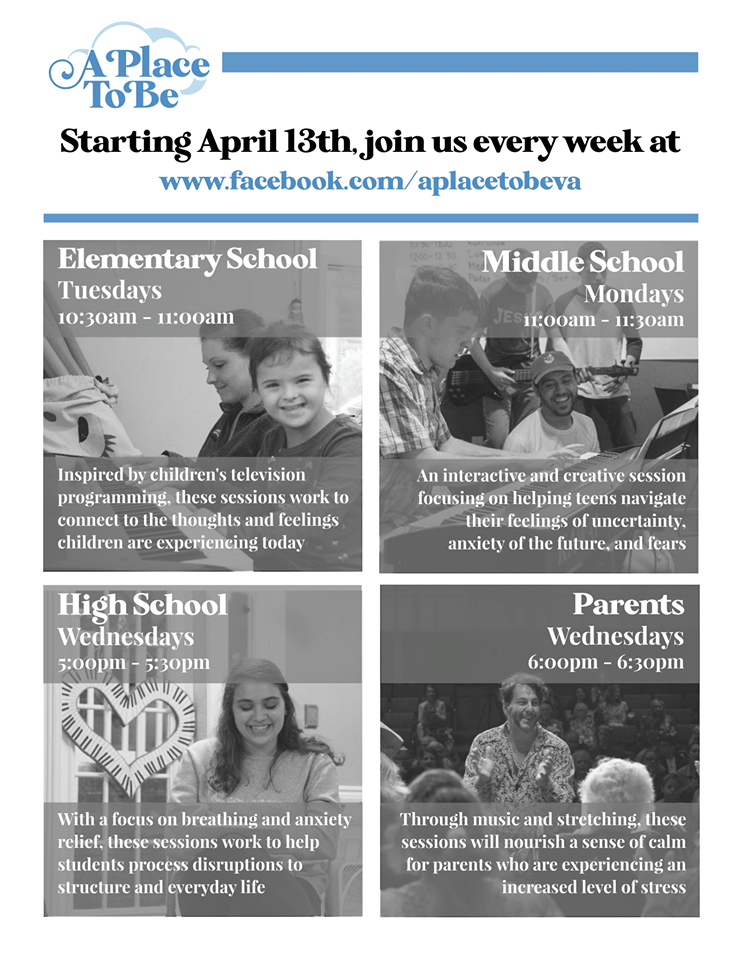 "A Place to Breathe" with A Place to Be
Join A Place to Be live on facebook for their new "A Place To Breathe" sessions. With offerings for elementary, middle and high school, as well as for parents, these 30-minute sessions offer a chance to use music to engage, inspire and calm the body and mind.
Sessions are held as follows:
Elementary School: Tuesdays 10:30-11 a.m.
Middle School: Mondays 11-11:30 a.m.
High School: Wednesdays 5-5:30 p.m.
Parents: Wednesdays 6-6:30 p.m.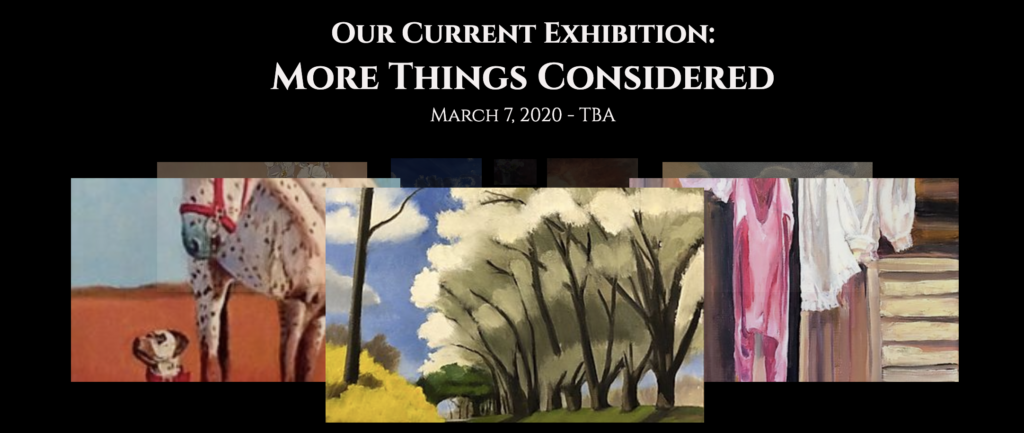 "More Things Considered" Virtual Gallery with The Artists in Middleburg
While The Artists in Middleburg Gallery is closed until further notice, you can view the "More Things Considered" gallery online.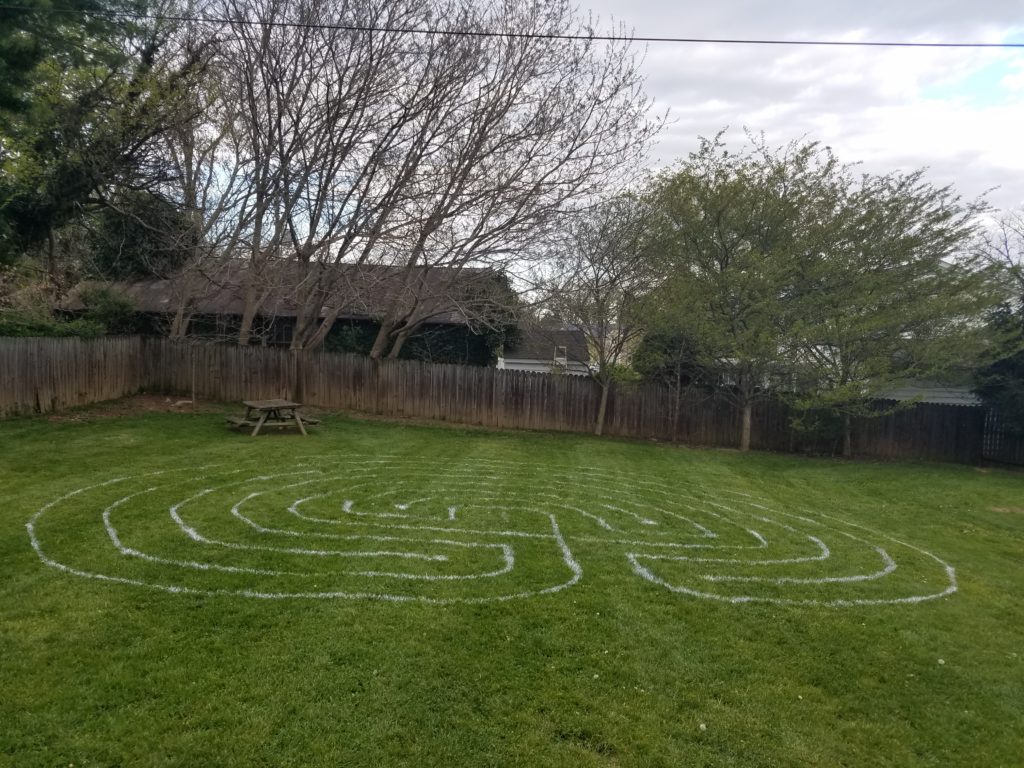 Explore Emmanuel's Grass Labyrinth
Emmanuel Episcopal Church has installed a grass labyrinth in the former playground area behind the Parish House on Federal Street, which you are welcome to walk and enjoy. Currently, the labyrinth is simply painted on the grass, so you can enjoy the deep grass as you walk.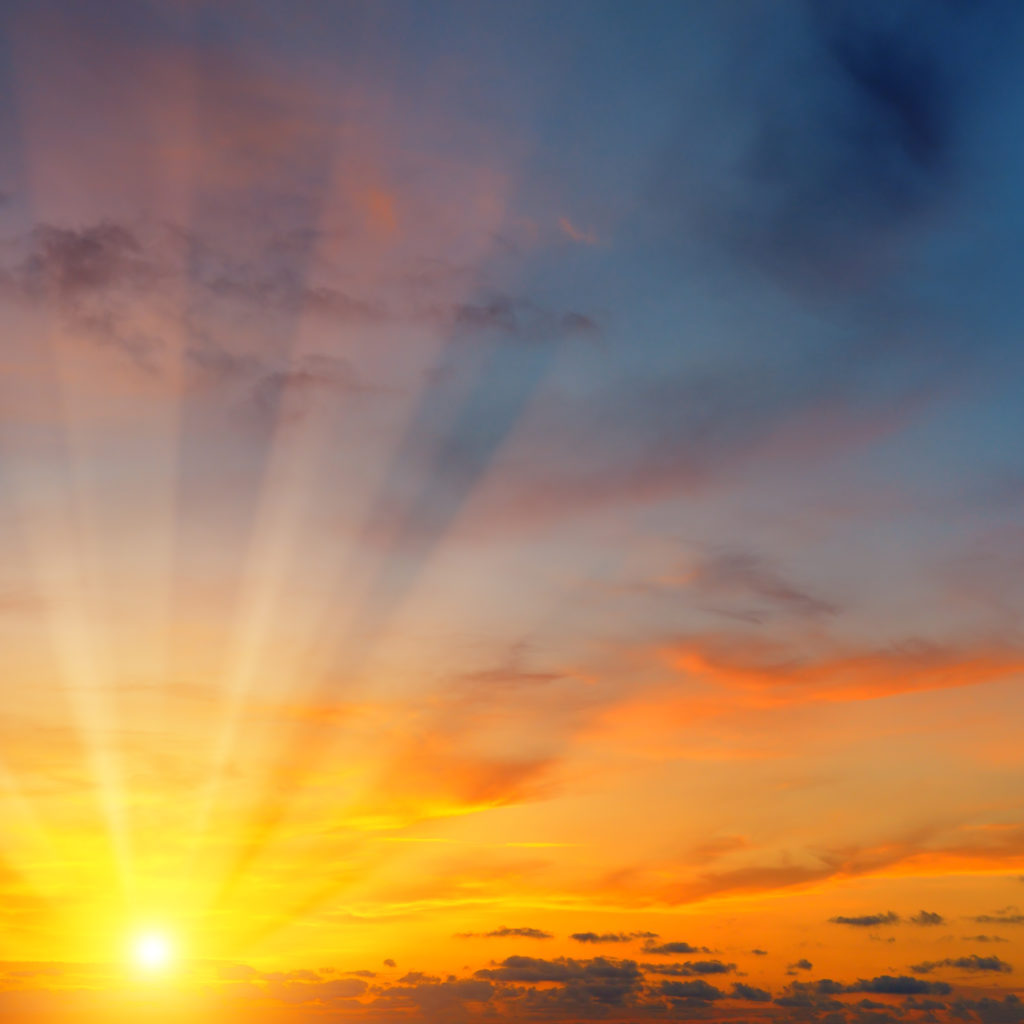 Worship Online
Emmanuel Episcopal Church and Middleburg Baptist Church are offering livestreams of their Sunday services, as well as downloads of past sermons.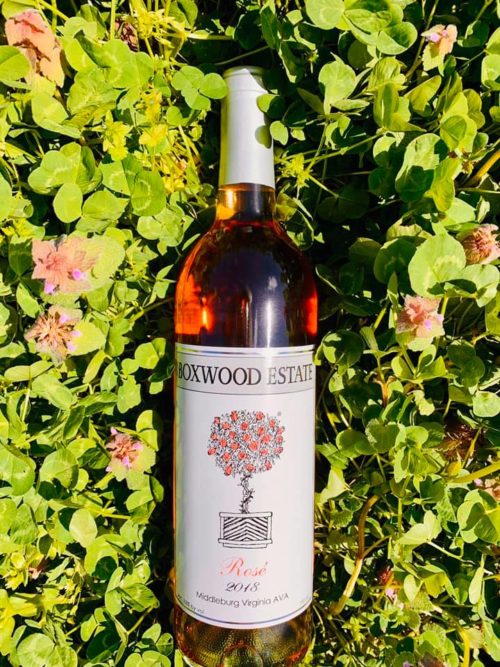 Pantry Pairings with Boxwood Estate Winery
Boxwood Estate Winery has started a new series of videos called "Pantry Pairings." In the first episode, Jessica, Boxwood's sales director, will walk you through some quick tasting tips you can try at home using common kitchen and household items. Stay tuned for the next episode with Erin, Boxwood's hospitality manager, discussing their Rosé! Also available: Boxwood's "Quarantine Cuisine" videos with recipes you can enjoy (or watch) at home.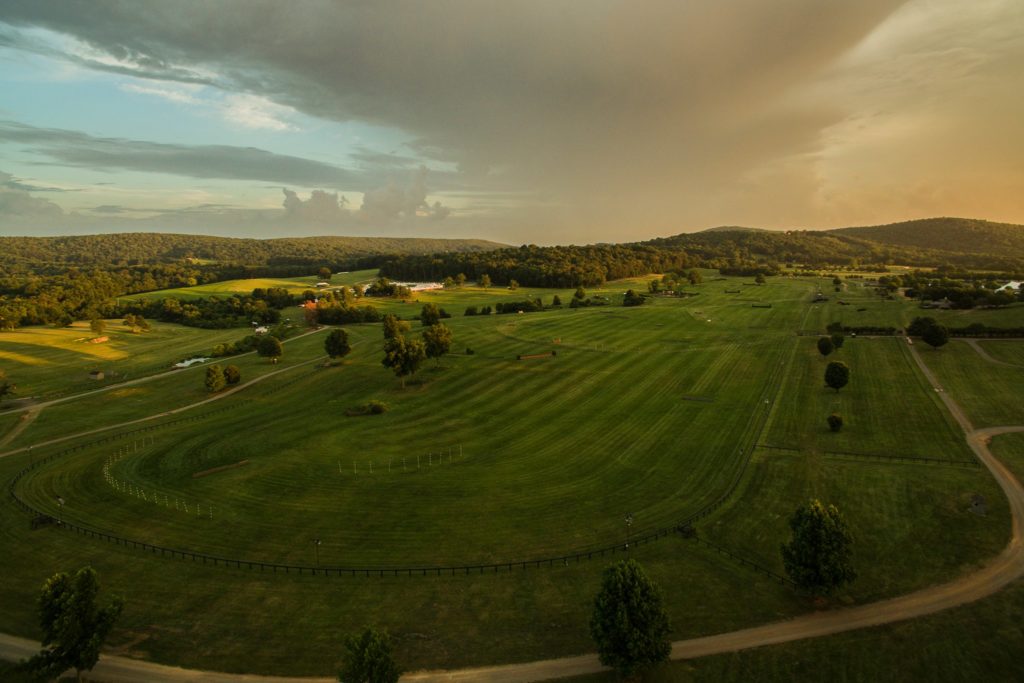 Go for a Walk at Great Meadow
For the time being, Great Meadow fields and walking trails remain open for public enjoyment. Administration offices are closed. Please be respectful and courteous and abide by the below:
Parking is limited to gravel areas. Please do not drive on the grass.
Practice social distancing by remaining 6 feet from others.
No more than 10 people in a group.
Keep dogs leashed at all times.
Clean up after yourself and your pets. All waste must be removed from the property.
Should these rules not be followed, Great Meadow may have to close the gates to the public for walking.
Did we miss something? Email your event to info@visitmiddleburgva.com or DM us on social media.