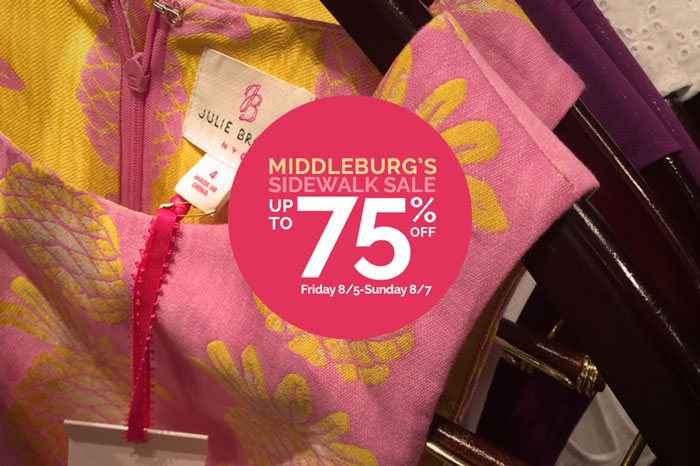 Visit Middleburg during our Sidewalk Sale!
—Hunt for some wonderful bargains for yourself and your loved ones this weekend while experiencing the small town charm of Middleburg during our 10th annual Sidewalk Sale! The sale will be held Friday and Saturday from 10 a.m. – 5 p.m. and Sunday as posted by shops.
The sale coincides with Virginia's tax-free weekend. From Aug. 5-7, you can buy qualifying school supplies, clothing, shoes, hurricane and emergency preparedness items, and select energy-efficient products without paying state and local sales taxes on those items. You can find out more about what items qualify for the tax exemption here.
While you're shopping, be sure to stop by Sonabank at 10 W. Washington St. on Friday and Saturday for additional information about the sale, games and special giveaways. We're so glad to have Sonabank sponsoring this year's event! Other sponsors this year include the Town of Middleburg and the Middleburg Business and Professional Association.
When you need a break from shopping, be sure to stop in at the National Sporting Library & Museum to check out their new exhibits on British sporting prints and the art of Greg Montgomery. Or, grab a glass of wine at Boxwood Winery or Greenhill Winery & Vineyards.
This year's participating businesses include:
Aliloo & Son Rug Gallery
Beyond the Pale
Country Classics
Crème de la Crème
Cuppa Giddyup
Duchessa: Up to 60% off seasonal apparel!
Empower Adventures
Foxfire Antiquities
Gallery on Madison: 20% off all paintings and sculptures Friday and Saturday! Ceramics are 25% off for 1 piece and 35% off for 2 or more pieces!
Highcliffe Clothiers: Up to 75% off select merchandise!
Home Farm Store
J. McLaughlin: Save an extra 20% off all sale merchandise. Sale starts Aug. 2!
Journeymen Saddlers: Select small leather goods are 50% off!
Julien's & Julien's Market
Les Jardins de Bagatelle
Lou Lou: Up to 50% off select merchandise!
Lou Lou Too
Market Salamander
Middleburg Bank
Middleburg Community Center
Middleburg Deli
Middleburg's Finest Chocolates
Middleburg Humane Foundation Thrift Shop
Middleburg Methodist Church
Middleburg Millwork
Middleburg Tack Exchange
Mt. Defiance Cidery & Distillery
National Sporting Library & Museum: Discount on select museum merchandise.
Native Barre
Olio Tasting Room
Popcorn Monkey: $4 shelf bags of Dark Chocolate Sea Salt, tin refills $10 for 3.5-gallon or $5 for 2-gallon, Popcorn Club card $50, free flavor upgrade on new tins.
Red Fox Fine Art
Red Horse Tavern
Richard Allen Clothing
Rose Manor
Scruffy's
Second Chapter Books: Inside: 25% off on the 2nd floor (used book room), 20% off 1st floor books (new) and 10% off non-book items (1st floor). Outside: buy a bag for $5 and fill it from the tables and a percentage of the sales will go to the Seven Loaves Food Pantry.
Side Saddle Café: From 1-5 p.m. on Friday on Saturday, Middleburg's newest restaurant will be set up outside with samples of Fields of Athenry Farm's delectable cheeses and Bernadette's famous scones along with information on what you can expect to be on the menu when the café opens.
Sonabank
Southern States Cooperative
Stitch: Deals on various fibers and savings of up to 70% off on select canvases!
Southern Trust Mortgage
Teddy's Pizza
The Byrne Gallery
The Christmas Sleigh: 20% off select items!
The French Hound
The Fun Shop: Take an extra 10% off already discounted Cuisinart summer appliances, save 10% on Caldrea earth-friendly cleaning products and find seasonal children's clothing at 50% off on the patio. Also, there will be lots of goodies at 50-75% off on the patio! Plus, 30% off all children's summer clothing and women's knit tops and bathing suits!
The Outpost
The Red Fox Inn & Tavern
The Shaggy Ram
The Tack Box: 25% off select rider wear and 20% off select fly sheets and bridles!
The Upper Crust
The White Elephant
Three Crowns
Trotter's Perk Bistro
Tully Rector
Wylie Wagg: Sale on assorted leashes, collars and harnesses.