BCT celebrates opening of new location on The Plains Rd.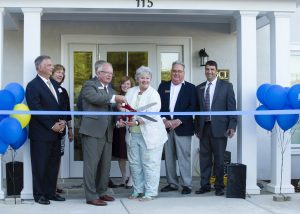 —The Bank of Charles Town held a ribbon-cutting ceremony Tuesday to celebrate its new location at 115 The Plains Rd. as part of the Middleburg Business and Professional Association's monthly Biz Buzz networking event.
The new office space will allow the Middleburg branch to expand its services, said Arch Moore, the bank's chief lending officer. Bank of Charles Town (BCT) opened its first location in Middleburg in 2013 as a loan company, but its customers clamored for more services beyond loans, prompting BCT to open a full-service branch at its new location.
"It doesn't look like necessarily your typical branch office," Moore said, but the bank "handles all the functions that you would handle at a traditional banking office, just a little different style about it."
A number of special guests were on-hand for the official ribbon-cutting, including BCT President Robert Baronner Jr., West Virginia attorney Mary Clare Eros, West Virginia University Medicine University Healthcare President and CEO Tony Zelenka, Summit Point Raceway President Barbara Scott and Middleburg Mayor Betsy Davis. "Welcome to our new banking center and a new style of banking," Moore said at the event, which featured cider from Mt. Defiance Cidery & Distillery, wine from Greenhill Winery & Vineyards, and catering from Bluewater Kitchen and Fields of Athenry Farm.
BCT is not the only Middleburg business changing locations, as Popcorn Monkey will be opening its doors at its new location at 101 W. Federal St on Oct. 1. The store will be having a grand opening celebration from 11 a.m.-6 p.m. featuring a clown, free face painting, free balloon twisting, and the following specials: $2 raffle for a popcorn punch card worth $60, $3 snack Monkey Mix (Cheddar & Caramel), $2 small Italian Ice, $1.50 small butter popcorn. Plus, the first 25 customers will receive a free monkey bag! The caramel is being made fresh, so kids can watch it being made and purchase right on the spot.
In other local business news, Teddy's Pizza is opening a second location in Sterling and the Federal St. Cafe is now open for business again.
The Middleburg Business and Professional Association also continues to grow, now boasting 119 members in its ranks.
"Now that we have survived 25-plus consecutive days of over 90, the construction, one-way traffic, no parking spaces and so much more, it's time to get back into the swing of normal and better business as usual," said MBPA President Punkin Lee, noting a number of upcoming events, including the Virginia Fall Races, Civil War Symposium, Christmas Shop, Middleburg Film Festival, Thanksgiving, Small Business Saturday, the Christmas tree lighting and Christmas in Middleburg.
To celebrate the return to normalcy, MBPA is sponsoring a block party on S. Madison St. on Nov. 5 from 5-7 p.m. that will include music and refreshments. "We want to bring the joy back to what we're trying to do in town," said MBPA Board Member Bob Ball.
And, of course, Middleburg's biggest annual event is already just around the corner, so MBPA board members provided some news about Christmas in Middleburg at the meeting. This year's event will be held Dec. 3, with the Middleburg Hunt Review with horses and hounds at 11 a.m. and the Christmas Parade at 2 p.m., and both parades will have new barriers set up along the sidewalks on Rte. 50 during the parades to prevent the crowd from encroaching into the road.
Also this year, there will be food trucks in the parking lots of the Middleburg Community Center and BB&T including Hammer Down BBQ and Black Fig Pizza, and parking will be available at three lots: across from Greenhill Winery east of town, near Zulla Rd. on the west side and at Salamander Resort & Spa. Christmas in Middleburg is also seeking volunteers to meet and greet at the bus stops, pass out programs, give directions and help with crowd control, so please contact Jim Herbert at 571-278-5658 or organizer@christmasinmiddleburg.org.
We look forward to seeing everyone again at the next Biz Buzz, which will be held at Washington Fine Properties on Oct. 11 from 5:30-7:30 p.m.
[su_slider source="media: 47553,47550,47549,47548,47547,47552,47551,47544,47543″ width="440″ height="200″ title="no" speed="700″]