Middleburg's Weekend Guide: Sept. 9-11, 2016
—The weekend is almost here! Have you figured out your plans yet? If you need some ideas, we've got your complete guide to what's happening in Middleburg. Check out these great activities and remember to share your memories with us by using #MiddleburgMoment

Meet some greyhounds available for adoption or find out more about volunteering at Wylie Wagg on Saturday!
Join Three Fox Vineyards as they celebrate the Patron Saint of Naples, a huge tradition in New York's Little Italy. They'll have sausage and pepper hoagies, as well as artists, crafts, jewelry and more. The band Movin' On will be playing live music from 1:30-4:30 p.m, and Debbie Cadenas, a local Middleburg artist who specializes in pet portraiture in oils and acrylics, will have some of her work on display for sale. Debbie will also be doing face painting! Eric Buckland, the author of several books about Mosby's Rangers, will be available from 1-4 p.m., and Mike Pivarnik of Tulip Hill Woodworks will feature some of his one-of-a-kind, hand-turned bowls and platters from domestic and imported hardwoods from 1-5 p.m. Pam will be selling beautiful Stella & Dot jewelry and Popcorn Monkey will have kettle corn and wine slushies from 1-5 p.m.
Storytellers from NOVAParks join hands with their counterparts from the Mosby Heritage Area Association. Join us well after dark to let Mt. Zion Historic Park tell us sensory tales of the past. With its 165-year-old church, Civil War battlefield, cemetery, slave cemetery and 18th century road trace, it is the perfect place to grip hands with someone you love. Libations served; not appropriate for children. An inside-outside program; dress for the night. Co-sponsored by the Northern Virginia Regional Park Authority. Tickets are $15 in advance; $18 at the door.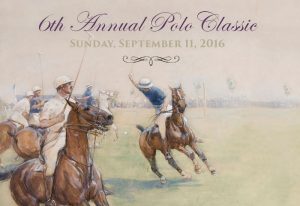 The National Sporting Library & Museum's 6th Annual Polo Classic fundraising event will be held at Great Meadow in The Plains, Virginia. John Gobin, a six-goal polo player and manager at Great Meadow, is organizing teams for two matches, four chukkers each. Gates will open at 11 a.m. to start all the pre-match festivities. Tickets, tables, tailgate passes and general admission passes can be found at nationalsporting.org. For more information about the event, contact Alexandra McKay at amckay@nationalsporting.org or (540) 687-6542, ext. 24.
Part of the Middleburg Concert Series at Middleburg United Methodist Church, this concert will feature traditional folk music from northern Mexico by Esencias, an acclaimed musical group from Monterrey, Mexico, accompanied by Alan and Cynthia Saucedo. The concert will begin at 4 p.m. and feature light refreshments from Casa Tequila Bar & Grill. For more information, contact middleburgconcertseries@gmail.com or call (540)303-7127.
While you're in town, be sure to check out the new art exhibit at Salamander Resort & Spa featuring works by Francine D'Antuono in the Aldie room and stable lobby, which is open daily from 9 a.m.-4 p.m. Francine D'Antuono holds a degree in fine art and applied design from the University of Maryland and has enjoyed a long, successful career as an illustrator and graphic designer. Francine's illustrations and graphics have appeared commercially nationwide in zoos, aquariums and museum shops.
As always, be sure to check our event calendar for more upcoming events in Middleburg.
Upcoming next week
Join us to network with Middleburg's business and professional community! At 5:45 p.m., the Bank of Charles Town will have a ribbon-cutting ceremony with Mayor Davis and members and guests of the Middleburg Business and Professional Association. The evening will also include a 10-minute Biz Buzz to keep you up-to-date on what's going on in town.
The National Sporting Library & Museum (NSLM) will feature a talk with renowned equestrian judge and trainer George Morris, who has an award-winning riding history spanning more than 60 years and is considered a superstar in the equestrian world. He will be visiting NSLM to speak about his autobiography, Unrelenting: The Real Story: Horses, Bright Lights and My Pursuit of Excellence, which was published this spring. Attendees will be able to purchase copies of Unrelenting when reserving their seats at nationalsporting.org. Registration is required to attend this event. Admission is $10, but NSLM members receive free admission. Seating is limited to the first 100 RSVP's. For more information, contact Anne Marie Barnes, NSLM's educational programs manager and fellowship advisor, at abarnes@nationalsporting.org or (540)687-6542 x25.
Join us for a night of fun on the front steps of the Middleburg Community Center for a concert! The event will feature music by Bryan Fox, light bites by Market Salamander, drinks by the Middleburg Lions Club and tablescapes by Nature Composed. This event is free and open to the public.
This premier "barn black tie" event features a live auction, dinner and dancing on Sprout Therapeutic Riding & Education Center's bucolic farm starting at 5:30 p.m. Please visit Sprout's website for tickets and more information about the event, including sponsorship opportunities.
Mark your calendar
Discover a treasure at the Hill School among thousands of antiques offered by antique dealers from around the country. Contact dordy@dfshows.com for more information.
Racing highlights include the running of the feature race of the day, the $40,000 National Sporting Library & Museum timber classic. There will be a Family Fun Fair with a petting zoo, pony rides and big slide provided by INOVA Loudoun Hospital Foundation. Along with a full card of racing, spectators are encouraged to come early as they will get a taste of fox hunting with the finals of the Theodora A. Randolph Field Hunter Championships being held right on the race course at 9:30 a.m.
Don't miss the Aldie Heritage Festival and Duck Race! The event will include vendors featuring antiques, crafts, jewelry and collectibles, as well as kids' games, a moon bounce, historic and civic organizations, and music by Andy Hawk and the Train Wreck Endings. And the Aldie Mill will be open for milling! Please visit the Aldie Heritage Association's website for more details on the event, including sponsorship opportunities, and to purchase tickets to "adopt a duck."
Bringing the best in independent films right to town, the Middleburg Film Festival offers four days of fantastic films in a spectacular setting. Join us and see what the fuss is all about! Advance tickets are now available for purchase.