For Greenhill's Sébastien Marquet, Winemaking Comes Naturally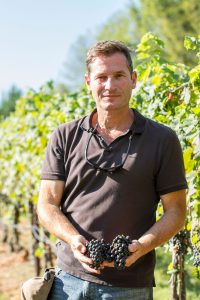 — It's no wonder that Sébastien Marquet became a winemaker. After all, he was born in Burgundy, France, and some of his earliest memories consist of harvest season at his grandfather's vineyard.
Watching his grandfather work at the vineyard all day long with his dog at his side made Marquet realize the benefits of living life at a slower pace.
"We don't have to run all the time. … We just have to take the quality time that people need to have peace with themselves," Marquet said. "For me, that was really the key to say, 'I really want to have a life like that. I really want to go with my dog and work the vineyard and walk the vineyard and produce high-quality wine.'"
Marquet decided to pursue winemaking at age 12, started studying at the Lycée Viticole et Oenologue de Beaune in Burgundy the following year, and produced his first wines in 1989.
After three years as a winemaker in Burgundy, he managed vineyards and produced wine in Languedoc-Roussillon in southern France, expanding upon his Burgundy techniques with the Bordeaux and Cotes du Rhones varietals.
His next challenge was winemaking in Martinique, where he launched the first Caribbean vineyard. Later, he moved to California, where he worked at wineries throughout Sonoma and the Napa Valley.
Today, he works as a winemaker for Greenhill Winery & Vineyards, where he's in charge of ensuring wine quality remains consistent vintage after vintage. As a "hands-on" winemaker, Marquet prides himself in conducting and coordinating every aspect of the winemaking process, so you will often find him on-site, whether he's in the vineyards overseeing the harvest or conducting berry and wine analyses.
The fruit of his efforts can be seen in the many awards that Greenhill Winery has already accumulated, despite only being open for three years, including a Double Gold medal at the San Francisco Chronicle competition for their 2014 Chardonnay. Greenhill wines were also included in last year's Oscar swag bags.
Though Marquet's adventurous spirit and love of great wine has brought him all over the world, it's clear that he has found a good home in Middleburg.