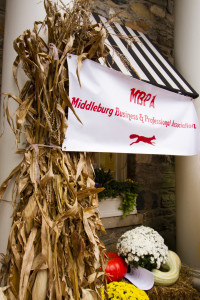 A record number of candidates for the 2016-2017 Middleburg Business and Professional Association's Board of Directors helped to spur interest in the election, with members selecting their preferred choices from a slate of 10 candidates.
That was the message of MBPA Vice President Ken Reid as he noted that 29% of the association's membership cast ballots in the election, above the expected turnout. The 7 board members elected for the next term will be announced at the association's next Biz Buzz, Reid said.
Reid also took the opportunity to thank outgoing board members Mimi Dale Stein, Genie Ford, and Jo Ann Hazard for their service to the association.
The announcement came as part of MBPA's Biz Buzz at Home Farm on Oct. 13, where members and their guests sampled delectable treats such as smoked curry turkey salad, beef pasties, roasted red pepper hummus, pecan pie tartlets, and pumpkin cheesecake.
Also announced at the meeting: Construction on the long-awaited Rte. 50 traffic calming project will begin Thursday, Oct. 15, with no parking on either side of Washington St. between The Plains Rd. and Pendleton St. until Friday, Oct. 16, at the conclusion of work. Parking will be available on both sides of the street for the weekend, but there won't be parking available in the construction zone on either side of the street from Oct. 19-Oct. 22. Again, parking will be available on both sides of the street for the weekend, as the town hosts the Middleburg Film Festival.
You can find out more about the $4.8 million project, which the Virginia Department of Transportation anticipates completing in November of 2016, on the VDOT website.
MBPA President Punkin Lee also announced that two businesses in town have recently changed hands: Stitch and Middleburg's Finest Chocolates, formerly known as Shenandoah's Finest Chocolates. "Lucky for us, the stores are staying," Lee said.
Also of note: MBPA is seeking nominees for its year-end business awards and will be hosting a professional development workshop run by Google consultant Michael Johnson on how businesses can enhance their presence on the internet search engine. Look for more details soon.
The monthly mixer also served to highlight several important upcoming events, including: