Middleburg's Weekend Guide: Oct. 7-10, 2016
—It's definitely starting to feel like fall out there, and we are loving it! We've got a lot of fun activities this weekend, covering everything from the Civil War to ghost stories to steeplechase racing. Check out everything going on and remember to share your memories with us by using #MiddleburgMoment
Also, visit our event calendar for more happenings around town!
The Mosby Heritage Area Association is focusing on July 3, 1863, at Gettysburg for this year's conference, with eight provocative talks by distinguished historians and a guided bus tour in Gettysburg. Cost: $225 for the lectures only, $450 for the full conference. Register at mosbyheritagearea.org.
Play bocce on Three Fox's vine-side courts. Get a great discount on wine and merchandise purchases for wearing the Italian colors or showing a Knights of Columbus, Sons of Italy or similar card! Pam will be selling beautiful Stella & Dot jewelry on Saturday from 1-5 p.m. Join Posh and Susan Rogers on Saturday from 1-3 p.m. for the release of Posh's book "Posh Celebrations." Carole Pivarnik, the book's illustrator, will be joining Posh and Susan for the festivities! Richard Giersch will be playing classics from the '60s-'90s from 1:30-4:30 p.m. on Sunday.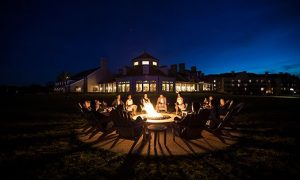 Join Middleburg Ghost Tours at Salamander's fire pit on the Grand Lawn each Friday in October as they tell stories of some of our more active and gruesome hauntings in the area. Discover the town of Middleburg through tales featuring the unique architecture, surrounding cemeteries and interesting lore about the lives of the people who once lived here.
Racing highlights include the running of the feature race of the day, the $40,000 National Sporting Library & Museum timber classic. There will be a family fun fair with a petting zoo, pony rides and big slide provided by Inova Loudoun Hospital Foundation. Along with a full card of racing, spectators are encouraged to come early as they will get a taste of fox hunting with the finals of the Theodora A. Randolph Field Hunter Championships being held right on the race course at 9:30 a.m.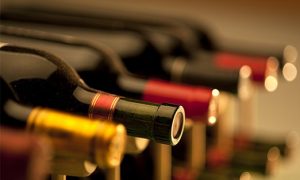 Stroll station to station to taste wines from five different local wineries and meet the winemakers to learn more about how they create their special blends; wineries include North Gate Vineyard, 868 Vineyards, Veritas Winery, Lost Creek Winery and Granite Heights. Also on this day only, enjoy favorite Harrimans dishes for a three-course lunch. For reservations, please call 540-326-4070. $45 per person.
Ignite your core and awaken your entire being with flowing twists, energizing standing poses and deep-rooted footwork. Be ready for the change of seasons inside and out with guided yoga taught by Monica Fernandi. Reservations are required. 90 minutes. $45 per person.
Enjoy music by Emily Rose as you sip your favorite Greenhill wines!
The Hunt Country Classic British vehicle show features entertainment for everyone, from apple pressing to hayrides to music by the Alexandria Pipers. Combine this with a delicious lunch, and you have the Hunt Country Classic experience … one without equal. This year, they will be continuing the Prince of Wales class. All first place winners from the previous year will automatically be entered in the prestigious Prince of Wales class. The "best of the best" will win the coveted Prince of Wales Award. The event will also feature a silent auction for the Middleburg Humane Foundation.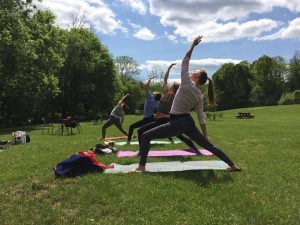 Kate Powell of Fertile Ground Yoga will be conducting a yoga workshop at Three Fox. Start your day off with a grounding and relaxing all-levels yoga class in the meadow, on the edge of a bubbling stream. Bring a picnic for after and enjoy all the vineyard has to offer. Special discount on glasses of wine and 15% off bottle purchases for participants. For more information and to register, click here.
Enjoy music by Alan Gant as you sip your favorite Greenhill wines!
Join us this Sunday at The Local Taste as they host local duo The Crooked Angels. Enjoy their unique sound as well as wines by Slater Run Vineyards and from around the world available for purchase by glass or bottle.
Upcoming next week
Give your dog a bone—literally. Visit, enjoy drinks, snacks and, of course, dog treats! Drink specials and Gold Cup Wine Bar menu items specifically for Yappy Hour participants. Event will take place on the Grand Lawn from and 10% of the profits made during the Yappy Hour event will be donated to the Middleburg Humane Foundation. Yappy Hour will take place every Tuesday until Oct. 25.
Each week, NSLM's librarian or museum curators will give attendees a personalized peek at traveling exhibitions, new acquisitions and permanent collections pieces. No two tours will be alike. Reservations are not required and admission is free. Bring your friends! Gallery talks are every Wednesday at 2 p.m. This week's tour is about the library collections.
All levels of golfers are welcome! Registration starts at 11 a.m. Shotgun start at 12 noon, with a box lunch provided. There will be a buffet dinner with awards and raffles immediately following play. Mulligans may be purchased at registration. There will be awards for net and gross scores, as well as prizes for longest drive, closest to the pin, and more. Proceeds from the golf tournament help support the Hill School Alumni Association's commitment to community outreach and Hill's need-based financial aid program. For more information, please contact Lisa Patterson at 540-687-5897 or lpatterson@thehillschool.org. Cost: $150 per player (non-refundable).
Mark your calendar
Scores of parents from across the country will be in Middleburg to enjoy a weekend of classes, performances, athletic events and the one-and-only Parents' Association Auction.
Join us in a fun fall day as we celebrate Middleburg! We will have vendors, a moon bounce and food to purchase. This a great opportunity for you to meet businesses and non-profits that service Middleburg, but you may not see all the time. Spaces are still available to rent. Call 540-687-6375 or email jennifer.sweigart@loudoun.gov for more information.
Don't miss the Aldie Harvest Festival and Duck Race! The event will include vendors featuring antiques, crafts, jewelry and collectibles, as well as kids' games, a moon bounce, historic and civic organizations, and music by Andy Hawk and the Train Wreck Endings. And the Aldie Mill will be open for milling! Please visit the Aldie Heritage Association's website for more details on the event, including sponsorship opportunities, and to purchase tickets to "adopt a duck."
Bringing the best in independent films right to town, the Middleburg Film Festival offers four days of fantastic films in a spectacular setting. Join us and see what the fuss is all about! Advance tickets are now available for purchase.