Middleburg's Weekend Guide: Oct. 21-23, 2016
—Happy Friday, everyone! Middleburg has a lot going on this weekend to keep you entertained, including the Middleburg Film Festival, the International Gold Cup at Great Meadow, and moonlit zip tours and ghost stories to get you in the Halloween spirit. Here are just a few highlights of what this weekend has to offer:
Experience the natural beauty, food, wine and warm hospitality of Middleburg while experiencing a carefully curated selection of narrative and documentary films screen in intimate theatre environments. The films include festival favorites, world premieres, first-class foreign films and Academy Award contenders. "La La Land," a romantic musical staring Ryan Gosling and Emma Stone, will be the centerpiece film of this year's festival. You can purchase tickets and find out more about the full schedule of events on the festival's website. Ticket prices starts at $10 for students and $15 for general admission.
Susan Tancer Studios creates a line of hand-painted and crafted clutches, totes and weekenders that are one-of-a kind and versatile. The designs are unique, individual pieces of art, hand-signed by the artist. From fun and funky to sophisticated and chic, customers select those that suit their personality or mood of the day. Susan Tancer will also be featuring hand-painted purses inspired by the Sheila Johnson collection.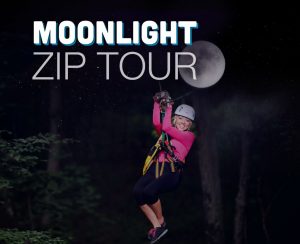 Bring out your inner ghost or goblin for our Halloween Moonlight Zip Tours. Celebrate the night with your friends and family by sporting your favorite costume, soaring through the trees and channeling your inner ghost as you float from platform to platform in the dark. For reservations, please call 540-692-9471. Cost: $130 per person.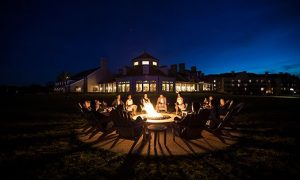 Join Middleburg Ghost Tours at Salamander's fire pit on the Grand Lawn each Friday in October as they tell stories of some of our more active and gruesome hauntings in the area. Discover the town of Middleburg through tales featuring the unique architecture, surrounding cemeteries and interesting lore about the lives of the people who once lived here.
This fun and festive event will feature works of art from a number of local artists and live traditional folk music by The Butchers from noon-3 p.m. Featured artists include: Lynn Dimoff, Haroun Miskinay, Susanne Lane, V Lynn Moore, Ray Hart, Brenda Griffin and Courtney Kincaid. More info: info@middleburgarts.org.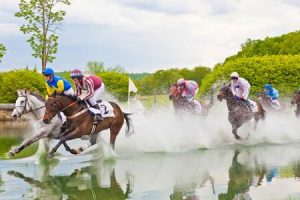 Make plans to attend the 79th running of the International Gold Cup Races at Great Meadows in The Plains. Enjoy an afternoon of tailgating, socializing, terrier race exhibitions, fancy hats and pari-mutuel horse racing. There are five steeplechase and four flat races, highlighted by the $75,000 Gold Cup race itself. The undercard includes the $50,000 David L. "Zeke" Ferguson Memorial Hurdle Stakes. Buy tickets or get more information at www.vagoldcup.com or call (540) 347-2612.
Eight Royale creates high quality women's ballet flats that fold like the wings of a butterfly and evoke the spirit of Paris. Eight Royale ballet flats are crafted from the finest leather to be robust and comfortable. These ballet flats are like walking on clouds and are perfect for easy transition from a day at the office to a night out.
Join in the fun with all TGA of Loudoun County participants for the first ever Fall for Tennis Fest! Get a chance to watch your kids in action as they showcase all their great TGA Premier Youth Tennis skills, try new skills-based challenges and enjoy some fall-season fun! This will be a fun-filled afternoon of tennis with games, a serve speed cage, arts and crafts, contests and more! Open to children ages 5-12 of any skill level. Bring family and friends! This event is free, but donations to their 501(c)3 nonprofit organization are encouraged. Registration is required. For more information and to register, please visit: http://tinyurl.com/TGAFallForTennis
When the East meets the West, the culinary creations fostered are decadent. Indulge in the two combined in this class by preparing spring rolls and noodle dishes from scratch, using only the freshest ingredients. For reservations, please call 540-326-4070. Cost: $79 per person. Maximum of 12 people.
Enjoy music by the Jazz Guitar Duo while sipping your favorite Greenhill wines!
Men who want to look fashionable this fall, mark your calendars. Oxxford Clothes of Chicago will be having a trunk show at Highcliffe Clothiers featuring their quality custom clothing.
Decorate with stickers, paint or carve a toothless grin on your own pumpkin. For reservations, please call 540-326-4060. Cost: $25 per pumpkin.
Spend a day with Three Fox Vineyards experiencing la dolce vita! Enjoy a picnic in their meadow (complete with a nap in one of their creek-side hammocks), play bocce ball or corn hole in the vineyard, sit at one of their hillside tables, on their tented al fresco terazza, or their brick patio and take in the view while you enjoy our wines which are made in the old world tradition. Richard Giersch will be playing classics from the '60s-'90s from 1:30-4:30 p.m. and great food will be available by Smokes BBQ! Renowned author Lisa Pell will be there from 1-4 p.m. signing copies of her latest novel, Dystortions: 100 Hues of Purple.
Come enjoy some Three Fox wine while taking a painting class with Julie Taylor of Uncork and Color. Register at uncorkandcolor.com.
Upcoming next week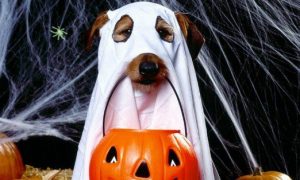 Join us for a little pre-Halloween fun with delicious food and beverage offerings from Gold Cup Wine Bar and special treats for you fur-babies. Also, dress your pet to impress for the costume contest. 10% of the profits will be donated to the Middleburg Humane Foundation.
Each week, NSLM's librarian or museum curators will give attendees a personalized peek at traveling exhibitions, new acquisitions and permanent collections pieces. No two tours will be alike. Reservations are not required and admission is free. Bring your friends! Gallery talks are every Wednesday at 2 p.m. This week's tour is about changing exhibitions.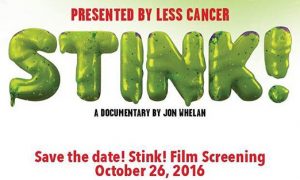 A documentary by Jon Welan, Stink! reveals the hidden hazardous chemicals lurking in everyday products. Complimentary screening. Seating is first come, first served. Presented by Less Cancer. Email info@lesscancer.org for more information.
Mark your calendar
Join us for a night of fun on the front steps of the Middleburg Community Center! We will have live music by Bryan Fox, Andre Fox and Gary Smallwood, light bites and drinks, and a good time for all to enjoy! This event is free and open to the public.
We'll be celebrating fall with the final Middleburg Concert on the Steps by making scarecrows near the herb garden and cooking s'mores on the terrace patio! Call 540-687-6375 to RSVP by 10/25.
Join the Fun Shop for their 60th anniversary and grand re-opening celebration! There will be door prizes, refreshments, giveaways and specials!
Join Middleburg Business and Professional Association Board Members for a parade of costumes down front street right before "Hot Dog, It's Halloween!" at the Middleburg Community Center. Be lined up ready to join the foot parade by 4:55 p.m. on the front steps of the center. Halloween characters will lead the foot parade down Washington Street to Liberty Street then back to the center by 5:30, in time to enjoy "Hot Dog, It's Halloween!" This is just a parade of costumes, not trick or treating time!
Join us for costumes, food and fun before you go trick or treating! Free entry and parking.
Also, visit our event calendar for more happenings around town!