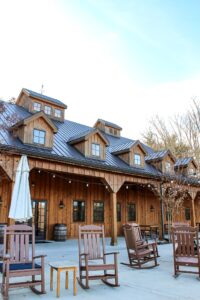 It may have been bitterly cold outside, but the Middleburg Business and Professional Association's February Biz Buzz was cozy on February 8, 2022, where a myriad of new faces were warmly welcomed at Mt. Defiance Cidery & Distillery's Cider Barn.
"January was slow and cold," said MBPA President Punkin Lee. "But we have a lot coming up in February and March!"
Early February festivities included town-wide Valentine's Day activities, the Winter Weekend Sale, Boxwood Winery's "Cupid's Cave" wine and chocolate event, and the Land Trust of Virginia and Goose Creek Association's virtual screening of the acclaimed film 2040.
The National Sporting Library & Museum is hosting a free virtual event via Zoom and Facebook Live on
February 24 with renown American writer Jennifer Ackerman, author of The Genuis of Birds. Ackerman will be joined by Ambassador Animals from the Wildlife Center of Virginia with the organization's President/Co-Founder Ed Clark and Senior Vice President Amanda Nicholson.
Bingo is back at the Middleburg Community Center on Friday, February 25, 2022, from 6:30-9:30 pm.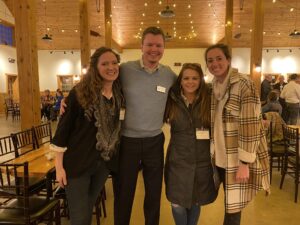 Tickets are $40 each and include one bingo card for each of eight games, chili bar by Tutti from Back Street Catering, one raffle ticket, and one drink ticket. Additional drink tickets for bar, bingo cards and 50/50 cash raffle tickets will also be available for purchase, and an array of prizes will be awarded to Bingo winners!
The monthlong celebrations of Black History Month continue, as Market Salamander hosts a collaborative dinner featuring African American wine maker Kindra Dionne of The Fifty Leven Collection on Saturday, February 26. The five-course pairing dinner features delicious African, Caribbean and Southern flavors paired with local wines.
MBPA and Seven Loaves have joined forces to collect new KN-95 masks for Windy Hill Foundation residents now through March 15, 2022. Please bring new KN-95 masks to Punkin at Journeymen Saddlers, 2 West Federal Street, Middleburg.
In addition to new Board Members Dwight Grant and Mabel Walsh, MBPA welcomed new members Ekko Title and Rosemary Antiques. Laura Tubridy of Ekko Title was on hand to introduce the business to the community, as was Albert Pollard of Rosemary Antiques, who remarked, "This is an extraordinary community, and I am glad to be here!"
After ten years at the helm of visitmiddleburg.com and managing all associated social media accounts, Eryn Gable of Focal Point Creative has moved forward with her career and has accepted a new full-time position. In her stead, Katy Carter will be handling all website and social media related duties for MBPA and visitmiddleburg.com. Katy has lived in the area for over 20 years and has a wealth of experience in communications and marketing for multiple entities, including the Upperville Colt & Horse Show and Virginia Fall Races. Please feel free to share business photos, news and events with Katy info@visitmiddleburg.com or 571-246-5029.
MBPA also welcomed David Mars, the newly installed General Manager of the Salamander Resort & Spa. David came to Middleburg from Salamander's Henderson Beach Resort in Destin, FL. "I am thrilled to be a part of this amazing community," David said. "Our success depends on your success―we need your support and will do the same for you."
Members who have not completed and returned the MBPA survey that was emailed earlier this year are strongly encouraged to do so. Click here to complete the survey!
The MBPA Biz Buzz is a monthly networking event held on the second Tuesday of the month, except in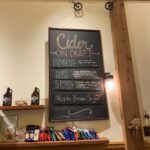 January. These events bring local business owners and professionals together to network, provide local businesses with an opportunity to showcase their facilities and services, and help to spread the word about interesting news and events in the Middleburg community.
The next Biz Buzz will be held March 8, 2022, at the Salamander Resort & Spa from 5:30-7:30 p.m. We hope to see you there!