— Mrs. Bright, cafeteria manager at Aldie Elementary School for more than 25 years, made these rolls, which were a favorite of kids and teachers. The Aldie PTA also baked these rolls to sell at the Aldie Harvest Festival. Recipe submitted by the Aldie Heritage Area Association.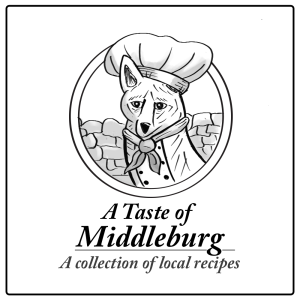 Prep time: 45 minutes + 2.5 hours rising time
Cooking time: 25-30 minutes
Servings: 48
Ingredients:
DOUGH
6 cups warm (not hot) water
6 Tbsp. dry yeast
1 cup sugar
2-3 tsp. salt
1 /2 cups melted butter
2 cups powdered milk
15-18 cups flour
FILLING
2 1/2 cups sugar
6 Tbsp. cinnamon
10 Tbsp. melted butter
ICING
5 cups powdered sugar
2 Tbsp. vanilla
1/2 cup milk or half & half
Directions:
1. In heavy duty mixer, combine water, yeast, sugar, salt and butter. Mix well. Add flour and dry milk a cup at a time. Mix until dough is smooth and elastic (may be a bit sticky). Turn into a well-oiled bowl, turning so top is oiled. Cover and let rise until doubled in bulk, about 1 hour.
2. Divide dough into 4 portions. Roll each on floured surface into 12″x18″ rectangle.
3. For each 12″x18″ rectangle, spread 2 1/2 Tbsp. melted butter on the dough. Mix cinnamon and sugar, then sprinkle a quarter of the mix over the buttered dough. Roll up the long side jellyroll fashion and cut into 2 1/2″ slices (you should have 12 rolls).
4. Place rolls into a lightly buttered 9″x13″ pan. Let rise until double in bulk or when indenture stays when touched with finger (about 1 hour).
5. Bake at 400 degrees until golden brown, 25-30 minutes.
6. Mix powdered sugar, vanilla and milk until smooth. Ice or glaze rolls while warm (not hot).