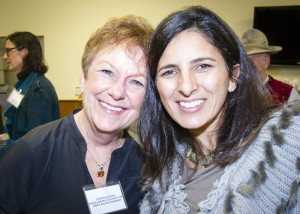 The election results are in, and the Middleburg Business and Professional Association is welcoming three new members to its Board of Directors: Melanie Matthewes of the National Sporting Library & Museum, Pat Horvath of Salamander Resort and Spa, and Alex Fleming of Yount Hyde and Barbour.
Also re-elected to the board were Punkin Lee, Ken Reid, Christina Naramore, and Phil Miller. Cindy Pearson also continues to serve on the board as an ex-officio member in her role as the Economic Development Coordinator for the Town of Middleburg.
The new board will serve from Jan. 1, 2016-Dec. 31, 2017. Congratulations to the new board members!
The changes were announced as part of MBPA's monthly Biz Buzz, held Nov. 10 at Middleburg Bank. With the holiday shopping season almost upon us, the monthly networking gathering was abuzz with preparation for the holidays, including two major upcoming events: Small Business Saturday and Christmas in Middleburg.
Small Business Saturday, an event created by American Express to encourage people nationwide to shop at small businesses, will be held on Nov. 28. You'd be hard-pressed to find another town that exemplifies the small business spirit more than Middleburg, so it's no wonder that the town is participating. To jumpstart the event, MBPA gave away free marketing materials to select local businesses at the Biz Buzz and encouraged all local retailers and restaurants to participate by signing up for the event on the American Express website. Participating businesses can receive free marketing materials, online advertising, and merchandise.
And, of course, the following weekend is the one we've all been waiting for: Christmas in Middleburg! The event kicks off this year with Middleburg's Christmas tree lighting at the Pink Box on Dec. 4 from 5-6 p.m., with refreshments provided by Home Farm and music by the Piedmont Singers. At 6:30 p.m., A Place to Be will have its holiday recital at Salamander Resort.
There is a full slate of activities scheduled for Dec. 5, including Breakfast with Santa at the Middleburg Community Charter School from 8-10:30 a.m., the Middleburg Hunt & Hounds Review at 11 a.m., and the Christmas Parade at 2 p.m. Full details on the day's schedule can be found on the Christmas in Middleburg website.
If you're interested in advertising in the Christmas in Middleburg program guide, please contact Jim Herbert at organizer@christmasinmiddleburg.org ASAP. There are only a few days left to get your ads in!
In other business news, the community welcomed three new businesses at 119 The Plains Rd.: Ashby Gap Psychiatric, The Jackson Clinics, and Terra Alpha Investments.
Other upcoming events of note include:
Caregivers: A Discussion with Author Bobbi Carducci (Nov. 12): Caregiver, blogger and author of Confessions of an Imperfect Caregiver, Bobbi Carducci invites the public to participate in an open discussion about what it's really like to be a caregiver for a seriously ill family member. The event will be held at the Middleburg Library from 7-8 p.m. and include books for sale and signing.
Holiday Open House (Nov. 14): Timeless Trends Boutique will be holding this free event from 10 a.m.-6 p.m. to showcase the opening of its new store in Aldie.
C.M. Foss at Middleburg Common Grounds (Nov. 15): From 2-4 p.m., local writer C.M. Foss (aka: Clare Mansmann) will introduce her fourth book, Jock. Second Chapter Books will have book available for sale.
Discover the Dental Implant Revolution (Nov. 17): This free educational event, which starts at 6 p.m., is presented by Middleburg Smiles and will cover the benefits of dental implants. Call 540.687.6363 to reserve your spot.
Meet the Author: James W. Symington (Nov. 21): Former Congressman James W. Symington will be available to talk about and sign his latest book, Heard and Overheard.
Community Christmas Dinner (Dec. 25): Middleburg's 6th annual community dinner will be held at Emmanuel Parish House from 1-3 p.m. This free event is sponsored by MBPA, Second Chapter Books, Emmanuel Episcopal Church and local community members. Call 540.687.7016 for more information.
As a reminder, the next Biz Buzz will be held Dec. 8 at Emmanuel Parish House. See you then!