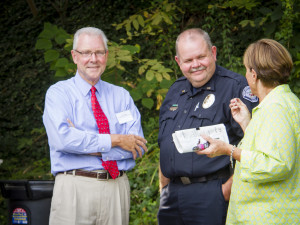 It's election time again! The Middleburg Business and Professional Association  is seeking nominations for 7 board members for the 2016-2017 term.
Nomination forms are due Sept. 11, 2015, and may be given to Kim O'Donnell, CPA, Chair of the Nominating Committee via fax (540.687.8293), email (kim@odonnellcpas.com), or mail (MBPA, PO Box 1384, Middleburg, VA 20118). If you nominate via email, please be sure to include all of the information requested on the nomination form (i.e., name of the nominee, the nominee's business affiliation, and your name and business affiliation) and send it from an email account with your name for verification purposes.
All members may nominate individuals to serve on the board, and any member in good standing may be nominated and elected to office.
The election announcement came as part of the August Biz Buzz, held Aug. 11 at Middleburg Millworks, which is celebrating its 46th year in business this year. The event served as an opportunity to highlight the success of the August Summer Sidewalk and several events of interest to the business community.
Among them are two roundtable discussions hosted by Union Bank. The first discussion will be held Friday, Aug. 14, from 8:15-9:15 a.m. and focus on issues surrounding business secession. The program is free but seating is limited, so reservations are requested by Aug. 12 by calling 540.687.3500 or emailing Christina Naramore at christina.naramore@bankatunion.com.
The second roundtable discussion will focus on the new EMV chips on credit cards and ensuring your business complies with regulations regarding these cards. The event will be held Aug. 20 from 5-6 p.m.
Also discussed at the mixer was an important fundraiser for A Place to Be, which provides music therapy for people with autism, Asperger's syndrome, Down syndrome, cerebral palsy, emotional challenges and chronic illness. The nonprofit has launched an Indiegogo campaign seeking to raise $25,000 for building costs associated with making their new facility ADA accessible.
Also of note for eco-minded businesses: Scorecards for the Loudoun Dulles Green Business Challenge are due Sept. 4. To participate in the challenge, businesses must register and complete the scorecard prior to the deadline. The Green Business Award Ceremony will be held Nov. 5. Businesses interested in participating should visit the challenge's website at locogreenbiz.org or contact Paige Romanow at 571.209.9025 or promanow@loudounchamber.org.
Other upcoming events of note include:
Most Likely to Succeed Movie Screening (Aug. 19): Foxcroft will present a free screening of the compelling edu-documentary Most Likely to Succeed at the Middleburg Community Center at 5 p.m. All are welcome but space is limited. Please call 540.687.4322 or email susan.rhood@foxcroft.org to reserve a spot.
Dinner and a Dive-In Movie (Aug. 21): The Middleburg Community Center presents its final event in the Doc Saffer Summer Series. This free event will start at 6 p.m. and includes a Chick-Fil-A dinner, dessert from Captain Cookie & the Milk Man Food Truck, inflatable obstacle courses and moonbounces in the ball field, free admission to the pool starting at 8 p.m., and a pool-side viewing of Night at the Museum 3 starting at 8:30 p.m.
Open Late (Aug. 28): The National Sporting Library & Museum will be open until 8 p.m. as part of its Open Late series. This free event will be held from 6-8 p.m. and will feature music by Reckless Island, craft beer by Mad Fox Brewing, and local wine by Boxwood Winery. So grab your friends, a picnic blanket, and relax in the village!
Epicurience Virginia (Sept. 3-5): The highlight of this three-day culinary celebration is the Grand Tasting, featuring farm-to-table fare, award-winning wines, notable chefs, and other entertainment on the grounds of historic Morven Park in Leesburg. Tickets can be purchased online at epicvirginia.com.
Concert on the Steps (Sept. 11): This free event on the Middleburg Community Center's front steps includes live music by Andre Fox, light snacks, and drinks. The event will be held from 5:30-8:00 p.m.
Kabins for K9s (Sept. 13): This fundraising event, to held from 1-5 p.m. at the Leesburg Airport's ProJet Building, seeks to raise $25,000 for new temperature-controlled "kabins" and play yards for rescued animals at Webberpack Animal Adoption and Getaway's facility near Delaplane. Tickets for the event are $25 (kids 8 and under are free) and may be purchased online. Businesses interested in sponsoring the event or donating items for the raffle or silent auction should go to WAAAG's website.
Virginia Fall Races (Oct. 10): The Virginia Fall Races, held at Glenwood Park, benefit Inova Loudoun Hospital Foundation in nearby Leesburg and Glenwood Park Trust. For information about race sponsorship, please visit the race website or call 540.687.5662.
Aldie Harvest Festival & Duck Race (Oct. 17): This free event features antiques, crafts, jewelry, country cooking, bake sales, a moon bounce and face painting for the kids, music and more. The Aldie Duck Race, which offers the opportunity to win $100,000, will be held at 4 p.m. at the festival. Ducks may be purchased for $5 each or 5 for $20 at the Aldie Fire Station until 3 p.m. during the festival. Businesses interested in sponsoring the event should contact the Aldie Heritage Association.
Middleburg Film Festival (Oct. 22-25): Advance ticket packages will go on sale online next week for this 4-day film festival, and the new 2015 film slate is expected to be announced Sept. 24. The organizers are currently seeking businesses to contribute to the goody bags distributed to attendees. Participating businesses will have their businesses highlighted in the festival program. Businesses interested in sponsoring the festival should email info@middleburgfilm.org.
Christmas in Middleburg (Dec. 5): If you've been thinking about sponsoring Christmas in Middleburg, you should act quickly! There are only 3 slots remaining for ads in the Middleburg Eccentric. For more information about sponsorship, please visit christmasinmiddleburg.org.