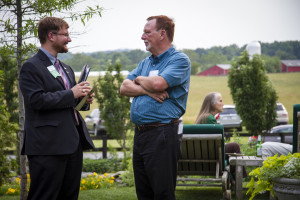 Summer is almost here, and you could certainly feel it in the air at the Middleburg Business and Professional Association's Biz Buzz at Goodstone Inn & Restaurant on June 9.
Set on the inn's 265-acre estate with scenic vistas of the Blue Ridge Mountains and the ivy-covered façade of the historic Old Mansion as backdrops, the event provided the perfect setting to celebrate Middleburg's thriving business community and featured tastings from local wineries, live music and scrumptious hors d'oeuvres from Goodstone's kitchen.
With 105 members now on its rolls, including the new Gallery on Madison, the Middleburg Business and Professional Association is preparing for another glorious summer, with many activities slated for our historic town.
Of course, MBPA's big summertime event will be the town's annual Summer Sidewalk Sale, slated for July 31-Aug. 2, 2015. Be sure to contact us at info@visitmiddleburgva.com if you'd like to participate in this year's event, which will include amazing deals throughout town.
Additionally, Union Bank & Trust is coordinating a raffle for this year's Sidewalk Sale. Customers will be able to submit receipts for raffle entries (receipts totaling $50+ will get 1 entry, $100+ will get 3 entries and $250+ will get 10 entries). The raffle winner will receive a gift basket filled with Middleburg goodies, and MBPA and Union are currently seeking donations for the gift basket.
Businesses wishing to participate in the Summer Sidewalk Sale or raffle should notify MBPA by June 30. You can download the signup form here and get more information about the raffle here.
Other upcoming events of note include:
Nathan Chuba (June 12): A Place to Be presents Nathan Chuba in a free concert at the Hill School at 7 p.m. on June 12.
Middleburg Concert Series (June 14): The second performance in the Middleburg Concert Series will be held June 14 at 4 p.m. at the Middleburg United Methodist Church. The event will feature renowned tenor Michael Forest, a soloist at the Kennedy Center who spent 23 seasons with the New York Metropolitan Opera, along with other virtuoso vocalists, organ music and a string quartet.
Art in the Burg (June 20): This town-wide arts celebration will run from 11 a.m.-5 p.m. and feature music, wine tastings and lots of wonderful artists.
Wine Dinner at Goodstone (June 23): The restaurant's next wine dinner event will feature two popular varietals–Pinot Noir and Chardonnay–from the celebrated regions of Oregon and Burgundy as part of a menu of unforgettable food and wine pairings.
Open Late (June 26): The National Sporting Library & Museum will be hosting its third concert in the Open Late series on June 26 from 6-8 p.m.

 June's concert is Virginia Tech Alumni Night and will feature the Piedmont Symphony Orchestra, West Point Glee Club, Forge Brew Works and Stone Tower Winery. Concerts are free and open to the public. The museum will also be open until 8 pm.

Stink (June 26-28): A Place to Be presents Kyle Boardman's "Stink" at the Hill School. Tickets are $10. For more information, visit aplacetobeva.org or call 540.687.6740.
Goodstone Gives Back (July 6): As part of Goodstone's "Give Back" series, the restaurant will be donating 5% of all dinner proceeds to Seven Loaves, a faith-based ministry dedicated to providing food, personal supplies and other assistance to Middleburg's needy.
There are also a couple of local events seeking business sponsors. If you want to sponsor Christmas in Middleburg, this is the time to do it! Angel sponsors and full-page program advertisers who pay by July 31, 2015, will receive a 15% discount and a complimentary 3.25″x3″ bonus ad in the Middleburg Eccentric's mid-November issue. For more information about sponsorship, please visit christmasinmiddleburg.org.
Also seeking help: Nathan Stewart, who is looking for Sheep, Goat, Poultry and Beef Club sponsors for the Loudoun County Fair, which will be held July 27-Aug. 1 in Leesburg.
Whatever you've got planned for this summer, be sure to join us for the next Biz Buzz, which will be held July 14 at the Aldie Mill!