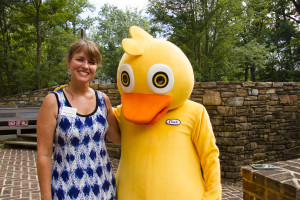 The Middleburg Business and Professional Association has more members than ever before, as MBPA's total membership count reached 106.
The membership news came as part of MBPA's monthly mixer held July 14 at the Aldie Mill Historic Park, where members and guests enjoyed delightful treats from Brassicas Farm Fresh Market and Café and desserts by the Little Apple Pastry Shop–all set out on beautiful displays designed by Bella Villa.
The sultry summer evening also served as an opportunity to highlight Middleburg's Summer Sidewalk Sale. The event, to be held July 31-Aug. 2, will feature great bargains at retail stores throughout town, as well as olive oils and vinegar from Olio and Italian ice from Popcorn Monkey.
Other upcoming events highlighted at the meeting include:
Dinner and a Dive-In Movie (July 17): This free event at the Middleburg Community Center features dinner starting at 6:30 p.m. and a showing of the movie Despicable Me 2 starting at 8:15 p.m. You'll also have the opportunity to take a dip in the pool, which opens at 7:30 p.m. The event will be held rain or shine.
Open Late (July 24): As part of the National Sporting Library & Museum's new concert series, the George Mason University Jazz Ensemble will be performing on the museum's lawn from 6:00-8:00 p.m. Concerts are free and open to the public, but no glass containers or outside alchohol is permitted. Craft beer will be provided by Hardywood Park Craft Brewing and local wine by Otium Winery.
Trotters Perk Bistro Grand Opening (July 29): Trotter's Perk Bistro will hold its grand opening ceremony at 2 p.m. The shop will feature a certified organic kitchen, local produce and dairy products, organic pastries, coffee, tea and more. The company plans to donate 5% of its proceeds from the day to Seven Loaves.
National Night Out (Aug. 4): National Night Out is an annual community-building campaign designed to promote police-community partnerships and neighborhood camaraderie. Festivities will take place in the ball field behind the Middleburg Community Center from 6:00-8:00 p.m.
Loudoun Wine Awards (Sept. 3): The Loudoun Wineries Association will be hosting its first Loudoun Wine Awards at West Belmont Place at the National Conference Center. Tickets for event, which is open to the public, are $60 per person, including dinner.
Spirited History: A Tasting of Whiskeys & History at Aldie Mill (Sept. 12): This unique and intimate evening features extraordinary whiskeys paired with delectable food by Great Blue Heron Catering at the historic 19th century Aldie Mill from 7:00-10:00 p.m. Tickets are $105 per person, including six whiskeys, dinner, a cigar and an enlightening historical program, with proceeds benefitting the Aldie Mill's educational programs. Businesses can sponsor the evening for $175, which includes one ticket to the whiskey dinner, recognition at the event, a listing in the printed program and other promotional materials, and inclusion on the Aldie Mill website.
Aldie Harvest Festival & Duck Race (Oct. 17): This free event features antiques, crafts, jewelry, country cooking, bake sales, a moon bounce and face painting for the kids, music and more. The Aldie Duck Race, which offers the opportunity to win $100,000, will be held at 4 p.m. at the festival. Ducks may be purchased for $5 each or 5 for $20 at the Aldie Fire Station until 3 p.m. during the festival. Businesses interested in sponsoring the event should contact the Aldie Heritage Association.
Christmas in Middleburg (Dec. 5): If you've been thinking about sponsoring Christmas in Middleburg, you should act quickly! Angel sponsors and full-page program advertisers who pay by July 31, 2015, will receive a 15% discount and a complimentary 3.25″x3″ bonus ad in the Middleburg Eccentric's mid-November issue. For more information about sponsorship, please visit christmasinmiddleburg.org.
Also going on now … The National Sporting Library and Museum is selling raffle tickets for a luxury cruise for two to any destination from Hawaii, Alaska and Mexico to the Caribbean and Mediterranean islands for up to 10 days. The drawing will take place at the Virginia International Polo Club during the 5th Annual Benefit Polo Match & Brunch on Sept. 13. Tickets are $20 each or 5 for $20, and all proceeds support the sporting library. Businesses interested in selling raffle tickets will be offered corporate sponsorship of NSLM, which includes a listing on the nonprofit's website and promotional materials. For more information, contact Alex McKay at amckay@NationalSporting.org or 540.687.6542, ext. 24.
As a reminder, MBPA will soon be holding elections for board members, so it's time to start thinking about whether you want to volunteer or nominate a member to the board.
The next Biz Buzz will be held Aug. 11 at Middleburg Millwork at 106 S. Madison St. See you then!