MBPA honors community leaders at annual awards ceremony

— It was a celebratory night at Emmanuel Episcopal Church's Parish House on Dec. 11, as the Middleburg Business and Professional Association held its final Biz Buzz of 2018. With laughter and tears, MBPA recognized leaders in the Middleburg community and highlighted recent successes, including the tree-lighting at The Pink Box, Christmas in Middleburg and new businesses in town, including W.W. Monograms and Old Ox Brewery.
MBPA President Punkin Lee also noted the continued growth of the Middleburg Business and Professional Association, which reached a record-setting 137 members this year. "You the members are amazing people and it's why the MBPA has been able to do so much to get people together, to promote the town and to support each other," she said. "Yes, most things take a village, and we sure have one of the best."
Lee also thanked departing board members Pat Horvath, Melanie Mathewes and Tone Moore for the expertise and knowledge they brought to the board. "It's been a privilege for all of us to work with them," Lee said, adding, "They've been great leaders in our community and they will be missed on our board and [we'll] miss seeing them around town."
Shelly Betz and Natalie Lacaze will begin two-year terms on the board starting in 2019. Anne Marie Paquette was appointed to the board earlier this year to fill the vacancy left by Mathewes' departure.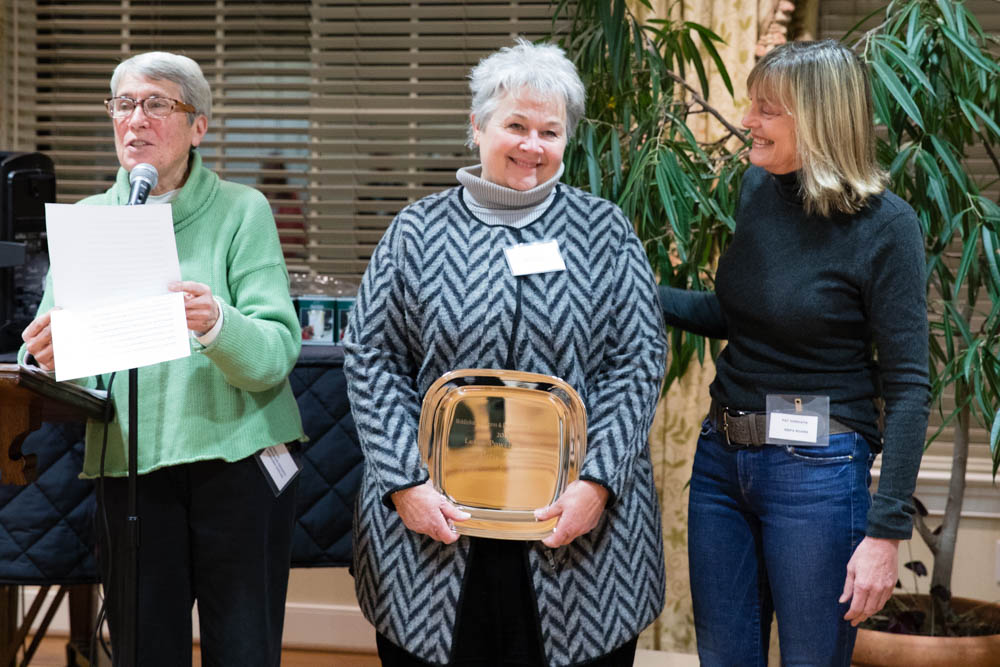 One highlight of the evening was the awarding of the Leven Powell Award, named for Middleburg's founder. Former Mayor Betsy Allen Davis received the award for her service to the Middleburg community, not only as mayor and a member of the Town Council, but also through her many volunteer efforts, including with the Route 50 Task Force, the Coalition of Loudoun Towns, the Town Association of Northern Virginia and the board of the Middleburg Volunteer Fire Department. "You can't say thank you enough to this wonderful lady," Lee said in presenting the award.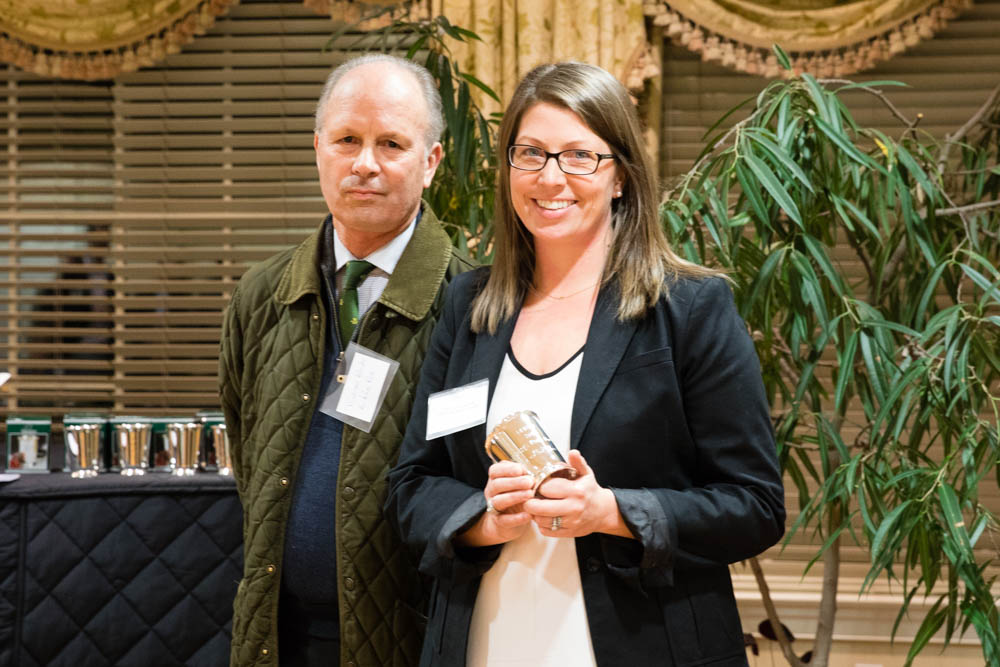 Among those receiving an award at the meeting was The Red Fox Inn & Tavern, which began upgrading its landscaping in 2017, transforming not just the front of the historic inn, but also the entire back terrace, the garage facing Marshall Street, the now park-like parking lot, the walled walkway that leads to the Stray Fox, and North Liberty Street with newly planted trees. "Thank you Turner and Matilda … for raising the bar and showing us how much tasteful landscaping can do. It enhances the property and the buildings for sure, but it also creates such a sense of peace and enjoyment for everyone to enjoy," Lee said.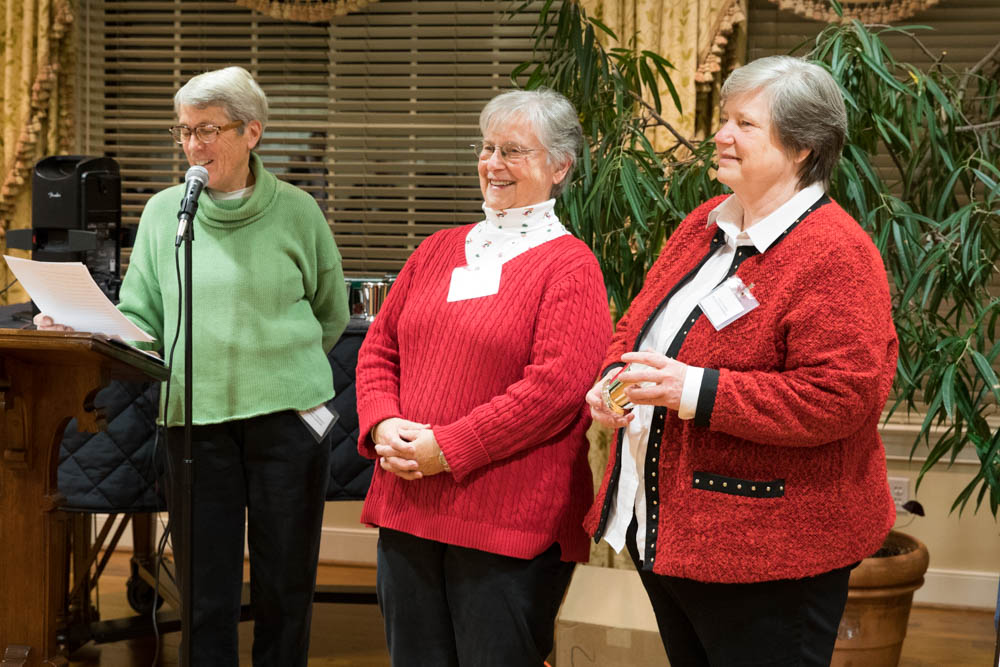 Another fixture in the Middleburg community recognized at the meeting was Second Chapter Books, which was presented with the Resilience Award for its continued persistence in the community, despite being forced to change locations. The store will be moving to a new location on East Washington Street next year, its fourth location in almost 10 years.
"They will not be packing up until after Christmas, so I encourage you to make their move lighter and easier," Lee said. "Take your shopping list and give a gift of a great book or two. New books and slightly used, you can find something for everyone, and don't forget to treat yourself to a book while you're there."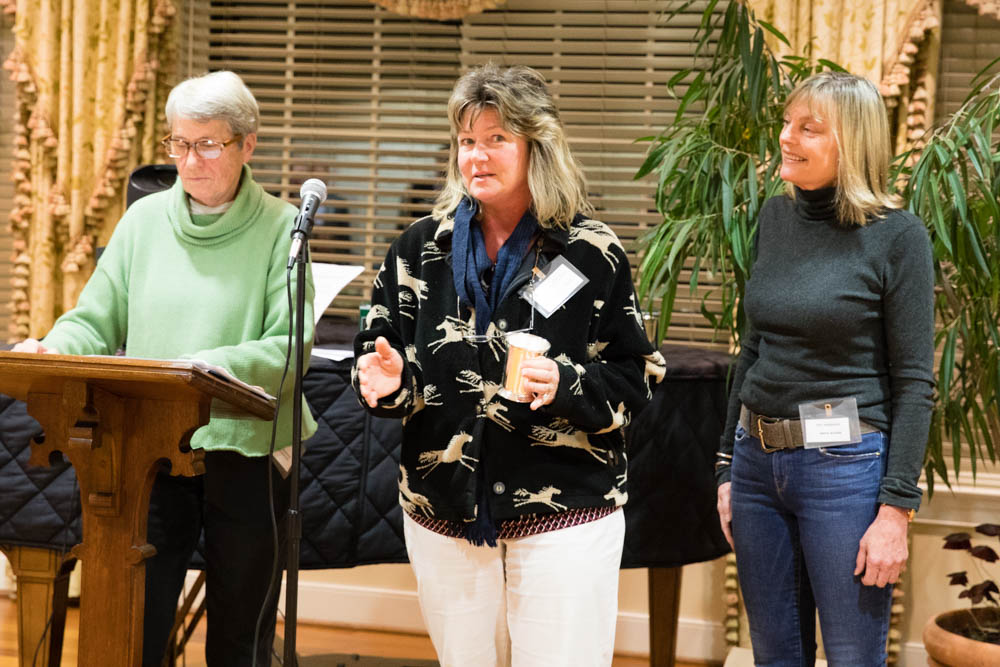 Receiving the Event of the Year Award was "Foxes on the Fence," the brainchild of artist Deb Cadenas, who adapted the event from a similar event in Cape Cod. The popular event featured wooden foxes cut by Middleburg Millwork, decorated by local artists and sponsored by local businesses that were displayed along the iron fence of the Middleburg United Methodist Church and sold via online auction, raising funds for the Middleburg Garden Club.
"When all was said and done, the foxes were hung on the fence for six weeks, online bidding and social media got people interested, and when it was all over, the garden club was blessed with a huge fundraiser, the town had some very impressive art on display and the experience was totally enjoyed by a great number of people, locals and visitors alike," Lee said.
A similar event is already planned for next April, with 30 foxes on the fence as well as a few select "hounds in the hood."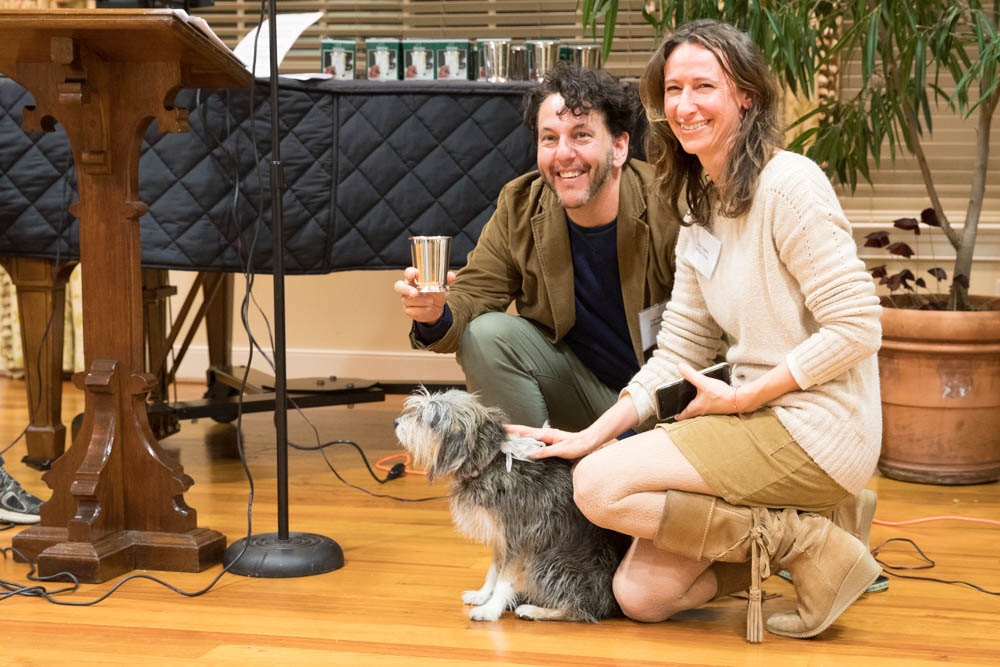 Also receiving an award was Hazel Sweitzer, a four-legged fixture in this dog-friendly town who always seems to attract attention wherever she goes, whether that's on the street or on stage. "Your town figure is too cute for words, a bit coy and/or shy when need be, always busy and always on the move," Lee said in awarding Hazel the Town Figure of the Year Award.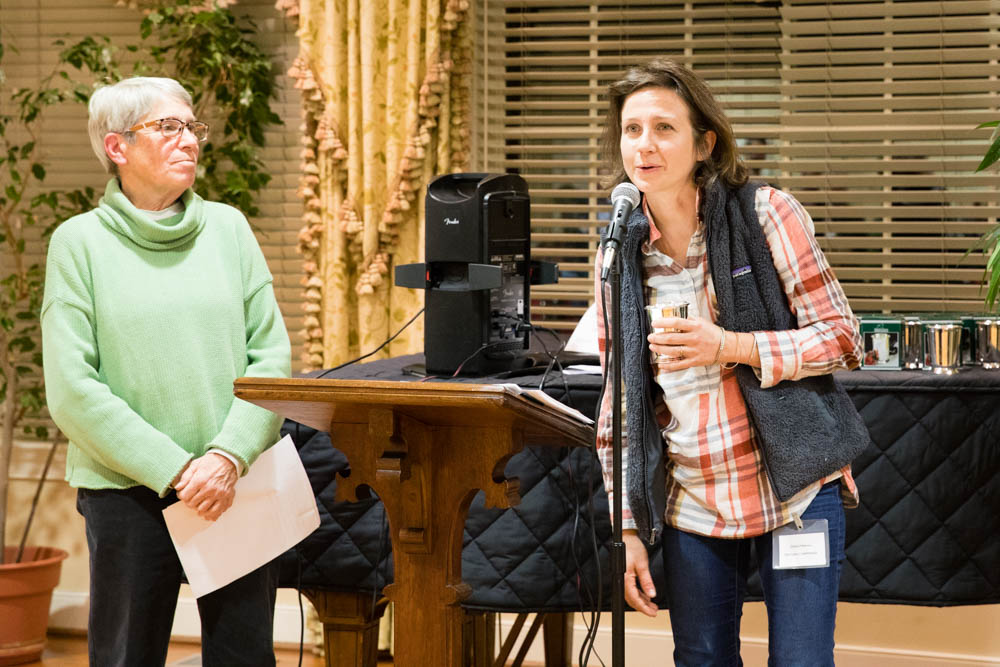 The Middleburg Business and Professional Association also recognized Nature Composed for its reimagination of the Corner Garden. "She has transformed the former Corner Garden location into a magical place, offering cut flowers, arrangements, unique gift items, [and] weddings and garden consultation," Lee said.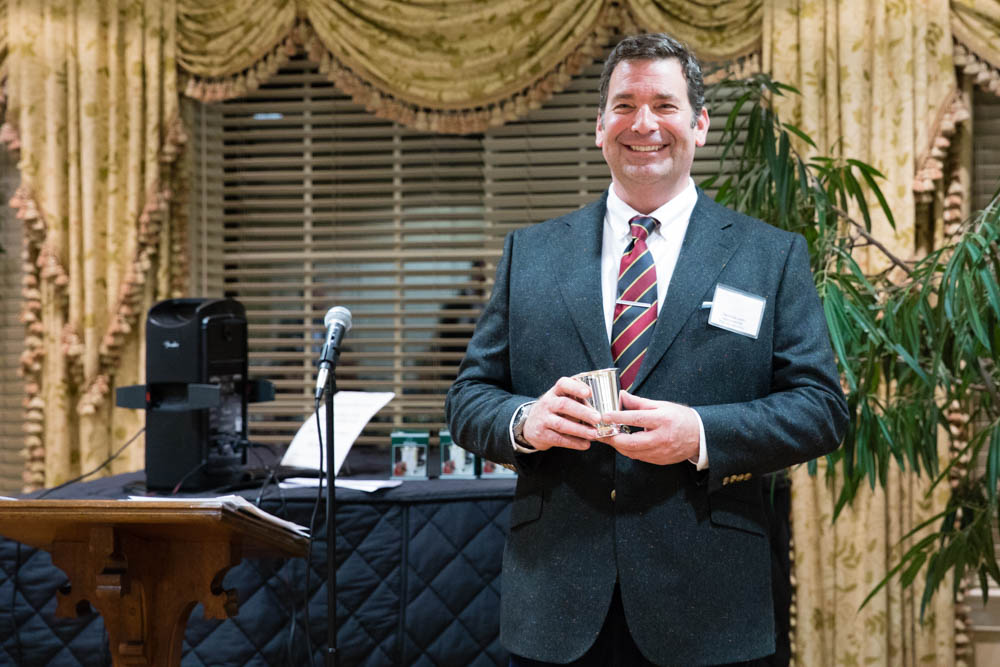 Receiving the Power of One Award was The Hill School for its contributions to the community, including the regular visitors it brings to town, as well as the involvement of its staff and faculty members in the community. "The Hill School was founded in 1926 and remains today a real contributor to the town in so many ways," Lee said. "From September to early June, five days a week, Hill brings more people to town than we realize and probably more than any other business on a consistent daily basis, and yes, this translates to business for us all."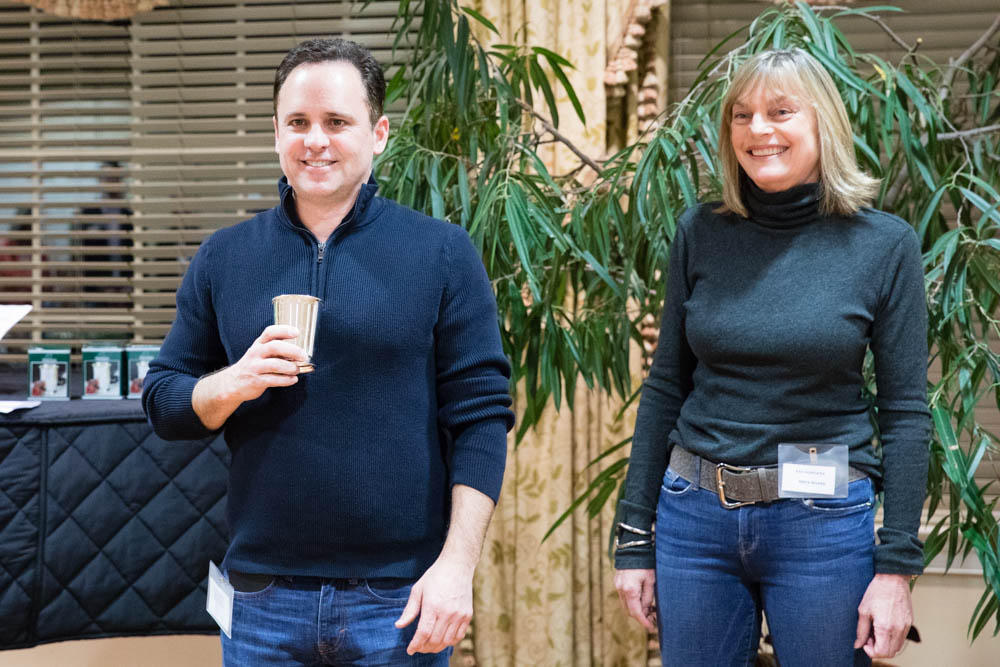 King Street Oyster Bar received an award for its promotion of the town and efforts to keep new visitors coming to town. "The oyster bar has created a vibe and energy that is new to town. It seems to be always bustling, full of locals and visitors alike," Lee said.
"We're glad you're here and we thank you for all that you do to keep promoting the town, to keep new visitors coming and encouraging locals to become repeat customers," she added.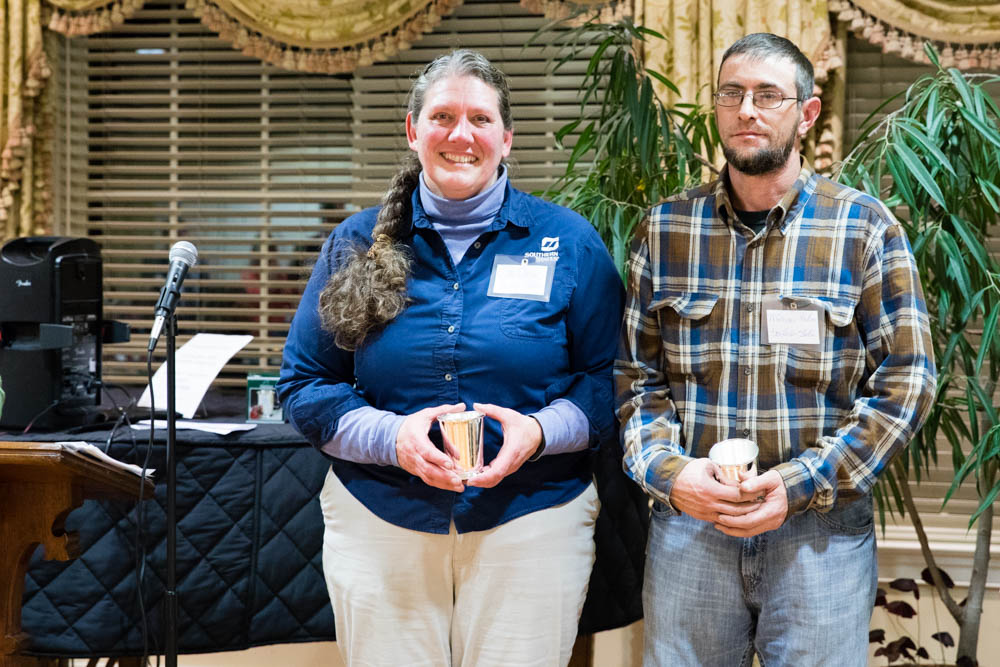 Also receiving an award was Southern States, whose employees were recognized for their dedication to customer service. "Ruth, Sam, Alan and Michael are the epitome of true customer service. Each brings a special bit of knowledge, advice and wisdom. Their well-informed about the products, helpful to suggest and always, always there with a smile and appreciate your business," Lee said, noting that their presence will be missed in town once Southern States closes its doors in Middleburg after the holidays.
The evening served as the year's final Biz Buzz, a monthly networking event held on the second Tuesday of the month, except in January. These events bring local business owners and professionals together to network, provide local businesses with an opportunity to showcase their facilities and services, and help to spread the word about interesting news and events in the Middleburg community.
The next Biz Buzz will be held at The Hill School on Feb. 12 from 5:30-7:30 p.m. We hope to see you there!