MBPA sets new membership record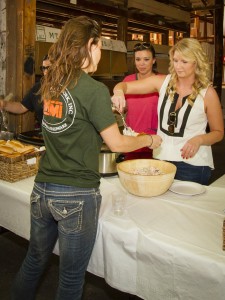 — With 113 members, the Middleburg Business and Professional Association has set a new record for its membership rolls, surpassing last year's total of 111 members. That record-setting number, announced at the Biz Buzz held June 14 at Middleburg Millwork, includes 22 new members who've signed on this year, including the Jackson Clinics, a physical therapy practice now located on The Plains Rd. in the Middleburg Professional Center.
The announcement comes as MBPA says good-bye to two board members, Christina Naramore, who recently moved to North Carolina as part of Teach for America, and Phil Miller, who was elected to the Middleburg Town Council. MBPA's board is seeking two volunteers to fill these vacancies until Dec. 31. In the meantime, the board will initiate the election process this fall to fill these vacancies for the standard 2-year term beginning Jan. 1, 2017.
If you're interested in being appointed to MBPA's board for this 6-month timeframe, please email MBPA Vice President Ken Reid by June 30 with your name, affiliation and a short paragraph explaining why you'd like to serve and what you can contribute to MBPA's advancement.
The business association also has two upcoming events: a workshop on Google Adwords (date TBD) and the Summer Sidewalk Sale, which will be held Aug. 5-7 and is being sponsored by the Middleburg branch of Sonabank this year.
Also new on the business front: Ray Trader has opened a new hair salon on Madison St. called Salon 17 South. Stop in and say hello!
Middleburg also continues to get good buzz from the press and other outlets. Recent coverage and accolades include:
Wylie Wagg was named "Best Pet Boutique" in Northern Virginia Magazine's "Best of NoVA" issue  and was included in Washingtonian Magazine's "Best of Shopping" section in its "Best of Washington" issue
Middleburg was featured as part of a WUSA-9 segment on local travel escapes and in an episode of the PBS travel series "Travels with Darley"
Loudoun Economic Development awarded the National Sporting Library & Museum and the Middleburg Professional Center its "Signatures of Loudoun" Design Excellence awards
If you want to keep track of what's happening in Middleburg's business community, be sure to join us for our next networking event, July 12 from 5:30-7:30 p.m. at Middleburg Common Grounds. The evening will be co-hosted by Three Fox Vineyards.
Also coming up:
Open Late Concert Series (June 17, July 29 & Aug. 26): Please join us for great music, local wine and Virginia craft beer at NSLM. This summer's featured performers are the Piedmont Symphony Orchestra (July 29) and Tara Mills and Jimmy Stelling (Aug. 26). Concerts and museum admission are FREE and open to the public 6-8 p.m. Concerts are held rain or shine. Picnics are welcome, but no glass containers or outside alchohol is permitted. Cash bar provided. For more information or to volunteer, please contact Alexandra McKay at AMckay@NationalSporting.org or (540) 687-6542, ext. 24.
Middleburg Humane Foundation's 21st Annual Black Tie Gala (June 25): Held at Zohar and Lisa Ben Dov's magnificent Kinross Farm in Marshall, this fundraising event is an opportunity to help a great cause and have a wonderful evening of dining and dancing at one of the area's most beautiful estates. The evening includes cocktails with the critters, a fabulous silent auction, an African Safari champagne raffle, food by Karen Fuog Catering, training barn tours, and dancing music by Fresh Air. Tickets are $250/person and can be purchased by clicking here.
Bluemont Concert Series (July 9, 16, 23 & 30): On Saturday evenings in July starting at 7:30 p.m., the Bluemont Concert Series features outdoor performances (weather permitting) at 15 S. Madison St. in historic downtown Middleburg. Tickets are $5 per person, $4 for Bluemont Friends and seniors, and $2 for kids under 12. This year's concerts feature Mary Ann Redmond Band (R&B), Clarke County Band (American classics & pop), Bill Emerson & Sweet Dixie (bluegrass) and Beltway Brass Quintet (jazz standards). Concerts are held at Middleburg Community Charter School in bad weather.
Art in the 'Burg (July 23): This town-wide event, held from 11 a.m. to 5 p.m., will include the Main Event: a collection of local and regional artists under tents offering their creative works for sale. Throughout town, Middleburg businesses will host other special art features. The day will also include music, wine tastings and plein-air artists.
Carriage Day (July 23): Also on July 23, NSLM will be hosting Carriage Day, a FREE community and family event featuring more than 20 historic and refurbished carriages of all shapes, sizes and eras from the Piedmont Driving Club (PDC) and Colonial Williamsburg from 10 a.m. to 5 p.m.
NSLM Polo Classic (Sept. 11): The National Sporting Library & Museum's 6th Annual Polo Classic fundraising event will be held at Great Meadow in The Plains, Virginia. John Gobin, a six-goal polo player and manager at Great Meadow, is organizing teams for two matches, four chukkers each. Gates will open at 11 a.m. to start all the pre-match festivities. Tickets, tables, tailgate passes and general admission passes can be found at www.nationalsporting.org. For more information about the event, contact Alexandra McKay at AMcKay@NationalSporting.org or (540) 687-6542, ext. 24.
 [su_slider source="media: 38794,38793,38792,38791″ width="440″ height="200″ title="no" speed="700″]