Celebrate Independence Day in Virginia's Hunt Country
— Making your 4th of July plans? We will have food and activities all day long throughout town. Here's a rundown of the events you won't want to miss:

Come to Middleburg for Side Saddle's 4th of July festivities! They will be serving a special Independence Day menu until 8 p.m. with all items under $10. Dine on real, whole, delicious foods and support a local small business.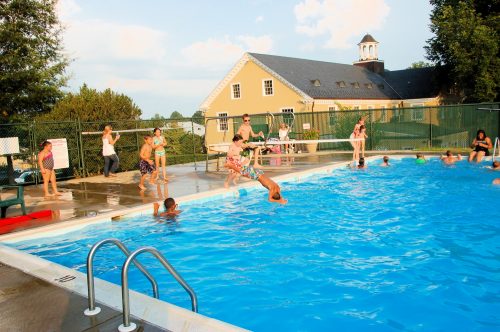 Cool off with a dip into the Middleburg Community Center's pool! Children ages 5+ and adults $6 each, children under 5 $3 apiece.
Join The Artists in Middleburg (AiM) as Tom Hopkins talks about his recent experience participating in the 75th anniversary of D-Day in Normandy, France. To commemorate the event — and honor the men who fought on the landing beaches and drop zones to liberate Europe — Tom and his sons Patrick and Thomas parachuted from the same historic aircraft that carried paratroopers and glider troops over Normandy on June 6, 1944. This year commemorated the 75th anniversary of this unforgettable day.
Matt Pavone will also talk about a series of flag paintings he has created over the years. Matt, an artist and employee of the Agriculture Department, is supporting the Artists in Middleburg through the promotion of his new painting, "Graze," and print editions of this painting. He has released 50 limited-edition prints (high-resolution, numbered and signed) to be sold at USDA and AiM. The painting is now for sale and all proceeds will go to AiM to support arts education for children.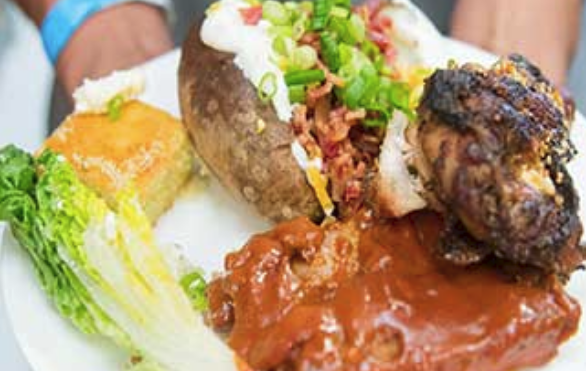 Celebrate the 4th of July at Salamander Resort great views of Middleburg's fireworks and a classic BBQ with all the fixings and sides you love including mouth-watering ribs, grilled chicken, housemade cole slaw and much more! Live entertainment starts at 3:30 p.m. and will be provided by 7th Son of WV; The Floorboards from Roanoke, Virginia; and Stella Ruze from Philadelphia. $68 per person, $32 per child. Reservations required. To reserve your spot, please call 540-326-4070.
If you want to head out of town this year, consider a day of fun, family & fireworks at the 2019 Wegmans Great Meadow 4th of July Celebration! Gates open at 4 p.m. There will be a huge variety of children's activities included with your general admission purchase. To list a few: rock wall for climbing, pony rides ($5), moon bounces, slides, the famous rain machine, lasertag, and more! Throughout the day, enjoy a choreographed air performance, polo exhibitions, and rocketry demonstrations. A row of food vendors will be on-site serving up everything from BBQ to fried dough. The grand finale comes at dark with one of the metropolitan area's biggest fireworks shows! Click here to purchase tickets.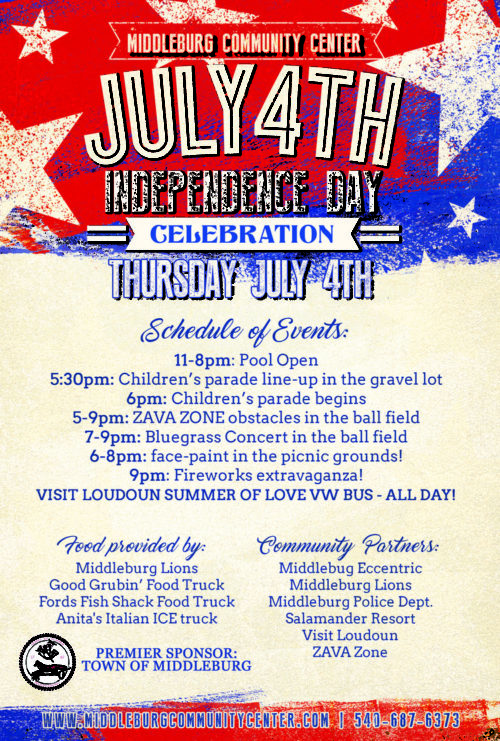 Bring your lawn chairs and a picnic blanket and enjoy live bluegrass music from 7-9 p.m. in the ball field by the Middleburg Community Center while you wait for the fireworks to start. Plus, there will be Zava Zone obstacles in the ball field from 5-9 p.m. and face-painting in the picnic grounds from 6-8 p.m. Check out the Visit Loudoun Summer of Love VW bus all day. Plus, food provided by The Middleburg Lions Club, Good Grubin' Food Truck, Fords Fish Shack Food Truck, and Anita's Italian Ice. Fireworks start at 9 p.m.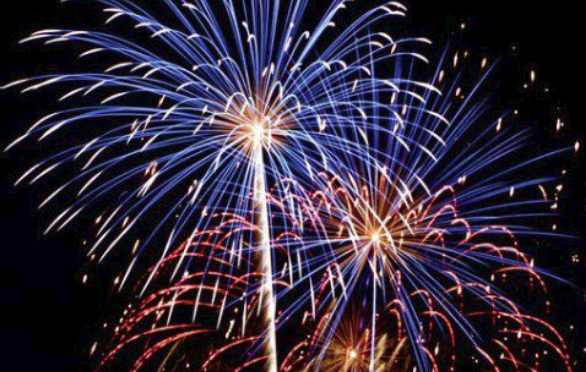 Escape the crowds and witness great firework views from the privacy of Salamander's intimate culinary garden. They will treat you to an exclusive BBQ with Chef Ryan Arensdorf on the resort's Big Green Egg and an open bar featuring Moët & Chandon Champagnes and Belvedere Vodka cocktails. Free parking also included. $121 per person, $50 per child. Reservations required. For reservations, please call 540-326-4070.

Line up to participate at 5:30 p.m. at the gravel lot behind the Middleburg Community Center or watch the parade as it winds its way through town starting at 6 p.m.
Other activities