20+ Events You Won't Want to Miss this January in Middleburg, Virginia
— With the chill in the air, it's clear winter is here. So, as we're trying to warm up with some hot cocoa by the fireplace, we're offering up our list of the events you won't want to miss this January. Whether you're planning a winter getaway or just looking for something to do close-by, Middleburg has lots to offer.
It's the first meal of the New Year so do it right with delectable brunch offerings including fresh seafood, prime rib carving station, breakfast favorites and an extravagant dessert display. Keep the party going with bottomless mimosas and Harrimans' elaborate Bloody Mary bar.
$55 per person, $25 per child. Reservations required; please call 540-326-4070.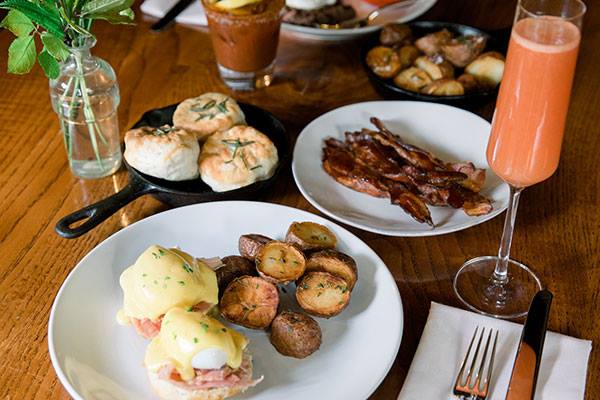 Cheers to 2020! Red Fox Inn will be serving their Hunt Country Brunch from 11 a.m.-3 p.m. Start the year off right with a fantastic brunch in Middleburg. Details & reservations at redfox.com.
Work with Chef Dinah Corley on how to make traditional French onion soup from scratch. To complement and delight your palate, you'll finish the class by making Virginia apple tartlettes. Chef Corley is a food writer and teacher, and has studied under both Julia Child and James Beard.
$79 per person. Reservations required; please call 540-326-4070.
Set sail on a virtual trip to Italy, right from Old Ox Brewery! Hill School art history teacher and adventure traveler John Daum will guide you through the fascinating history and impossible feats of engineering that allowed Venice to become home to some of the greatest art and architecture of the Renaissance. For adults 21+.
This program is free and open to the public. For more details, visit tinyurl.com/t2ptv6s.
Social media expert Laura Tierney is the founder and CEO of The Social Institute. Featured in The Washington Post, USA TODAY and NPR, and applauded by Melinda Gates, Tierney's organization partners with schools nationwide to empower students, parents, and leaders to navigate social media and technology in positive ways. The institute's unique gamified social media curriculum, co-created with over 50,000 students at 60 schools nationwide, has been touted as the gold standard in the country.
By reinforcing character and leadership strengths like empathy, integrity, and teamwork, and by teaching students and their role models to champion high character on all social platforms, the program seeks to empower students to #WinAtSocial media and technology. Winning at social media means strengthening your reputation, encouraging and inspiring others, seizing collegiate and career opportunities, and even changing your world for the better. In a world where we get one reputation, it's never been more important to win.
An unshakable optimist and competitive athlete at heart, Tierney is a graduate of Duke University. She became a four-time Duke All-American, two-time team captain, and Duke Athlete of the Decade for field hockey. She also played for the U.S. Junior National Team, representing her country at home and abroad. In 2018, she received the Triangle Business Journal's 40-under-40 award. She currently serves on Duke University's Learning Innovation Advisory Council, helping Duke imagine the future of learning both on-campus and online.
For information on the details of this event, please contact the Office of Institutional Advancement at 540-687-4510 or advancement@foxcroft.org.
Work with the Salamander Resort & Spa sushi chefs as they walk you through the process of hand selecting fish and ingredients to prepare the best sushi. Also in this hands-on class, you will learn all the techniques and skills needed to roll your own sushi. At the conclusion of the class, sushi is served!
$79 per person. Reservations required; please call 540-326-4070.
History on Tap returns to Old Ox Middleburg on the centennial anniversary of "The Noble Experiment." The Mosby Heritage Area Association's historians will take a look at how prohibition affected local communities in northern Virginia. Learn about the history of distilling in the region, find out how Virginia went "dry" several years before the 18th Amendment, and hear stories of moonshiners and speakeasies while enjoying local brews.
History on Tap is made possible in partnership with the Loudoun County Public Library. This event is free and open to the public. Ages 21+.
Join Foxcroft for the winter drama production of "The Lottery" presented by the theater production class. The performance is scheduled for Friday, Jan. 17, at 7:30 p.m. in FoxHound Auditorium.
Foxcroft's girls were involved in auditions, casting, directing, costuming, and many more tasks that are required to get a play curtain-ready. The show itself is a serious work based on the short story by Shirley Jackson, exploring ideas such as communal violence, sexism, irony, and the dangers of blindly following tradition.
Join Executive Pastry Chef Jason Reaves as he assists you in making yeast-raised donuts from scratch with different toppings and glazes. During the class, you will enjoy specialty coffees which pair perfectly with your treats.
$79 per person. Reservations required; please call 540-326-4070.
For the third year in a row, Middleburg's Emmanuel Episcopal Church welcomes The Gay Men's Chorus as part of the "At The Parish House"performing arts series. The troupe will send their brilliant ensemble "Rock Creek Singers" to deliver a variety of pop and show tunes guaranteed to lift spirits and get folks humming all the way home.The performance takes place on Sunday, Jan. 19, at 2 p.m. at the Emmanuel Parish House, 105 E. Washington St.
Reservations are recommended but not required (540-687-6297). A free-will donation of $20 is suggested to help cover the chorus's travel expenses, but no one will be turned away!
Also this month: