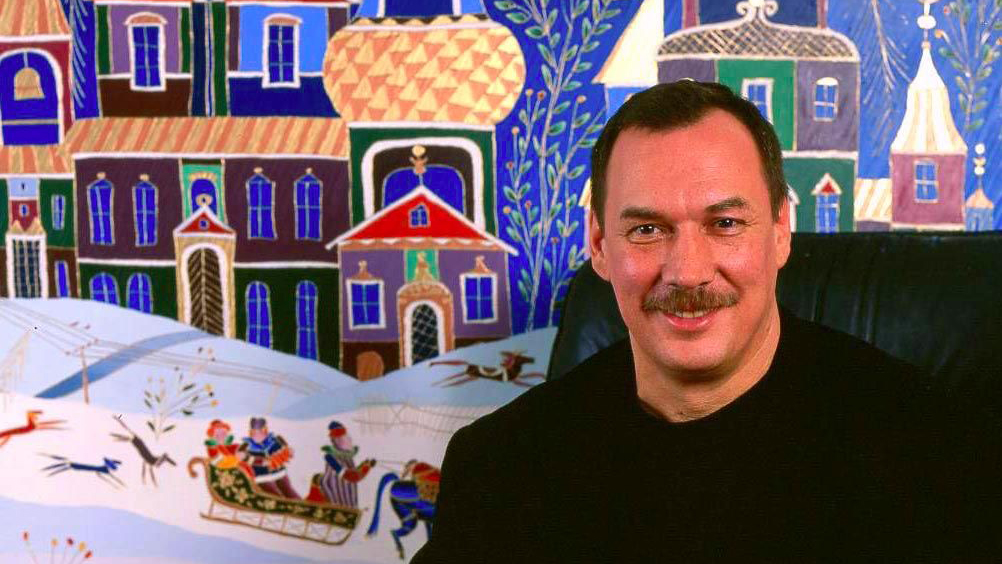 Yuri Gorbachev at The Byrne Gallery
November 3, 2021

-

January 31, 2022
The Byrne Gallery is delighted to announce a historic landmark in its art career. Susan Byrne and Bill Byrne are celebrating their Gallery's 26th anniversary this year in Middleburg with a celebration and exhibition of the vivid oil and enamel paintings of internationally acclaimed artist Yuri Gorbachev. The Byrne Gallery welcomes Yuri Gorbachev back to the Gallery for his 18th annual exhibition. The Gallery will feature rare works from his private collection many of which have only been exhibited in museum shows.
This year a special feature will be paintings from the Czar Family series which we have yet to exhibited at the Gallery. Ten years ago, in 2011, The State Russian Museum in St. Petersburg, the most important museum of Russian art worldwide, accepted Gorbachev's major oil painting Tsar Nicholas and his Family into their permanent collection. Another painting from this series is also part of the State Hermitage permanent collection. This is a particularly great honor for the artist.
In addition, there will be some of his classic paintings along with new paintings from his 2021 museum world-tour. The exhibition will begin on November 3rd and continue through January 2022. There will be a special reception for the artist on Saturday, November 13th at the gallery from 5:30 p.m. to 8:00 p.m. Yuri will be in attendance and raring to go since he missed last year's event because of Covid.
With over 50 years of art exhibitions worldwide, Yuri Gorbachev has had more than 200 solo exhibitions. His paintings have been exhibited on the continents of North America, South America, Australia, Asia, Europe and Africa. More than two billion people have seen his magnificent artwork in art galleries, museums, on TV and in hundreds of magazines and newspapers like Elle, GQ, and the New York Times. Many of these also carried his most famous advertisement for Stolichnaya Vodka.
In addition, Yuri's work is in the permanent collections of more than thirty museums around the world, including the Louvre Museum, the Moscow Museum of Modern Art, the State Russian Museum of St. Petersburg and the State Hermitage Museum. His paintings have hung at The White House, and have been on exhibit at the United Nations. Numerous important private collections throughout the world include his paintings and sculpture.
Yuri brings his newest paintings from Russia to Middleburg. He is now on a "world-tour" with Museum shows in Russia, Ukraine, Europe and the Far East planned through 2021. There will be major exhibitions in the Moscow Kremlin Museum, the Novgorod (oldest city in Russia), the Borovici Museum, National History Museum of Moscow and Moscow Modern Art Museum, Odessa Literature Museum, and the Miro Gallery in Prague, Czech Republic.
And Middleburg Virginia is on this tour! He says his favorite "solo show" takes place at the Byrne Gallery, Middleburg VA. This year he continues his 18th annual exhibition at The Byrne Gallery to celebrate with Susan Byrne and Bill Byrne. It is their 26th anniversary celebration of the opening the Byrne Galley. The opening reception will be on November 13, 2021 from 5:30 p.m. to 8:00 p.m. The exhibition is open to the public and everyone is cordially invited to attend.
More about Yuri Gorbachev:
Many local collectors may know that at the age of twenty-seven Yuri Gorbachev became a member of the prestigious Art Union of the former USSR. Since then, he has established himself as one of Russia's most distinguished modern painters before he moved to New York in 1991. Yuri is now a proud and devoted US citizen.
Inspired by the brilliant, jeweled colors of Byzantine art, the works of Faberge, and Russia's Icon heritage, artist Yuri Gorbachev creates colorful, richly-textured canvases in oil and gold leaf. His personally joyful and meditative artistic world combines memories of his Russian boyhood and the deep tradition of Russian Orthodox Icon painting. His art blends a radiant kaleidoscope of folk celebrations, street fairs, circuses, fairy-tales, animals, snowy winter landscapes, and images of the Romanov dynasty.
Since 2011, Yuri's whimsical paintings have illustrated both Absolut and Stolichnaya Vodka advertisements appearing in hundreds of magazines around the world. In 2010, the St. Petersburg Museum of Urban Art & Sculpture hosted a major exhibition of his work. Tens of thousands of Russians, especially young people, attended the exhibit and broke all attendance records for the museum. In 2011, The State Russian Museum, the most important museum of Russian art worldwide, accepted Gorbachev's major oil painting Tsar Nicholas and his Family into their Permanent Collection. Gorbachev's museum tour continued through 2015, with the National Gallery of Fine Art Plovdiv, Bulgaria; The Kumu Art Museum of Estonia and The Literature Museum of Odessa, Ukraine. Future exhibitions are scheduled for Major Museums in Kiev, Moscow, St. Petersburg and other European cities, including Helsinki and Monaco.
In 2015, The National Gallery of Armenia obtained a painting from Yuri Gorbachev for their permanent collection. The Gallery houses one of the most prestigious Russian art collections in the world and includes such artists as Chagall, Malevich, Kandinsky, and Filonov. The Gallery selected a work entitled Adam and Eve for their permanent collection. The work was their first acquisition of Russian art in over ten years. In 2016, Yuri began his "World Museum Tour" which included a recent show of his new collection of works in Odessa, Ukraine.
In both 2011 and 2012, Yuri Gorbachev had the honor of being commissioned to design a new label for Stolichnaya Red Vodka. The Gorbachev-designed label is derived from his painting Four Elements.
The reception for the exhibition will be at The Byrne Gallery on Saturday, November 13th, 2021 from 5:30 PM to 8:00 PM.
Please join us to celebrate our 26th Anniversary and Yuri's continued success!
The Byrne Gallery is located at 7 West Washington Street in Middleburg, Virginia. The event is open to the public and everyone is invited to attend. Gallery hours are Monday and Tuesday by appointment only. Wednesday through Saturday 11 a.m. to 5 p.m. and Sunday noon to 5 p.m. Contact the Byrne Gallery for more information at (540) 687-6986.
Share This Story, Choose Your Platform!