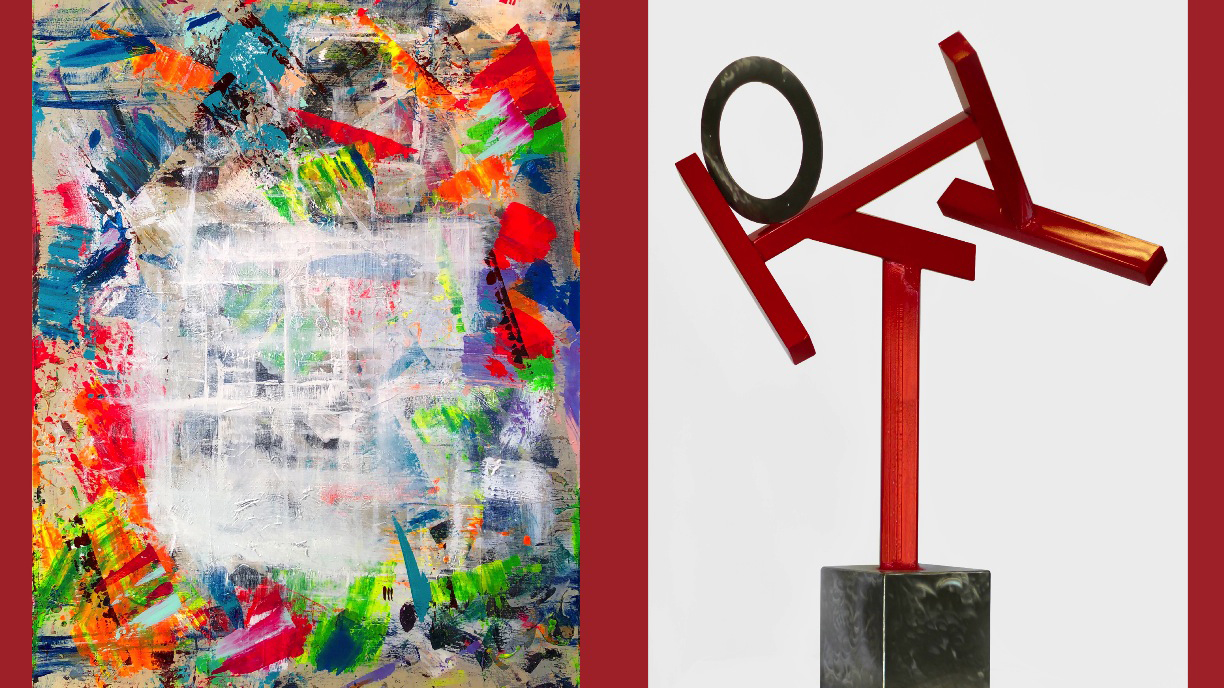 "The Poetry of Abstraction" at The Byrne Gallery
The Byrne Gallery is proud to present The Poetry of Abstraction, our exhibition for September 2021. Local sculptor, Richard Binder will display his latest stainless-steel sculptures along with the contemporary abstract paintings of Andy Hill and Cathie Meighan. The title of the show was chosen to represent the art of all three artists since an abstract work of art distills the essence of the artist's concept to a finely edited composition of refined color, shape and structure. In this way, it is a poetic rendering in a simple, elegant form. The exhibit will begin on Wednesday, September 1st through Sunday, October 3rd. The exhibit is open to the public and everyone is cordially invited to attend.
Richard Binder feels that "The beauty of abstract art is that it has no boundaries. The beauty of nature and of abstract art is in the infinite ways that they can be expressed." He returns to the Byrne Gallery to celebrate the tenth anniversary of his first gallery show and his sixth show with the Byrne Gallery. Binder uses not only his eyes and hands in creating his sculptures, but also his imagination. He cuts, bends, welds and polishes steel to create an infinite number of forms and shapes that are filled with motion, strength and dynamic energy. "People have always been very important to me and I have an intrinsic need to engage with people, and my art is the way I connect with them. For me, the experience of creating a piece of physical art is enormously satisfying and life affirming."
Binder's works have evolved over the past 10 years to their present state as he manages the steel and creates forms and shapes that are at once dynamic and have a sense of permanence and strength. His sculptures combine organic life, science, beauty and shape reflecting the different dimensions of his life as a person, an engineer, a physician and now an artist. His works in this current show exemplify his diversity of expression. They range from figures in motion to representing his view of nature and elements of the universe. They demonstrate how he has focused on using visual literacy and his imagination to create abstract pieces that speak to a connection with people and the natural world.
Binder's art has been featured in numerous galleries and is on display in both the public arena and private collections. Among his exhibits was a solo show at the residence of the German Ambassador, which led to one of his sculptures being selected for presentation to the German Head of State by the United States Department of State. Most recently, the City of Washington, DC, has purchased one of his outdoor sculptures.
Cathie Meighan explains that "Abstract art is not about the recognition of objects but is meant to be felt. Each work of art invites the viewer to encounter and respond to the painting as it taps into their unconscious and evokes a personal experience." Her approach to abstract painting is a meditative and intuitive experience. "As I progress, I may put down the paint and just sit quietly, waiting for an unconscious inspiration to guide me as I contemplate the entire composition."
Meighan received her MFA degree from the Vermont Studio Center in conjunction with Johnson State College in 2012. She has been a member of the Philadelphia Sketch Club, the oldest club for artists in America, since 2010. Meighan exhibits with the Philadelphia Sketch Club, The Rodney Pratt Gallery in New Castle, Delaware, and the Byrne Gallery in Middleburg, Virginia. Her most recent commission painting through the Byrne Gallery is now hanging in the McPherson Conference Center in Washington, DC.
Andy Hill creates "art that opposes indifference." With a hope that viewers love or hate his work, there is no intention of creating pleasing or pretty paintings. Heavily influenced by his love of music and his time spent working in the music industry, Hill's work embodies a fluidity that carries the viewer through the painting. He values the process over the product and views his finished works as receipts of performances.
Hill's art strikes a balance of nostalgia and contemporary aesthetics by combining neons with neutrals and metallics on canvas and wood panel. He describes his work as "the visual representation of hypercolor, push-up pops, park swings, Wu-Tang, cotton candy." Hill seeks only to elicit an emotional response from the viewer. "Loving my work is great. But I'd rather you hate it than feel nothing when you see it."
Hill's work has been featured in the Venice Art Crawl and is on display in several commercial locations in downtown Washington, DC, as well as private collections around the world. Most recently, Hill was commissioned to create a work for the newly renovated 2000 Penn lobby in Washington, DC.
Please come visit the Byrne Gallery to see and enjoy The Poetry of Abstraction on exhibit for September 2021. The Byrne Gallery is located at 7 West Washington Street in Middleburg, Virginia. Gallery hours are Monday and Tuesday by appointment only, Wednesday through Saturday 11 a.m. to 5 p.m. and Sunday noon to 5 p.m. Contact the Byrne Gallery for more information at (540) 687-6986.
Share This Story, Choose Your Platform!