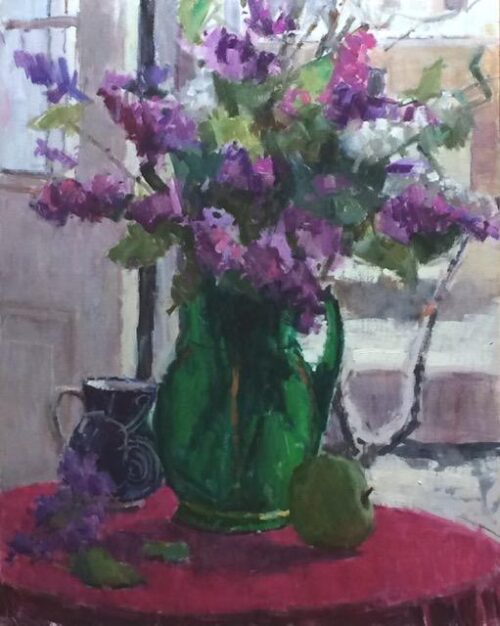 Spring Bouquet 2021 at The Byrne Gallery
The Byrne Gallery is proud to present "Spring Bouquet 2021," an exhibition by local artists of floral works at the gallery. Each uses a different medium in their floral paintings and expresses color in their own unique way. Karen Coleman uses the mediums of watercolor and colored pencil on paper to render her sometimes delicate, sometimes bold floral and botanical compositions. Cathleen Lawless turns to oil on canvas to convey her delight in the new season while Robert Thoren uses oil to capture local landscapes and florals with plein air paintings. Carolyn Marshall Wright chooses water-based media to convey the energy of spring. The exhibition is open to the public and everyone is cordially invited to attend.
Karen Coleman
After a career as a professional librarian, county administrator, and the executive director of a nonprofit foundation, Karen Coleman returned to her love of art after retiring in 2000. In 2010, she received a certificate in botanical art from the Brookside Gardens School of Botanical Art & Illustration founded by Margaret Saul in Maryland, where Karen now teaches. Karen is a member of the American Society of Botanical Artists, the Botanical Art Society of the National Capital Region, and a signature member of the Colored Pencil Society of America (CPSA). She is the recipient of a 2007 and 2009 Award for Excellence from CPSA.
Cathleen Lawless
Cathleen Lawless's still-life oil paintings harken back to themes from her childhood, often incorporating family heirlooms that impart a sense of nostalgia. In her most recent florals she uses diffuse cool light to illuminate her subjects, creating a soft atmospheric quality and subtle shadows. Cathleen says, "I am inspired to capture the character of flowers, which in life are so fleeting, as a way of preserving their loveliness for others to behold. One of the delights of being an artist is that by necessity I spend hour upon hour contemplating beauty."
Robert Thoren
An avid proponent and practitioner of plein air painting, Robert Thoren has relished the opportunity to paint the Northern Virginia landscape, particularly the lush terrain of the Shenandoah Valley. Before moving to Virginia in 1993, Robert studied with teachers closely associated with the late Russian emigre impressionist Sergei Bongart, whose work was recently featured in a showing at the Frye Gallery in Seattle together with that of fellow emigres Nicolai Fechin and Leon Gaspard.
Like Sergei, Robert paints in a sensual, impressionistic style emphasizing vivid color and the employ of dramatic brushstrokes. His artistic goal is to suggest spontaneity while maintaining a firm mastery of drawing and painting techniques. In his many still lifes, Robert celebrates the Bongart school's focus upon color and its ability to transform everyday objects into scenes of powerful emotion.
Carolyn Marshall Wright
After over 20 years of working with watercolor, Carolyn remains fascinated by this medium that conveys such luminosity and light. As she grew as an artist, she became intrigued by abstract images, and began working with acrylics and collage as she further explored color and structure. Still, for a number of years, her abstract acrylic work remained separate and distinct from her representational watercolors.
Carolyn is a signature member of the Virginia Watercolor Society, a member and past president of Potomac Valley Watercolorists and a frequent exhibitor in juried exhibitions in the Mid-Atlantic region. Her work has hung in the Museum of the Shenandoah Valley, in the World Bank, and is in numerous private collections around the world.
Please come visit the Byrne Gallery to see and enjoy Spring Bouquet on exhibit for March 2021. The Byrne Gallery is located at 7 West Washington Street in Middleburg, Virginia. Gallery hours are Monday and Tuesday by appointment only, Wednesday through Saturday 11 a.m.-5 p.m. and Sunday noon-5 p.m. Contact the Byrne Gallery for more information at 540-687-6986.