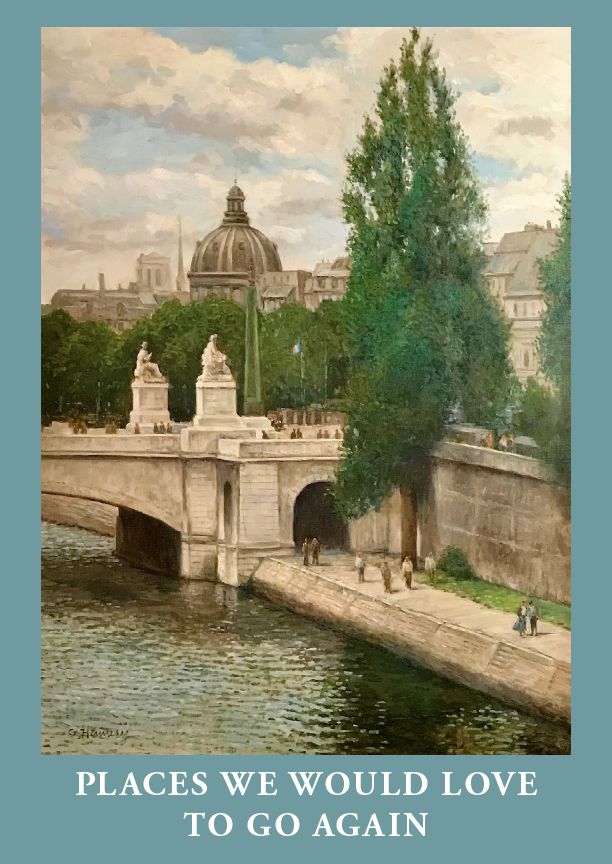 "Places We Would Love to Go Again" at The Byrne Gallery
The Byrne Gallery in Middleburg is proud to present "Places We Would Love to Go Again." This new exhibit for the month of June will take you around the globe without ever leaving the gallery! The show features a selection of paintings in a wide range of mediums from artists Gail Guirreri, Gerald Hennesy, Robert Thoren, and Antonia Walker. Travel has been extremely difficult over the past year and we all have those places that we cannot wait to revisit. But in the meantime, come soak in the sun-dappled fields of France, the luscious Italian countryside, stunning scenes of Mexico, and more with us while anxiously anticipating your next overseas adventure. There will be a special reception for the artists on Saturday, June 12, from 4-7 p.m. All are invited to attend.
Gail Guirreri
As a child, Gail Guirreri lived in Europe, where she learned to speak French fluently. While visiting museums with her parents, the beautiful impressionist canvases of Matisse, Monet, Van Gogh, Cezanne, and Rodin made a profound impression on her and strongly influenced her choice to pursue art history at university in the US. As an artist, she is fascinated by the bright pigments of early twentieth century paintings and has explored and experimented with oil paint to develop a better understanding of transparent versus opaque pigments. Deep pigments that frighten most artists away due to their high tinting strength have become her base colors. Gail balances these pigments against each other, allowing her to paint quickly with more freedom and expression than if she used a more traditional palette.
Gerald Hennesy
Gerald Hennesy works both in plein-air and in his studio with oil and watercolors to achieve his impressionistic style. His work has been exhibited widely in commercial and museum galleries including the Baltimore Museum of Art, the Georgia Museum of Art, The Corcoran Museum of Art and the Smithsonian Museum. His paintings are in numerous private, corporate and public collections, including the U.S. House of Representatives, the State Department, the Maryland State Mansion, the DAR Headquarters, and the American Legion Headquarters. He is listed in Who's Who in America and Who's Who in American Art.
Robert Thoren
Robert Thoren is an avid proponent and practitioner of plein air painting. While many of his landscapes focus on the lush terrain of Northern Virginia, this exhibition he will be featuring scenes from both Europe and South America. Before moving to Virginia in 1993, Robert studied with teachers closely associated with the late Russian emigre impressionist Sergei Bongart, whose work was recently featured in a showing at the Frye Gallery in Seattle together with that of fellow emigres Nicolai Fechin and Leon Gaspard. Like Sergei, Robert paints in a sensual, impressionistic style emphasizing vivid color and the employ of dramatic brushstrokes. His artistic goal is to suggest spontaneity while maintaining a firm mastery of drawing and painting techniques.
Antonia Walker
Antonia Walker has been a Visiting Artist at the American Academy in Rome, once in 1998 and again in 2011. She received a BFA at the University of Georgia and studied in France with the George Washington University Summer program. Later, while living in South America, she studied drawing with Spanish sculptor, Benjamin Saul. She also paints in Provence every summer. Her work has been exhibited internationally, and is represented in many private and public collections, including the Arts-in-Embassy program, Johns Hopkin University, the NASA art collection and Lansdowne Resort.
Please come to visit the Byrne Gallery this summer to see and enjoy Places We Would Love to Go Again this June. The Byrne Gallery is located at 7 W. Washington Street in Middleburg, Virginia. Gallery hours are Monday and Tuesday by appointment only, Wednesday through Saturday 11 a.m.-5 p.m. and Sunday noon-5 p.m. Contact the Byrne Gallery for more information at 540-687-6986.