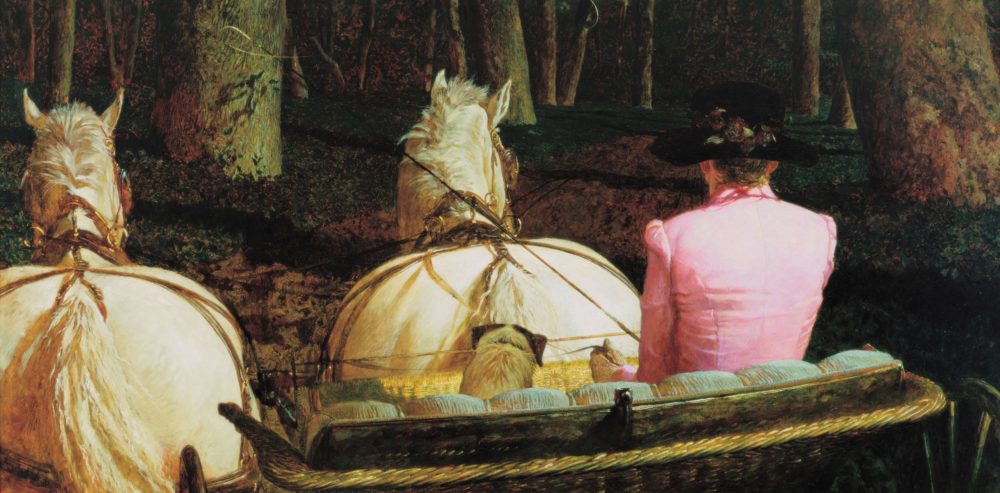 "Phyllis Mills Wyeth: A Celebration" at the National Sporting Library & Museum
On view at the National Sporting Library & Museum (NSLM), a memorial exhibition celebrating the life of Phyllis Mills Wyeth (November 13, 1940–January 14, 2019) features a
selection of portraits created by her husband, contemporary artist Jamie Wyeth. From the late 1960s, and throughout the decades of their marriage, Phyllis Wyeth was his muse. He created intimate works that capture moments from her life. On view February 8–June 28, 2020, Phyllis Mills Wyeth: A Celebration reflects Phyllis' vibrant spirit and love of nature, horses, and her ever-present dogs.
Phyllis Mills Wyeth: A Celebration features 31 paintings and drawings, ranging from Jamie Wyeth's first portrait of her (Phyllis Mills, 1967)—depicted outdoors and covered in fallen leaves—to more recent work, such as the lushly painted Overslept (2018). The artist captured the many facets of his wife's remarkable life, from her accomplishments as a carriage driver, as shown in Into the Gorge (1975) and Connemara Four (1991), to her success as a Thoroughbred horse breeder and owner, most notably in Winner's Circle, Belmont Stakes (2012). The latter celebrates the win of her champion horse, Union Rags, at that illustrious race in 2012. Paintings such as Catching Pollen (2012), Stealing Holly from the Irénées (2016), and Southern Light (1994), attest to Phyllis Wyeth's love of the outdoors and the distinctive landscapes surrounding her at home in Pennsylvania and in Maine. Also on view are a selection of intimate domestic scenes, painted as Christmas gifts from her husband, and depicting her beloved dogs.
The exhibition and accompanying catalogue were organized by the Brandywine River Museum of Art (Chadds Ford, Pennsylvania), the first venue. It then traveled to the Farnsworth Art Museum (Rockland, Maine) and the Greenville County Museum of Art (Greenville, South Carolina), after which the National Sporting Library & Museum (Middleburg, Virginia) was added as a venue.
The NSLM's Board of Directors Vice Chairman Jacqueline B. Mars generously underwrote Phyllis Mills Wyeth: A Celebration at the National Sporting Library & Museum. "This is a personal exhibition for our community," explains Mars, an area resident and lifelong friend of Wyeth, "We foxhunted together with Orange County from a young age and attended Hill." The Hill School, a private K-8 day school founded in 1928, is located in Middleburg. Mars is currently the President of Board of Stewards for Orange County Hounds, in nearby The Plains, Virginia, and has been affiliated with the prestigious hunt for most of her life.
Wyeth's local ties run deep. She was the younger sister of Middleburg resident Mimi Abel Smith, a Board member of NSLM and a lifelong sporting enthusiast who hunted with Orange County as well. Abel Smith has fond memories of their life in Middleburg. They grew up outside of the village on Burnt Mill Farm next to Hickory Tree Farm, a renowned Thoroughbred breeding, training, and racing facility founded by their parents, Mr. and Mrs. James P. Mills, Sr. "My sister loved to ride and jump horses and compete in point-to-points," notes Abel Smith, "And she was very good at it."
At the age of 21, Wyeth was involved in an automobile accident. Undeterred by her resulting mobility challenges, she turned her passion toward carriage driving. A talented whip, she drove in coaching competitions throughout the 1980s and 90s and developed the Thoroughbred breeding program at Hickory Hill. After marrying the renowned third-generation artist Jamie Wyeth in 1968, she moved her operations to Point Lookout Farm (Chadds Ford, Pennsylvania).
Throughout her life, Wyeth was a noted philanthropist, conservationist, environmentalist, arts supporter, and a staunch advocate for the rights of the disabled. She also worked for John F. Kennedy in her early career and was a member of the Brandywine River Museum's first board of trustees.
NSLM Executive Director Elizabeth von Hassell was a strong supporter of bringing Phyllis Mills Wyeth: A Celebration to the NSLM and notes, "The exhibition is an intimate tribute by one of the most recognized artists of our time to his wife, a loving testimony to their 50-year marriage, and the embodiment of Phyllis's tenacious spirit. I can't think of a more fitting location to celebrate Phyllis Wyeth's sporting legacy."
Related Programming 4/4/2020, 1:30 pm: Museum Day, Take an in-depth journey through the Phyllis Mills Wyeth: A Celebration exhibition with the NSLM's George L. Ohrstrom, Jr. Head Curator Claudia Pfeiffer, General Admission rates apply or Free Admission with Museum Day Ticket; 4/10/2020, 6–8 pm: Evening at the Museum, Join us for a reception celebrating NSLM's spring exhibitions, Phyllis Mills Wyeth: A Celebration and Thrill of the 'Chace: Steeplechasing in Art. Members: Free, Non-Members $5; 6/20/2020, 10:30 am: Coffee with the Curator, Enjoy relaxed conversation about Phyllis Mills Wyeth: A Celebration, Members: Free, Non-Members $5; RSVP for related programming to vpeacock@nationalsporting.org or 540-687-6542 ext. 25, or for more information, visit NationalSporting.org
The National Sporting Library & Museum (NSLM) is located in Middleburg, Virginia, the heart of beautiful hunt country. Founded in 1954, the renowned research Library and fine art Museum highlight the rich heritage and tradition of country pursuits. Angling, horsemanship, shooting, steeplechasing, foxhunting, flat racing, polo, coaching, and wildlife are among the subjects one can explore in the organization's general stacks, rare book holdings, archives, and art collection. The NSLM offers a wide variety of educational programs, exhibitions, and family activities throughout the year, and is open to researchers and the general public. While there is no admission fee to the Library, the Museum charges $10 for adults, $8 for youths (age 13–18), and $8 for seniors. NSLM members and children age 12 and under are free. Library & Museum hours are Wednesday – Sunday 10:00 am to 5:00 pm.
Image credit:
Jamie Wyeth (American, b. 1946)
Connemara (1987), oil on canvas, 37 x 73 inches
on loan from The Phyllis and Jamie Wyeth Collection