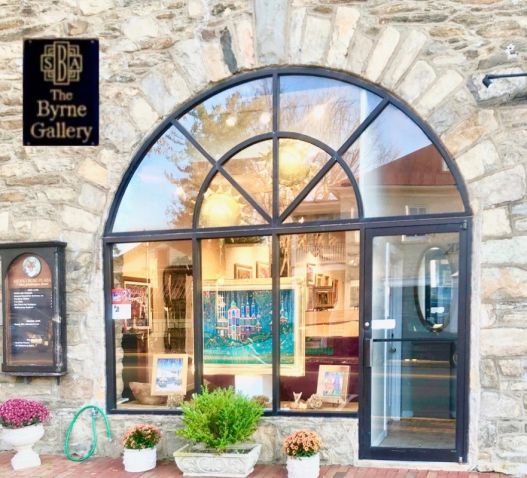 "It's Snowing!!!" at The Byrne Gallery
February 13

-

February 28
The Byrne Gallery in Middleburg is proud to present "It's Snowing!!!"
an exhibition of winter landscape paintings for the month of February. Three artists works are presented during this season of frosty weather. Yuri Gorbachev brings us visions of his childhood homeland with sapphire blue skies and violet shadows on the snowy hills. Uglovka, his village near Novgorod becomes a winter wonderland that children of all ages can enjoy. Gerald Hennesy's wooded oil on canvas landscapes showcase the beauty of the Virginia countryside blanketed in glistening snow; while Robert Thoren paints the sunshine breaking through the trees to light a snowy glade near Goose Creek. Scenes of both Loudoun and Fauquier counties are featured as well as the foothills of the Blue Ridge Mountains.
Yuri Gorbachev
With over 50 years of art exhibitions worldwide, Yuri Gorbachev has had more than 200 solo exhibitions. His paintings have been exhibited on the continents of North America, South America, Australia, Asia, Europe and Africa. More than two billion people have seen his magnificent artwork in art galleries, museums, on TV and in hundreds of magazines and newspapers like Elle, GQ, and the New York Times. Many of these also carried his most famous advertisement for Stolichnaya Vodka.
In addition, Yuri's work is in the permanent collections of more than thirty museums around the world, including the Louvre Museum, the Moscow Museum of Modern Art, the Russian National Museum of St. Petersburg. His paintings hung at The White House, have been on exhibit at the United Nations. Numerous important private collections throughout the world include his paintings and sculpture.
Gerald Hennesy
Mr. Hennesy paints in an impressionistic style, working both in plein-air and in his studio. A master of composition and the landscape, it is important that the subject he has chosen for the painting is exciting to him, so it will then also be exciting and interesting to the viewers of his completed work. Once a scene has been selected and the composition sketched in, Gerald paints rather rapidly, while attempting to achieve a freshness of color and expressiveness in his brushwork. He is particularly concerned with depicting the effect of light on his landscapes.
His work has been exhibited widely in commercial and museum galleries including the Baltimore Museum of Art, the Georgia Museum of Art, The Corcoran Museum of Art and the Smithsonian Museum. His paintings are in numerous private, corporate and public collections, including the U. S. House of Representatives, the State Department, the Maryland State Mansion, the DAR Headquarters, and the American Legion Headquarters. He is listed in Who's Who in America and Who's Who in American Art.
Robert Thoren
An avid proponent and practitioner of plein air painting, Robert Thoren has relished the opportunity to paint the Northern Virginia landscape, particularly the lush terrain of the Shenandoah Valley. Before moving to Virginia in 1993, Robert studied with teachers closely associated with the late Russian emigre impressionist Sergei Bongart, whose work was recently featured in a showing at the Frye Gallery in Seattle together with that of fellow emigres Nicolai Fechin and Leon Gaspard.
Like Sergei, Robert paints in a sensual, impressionistic style emphasizing vivid color and the employ of dramatic brushstrokes. His artistic goal is to suggest spontaneity while maintaining a firm mastery of drawing and painting techniques. In his many still lifes, Robert celebrates the Bongart school's focus upon color and its ability to transform everyday objects into scenes of powerful emotion.
Please join us for visit during the month of February and bring your Valentine too!
Contact the Byrne Gallery for more information at 540-687-6986. Gallery hours are 11 a.m. through 5 p.m. Wednesdays through Saturdays and Sunday noon through 5 p.m. Monday and Tuesday are by appointment.
The gallery is located at 7 West Washington Street (which is route 50 in Middleburg, Virginia)