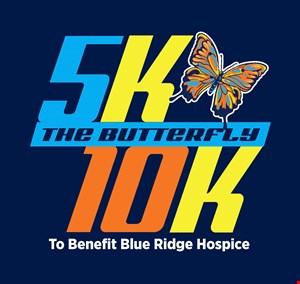 We invite you to participate in The Butterfly 5K/10K to benefit Blue Ridge Hospice!
Join us Oct. 21 to honor those we've lost and raise awareness and funds for patients and families. Whether you're a runner or walker, you can take part in this event!
The 5K is a gorgeous walk or run through lush Virginia country … mountain views, beautiful scenery and a variety of tree species at the VA State Arboretum. On the 10K course, you'll run through the arboretum, on through a barn, by grazing horses and around an historic plantation estate!
Your efforts will help Blue Ridge Hospice, a not-for-profit healthcare organization, continue with the mission of never turning anyone away based on financial ability. Your walk or run will give others the gift of comfort, compassion and dignity in their last months, weeks and days.
Race day registration will close at 8:45 a.m. 10K Runners will begin the race at 9 a.m., 5K walkers/runners will begin at 9:10 a.m.