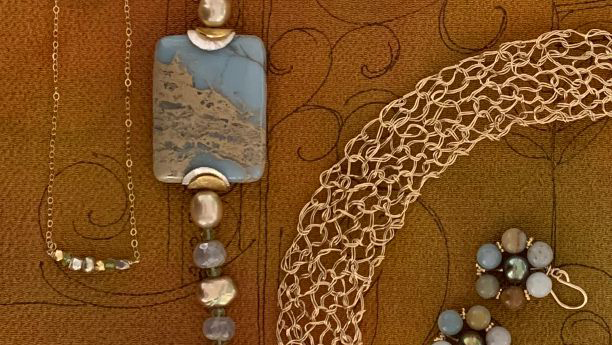 Autumn Jewelry Show at The Byrne Gallery
The Byrne Gallery is pleased to present its Autumn Jewelry Event 2021. This special exhibition will feature gorgeous jewelry and accessories by artists who are all local to the area: Debra Fabian, and Kathryn Stanko and Susie Lipscher of Plum Blossom Kimono. Their collections are one of a kind and keyed to the latest autumn colors and fashion. Please join us for a special reception for the artists on Saturday, October 2nd 2021 from 2:00 p.m. to 6:00 p.m. It is an event that is open to the public and everyone is invited to attend!
The jewelry collections will continue being displayed through the holiday season and feature beautiful one of a kind necklaces, earrings and bracelets and rings in enamel, pearls, citrine, tourmaline, garnet, druzy quartz, jade, smoky topaz , silver, gold, copper and many other semiprecious stones designed especially for you.
So, come and see what is really new and distinctive for the Fall season and lift a toast to the artists who will be there to celebrate!
The collection will be exhibited through the holiday season!
The Byrne Gallery is located at 7 West Washington Street in Middleburg, Virginia. Gallery hours are Monday and Tuesday by appointment only. Wednesday through Saturday 11 a.m. to 5 p.m. and Sunday noon to 5 p.m. Contact the Byrne Gallery for more information at (540) 687-6986. www.byrnegallery.com
Share This Story, Choose Your Platform!