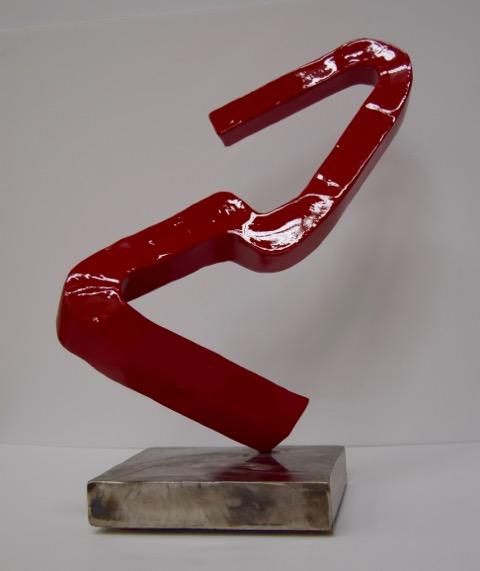 "Abstract by Design" at The Byrne Gallery
The Byrne Gallery is proud to present "Abstract by Design," an exhibition of the constructed panel oil paintings of Mark Dassoulas and the stainless steel sculptures of Richard Binder. The exhibit will begin on Saturday, Feb. 2, and continues through Sunday, March 1. The exhibit is open to the public and everyone is cordially invited to attend.
Mark Dassoulas' evolution as an artist has been moved by a deep-seated need to explore new territories. Largely self-trained in studio art, his career has encompassed several styles; each defined by a painterly command of color and carefully conceived spatial organization.
 
His earliest works in the 1980s focused on crisp, detailed figurative, still life, and floral subjects, created in the manner of 17th century Dutch masters. A fascination with landscape followed, studying the luminous works of the Hudson River School. Eventually, the elements of traditional realism gave way to contemporary compositions, where figures and objects were contextualized only by light and shadow. His view of nature broadened, first into tonal imagery, then into abstraction; depicting visionary horizons of subtle yet powerfully modulating color.
 
"Landscape Reconciled, 2003," represented a step in a new direction for Mark. Moving from canvas to cut and constructed panels, his paintings became arrangements of bounded organic forms, constrained by the boarders of 3-dimensional shapes. 
Compelled by the ability of geometry to organize what is less defined, the "Transition" series saw a minimalizing of content; where colors morphing through grids visualized shifting states of emotion.
Three of six works currently on exhibit are representative of the "Transition" series. Three of the paintings on panel are a few steps beyond; incorporating references to nature in the use of oil mediums in fluid techniques.    
Mark's work is in the permanent collection of Northrop Grumman, General Foods, Troutman Sanders, Holland & Knight and many other famous corporate and private collections. His work has been pictured in "Architectural Digest" in the home of Washington, D.C., designer Thomas Pheasant.
Richard Binder feels that "the beauty of abstract art is that it has no boundaries. The beauty of nature and of abstract art is in the infinite ways that they can be expressed." He returns to The Byrne Gallery to celebrate the 10th anniversary of his first gallery show and his fifth show with The Byrne Gallery. Binder uses not only his eyes and hands in creating his sculptures, but also his imagination. He cuts, bends, welds and polishes steel to create an infinite number of forms and shapes that are filled with motion, strength and dynamic energy. "People have always been very important to me and I have an intrinsic need to engage with people, and my art is the way I connect with them. For me, the experience of creating a piece of physical art is enormously satisfying and life affirming."
Binder's works have evolved over the past 10 years to their present state as he manages the steel and creates forms and shapes that are at once dynamic and have a sense of permanence and strength. His sculptures combine organic life, science, beauty and shape reflecting the different dimensions of his life as a person, an engineer, a physician and now an artist. His works in this current show exemplify his diversity of expression. They range from figures in motion to representing his view of nature and elements of the universe. They demonstrate how he has focused on using visual literacy and his imagination to create abstract pieces that speak to a connection with people and the natural world.
Binder's art has been featured in numerous galleries and is on display in both the public arena and private collections. Among his exhibits was a solo show at the residence of the German Ambassador, which led to one of his sculptures being selected for presentation to the German Head of State by the United States Department of State.  Most recently, the city of Washington, D.C., has purchased one of his outdoor sculptures. 
Please come visit The Byrne Gallery to see and enjoy "Abstract by Design" on exhibit for February 2020. The Byrne Gallery is located at 7 W. Washington St. in Middleburg, Virginia. Gallery hours are Monday and Tuesday by appointment only, Wednesday through Saturday 11 a.m.-5 p.m. and Sunday noon-5 p.m. Contact the Byrne Gallery for more information at 540-687-6986.