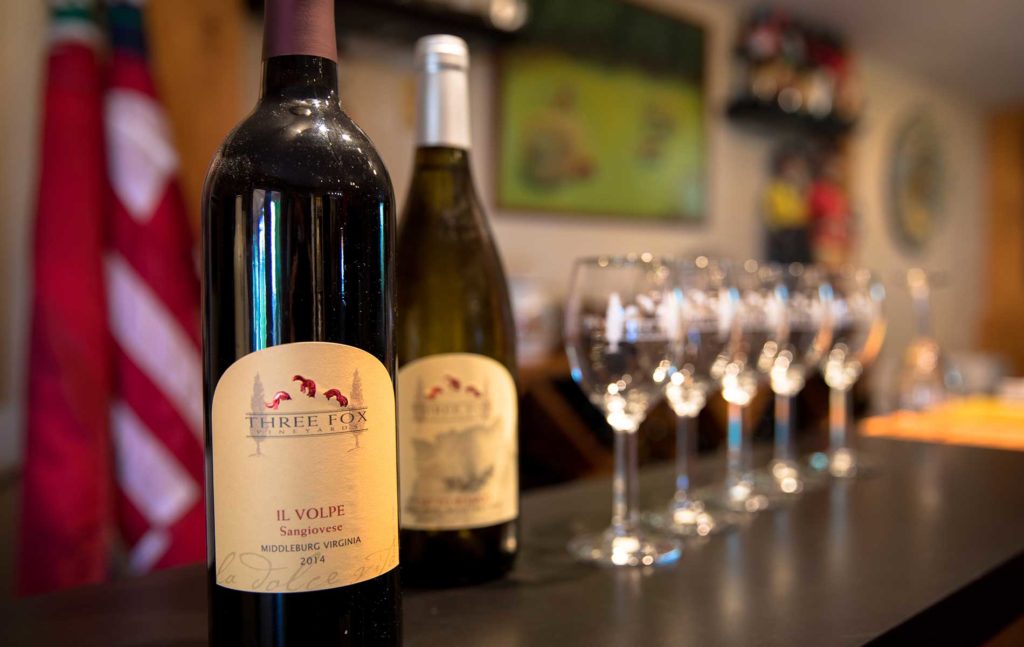 Three Fox Vineyards
Three Fox Vineyards is in the heart of Northern Virginia's horse country and the Mosby Heritage Area, just a short drive (about 1 hr., 20 min.) from downtown Washington, D.C., or about 45 minutes from the I-495/I-66 interchange.
Hours of operation for public tastings are 11 a.m.-5 p.m. Monday, Thursday, Friday and Saturday and noon-5 p.m. on Sundays. "Last call" is typically around 5:15 p.m. and guests can linger a bit more while staff cleans up and closes down. Three Fox welcomes organized groups by reservation. They are dog and child friendly, so bring the family!
Light fare is available for purchase (sausages, cheeses, crackers), so you can make up a very good impromptu picnic. Three Fox does permit you to bring your own food but, like all Virginia wineries, is required by ABC to allow no alcohol on premise except for Three Fox wines. Three Fox loves to see guests relaxing and basking in "La Dolce Vita" but does reserve its many tables and other seating facilities for guests that are enjoying Three Fox wine.
Most Saturdays and holidays in season Three Fox has live music.
Real-time information about what is going on at Three Fox can by obtained by visiting their website.