30+ Things to Do in Middleburg in December
— If you've been to Christmas in Middleburg, you know exactly why the Travel Channel named Middleburg one of the country's best small towns to visit this Christmas! But Christmas in Middleburg just marks the start of holiday festivities here, so don't miss out on the other great events we have going on this month. Here's our rundown of the events you won't want to miss!
Please join in at the foot of the town Christmas tree in the Pink Box garden for singers, caroling and refreshments!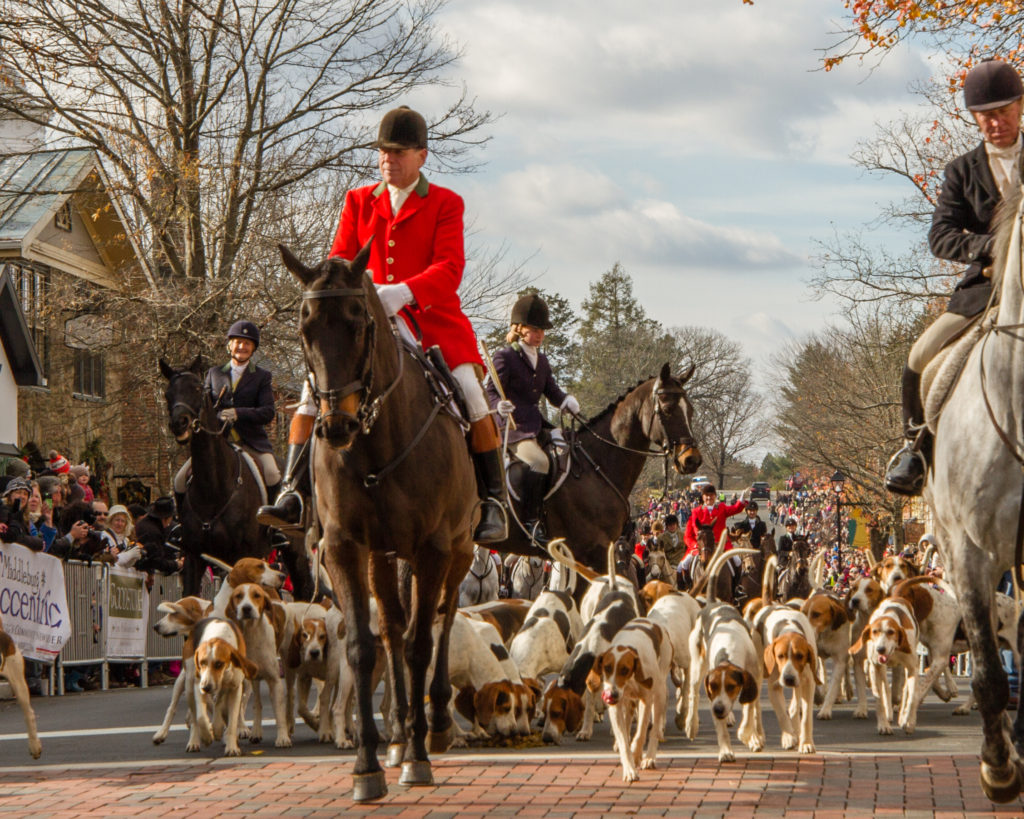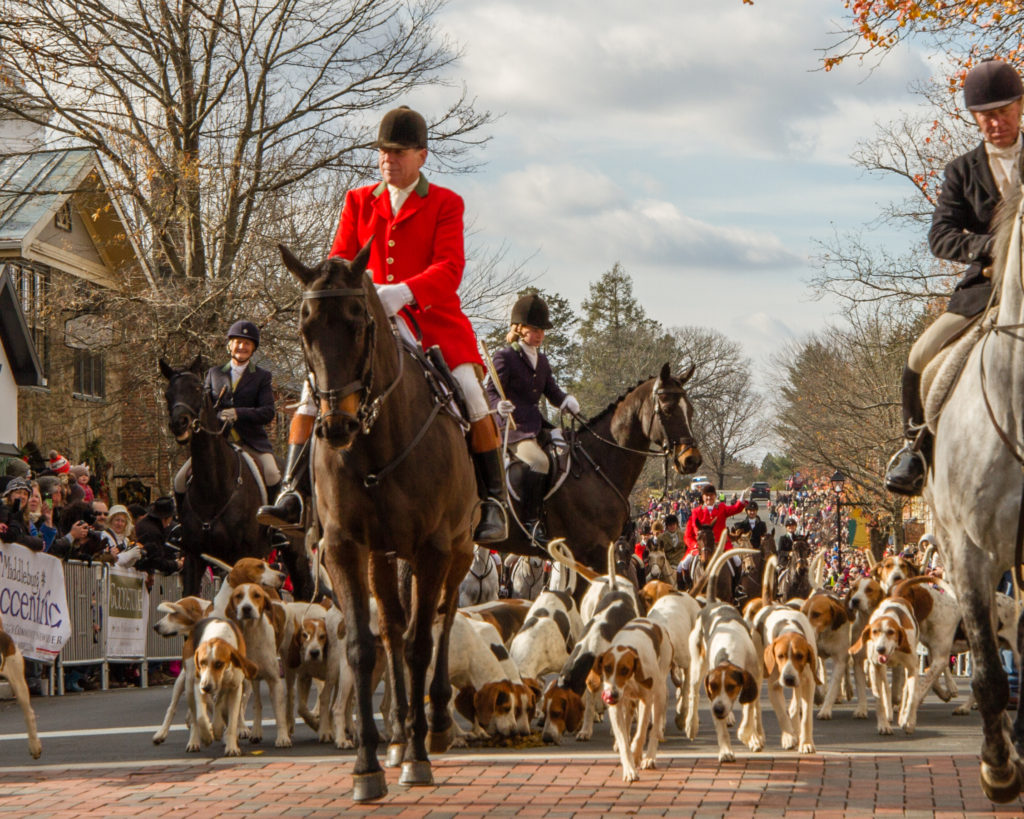 Middleburg is the perfect setting for evoking the Christmas spirit — tree lighting, a Christmas parade, shopping, caroling, and so much more. Stay at one of the picturesque inns or the five-star Salamander Resort & Spa. Relax in the countryside without missing a moment of the Christmas magic.
Join one of the most fun-filled family festivals of the year in Middleburg with activities, special events, great eats, the famous Middleburg Hunt Review, a mile-long Christmas parade.
Salamander's most festive event of the year is back! Join us for their annual Santa brunches on select Saturdays in December.
Salamander's ballroom transforms into a winter wonderland where you can visit with Santa and his elves while enjoying a delicious brunch with sweet and savory holiday favorites for the entire family. The brunch also features a make-your-own holiday ornament designing station and photo opportunity with Santa!
$68 per adult, $38 per child. Reservations required; please call 540-326-4070. Prices do not include tax and gratuity.
Looking for that special something for that person who has everything? "GASP: Great Art, Small Prices" features works by artists within a 50-mile radius priced at $500 and below.
In a special Thursday evening performance, the "At the Parish House" performance series of Middleburg's Emmanuel Church is pleased to welcome pianist Sophia Subbayya Vastek in a return engagement on Dec. 12.
She will perform music from the early 20th Century by French composer Lili Boulanger and Polish composer Karol Szymanowski. Described as playing with "passion and profound tenderness," Vastek has performed in France, South Africa, Mexico and around the United States, including at the Kennedy Center, the State Department, the Canadian Embassy, the Polish Cultural Institute and The Apollo Theatre.
Regarding the works of the composers she will be playing, Vastek says this is "music that is unexpected, music that speaks, music that astonishes and confounds, music that binds, music that heals."
The concert is Thursday, Dec. 12, at 7 p.m. at Emmanuel Episcopal Church's Parish House, 105 E. Washington St., in Middleburg. Reservations are recommended but not required (540-687-6297). A donation of $10 is suggested but not required. All are welcome.
The Byrne Gallery celebrates its 24th anniversary this year with a celebration and exhibition of the vivid oil and enamel paintings of internationally acclaimed artist Yuri Gorbachev. The Byrne Gallery welcomes Yuri Gorbachev for his 16th consecutive exhibition in Middleburg, Virginia. The gallery will feature some of his classic paintings along with new works from his 2019 museum world tour. The exhibition will continue through Jan. 5.

With more than 50 years of art exhibitions worldwide, Yuri Gorbachev has had more than 200 solo exhibitions. His paintings have been exhibited on the continents of North America, South America, Australia, Asia, Europe and Africa. More than two billion people have seen his magnificent artwork in art galleries, museums, on TV and in hundreds of magazines and newspapers like Elle, GQ, and the New York Times. Many of these also carried his most famous advertisement for Stolichnaya Vodka.

In addition, Yuri's work is in the permanent collections of more than 30 museums around the world, including the Louvre Museum, the Moscow Museum of Modern Art, the Russian National Museum of St. Petersburg. His paintings hung at The White House, have been on exhibit at the United Nations. Numerous important private collections throughout the world include his paintings and sculpture.

Yuri brings his newest paintings from Russia to Middleburg. He is now on a world tour with museum shows in Russia, Ukraine, Europe and the Far East planned through 2021. There will be major exhibitions in the Moscow Kremlin Museum, the Novgorod (oldest city in Russia), the Borovici Museum, National History Museum of Moscow and Moscow Modern Art Museum, Odessa Literature Museum, and the Miro Gallery in Prague, Czech Republic.

And Middleburg, Virginia, is on this tour! He says his favorite solo show takes place at the Byrne Gallery. This year, he continues his 16th annual exhibition at The Byrne Gallery to celebrate with Susan Byrne and Bill Byrne. The exhibition is open to the public and everyone is cordially invited to attend.

Join the Mosby Heritage Area on a lantern-lit walking tour of Middleburg's oldest churches. Attendees will learn about the booming Middleburg population in the 1840's and 50's through its church communities. The tour will begin with a rare peek into Asbury Methodist Church, progress to Sharon Cemetery outside of the Baptist Church, and will conclude at Emmanuel Episcopal with a traditional carol and informal reception.
This event will be outside rain or shine, so please dress appropriately for the weather. The program also involves walking, so comfortable shoes are a must!
Tickets are $15 for adults and $8 for students.
Michelin Star Chef Alberto Annarumma joins Salamander Resort & Spa for an exciting Michelin Star Chef Weekend on Dec. 13-15 in partnership with Forever Gourmet. Chef Annarumma will host a meet-and-greet, cooking class, exclusive eight-course dinner, as well as a farewell brunch.
He used to draw comics, today he "paints" dishes. The cuisine of Alberto Annarumma is not based simply on tradition, it is a world steeped in the past where the passion for art reigns in the center. Chef Annarumma earned his Michelin Star at the famed restaurant La Casa del Nonno 13 on the Almafi Coast and has now taken the reigns at Masseria Guida in Ercolano.
Chef Alberto Annarumma Welcome Reception
Dec. 13 | 7 p.m. | $88 per person | Middleburg Ballroom
Join Salamander Resort in welcoming Chef Alberto Annarumma at this delicious reception. Enjoy decadent hors d'oeuvres and sparkling wine as you get to know the chef behind the knife of this amazing three-day culinary experience. Reservations required; please purchase tickets at eventbrite.com.
Michelin Star Cooking Class with Chef Alberto Annarumma
Dec. 14 | 2 p.m. | $120 per person | Cooking Studio
Learn the ins and outs of Italian cuisine from an Italian Michelin Star chef, Alberto Annarumma. Salamander Executive Chef Ryan Arensdorf joins Chef Annarumma in the cooking studio for this one-of-a-kind culinary experience. Reservations required; please call 540-326-4070.
Eight-Course Michelin Star Dinner with Chef Alberto Annarumma
Dec. 14 | 6:30 p.m. | $310 per person | Harrimans
Indulge in a one-of-a-kind Michelin Star dining experience at Harrimans Virginia Piedmont Grill! Chef Alberto Annarumma prepares an exclusive eight-course dinner using some of his favorite ingredients from the Almafi Coast of Italy as well as local favorites from Virginia. Experience and taste what has made Chef Annarumma a Michelin Star chef. Reservations required; please call 540-326-4070.
Three-Course Michelin Star Brunch with Chef Alberto Annarumma
Dec. 15 | 11 a.m. | $120 per person | Cooking Studio
To cap off the delicious weekend, join Michelin Star Chef Alberto Annarumma, Salamander Executive Chef Ryan Arensdorf, and Salamander Executive Pastry Chef Jason Reaves for an intimate and indulgent brunch experience where each chef will present their own special course. Reservations required; please call 540-326-4070.
The Shenandoah University Conservatory Chorale under the direction of Matt Oltman, director emeritus of the famous Chanticler Chorale. The program will include classical and contemporary Christmas favorites. The 26-member chorale includes voices in all ranges and will be accompanied by renowned organist Dudley Oakes. This is not-to-be-missed concert promises to set the tone for the Christmas season.
Click here to purchase tickets.
Join A Place to Be for one of their most popular signature events, showcasing the music therapy work of our clients as they put on a show that lets you experience holiday music like you never have before. Fun for the whole family! Free admission!
For decades, a talented band of Celtic musicians has played to sold-out audiences in Virginia with brilliant renditions of Irish and Scottish songs and tunes. Lovingly nick-named "The Dwarves" (for historical reasons too complicated to explain here), the band will perform a Christmas concert at Emmanuel Church's "At The Parish House" event on Dec. 15. Returning with the band will be Mei-Li Beane, whose voice and violin enthralled the audience at last December's Parish House Christmas concert.
The band will sing and play many Christmas specials such as "I Saw Three Ships" and "Pat-a-Pan," and a variety of year-round Celtic favorites. Instruments accompanying their energetic voices will be the accordion, Irish flute and whistle, Uilleann pipes, bodhran, guitar, violin and viola. They always weave interesting historical notes and amusing stories through their concerts. Fun fact: three band members have led Williamsburg's world-famous Fife and Drum Corps.

The performance is Sunday, Dec. 15, at 3 p.m. at Emmanuel Episcopal Church's Parish House at 105 East Washington St. in Middleburg. Reservations are recommended, but not required (540-687-6297). A donation of $10 is suggested, but not required. Refreshments served, and all are welcome!
Say farewell to 2019 and toast to 2020 with us for a jovial celebration! Salamander's party will take over the living room and feature live music, a large dance floor, all-you-can-enjoy hors d'oeuvres, an open Belvedere ice bar, and a complimentary Moët champagne toast at midnight. Must be 21 years of age.
$120 per person. Reservations required.
For additional information, please call 540-326-4070.
Also this month: