MBPA honors community leaders at annual awards ceremony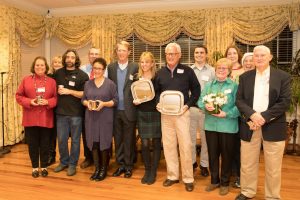 — It was a night filled with laughter, tears and hugs, as the Middleburg Business and Professional Association held its final Biz Buzz of 2016 on Dec. 13 at Emmanuel Episcopal Church's Parish House. The evening served as an opportunity to highlight recent successes, including a record-breaking 119 members, as well as recognize leaders in the Middleburg community.
Tears flowed as Laura and Larry Clark of Wylie Wagg accepted the Legacy Award, honoring their commitment to animals and the legacy they've created in Middleburg. The Clarks moved from Manhattan to Middleburg after the tragedy of 9/11, opening their first store in Middleburg in 2002 and later expanding to four additional locations.
"The love of the countryside but most of all love of the animals then led them to create one of Middleburg's favorite stores," said MBPA President Punkin Lee in presenting the award. "They wanted to enhance the lives of pets to promote their health and well-being and still have a fun place to shop with a happy environment for both staff and customers."
It was clear that the Clarks had achieved that and so much more, helping to spread the word on keeping all pets healthy, making us more aware of animal rescues, supporting community events like the "Dog Days of August" and, of course, entertaining us all with the monthly "Albert's Corner" column in the Middleburg Eccentric. Though Wylie Wagg has been sold to Kriser's Natural Pet, Middleburg will retain its pet store and it's clear the Clarks' imprint on the town will not soon be forgotten.
"We moved here and started this little thing and never knew that it would be our entire life and that it would be so incredible to meet people in small towns," Laura Clark said after accepting the award.
"We were all about big towns. We thought big towns were the thing," she said, laughing. "Big towns are not the thing. Small towns are the thing."
"I can't thank all of you enough because we actually got to do this thing that we loved for a really long time and love all of you all, and this is such an honor, you can't imagine," Clark added.
It was a bittersweet ending to an evening that noted the many challenges the Middleburg business community faced this year, including hail damage and the construction on Washington Street, as well as its many accomplishments, including community workshops for local businesses, two town-wide sales, increased social media and video coverage, and many events, including Shakespeare in the 'Burg, the Middleburg Spring Races, Upperville Colt and Horse Show, Middleburg Concert Series, Open Late at the National Sporting Library & Museum, Concert on the Steps at the Middleburg Community Center, Virginia Fall Races, Middleburg Film Festival and Christmas in Middleburg.
The evening had the festive feel of a community holiday party, complete with Jack Wood playing holiday favorites on piano and tasty nibbles provided by Back Street Catering. And it served to highlight some of the many individuals who contribute to making Middleburg such a special place to live and work.
Receiving the Frontline Customer Service Award was Sam Rogers of the Red Horse Tavern. In presenting the award, Lee noted all the small-town courtesies Rogers extends to put his customers at ease, from his courteous greeting that "makes you feel that he had been waiting all day for your arrival" to his memory of details like where you were headed the last time he saw you.
"He treats all of his customers like friends, always quick to ask how you have been as well as your family," Lee said.
"Although his space is somewhat limited, he is always ready to find another chair, move a table, put you with friends, get you a drink while you wait, whatever it takes to help you, and all of this is done while he is moving at warp speed around the restaurant. He is kind to his staff, generous to local charities, not only with food but with cash and gift cards, and has a following second to none."
Lee also handed out a Frontline Customer Service Award for Hospitality to Gemma Brown of Salamander Resort & Spa, noting that Brown defines the resort's hospitality "with genuine care and a high level of service awareness that sets the environment for resort guests and their experience." Brown has previously received the Tourism Management Employee of the Year Award from Visit Loudoun.
Winning the Retail Customer Service Award was Cindy Wines of Middleburg Millwork Inc. "She knows her customers, is knowledgable about the products and is always kind and thoughtful to everyone," Lee said.
Bundles Murdock took home the Town Spirit Award for her dedication to the Middleburg community, with Lee noting her readiness to promote and help with anything that will serve the town's best interests, as well as her service on the Town Planning Commission and Town Council. "She appears to be everywhere you look — in the coffee shop, the post office, the town office, every once in a while riding around in a police car, at the community center, out to stop traffic to keep her Orange County Hounds safe or at the National Sporting Library & Museum — yet she always has time to greet a visitor with a smile, give directions, make a suggestion for a day's outing — locally, of course — and even offer a ride to someone left behind," Lee said.
Also recognized for her imprint on the Middleburg community was Sheila Johnson, CEO of Salamander Hotels and Resorts, who received the Power of One Award. "She is an entrepreneur, philanthropist, neighbor, mother and friend," Lee said. "She is serious, funny, hardworking and a real non-stop dynamo. She is probably one of Middleburg's biggest cheerleaders."
Johnson built and opened Salamander Resort & Spa for visitors and locals alike, Lee noted, and she also brought the community "movies that would make us think, discuss, interact and enjoy" via the Middleburg Film Festival. "To Dr. Sheila Johnson, we thank you for following your dreams and that they have happened to come true in Middleburg."
The Volunteer of the Year Award went to Snooks Swain, who served as a police officer for the town of Middleburg in the '60s and in the Loudoun County Sheriff's Office until the mid-'90s. As a volunteer, Swain has supported the Seven Loaves Food Pantry and Middleburg FISH, served as a deacon at the Middleburg Baptist Church and on the town-appointed Health Center Advisory Board and Wellhead Protection Advisory Committee, and is a member of the Winchester Moose Lodge 1283 and the Middleburg Fire Department, which he joined in 1953.
"He goes about his various volunteer duties under the radar, just wanting to help and never there for the spotlight," Lee said.
The Leven Powell Award, named after Middleburg's founder, went to Bob Dale for his commitment to the Middleburg community to achieve common goals and collaborate on projects. Dale spent 40 years in the Middleburg office of Yount, Hyde & Barbour and now serves as the executive director of the Windy Hill Foundation.
"Windy Hill is gaining a tremendous leader as well as someone with a deep understanding of Middleburg and the needs of the foundation's many residents," Lee said.
The evening served as the year's final Biz Buzz, a monthly networking event held on the second Tuesday of the month, except in January. These events bring local business owners and professionals together to network, provide local businesses with an opportunity to showcase their facilities and services, and help to spread the word about interesting news and events in the Middleburg community.
The next Biz Buzz will be held at The Hill School on Feb. 14 from 5:30-7:30 p.m. We hope to see you there!