MBPA honors community leaders at annual awards ceremony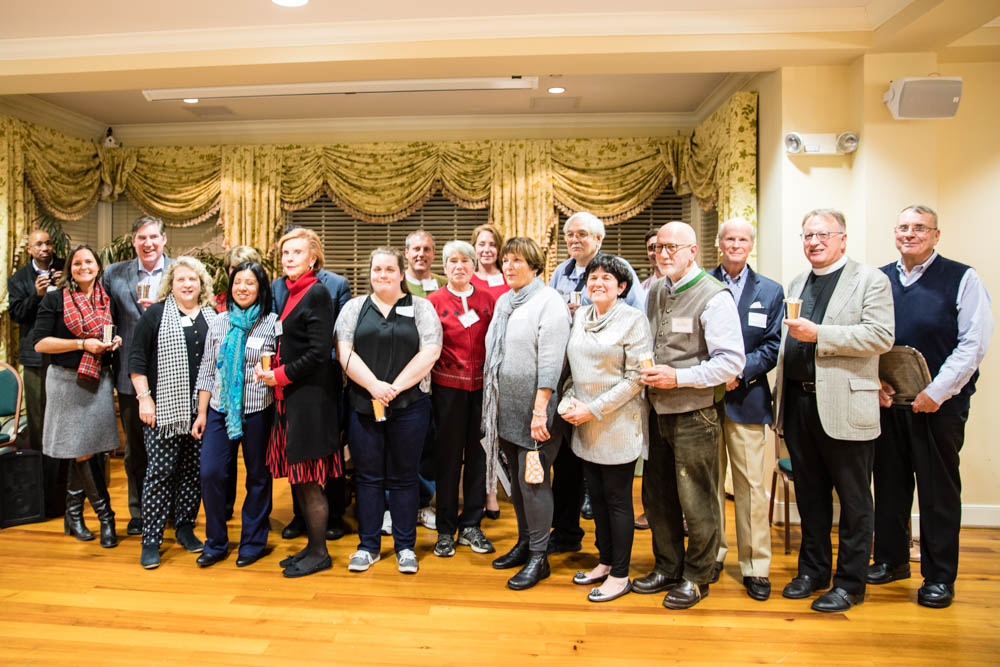 — It was a misty-eyed night at Emmanuel Episcopal Church's Parish House on Dec. 12, as the Middleburg Business and Professional Association held its final Biz Buzz of 2017. Between laughter, tears and hugs, MBPA recognized leaders in the Middleburg community and highlighted recent successes, including being named "the South's most charming Christmas town" by Garden & Gun.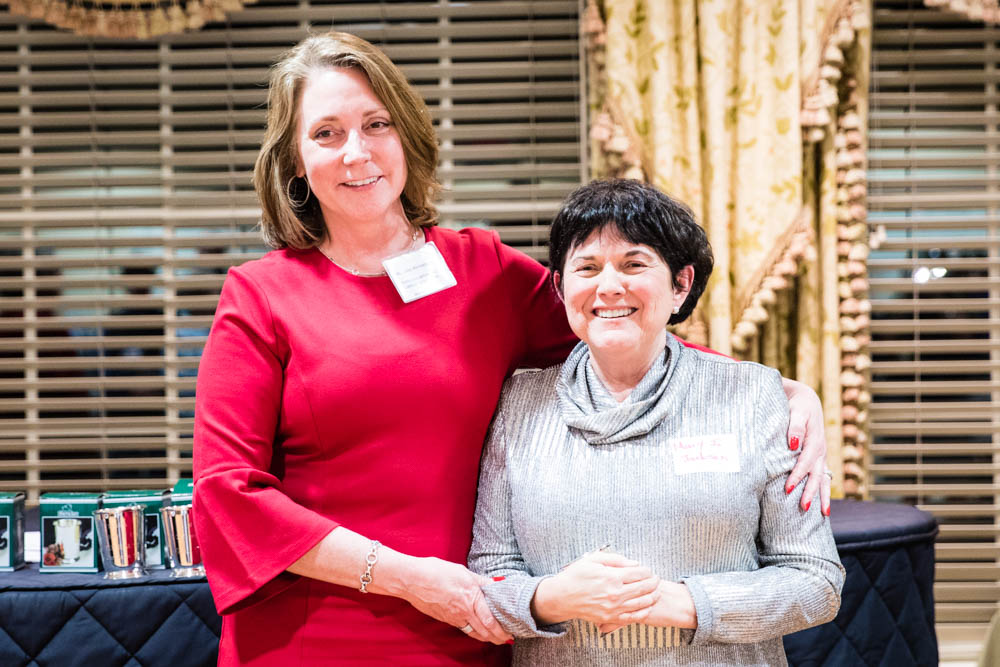 One of those misty moments came as Mary Jo Jackson accepted the Volunteer of the Year Award for her long-standing and diverse volunteer efforts. Jackson has served on the boards of The Hill School, Windy Hill Foundation, Piedmont Child Care Center, Goose Creek Association, Middleburg Community Center, the Middleburg Library Advisory Board, Blue Ridge Hospice, Middleburg Museum Foundation and the Cherry Blossom Breast Cancer Foundation.
"I would like to say how really honored I feel by this because there are so many people in this town who do so much, and I feel privileged that I have been able to serve on these boards and help in some way. I'm amazed at how as a community, it's the most giving place," Jackson said.
Noting how she and her husband were welcomed into the community when they relocated to Middleburg 40 years ago, she added, "I have not given back a fraction of what you all have given us."
Even with the occasional teary moment, the evening had the festive feel of a community holiday party, complete with Hill School parents, faculty and staff caroling outside the doors as attendees arrived and tasty nibbles provided by Back Street Catering. And it served to highlight some of the many individuals who contribute to making Middleburg such a special place to live and work.
Among the successes noted at the meeting were several new businesses and restaurants that have opened this year, as well as new projects, including Visit Middleburg's email newsletter, which now reaches more than 700 people each month. MBPA also highlighted ongoing efforts to promote Middleburg, including 5 video projects to help advertise the community's amenities, online ad campaigns and social media. Of note: more than 52,000 people used the Visit Middleburg website this year, compared to about 30,000 last year.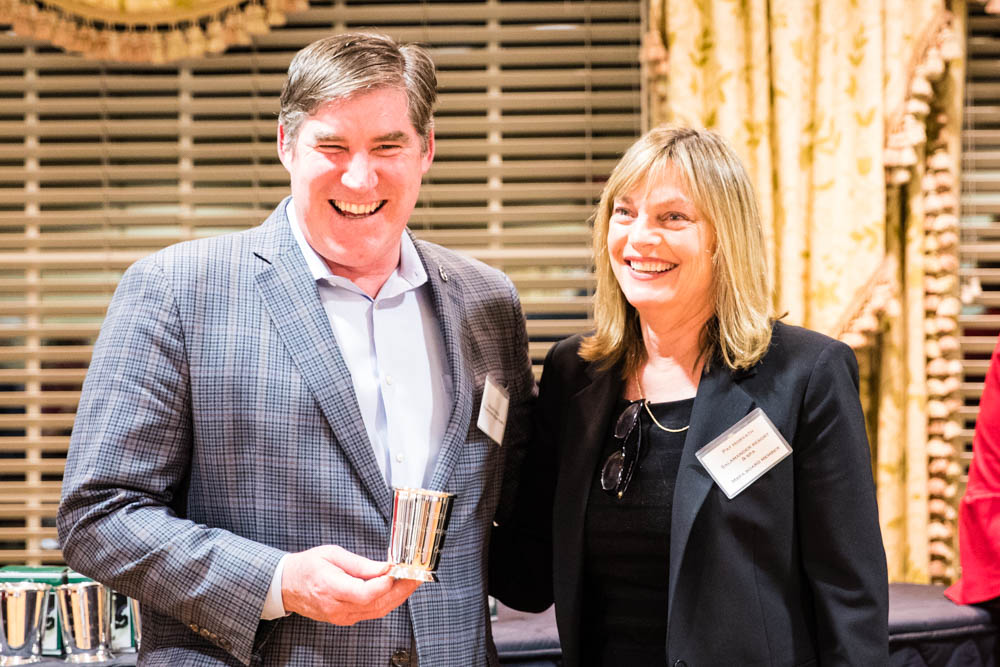 Among those receiving an award at the meeting was Reggie Cooper, general manager of Salamander Resort & Spa, whom MBPA President Punkin Lee called "a well-spoken ambassador for his workplace and our town."
In addition to being active with the Middleburg Business and Professional Association, Cooper serves on the boards of Visit Loudoun and Seven Loaves.
"Over his three years here, he has gained the respect of his team and is regarded as an inspirational leader who not only talks the talk, but walks the talk. His personal attention to detail for each guest's visit is apparent and he is always on the spot if something needs to be addressed," Lee said in awarding him the Hospitality Manager of the Year award.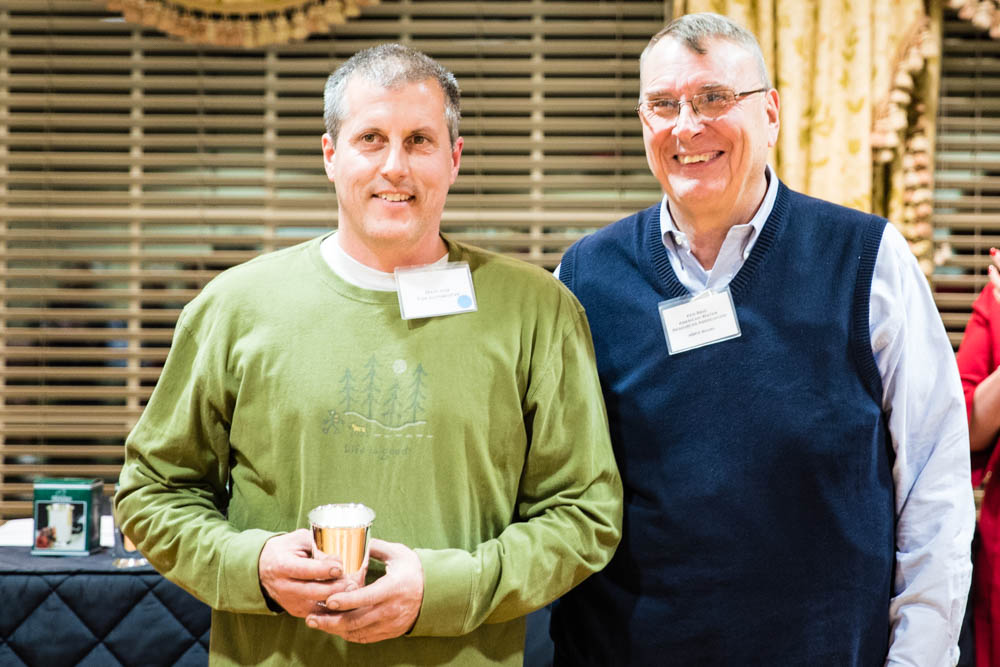 Another fixture in the Middleburg community recognized at the meeting was Entrepreneur of the Year Matt Fox, owner of Fox Automotive. Announcing the award, Lee noted the long hours Fox puts into his business, his punctuality and his dedication to customer service.
"He knows where you work, what you do, asks about this and that, but most of all, he never forgets your car or truck. The memory bank in his head must be huge. Give him a few minutes and the vehicle's history all comes back to him. You can barely remember when you had the oil changed, and he seems to remember everything," Lee said.
"He helps you keep the vehicle running and he is very sensitive when he delivers the news that your car or truck needs to switch to farm use, and maybe with just a little bit of nursing along, you can drive it a bit longer before the junkman comes to claim it in the end. His business is much-used and much-needed in town and much-loved for so many reasons."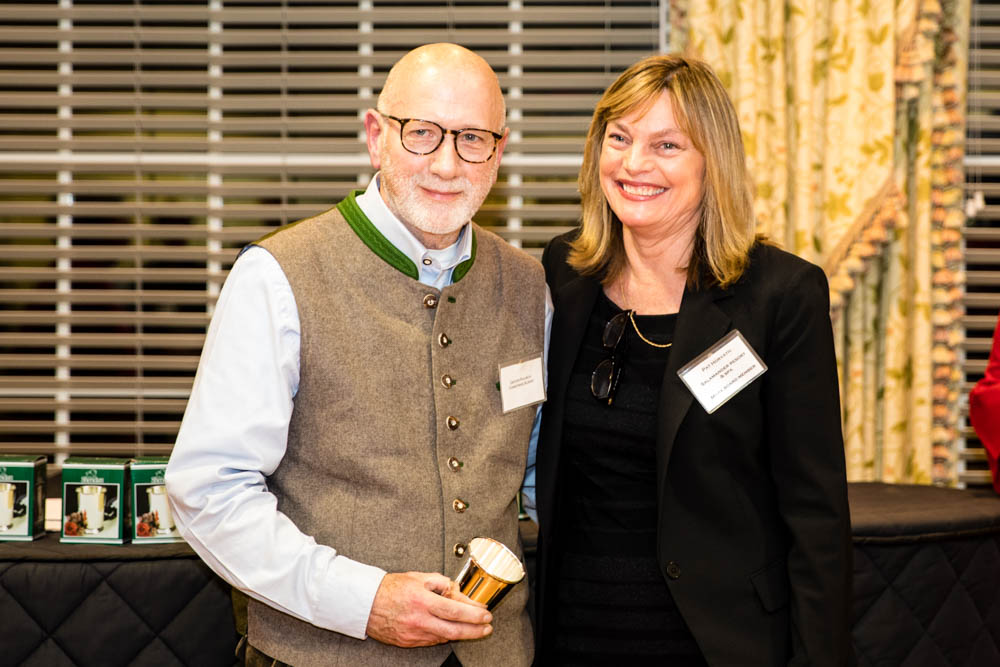 Receiving the Town Figure of the Year award was Dieter Rausch, owner of The Christmas Sleigh. "He loves this town and he loves offering Christmas to everyone every day of the year, except Thanksgiving and Christmas, the only two days he closes," Lee noted.
"The store's slogan is, 'Come experience the magic,' and as soon as you open the door, you have entered a very special place — garments, accessories, toys and Christmas decor."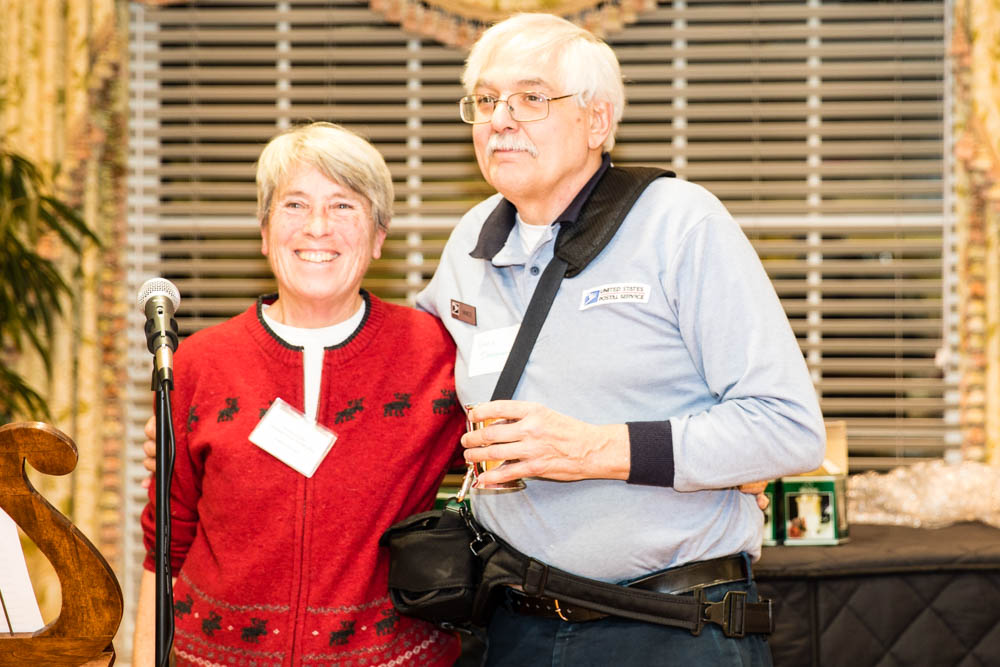 Also receiving an award was Vance Thompson, who has been stationed at the Middleburg post office for more than 20 years, regularly delivering kind words and smiles to each customer who comes to the counter, along with stamps, packages and stacks of mail. "He greets everyone with kindness and a smile, a short chat, maybe, as he follows up on a previous conversation with a customer. He knows all the locals, where they live, their box number, what color the parcel is that you're picking up, and which stamps you prefer. … He never rushes, he is always helpful and never appears to lose his cool, no matter how pressed by the customer. Slow and steady always gets the job done and his job is indeed well-done," Lee said in awarding Thompson the Frontline Employee of the Year award.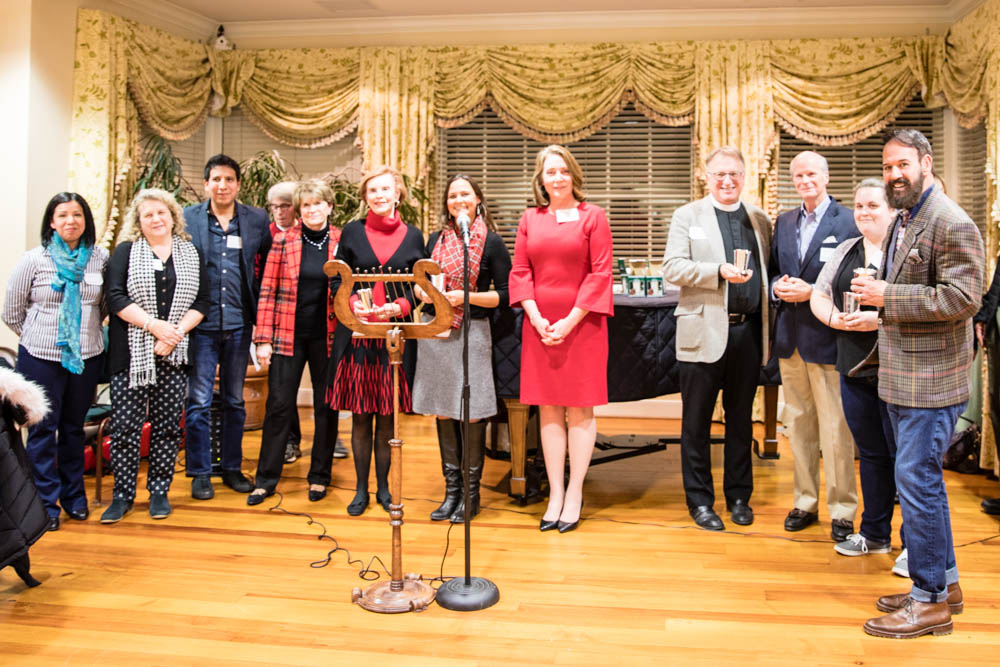 The Event of the Year Award was shared by several events and organizations that have brought music to Middleburg: "Concert on the Steps" at the Middleburg Community Center, "At the Parish House" at Emmanuel Episcopal Church, "Open Late" at the National Sporting Library & Museum, the Middleburg Concert Series and Middleburg Music Fest International.
"The hills surrounding our town are always alive with the sounds of nature — birds, foxes, deer, peepers, coyotes, crickets and much more. Now the streets are alive with the sounds of music, all kinds of music — bluegrass, pop, jazz, gospel, symphonic, country, classical, to name a few," Lee said. "For a small town, but obviously a very special town with a knack to expand our cultural horizons, we now have many opportunities and many venues to enjoy music."
The evening was also one with some sad good-byes, with two long-time MBPA supporters retiring and leaving their spots on the board this year.
Lee thanked Cindy Pearson, who recently retired as the town's economic development director, for all her efforts to help the Middleburg Business and Professional Association. "Because of her job, she had her finger on just about everything that was happening in town and the file in her head was always keeping the dots connected, so everyone and everything benefited from her knowledge," she said.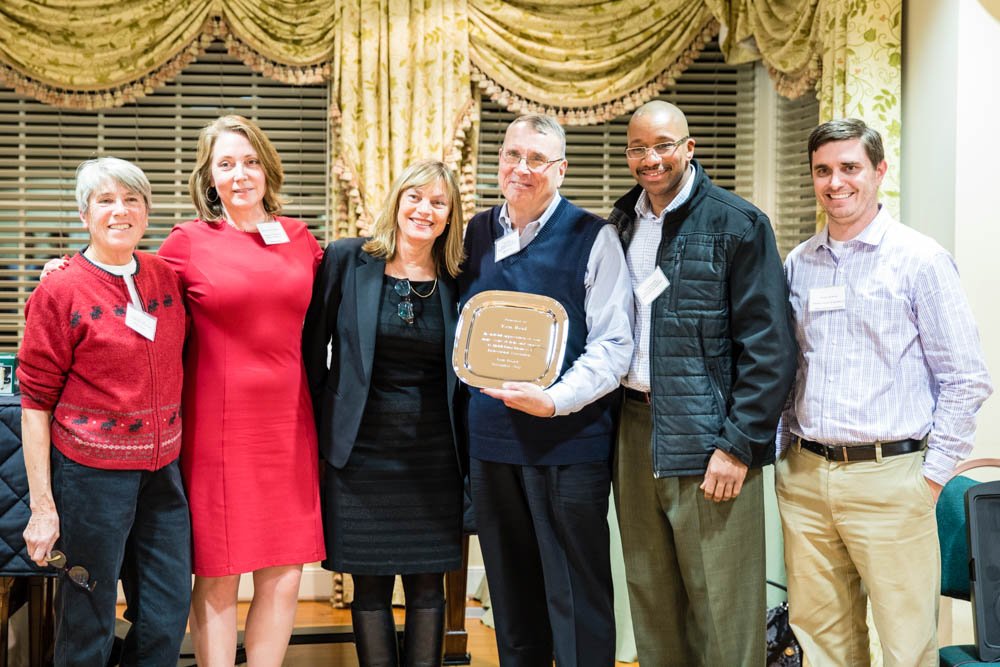 Also leaving the board is Ken Reid, who was recruited several years ago by Jo Ann Hazard, Genie Ford and Mimi Stein as they sought to restart the Middleburg Business and Professional Association. "We so appreciate all the hours he has given this board and the town," Lee said, noting his dedication to promoting the business association, as well as his help with Small Business Saturday and taking care of the many details that keep MBPA running smoothly.
Lee also noted with sadness the recent passing of fashion designer Wendy Pepper. "Truly a Renaissance woman, whose creativity and enthusiasm gave special meaning to the word entrepreneur," she said.
The evening served as the year's final Biz Buzz, a monthly networking event held on the second Tuesday of the month, except in January. These events bring local business owners and professionals together to network, provide local businesses with an opportunity to showcase their facilities and services, and help to spread the word about interesting news and events in the Middleburg community.
The next Biz Buzz will be held at the National Sporting Library & Museum on Feb. 13 from 5:30-7:30 p.m. We hope to see you there!