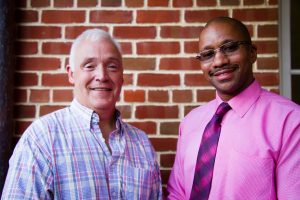 — The election results are in, and Bob Ball and Tone Moore have been elected to serve on the Middleburg Business and Professional Association's Board of Directors for a two-year term beginning Jan. 1, 2017.
Bob Ball is the president of Middleburg Millwork Inc., a hardware store and more that includes a lumberyard, millwork shop and kitchen design department, and offers a variety of building materials. Moore is the co-founder of Popcorn Monkey, which sells gourmet popcorn, nuts, candy, Italian ice and more. Both Ball and Moore are currently serving on the board in interim positions.
The election results were announced as part of MBPA's Biz Buzz networking event, held Nov. 8 at Middleburg Bank. The evening served as a chance for Middleburg Bank President and CEO Gary Shook to assure residents that the most recognizable aspects of the bank — including its name, logo, local branch employees and personal service — would remain stable despite the bank's recent merger with Reston-based Access National Corp.
"Our communities will still be well-served because we'll still be part of our communities," Shook said. "There's a little bit of melancholy in all of us that something that's been here 92 years is changing, but it's changing so it can be here another 92 years."
Other business news of note announced at the meeting included the opening of Second Chapter Books at its new location at 101 W. Washington St. and the opening of Matt Fox's new auto repair shop, Fox Automotive, on W. Federal St. Also of note: Middleburg Millwork will now be open from 8 a.m.-noon on Saturdays.
In town news, the parking meters along Washington St. have been removed and there is now 3-hour free parking along its main street.
Upcoming events of note include:
Small Business Saturday (Nov. 26): The Middleburg Business and Professional Association is once again serving as a Neighborhood Champion for Small Business Saturday. Small Business Saturday is a day dedicated to supporting small businesses across the country. Founded by American Express in 2010, this day is celebrated each year on the Saturday after Thanksgiving. Learn more at shopsmall.com/about.
Christmas Tree Lighting (Dec. 2): On Friday evening at 5 p.m., join us at the foot of our town Christmas tree in the Pink Box Garden for a heartfelt evening program that includes the invocation, caroling, hot chocolate and cider, and, of course, the illumination of the tree!
Christmas in Middleburg (Dec. 3): Join us for a Christmas experience like no other! The day includes Breakfast with Santa, a craft fair at the Midldeburg Community Center (9 a.m.-5 p.m.), the Middleburg Hunt and Hounds Review at 11 a.m., hayrides from 11:30 a.m.-1:50 p.m., soup and ham biscuit lunch at Middleburg United Methodist Church from 11:30 a.m.-2 p.m., the Christmas parade at 2 p.m. and "Spirits of Middleburg" (progressive food, wine tastings, ciders and distilled spirits) from 3-6 p.m. For more information and to purchase your parking tickets, please visit christmasinmiddleburg.org.
We'll see you at the next Biz Buzz, which will be held Dec. 13 from 5:30-7:30 p.m. at Emmanuel Episcopal Church's Parish House and will include our annual award ceremony.