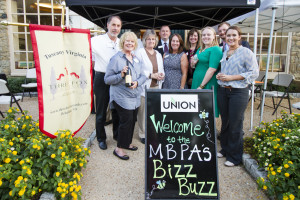 If you haven't submitted your nominations for the Middleburg Business and Professional Association's Board of Directors, there's still time to get them in!
Nomination forms are due Sept. 11, 2015, and may be given to Kim O'Donnell, CPA, Chair of the Nominating Committee via fax (540.687.8293), email (kim@odonnellcpas.com), or mail (MBPA, PO Box 1384, Middleburg, VA 20118). All members may nominate individuals to serve on the board, and any member in good standing may be nominated and elected to office.
There are 7 positions available for election to the board, and the two-year term of service is Jan. 1, 2016-Dec. 31, 2017. Current board members Mimi Dale Stein, Genie Ford, and Jo Ann Hazard are not seeking re-election.
Nominations were sought as part of the September Biz Buzz, which was held Sept. 8 at Union Bank and co-hosted by Three Fox Vineyards, a Delaplane-based winery that provides services for the local community including discounts for MBPA members and custom labeling. The event served as an opportunity to highlight MBPA's growing membership (now at a record 109 members) as well as Middleburg's newest business, floral shop Nature Composed, and a host of upcoming events.
Among the events of note:
Blood Drive (Sept. 11): Union Bank and the American Red Cross are teaming up for a blood drive, which will be held from 9:30 a.m.-3:00 p.m.
Concert on the Steps (Sept. 11): This free event on the Middleburg Community Center's front steps includes live music by Andre Fox, light snacks, and drinks. The event will be held from 5:30-8:00 p.m.
Middleburg Concert Series (Sept. 13): Featuring renowned accordionist Jose Alfonso Valadez Alanis, this free concert will feature Latin American chamber music. The event will be held at Middleburg United Methodist Church starting at 4:00 p.m.
Seven Loaves & A Baguette (Sept. 30): This annual benefit hosted by Julien's in memory of Micheline benefits the Seven Loaves Food Pantry. The event starts at 6:00 p.m. and features a 5-course meal. The cost is $100 per person and reservations can be made at 540.687.3123.
Oyster Roast & BBQ (Oct. 3): Piedmont Child Care Center is hosting its annual fundraiser from 3:00-6:00 p.m. Tickets are $30 in advance or $45 the day of the event.
Hill School Alumni Golf Tournament (Oct. 6): This annual event provides funding for the Alumni Association to support Hill's Auction as well as other special projects for the school and the Middleburg community. The cost is $150 per player and business sponsorships are also available. Contact the Hill School at 540.687.5897 for more info.
Foxcroft Parents' Weekend (Oct. 16-18): Foxcroft will be welcoming families to its prestigious campus this weekend, so be on the lookout for families around town. Businesses wishing to display signs in support of the school should contact MBPA President Punkin Lee. The school is also seeking businesses that are willing to sponsor internships for Foxcroft students. Interested businesses should contact Foxcroft at 540.687.5555.
Aldie Harvest Festival & Duck Race (Oct. 17): This free event features antiques, crafts, jewelry, country cooking, bake sales, a moon bounce and face painting for the kids, music, and more. The Aldie Duck Race, which offers the opportunity to win $100,000, will be held at 4 p.m. at the festival. Ducks may be purchased for $5 each or 5 for $20 at the Aldie Fire Station until 3 p.m. during the festival. Businesses interested in sponsoring the event should contact the Aldie Heritage Association.
Middleburg Film Festival (Oct. 22-25): Advance ticket packages are on sale online for this 4-day film festival, and the new 2015 film slate is expected to be announced soon. The organizers are currently seeking businesses to contribute to the goody bags distributed to attendees. Participating businesses will have their businesses highlighted in the festival program. Businesses interested in sponsoring the festival should email info@middleburgfilm.org.
Christmas in Middleburg (Dec. 5): Christmas in Middleburg will be here before you know it, but there's still time to sign up as an Angel Sponsor if you haven't already. Angel Sponsors receive a weekly tweet and Facebook post, as well as a full-page ad in the program and a bonus ad in the Middleburg Eccentric. The cost is $1380, and you can find more details about sponsorship opportunities here.
Shakespeare in the Burg (April 1-3): The annual festival features performances by the American Shakespeare Center actors, as well as workshops in stagecraft and acting, and a One Act Playwriting Competition. This year's festival includes performances of Henry V and The Importance of Being Earnest.
Also of note: Middleburg FISH, an ecumenical volunteer ministry that provides medical and rental assistance, is celebrating its 50th anniversary this year. The organization is currently in need of more volunteers. To make a donation or get more information, contact Middleburg FISH at 540.687.8771.
The Middleburg Community Charter School is also seeking donations for its annual silent auction during the Breakfast with Santa, to be held Dec. 5. Those interested in making a donation for the auction can contact the school at 540.687.5048.