MBPA seeks board member nominations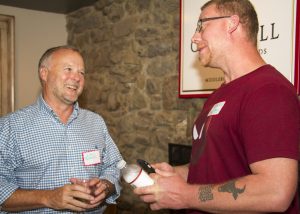 —Election season is upon us again! The Middleburg Business and Professional Association is seeking nominations for two board members for the 2017-2018 term, and MBPA members should get their nominations in today!
Nomination forms are due Sept. 9 and may be given to Kim O'Donnell, CPA, Chair of the Nominating Committee via fax (540.687.8293), email (kim@odonnellcpas.com), or mail (MBPA, PO Box 1384, Middleburg, VA 20118). If you nominate via email, please be sure to include all of the information requested on the nomination form (i.e., name of the nominee, the nominee's business affiliation, and your name and business affiliation) and send it from an email account with your name for verification purposes.
All members may nominate individuals to serve on the board, and any member in good standing may be nominated and elected to office.
The election announcement came as part of the most recent Biz Buzz, held Aug. 9 at Greenhill Winery & Vineyards, which is celebrating its third year in business this year. The event served as an opportunity to highlight the success of the August Summer Sidewalk and several events of interest to the business community.
Among them are two free workshops hosted by MBPA aimed at helping businesses use Google AdWords and other online tools to attract new customers. The workshops will be led by Google instructor Michael Johnson and held at the Middleburg Library on Aug. 22 at 10 a.m. and Aug. 25 at 5:30 p.m. The class size of each workshop is limited to 14, with MBPA members given priority. To RSVP, please mail info@visitmiddleburgva.com.
MBPA Board Member Deltone Moore, owner of Popcorn Monkey, encouraged members to sign up for the workshops, noting that using Google Adwords has been critical to his business's success. "We have the most challenging space in town and a lot of people always ask how do we have customers and how do we keep going, and that one thing that keeps us going is the Google Adwords," Moore said.
Also upcoming: MBPA is having a window contest in September and encouraging businesses to decorate their windows with a construction theme (please check out Wylie Wagg's fantastic window display if you haven't already for an example of a great storefront window display). And the town will be having a block party in November once the road construction is completed, so look for more details on that soon.
Also noted was the new free trolley that will be available until October throughout downtown Middleburg Friday-Sunday from 11 a.m.-7 p.m.
MBPA's membership also continues to grow, with the association now boasting 117 members, including 20 new members this year. If you haven't renewed your membership or signed up yet, you can find out more about joining the association here.
Other upcoming events of note include:
Sprout on the Green Golf Tournament (Aug. 22): This premier, 4-person scramble tournament starts at 11:30 a.m. and features a hearty lunch, 18 holes along the scenic Potomac River with complimentary beverage cart, and a fabulous dinner with a silent auction and award ceremony. Non-golfers and families are welcome to attend for dinner! Find out more information about the event, including sponsorship opportunities, and register online at Sprout Therapeutic Riding & Education Center's website.
Open Late Concert Series (Aug. 26): Please join us for great music, local wine and Virginia craft beer at the National Sporting Library & Museum. This month's featured performers are Tara Mills and Jimmy Stelling. Concerts and museum admission are FREE and open to the public 6-8 p.m. Concerts are held rain or shine. Picnics are welcome, but no glass containers or outside alchohol is permitted. Cash bar provided. For more information or to volunteer, please contact Frances Monroe at FMonroe@NationalSporting.org or (540)687-6542, ext. 26.
NSLM Polo Classic (Sept. 11): The National Sporting Library & Museum's 6th Annual Polo Classic fundraising event will be held at Great Meadow in The Plains, Virginia. John Gobin, a six-goal polo player and manager at Great Meadow, is organizing teams for two matches, four chukkers each. Gates will open at 11 a.m. to start all the pre-match festivities. Tickets, tables, tailgate passes and general admission passes can be found at nationalsporting.org. For more information about the event, contact Alexandra McKay at AMcKay@NationalSporting.org or (540) 687-6542, ext. 24.
A Night in Monterrey (Sept. 11): Part of the Middleburg Concert Series at Middleburg United Methodist Church, this concert will feature traditional folk music from northern Mexico by Esencias, an acclaimed musical group from Monterrey, Mexico, accompanied by Alan and Cynthia Saucedo. The concert will begin at 4 p.m. and feature light refreshments from Casa Tequila Bar & Grill. For more information, contact middleburgconcertseries@gmail.com or call (540)303-7127.
Gallop Gala (Sept. 17): This premier "barn black tie" event features a live auction, dinner and dancing on Sprout Therapeutic Riding & Education Center's bucolic farm starting at 5:30 p.m. Please visit Sprout's website for tickets and more information about the event, including sponsorship opportunities.
Aldie Heritage Festival (Oct. 15): Don't miss the Aldie Heritage Festival and Duck Race! The event will include vendors featuring antiques, crafts, jewelry and collectibles, as well as kids' games, a moon bounce, historic and civic organizations, and music by Andy Hawk and the Train Wreck Endings. And the Aldie Mill will be open for milling! Please visit the Aldie Heritage Association's website for more details on the event, including sponsorship opportunities, and to purchase tickets to "adopt a duck."
We also hope to see you at the next Biz Buzz, which will be held at the Bank of Charles Town's new location at 115 The Plains Rd. on Sept. 13 from 5:30-7:30 p.m.
[su_slider source="media: 47426,47429,47430,47438,47439,47440,47442″ width="440″ height="200″ title="no" speed="700″]