50+ Things to Do in Middleburg, Virginia, This Month
— Spring is here, and that means the start of the racing season in Middleburg! You won't want to miss the Middleburg Spring Races and the Middleburg Hunt Point-to-Point this month, but we have plenty of other fun activities coming up, too, so check out our latest guide and prepare to mark your calendar!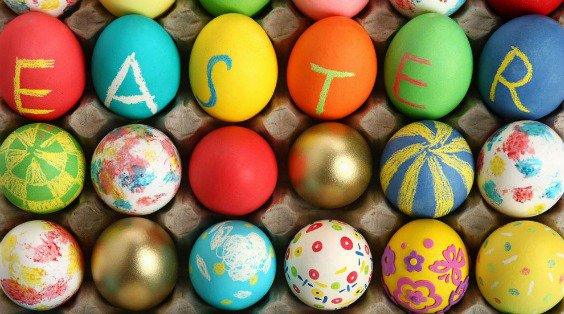 Hop over to Salamander's ballroom and visit with the Easter bunny while enjoying a delicious brunch buffet with sweet and savory holiday favorites for the entire family. The brunch will also feature an arts and crafts area with a make-your-own keepsake designing station, jump castle, a photo opportunity with the Easter bunny and so much more. Access to the children's play area is $20 per person for non-brunch diners. $98 per person, $45 per child.
You can also join Salamander for their annual Easter Egg Hunt at 10 a.m. and 1 p.m. on Easter Sunday! The Easter bunny is perfectly placing eggs throughout the lawn near the Equestrian Center and Culinary Garden with special treats inside. Complimentary.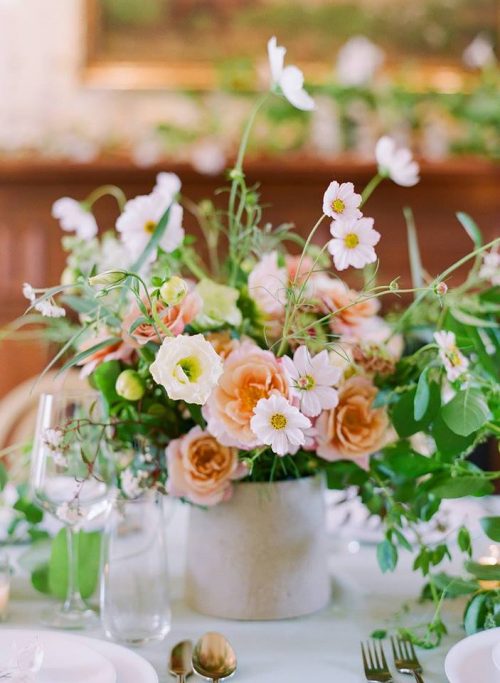 Enjoy Easter brunch at The Red Fox! They're serving a three-course Champagne brunch. Cost: $48 per person, $15 children under 10. Details and menu: redfox.com/easter.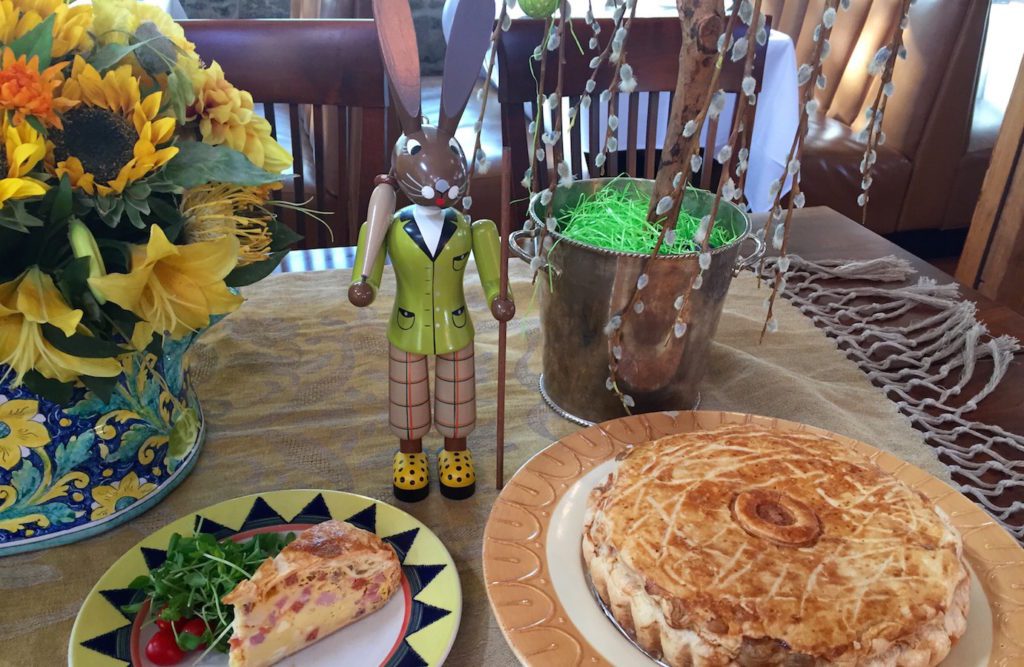 Enjoy a wonderful Easter celebration at Girasole! Reservations will be taken from noon-4:30 p.m. Call 540-253-5501 for reservations. Chef Patierno will be serving the dinner menu with seasonal specials. Click here for the menu and more details.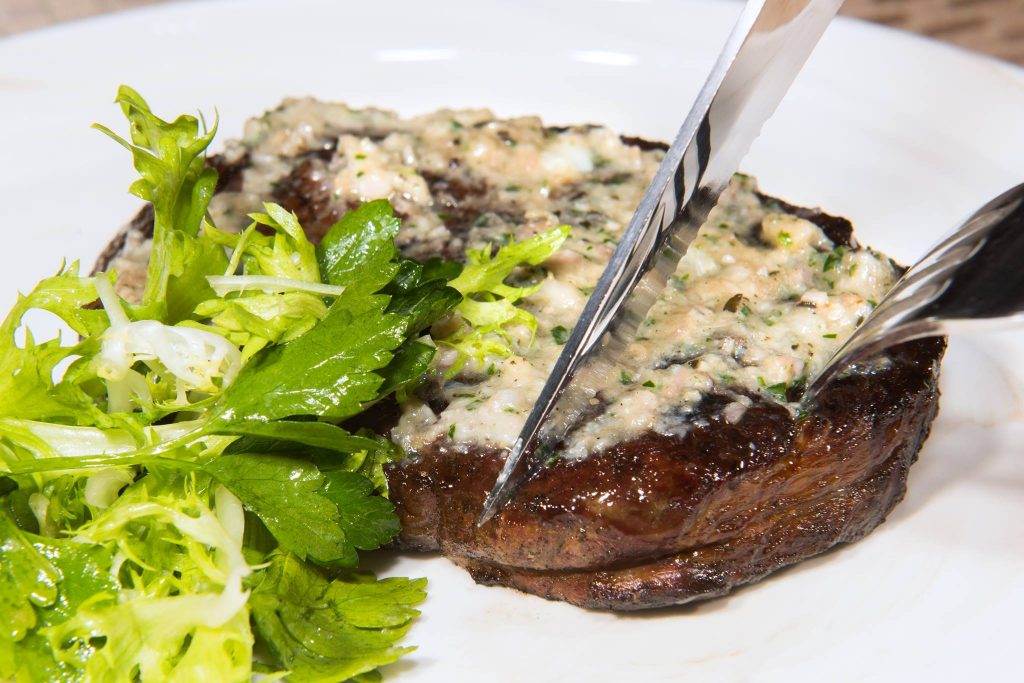 Enjoy a festive family-style dinner and enjoy sweeping views of the Virginia countryside all while visiting with the Easter bunny himself. $89 per person, $45 per child.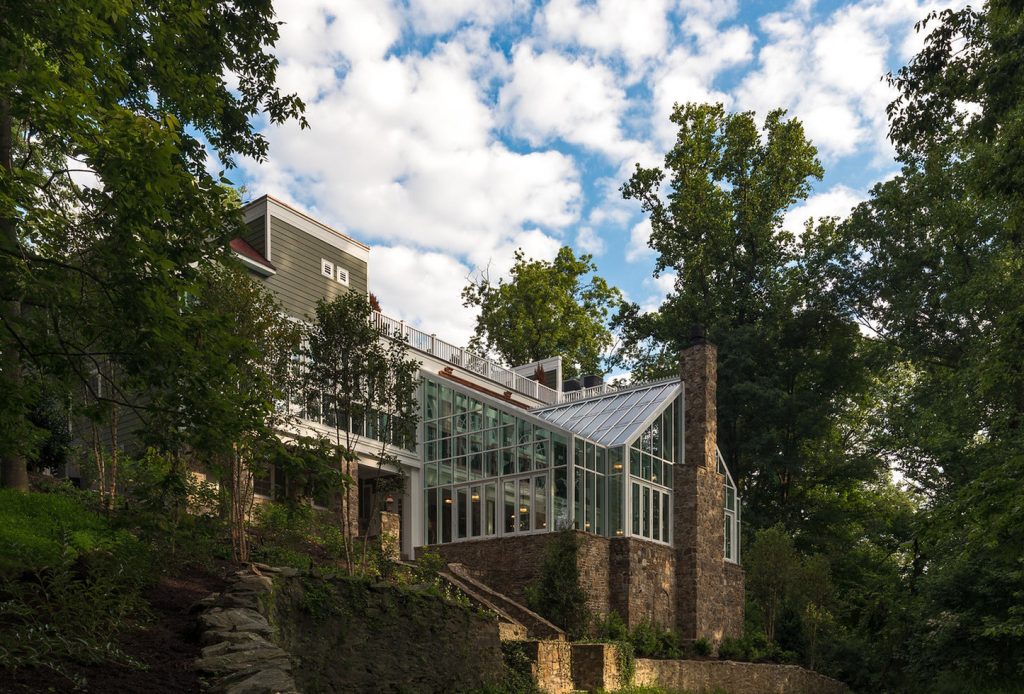 Enjoy a four-course tasting menu at Goodstone Inn & Restaurant! Their cuisine features the very finest and freshest ingredients from the gardens at Goodstone and other local farms. $120 per person. Tasting menus are offered for the entire table. A vegetarian tasting menu is available.
Enjoy live music while sipping your favorite Greenhill wines!
April 1, 3-5 p.m.: Andrew O'Day
April 15, 5-6 p.m.: Adriel Genet
April 29, 3-5 p.m.: Jason Masi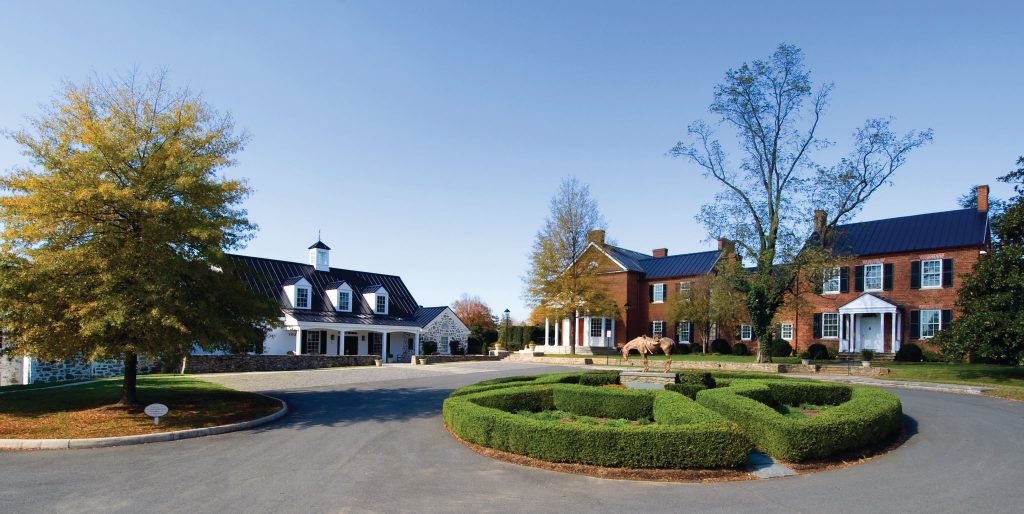 Each week, NSLM's Clarice & Robert H. Smith educator or museum curators will give attendees a personalized sneak peek at traveling exhibitions, permanent collections, and the fascinating stories behind the works in the museum's art collections. No two tours are alike, so come back for more! Reservations are not required and admission is free. Bring your friends! Gallery talks are every Wednesday at 2 p.m.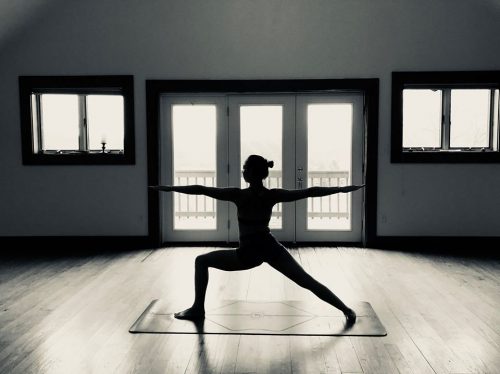 Enjoy a hatha yoga class at Tri-County Feeds, Fashions, Finds! This class is perfect for equestrians looking to improve their riding and mental focus, or for anyone looking to improve his or her fitness and relaxation.
Yoga improves balance, flexibility and strength. This class is great for all levels, as numerous modifications are offered for beginners, and more advanced yogis can focus on going deeper into the postures.
Advanced sign-up is required by emailing horseyogagirl@gmail.com.
Cost is $15 and is payable by check or cash.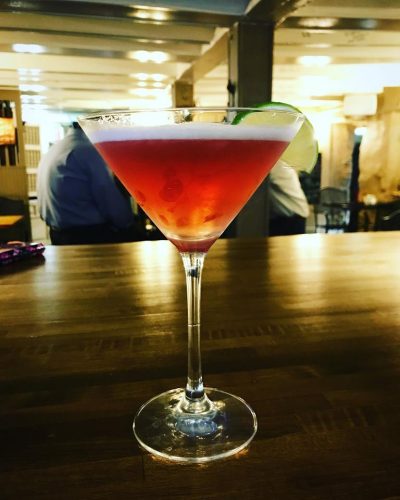 Join us every Thursday evening for Side Saddle Cafe's weekly happy hour! Lovely cocktails and gorgeous Charcuterie plates crafted by Side Saddle's culinary team available for all, so come on out, relax and chat with the gang over soft tunes floating through the cozy atmosphere.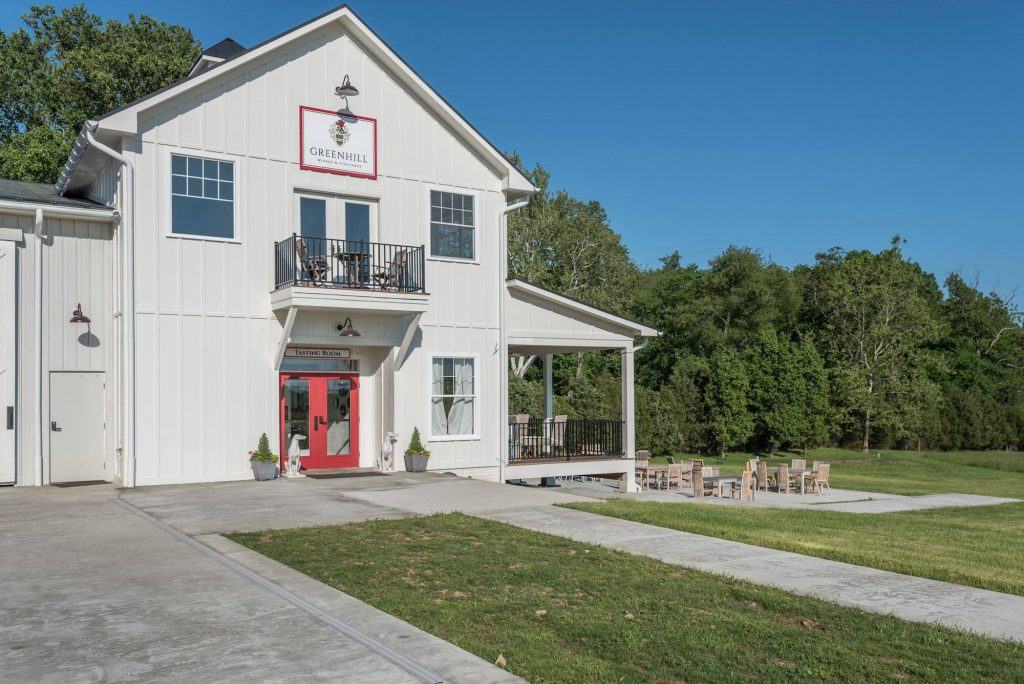 Enjoy live music by Gary Terbush while sipping your favorite Greenhill wines!
The Masters may strictly be an invitation-only tournament but Salamander's Disc Golf Tournament is open to everyone. To celebrate one of the largest days in the golf world, join Salamander on their new nine-hole disc golf course and test out your skills! They will have a youth and adult bracket with prizes for first, second and third place for youth and adults. All skill levels welcome. Reservations are required.
For reservations or more information, please call 540-326-4060.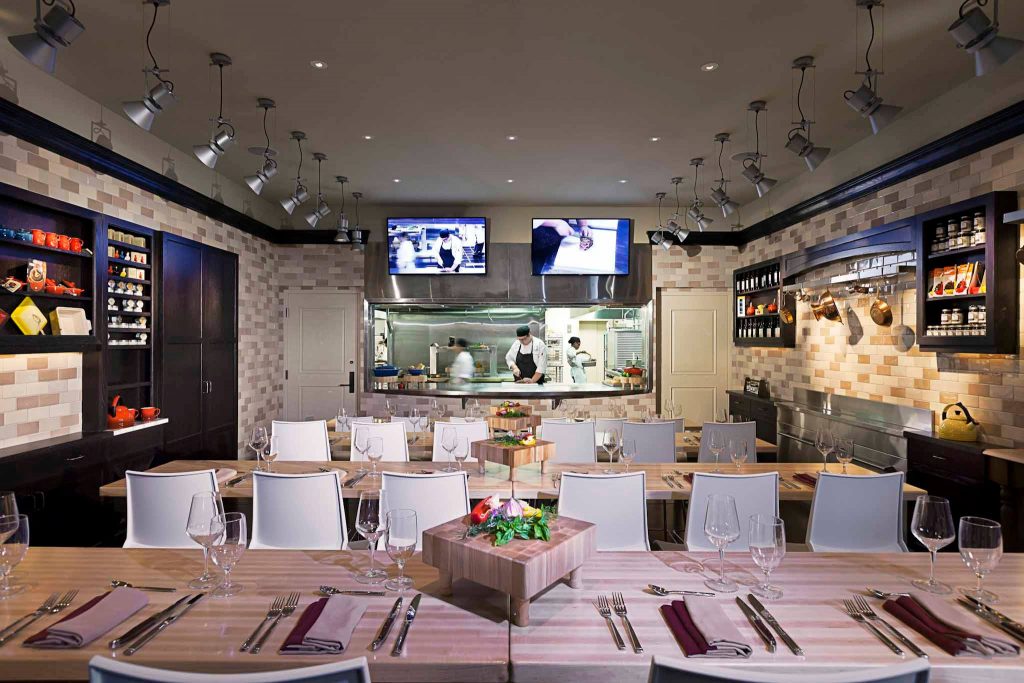 Learn the basics of cooking a southern-style dinner with all of the fixings as Chef Dinah Corley guides you through an unforgettable, hands-on experience. Chef Corley is a classically trained chef who has worked under great chefs including Julia Child. $79 per person. Reservations required, please call 540-326-4070.
Rest, destress and manifest. This workshop starts with guided Pranayama (breath work) and goes into slow stretching shapes to open channels in the body using meridians and Yin Yoga. End the class by settling into our body with Yoga Nidra; a guided meditation which directs awareness to different parts of the body. 15 minutes of Yoga Nidra equals one hour of REM sleep! Students may wear socks and bring a notepad. $40 per person, 90 minutes. Reservations required, please call 540-326-4060.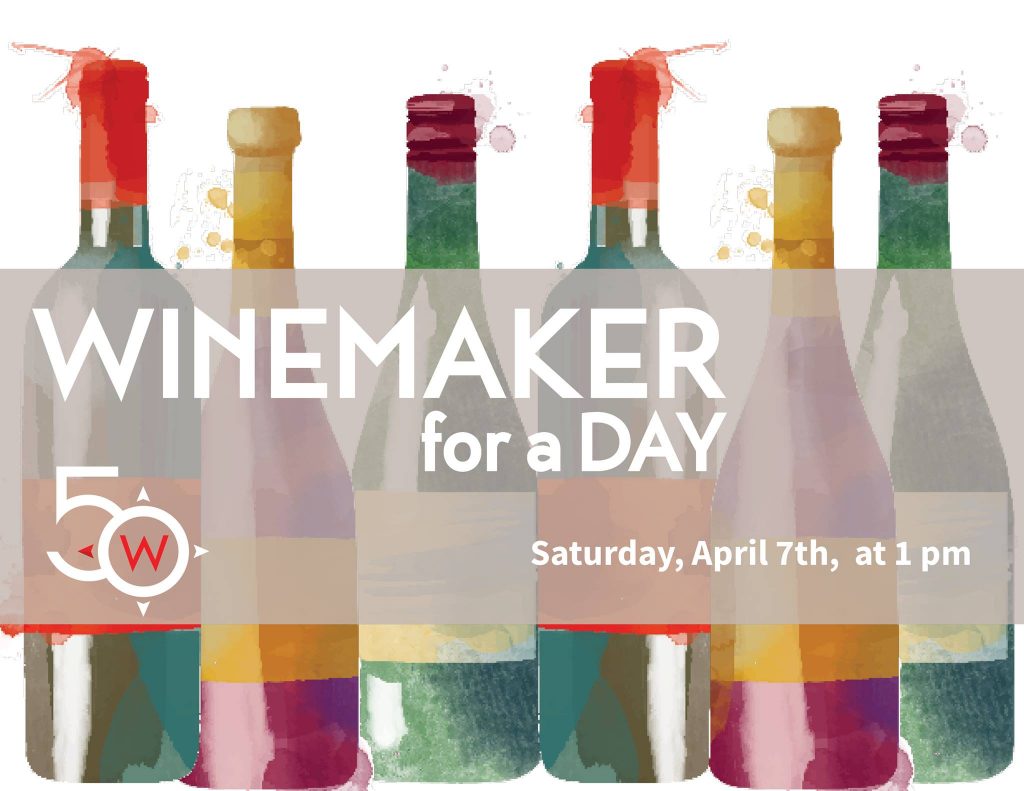 Love Chardonnay? Whether you love the oaky, buttery chard or lean more toward the crisp, refreshing chardonnay, you'll want to attend this event! Winemaker for a Day is back! During 50 West's spring session, you will learn what it takes to make the perfect Chardonnay. They'll guide you through the blending process and provide the tools you need to make your perfect blend!
Love what you made? Corry Craighill, 50 West's winemaker, will hand bottle your Chardonnay. Take your custom wine home for $28/bottle with a three bottle minimum. You'll be able to name your specific wine and impress your friends when you serve it at your next dinner party!
What better way to welcome Spring than with a glass of white wine that you created!
Tickets are $40 each and will sell out fast – so get yours today! Club member discount applies to this event. Click here to buy tickets.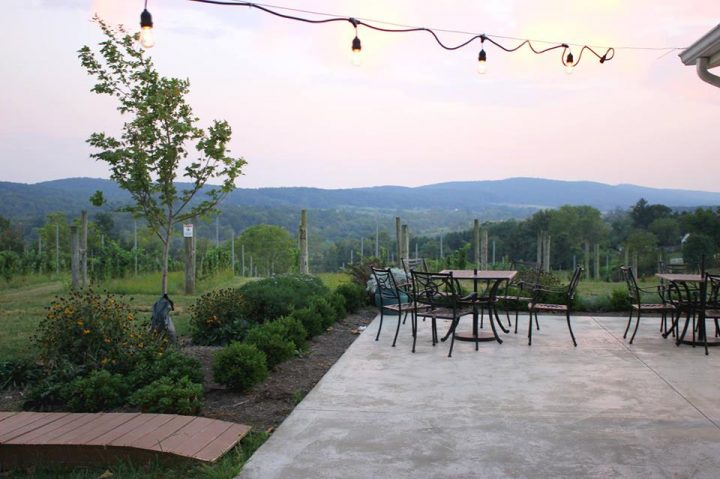 Enjoy live music while sipping on your favorite 50 West wines!
Saturday, April 7: David Davol
Sunday, April 8: Jason Masi
Saturday, April 14: Shane Gamble
Sunday, April 15: Andrew O'Day
Saturday, April 28: Ken Wenzel
Sunday, April 29: Tyme & Lace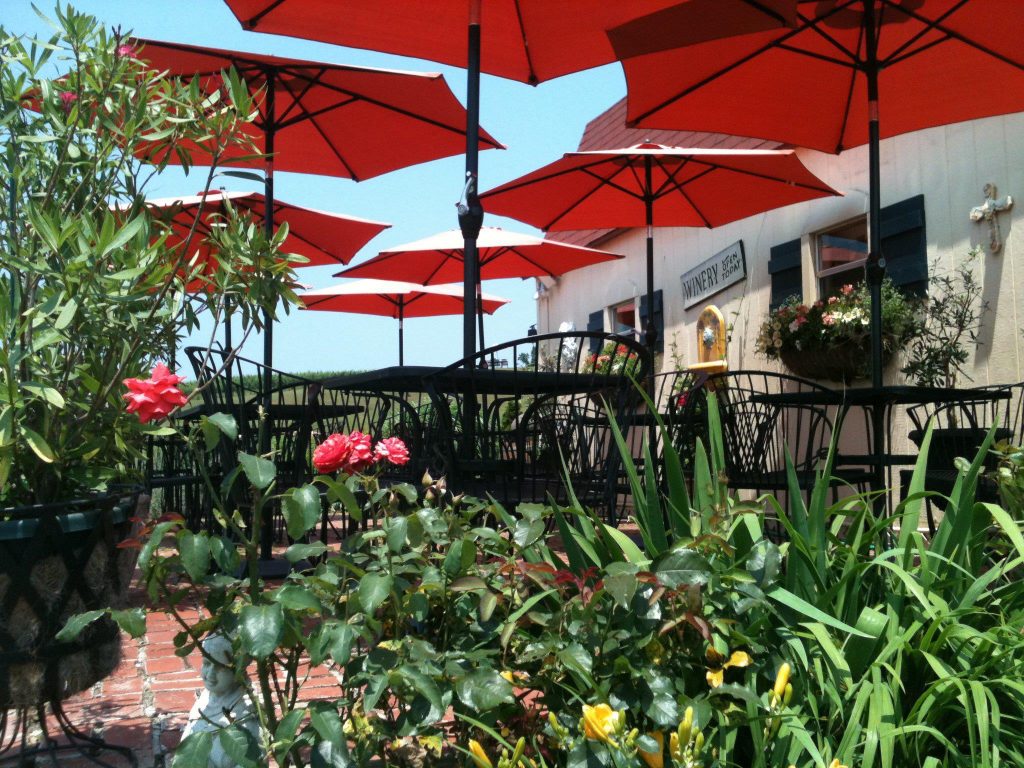 Join us in the Thirsty Fox Lounge for PaintNite! Paint a masterpiece on a wine glass and enjoy discounted glasses and bottles of Three Fox wine! Sign up here!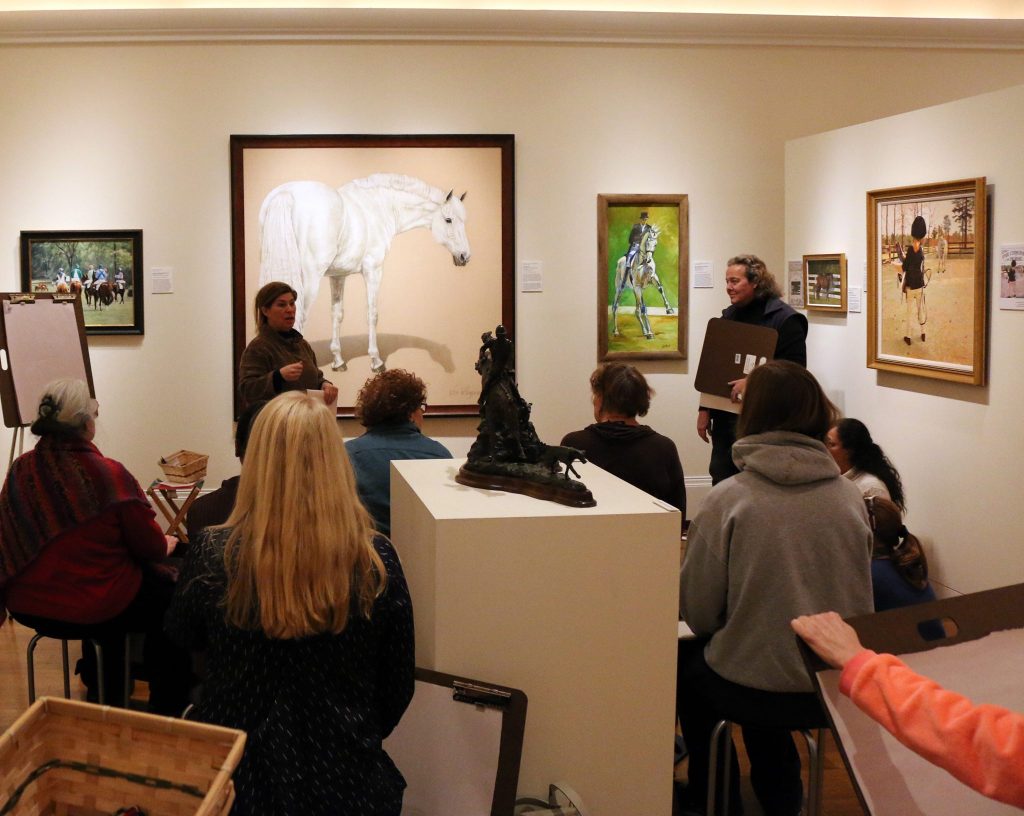 Join us for a free sketching session in the museum! Artists of all ages are invited to sketch alongside local artist Barbara Sharp. Materials are provided. Please contact Anne Marie Barnes to register for this program: abarnes@nationalsporting.org or 540-687-6542, ext. 25.
Biz Buzz is a monthly networking event held by the Middleburg Business and Professional Association on the second Tuesday of the month, except in January. These events bring local business owners and professionals together to network, provide local businesses with an opportunity to showcase their facilities and services, and help to spread the word about interesting news and events in the Middleburg community.
Members free, non-members $10.
Please RSVP via Facebook or by e-mail to info@visitmiddleburgva.com.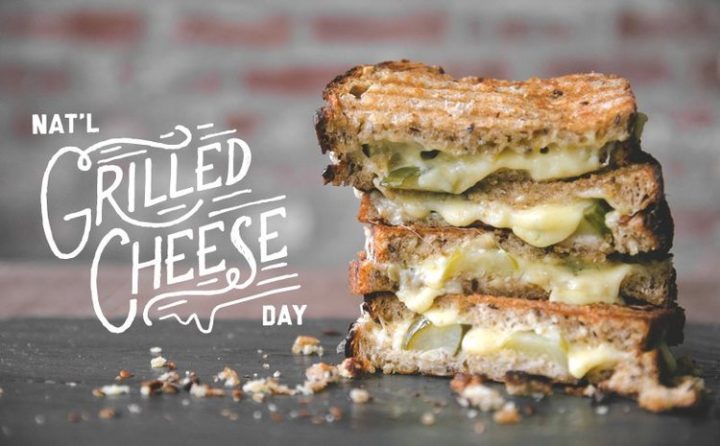 It's National Grilled Cheese Day! Join us for FREE sandwiches in the Terrace Room! MCC will have 3 types of grilled cheese/bread combos, chips and a drink for all participants. Please call 540-687-6375 to RSVP by April 10.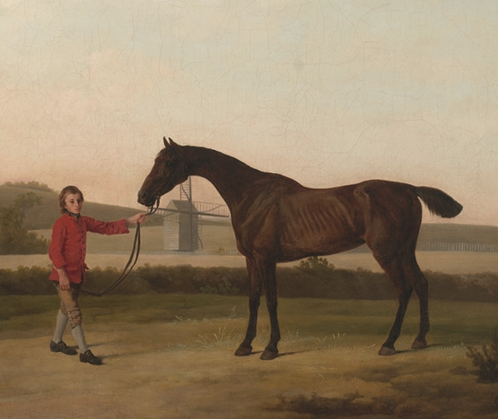 This traveling exhibition organized by the Virginia Museum of Fine Arts (VMFA) with representative masterpieces of the genre — including works by George Stubbs, Sir Francis Grant, John Frederick Herring, Benjamin Marshall and George Morland — celebrates Paul Mellon's gift of British sporting art to the VMFA. It also proposes a fresh look at sporting art within wider social and artistic contexts, including the scientific and industrial revolutions of the 18th and 19th centuries, the transformation of the British countryside, the evolutionary history of the horse and other animals, and society's changing habits and customs.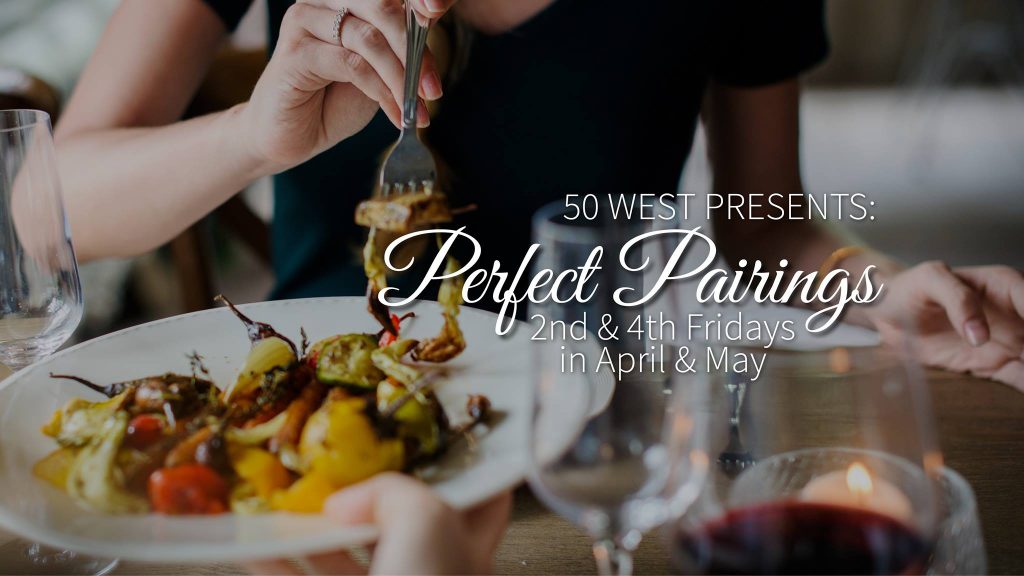 Want to impress your friends and family with your wine and food paring knowledge? Join 50 West on the second and fourth Friday of each month this spring and they'll show you how to create the perfect pairing at home. They'll feature three wines with a corresponding food pairing, explain why it pairs well, and provide you with a recipe that turns the "bites" into an appetizer or course for you to replicate at home.
Friday, April 13
BBQ Theme paired with Chardonnay, Petit Manseng, and Cabernet Franc
Friday, April 27
Pizza Theme paired with Vidal Blanc, Chambourcin, and Aldie Heights Cuvee
Friday, May 11
Asian Theme paired with Chardonnay, Petit Manseng, and Cabernet Franc
Friday, May 25
Picnic Theme paired with Vidal Blanc, Chambourcin, and Aldie Heights Cuvee
Enjoy what you tried? Take home a three pack of the featured wine and information on how to make your perfect pairing at home!
Add on the food pairing to your tasting for $10.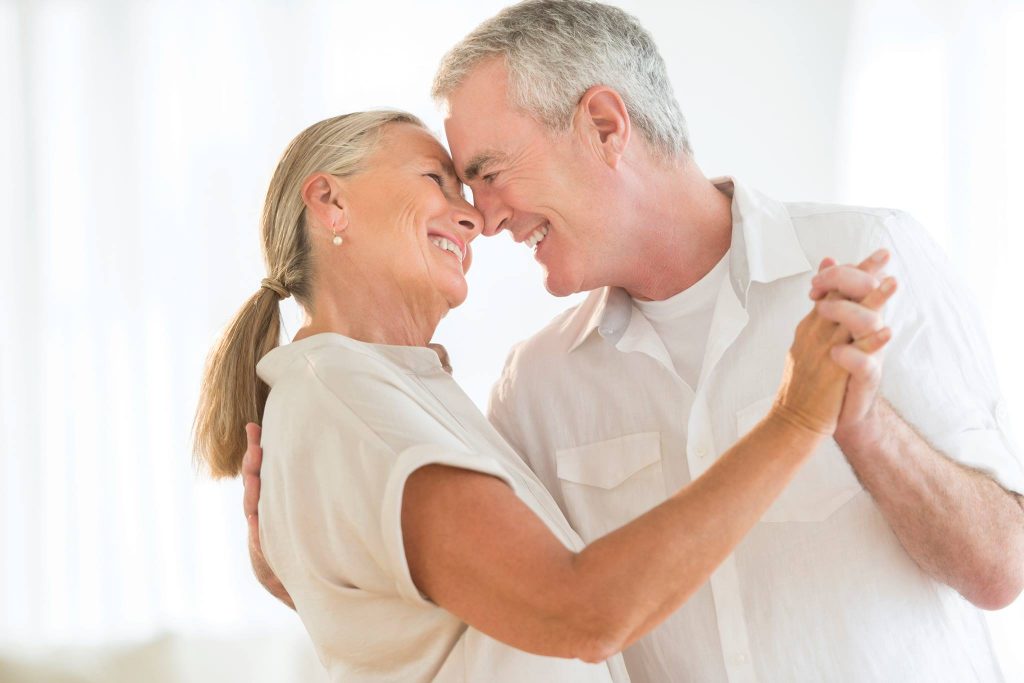 Couples will enjoy an exciting class guided by a ballroom expert for a lesson on various styles of Ballroom Dancing. Learn all the right steps and spend the evening having a "ball." $30 per couple. For reservations, please call 540-326-4060.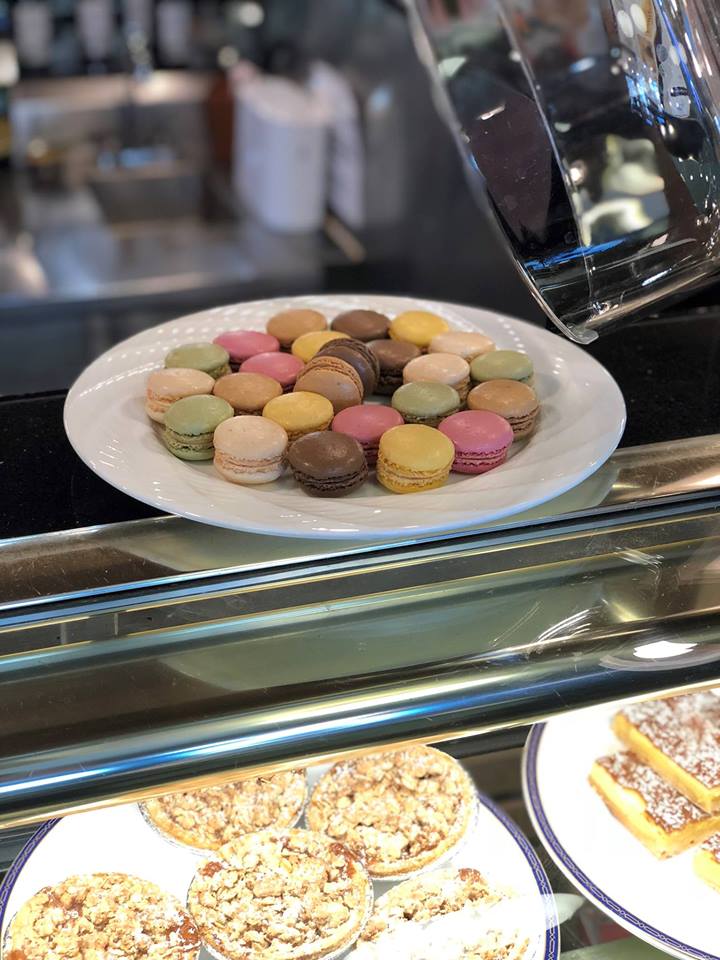 Macaron. Who doesn't love these sweet little meringue-based confection? Join Salamander Executive Pastry Chef Jason Reaves as he guides you through a hands-on, step-by-step class on how to make these seasonal treats, as you enjoy a glass of champagne with your friends. $79 per person. Reservations required, please call 540-326-4070.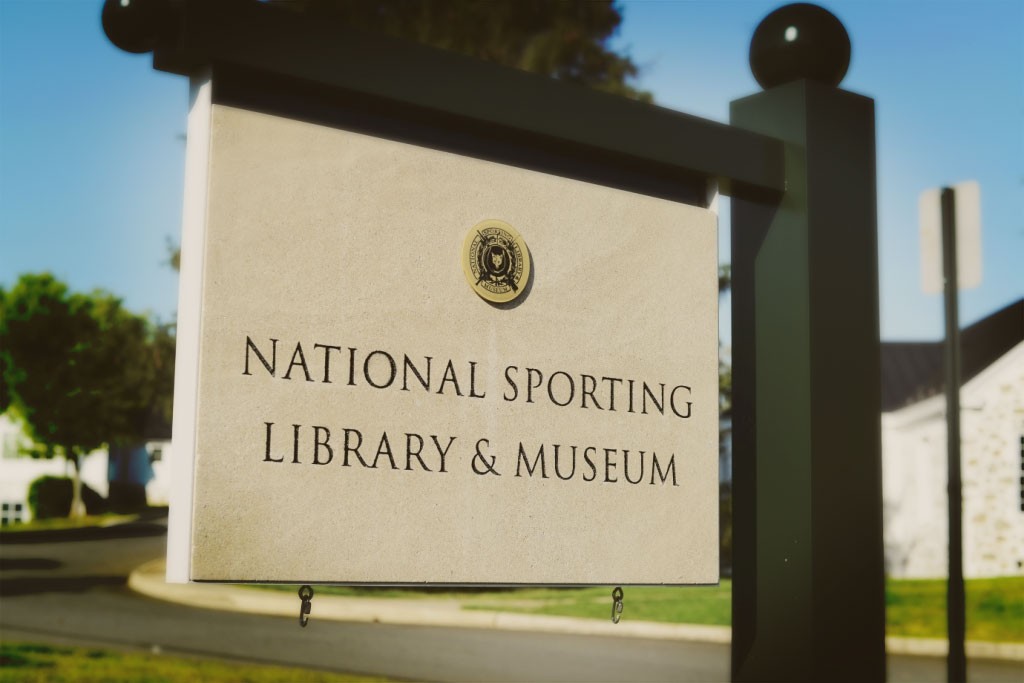 Join us for an informal coffee reception to celebrate NSLM's newest exhibition, "A Sporting Vision: From the Paul Mellon Collection of British Sporting Art from the VMFA." Colleen Yarger, VMFA's Curatorial Assistant for the Mellon Collections, will greet guests and lead a tour of A Sporting Vision. Yarger served as a research specialist for the catalog which accompanies the exhibition. "A Sporting Vision" celebrates Paul Mellon's gift of British sporting art to the VMFA. It also proposes a fresh look at sporting art within wider social and artistic contexts, including the scientific and industrial revolutions of the 18th and 19th centuries, the transformation of the British countryside, the evolutionary history of the horse and other animals, and society's changing habits and customs.
$5 admission, free to NSLM members.
10 a.m.: Coffee reception in the library
10:30 a.m.: tour of the exhibition with Colleen Yarger
Please register to Anne Marie Barnes at abarnes@nationalsporting.org or 540-687-6542, ext. 25.
The Wakefield School Auction is their biggest fundraiser and social event of the year. This year's auction, Black and White Masquerade Ball, is going to be a fantastic extravaganza, all the while helping to support the academics, arts, sports, and financial aid programs at Wakefield School. The auction will be held on Saturday, April 14, at 6 p.m. in Wakefield's Upper Gym. Come dressed in black and white formal/semi-formal attire and wear a mask in honor of the theme.
Click here to purchase tickets.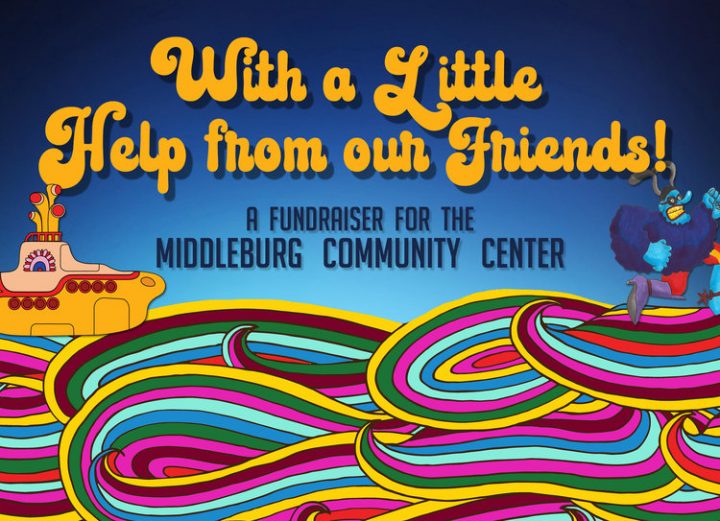 Celebrate the 50th anniversary of the Beatles' "Sgt. Pepper's Lonely Hearts Club Band" album, as we raise funds for the Middleburg Community Center swimming pool. Enjoy live music by a Beatles tribute band, cocktails, hors d'oeuvres and dancing. Tickets: $60. Click here to buy tickets.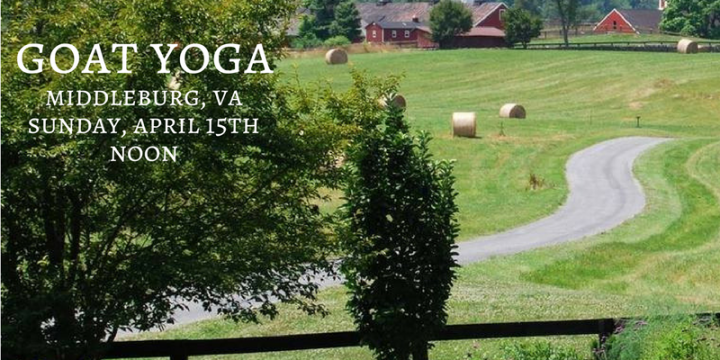 Get away from life's hustle and bustle and join us for goat yoga at the Goodstone & Restaurant in Middleburg, Virginia, where breathtaking vistas of the Blue Ridge Mountains and surrounding countryside appear from every vantage point. Enjoy an hour of mellow, goat yoga, appropriate for all levels, with small breed and baby goats visiting from the Little Goat Farm at the Lake. After practice, you may take a stroll through the gardens or plan a hike or bike ride on the miles of Goodstone trails.
This event benefits the Visit Loudoun Foundation, a non-profit whose mission it is to support and broaden the health and prosperity of the hospitality and tourism industry in Loudoun County, Virginia.
This event is sold out, but you can request to be put on the waitlist here.
Please BYO yoga mat. Event starts at noon.
Questions? Contact bethawolfe@gmail.com.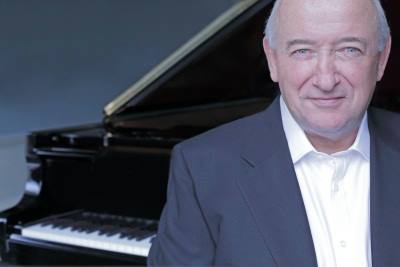 This is a rare opportunity to see and hear world-renowned concert pianist John O'Connor play a legendary Steinway in the intimate setting of the Middleburg United Methodist Church.
A post-concert cocktail reception will follow at the National Sporting Library & Museum. Concert attendees will be among the first to enjoy a private viewing of the new exhibit "A Sporting Vision: The Paul Mellon Collection of British Sporting Art from the Virginia Museum of Fine Art."
Tickets are $100. Proceeds from this gala will help the foundation continue to provide quality musical events in our community. To reserve your invitation, contact middleburgconcertseriesgala@gmail.com.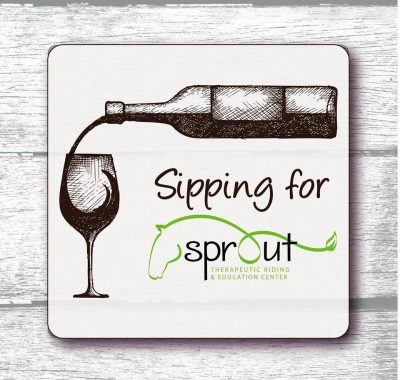 Please join us for the 6th Annual "Sipping for Sprout" fundraiser to support Sprout Therapeutic Riding and Education Center!
This event is a family-oriented fun day that will consist of wine tasting for the adults, local food, music, activities for the children and a bountiful silent auction, all enjoyed while in the beautiful Virginia countryside! Dogs allowed OUTSIDE only (this excludes service dogs).
Please bring your family, friends and neighbors — get the word out and enjoy a delightful afternoon, while supporting a great cause!
You may purchase tickets online or at the event! All tickets include food.
$40: Wine Tasting Ticket
$30: Non-Wine Tasting Ticket
Kids 12 and under: FREE!
Sprout is a mission-based non-profit organization providing equine assisted activities and therapies to individuals seeking opportunities for growth. Sprout seeks to raise public awareness about special needs and to provide dynamic learning, recreation, socialization and therapy opportunities for individuals and groups in a farm environment.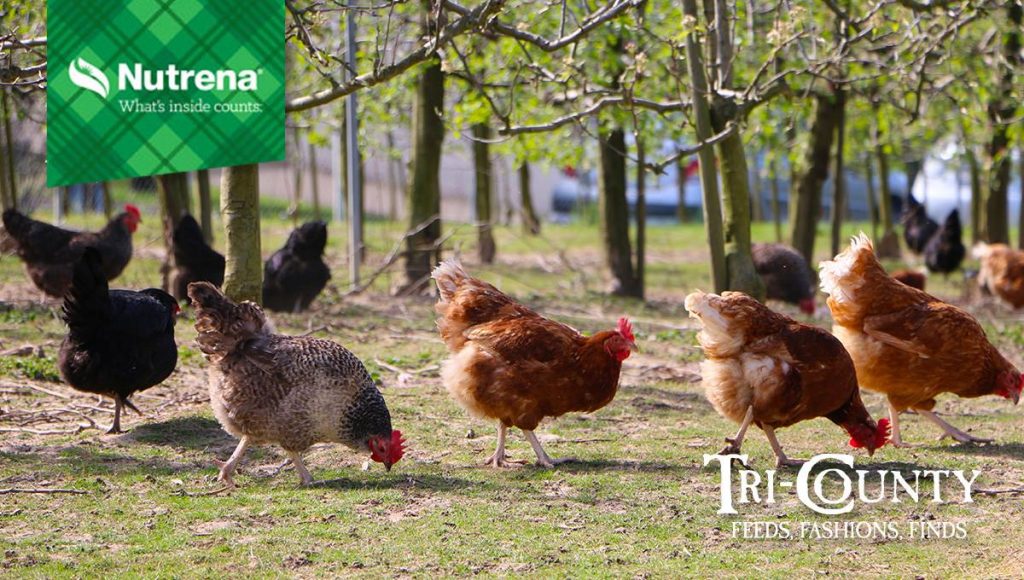 Join Tri-County and Nutrena Chicken & Poultry Feed for a free, interactive and informative event — Nutrena's Chicken Chat! Learn all about raising chicks, housing options, flock health, feeding & nutrition and more. They'll have door prizes, coupons, samples and snacks!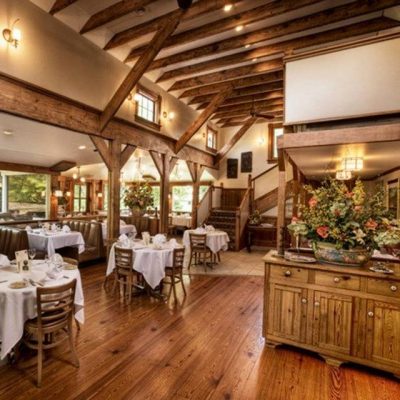 Learn to cook early spring dishes with Chef Patierno! Cost: $85 per person, includes dinner and wine pairings. Call 540-253-5501 for details and reservations.
Join us for an evening filled with free fun, live music, food and beverages, and good company!
Tailgate and picnic with fashionable crowds all while watching the thrilling sport of horse racing. The Middleburg Spring Races is an exciting and fun event in our historic Virginia horse country. Buy tickets and learn more at middleburgspringraces.com.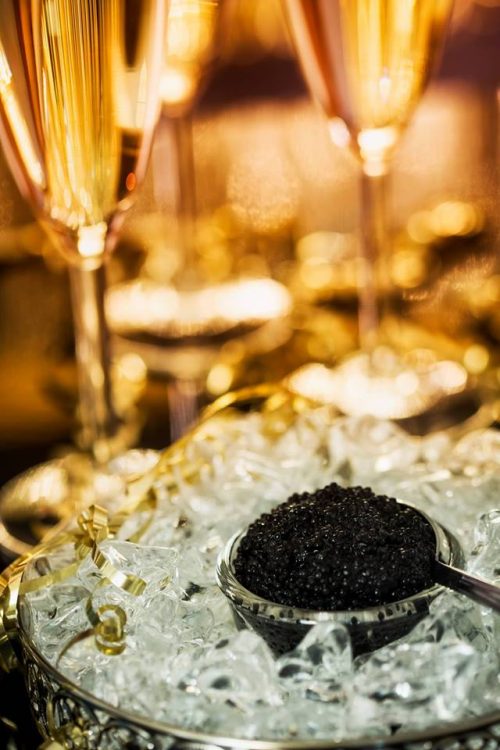 Treat yourself to one of the most classic pairings, champagne and caviar. In this class hosted by Salamander's beverage director, taste multiple types of caviar and learn what makes each one special. Each caviar also will be paired with a different champagne to enhance the flavor profile of each. $79 per person. Reservations required, please call 540-326-4070.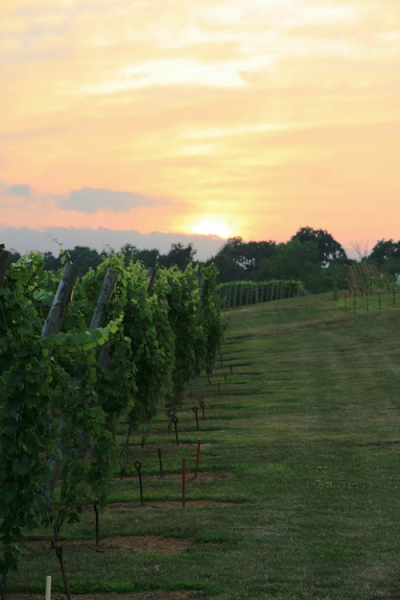 The 5K course is three laps around the scenic winery. It is a mixture of gravel road, grass and hills. It is a challenging course, but you finish right next to the open outdoor wine tasting bar! Those who just want a view of the winery can do a 1-mile walk and kids can do the 1-miler. Awards are for the 5K and Kids 1-Miler. All participants receive a finishing medal! Runners receive a finisher's medal and technical (Drifit) event shirt! Participants receive complimentary wine tasting and 15% off bottles!
Walkers, strollers and leashed pets are welcome to attend this event.
Now offering a virtual run option for those who cannot make it on race day. You will receive a medal.
Click here to register.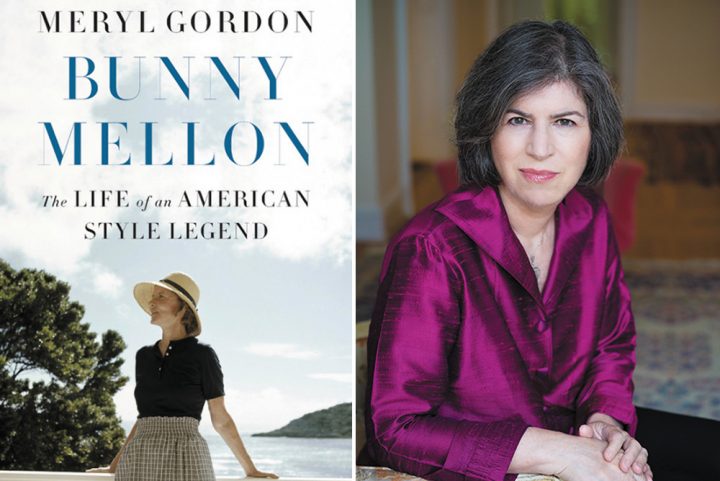 This spring, Paul Mellon's British sporting art collection comes home to Middleburg in A Sporting Vision, NSLM's feature exhibition. It is only fitting that during Garden Week, they also pay homage to his wife, Bunny Mellon, whose legacy lives on at the Oak Spring Foundation, in the White House Rose Garden, and countless other places around the world.
Author Meryl Gordon will speak about Mrs. Mellon's life, especially in and around Middleburg, as presented in her book "Bunny Mellon: The Life of an American Style Icon." Copies will be available for purchase at the event. Gordon is an award-winning journalist and a regular contributor to Vanity Fair.
$10 admission, free to NSLM members.
10 a.m.: coffee and mimosas
10:30 a.m.: talk presented by Meryl Gordon
Please register to Anne Marie Barnes at abarnes@nationalsporting.org or 540-687-6542, ext. 25.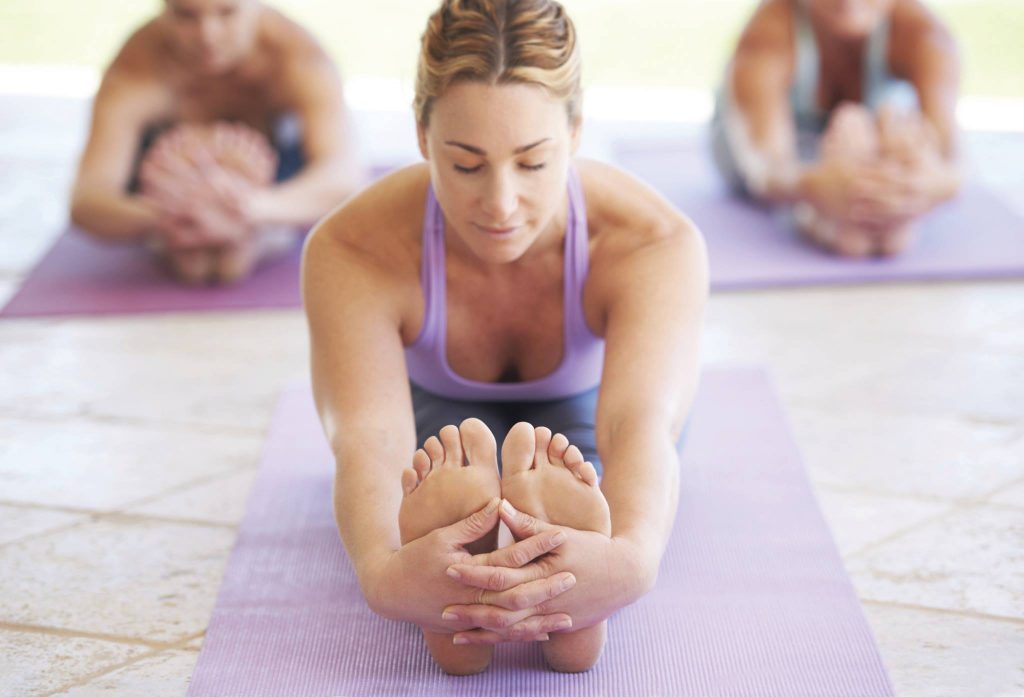 Celebrate Earth Day with Salamander's outdoor yoga workshop and 50% of the proceeds will be donated to Loudoun Wildlife Conservancy. Take a short hike to Salamander's outdoor yoga clearing and enjoy a grounding yoga class in the forest. Loudoun Wildlife Conservancy is a nonprofit organization founded in 1995 that provides engaging opportunities for our Loudoun community to learn about and conserve the nature we value and want to preserve! $35 per person, 90 minutes. Reservations required, please call 540-326-4060.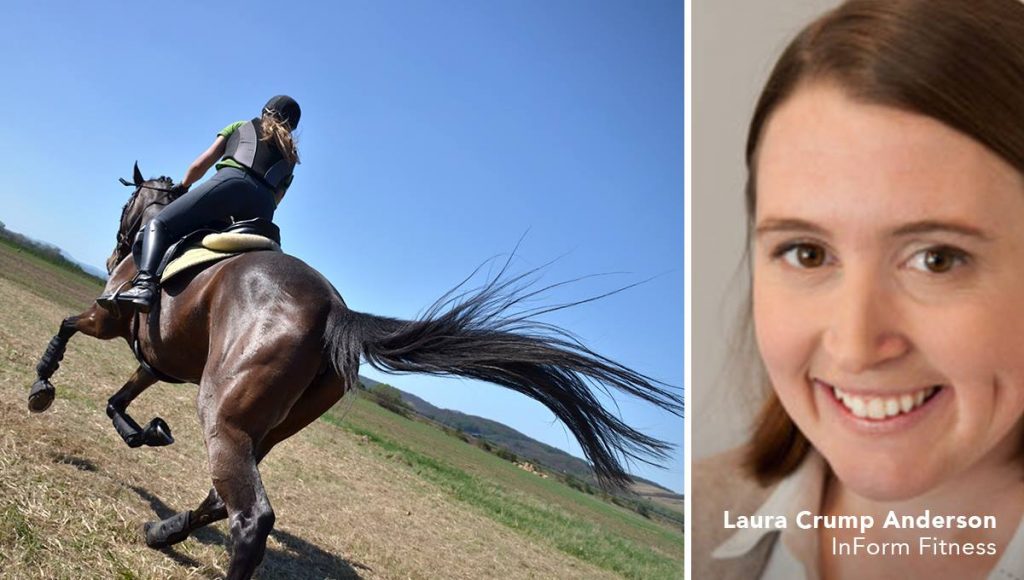 Join Laura Crump Anderson of InForm Fitness for "Rider Fitness: We Do It for Our Horses," a talk on the importance of exercise to improve the functional ability of equestrian athletes.
Laura Crump Anderson holds a bachelor's degree in kinesiology, with a concentration in exercise science. After graduation, Laura became certified as a personal trainer by the American College of Sports Medicine and continued to pursue her passion for horseback riding. She began regular training using a high-intensity, slow-motion protocol after realizing it would improve a rider's position, strength and stamina, while allowing for more time in the saddle.
Laura is the fitness columnist for Eventing Nation, has ridden competitively hunter jumpers, dressage but found her niche with three-day eventing and has a passion for starting and retraining young horses. She is a nationally ranked member of United States Pony Club and has spent countless hours as a working student for both Grand Prix Dressage Rider Sara Spofford and multiple advanced level eventers.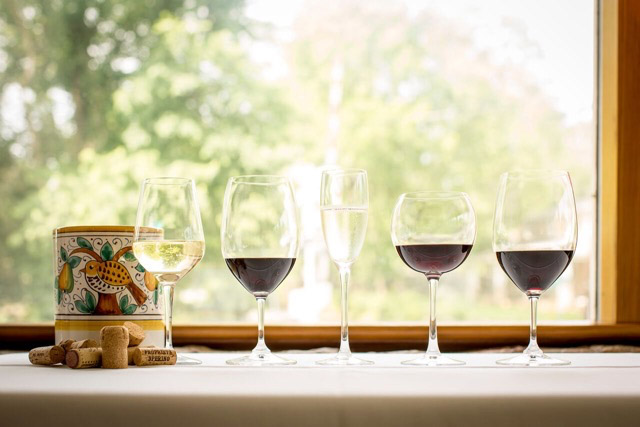 Join us for Chef Patierno's light antipasti and a tour through Italy's vineyards. Hosted by Dominic Scurti of Virginia Imports. Cost: $35 per person, exclusive of tax and gratuity.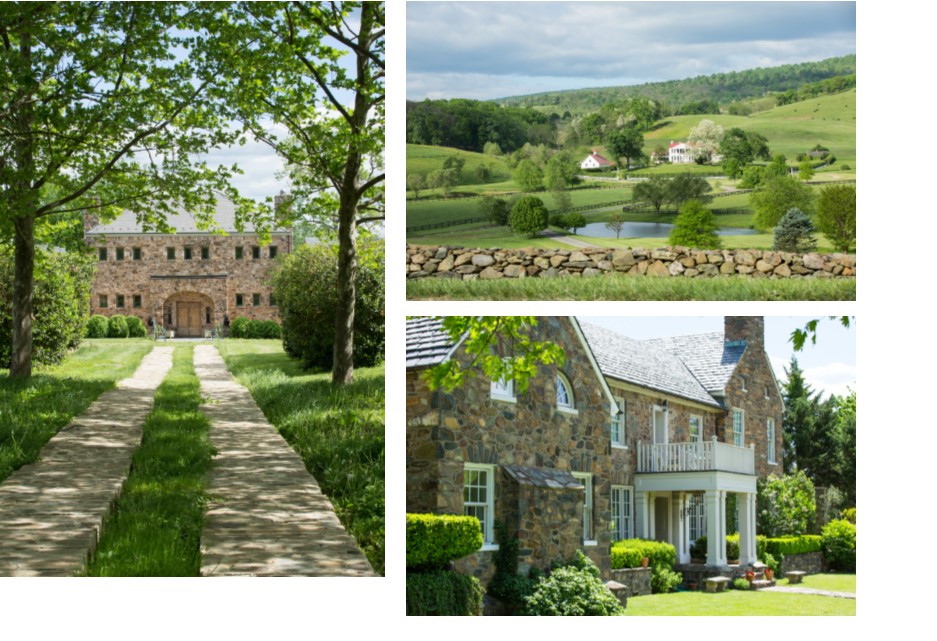 This year's tour features four spectacular properties in Upperville and Paris. From an iconic Federal period mansion, to a French stone farmhouse, visitors will be delighted by the diversity of these grand estates and landscapes that celebrate the open spaces of Virginia's Piedmont. The National Sporting Library & Museum, housing world-class collections and exhibitions of fine animal and sporting art, enhances your tour in the heart of hunt country.
Foxcroft School invites area residents to participate in its upcoming Red Cross Blood Drive on campus. The drive is scheduled for Wednesday, April 25, from 1:30-7 p.m. at the Athletic/Student Center.
In partnership with the Red Cross, we ask you to give of yourself to help save someone's life. More than 36,000 blood donations are needed daily, as someone in the United States needs donated blood every two seconds. Your gift of life could help someone fighting cancer and going through chemotherapy or give someone the extra strength they need to pull through the many traumas that have recently occurred.
Donating blood takes less than an hour, so please add the date to your calendar. Sign up at redcrossblood.org using sponsor code "Foxcroft School" today!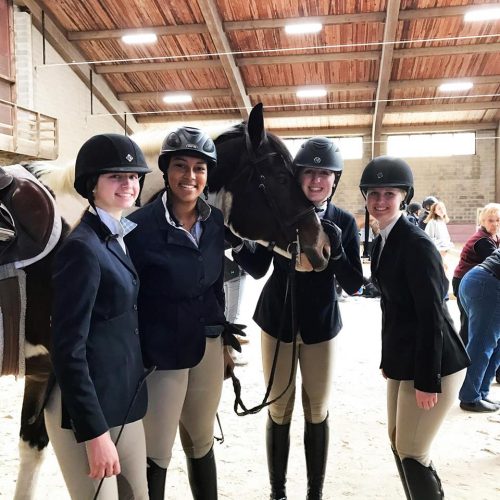 Interested in discovering more about learning and living at a premier girls' boarding school? Join us for Foxcroft's final open house of the 2017-18 school year on Friday, April 27.
The Open House will feature a "Discover Foxcroft Program," where visitors can learn about Foxcroft's unique offerings and gain personal insight into our wonderful community. Tours of the campus and opportunities to get an authentic feel for the school by attending classes, "Morning Meeting," and a fun activity in our new high-tech Innovation Lab round out the program.
To register for an open house, visit foxcroft.org/admission/openhouse or call 540-687-4340. Space is limited; early registration is recommended. Prospective families are also welcome to schedule visits at other times by calling 540-687-4340 or emailing admission@foxcroft.org.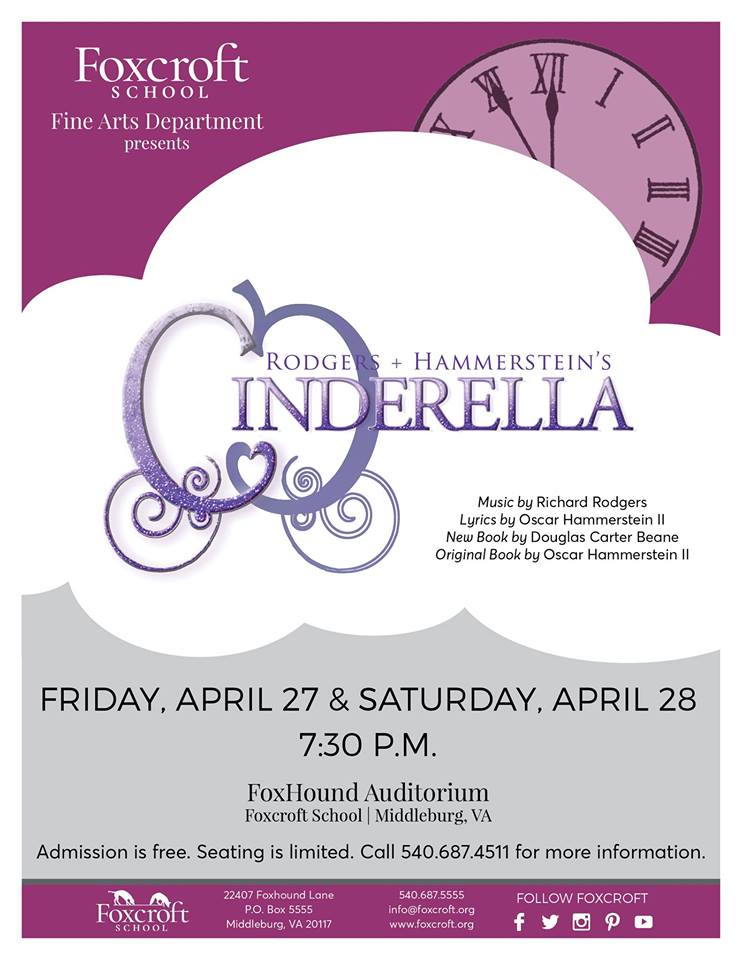 Join us for the spring performing arts production of Rodgers & Hammerstein's "Cinderella," presented by Foxcroft Fine Arts Department and the Main Stage class.
Performances are schedule for April 27 and 28 at 7:30 p.m. in FoxHound Auditorium. Foxcroft is located on Foxcroft Road, about 4 miles north of the village of Middleburg. For GPS, use 22407 Foxhound Lane.
Admission is FREE but space is limited. Call 540-687-4511 for more information.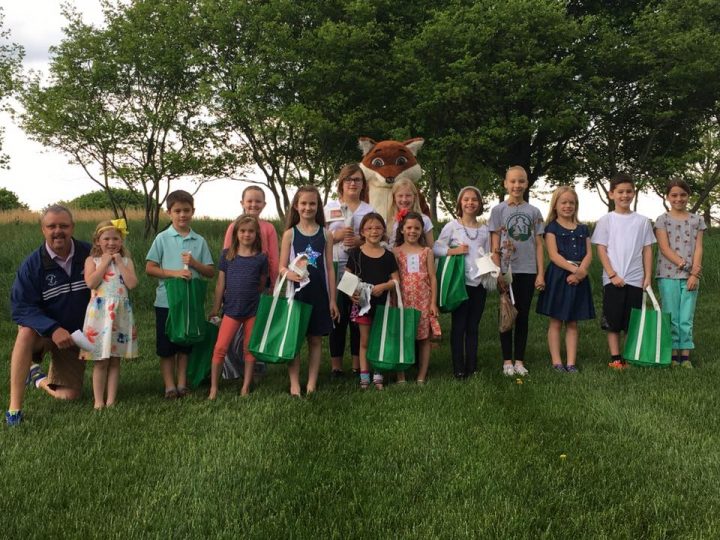 The town of Middleburg will celebrate spring with a special Arbor Day event at the Middleburg Community Charter School.
Middleburg, a designated Tree City, USA has planned a fun-filled celebration to help increase environmental awareness. The Tree City, USA, program was established by the The National Arbor Day Foundation and the National Association of State Foresters to recognize communities that have set up community programs and donated time and effort to improve the environmental health of their area.
Get a "leg up" on your health and join Lifestyle Physicians for a free Wellness Day at Tri-County Feeds, Fashions, Finds. Receive a free InBody Test (valued at $50) to tell you how much fat you have, how much muscle mass and how much water is in your body. Plus, you can receive free B12 injections ($30 value), a blood pressure check, weight loss info., naturopathic care by Dr. Sheeba Asad, find out how to lower cholesterol naturally, check to be sure your supplements are the right ones from their naturopathic medicine expert, and receive free advice fro, Dr. Asad and Dr. Verma.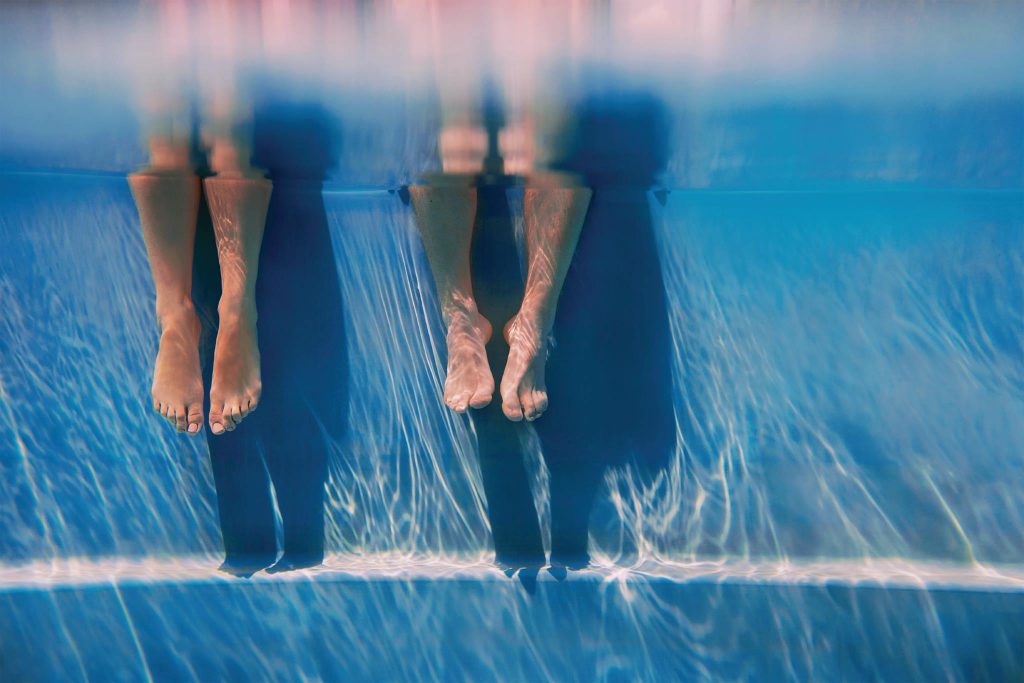 Love yoga so much that you're ready to take it off land and into the water?! New to yoga, but want to find a gentle way to start practicing? Either way, this workshop is for you! Join Salamander's aqua yoga class and learn how practicing yoga in the water can enhance your on-land yoga practice as well as how water can provide therapeutic muscle relief and mental relaxation. $25 per person, 60 minutes.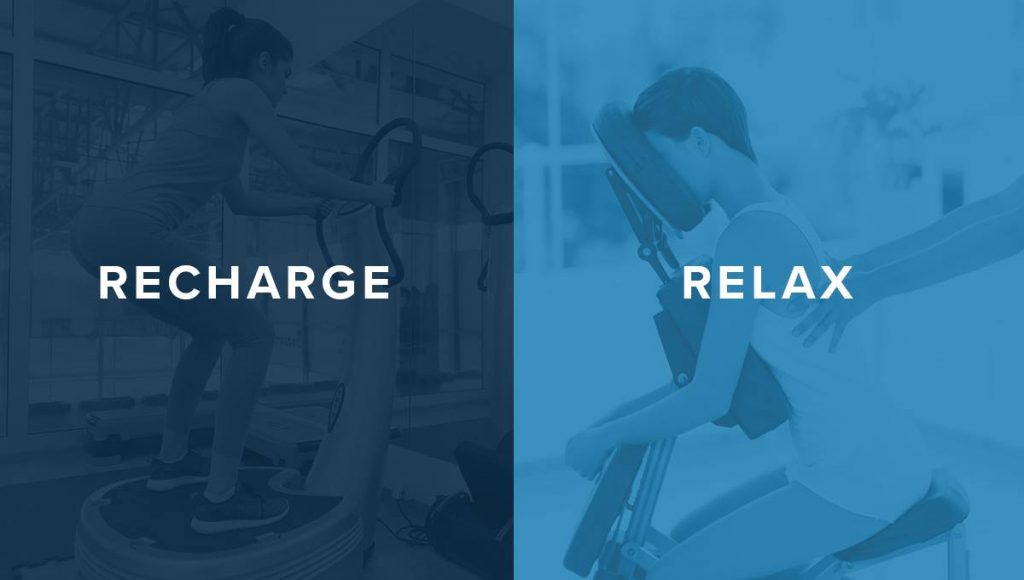 Learn how RxR3 can help equestrian athletes prepare, perform and recover better through the use of cryotherapy, compression, whole body vibration, LiveO2, CVAC, Kaatsu, infrared sauna and floatation therapy. Find out what each modality can do to alleviate pain and inflammation, and improve overall quality of life. The presentation will be followed by a question and answer session. Attendees are invited to the facility for a tour and for a FREE compression and whole body vibration.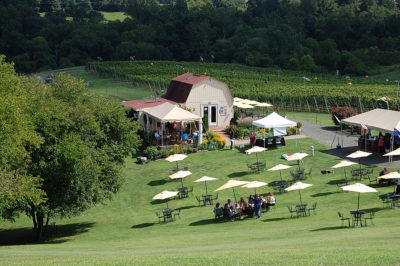 The Exaggerations will be playing at Three Fox, so sit back and enjoy the music and some great wine!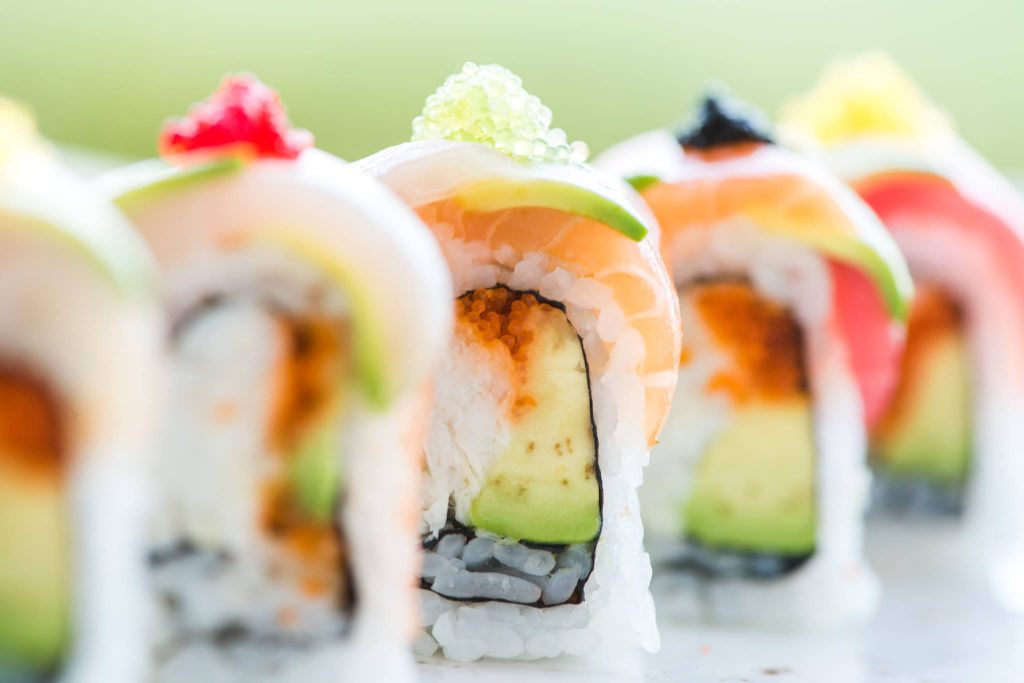 Work with the Salamander Resort & Spa sushi chef as he walks you through the process of hand selecting fish and ingredients to prepare the best sushi. Also in this hands-on class, you will learn all the techniques and skills needed to roll your own sushi. At the conclusion of the class, sushi is served! $79 per person. Reservations required, please call 540-326-4070.
Offered in partnership with Front Royal 4H, this program explores the beginning, middle, and end of the Remount's human, equine, and canine stories. Purchased in 1911, the Remount was a staging station for the Army's war horse and canine training and breeding program until 1948. Thousands of horses came east by train to Front Royal where they were made fit to serve, then shipped to Norfolk where they boarded transport ships to Europe. There is a long and fascinating history here of the great and good horses, mules, and dogs who were stationed in Front Royal to serve our country before and after both World Wars. Some famous residents of the Remount station include Man O' War and the German Lipizzaners captured in WWII.
$5 admission, NSLM and 4H members free.
Please register to Anne Marie Barnes: abarnes@nationalsporting.org or 540-687-6542, ext. 25.
The Middleburg Humane Foundation Board of Directors requests the pleasure of your company at the MHF Blue Jean Ball, featuring a live auction, cocktail hour with oysters & hors-d'oeuvres, dinner, dessert, open bar, and dancing. Leave the gowns & tux at home! Purchase tickets here.
The Middleburg Hunt hopes that you will join us for a day in the country to enjoy the exciting sport of steeplechase racing at one of the most beautiful race courses in the nation. Glenwood Park is known for offering spectators a spectacular view of the racing action. This year's race card once again includes racing over the timber course, the hurdle course and on the flat.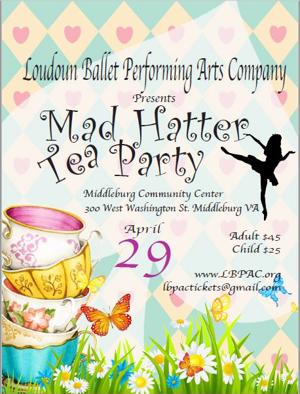 Join us for an afternoon of delight and wonder for a Mad Hatter Tea Party. Meet the characters of oudoun Ballet Performing Arts Co.'s upcoming production of "Alice in Wonderland," see excerpts of the ballet and experience the magic of the other side of the looking glass at the Middleburg Community Center. $45 for adults, $25 for children 12 and under. Click here to buy tickets.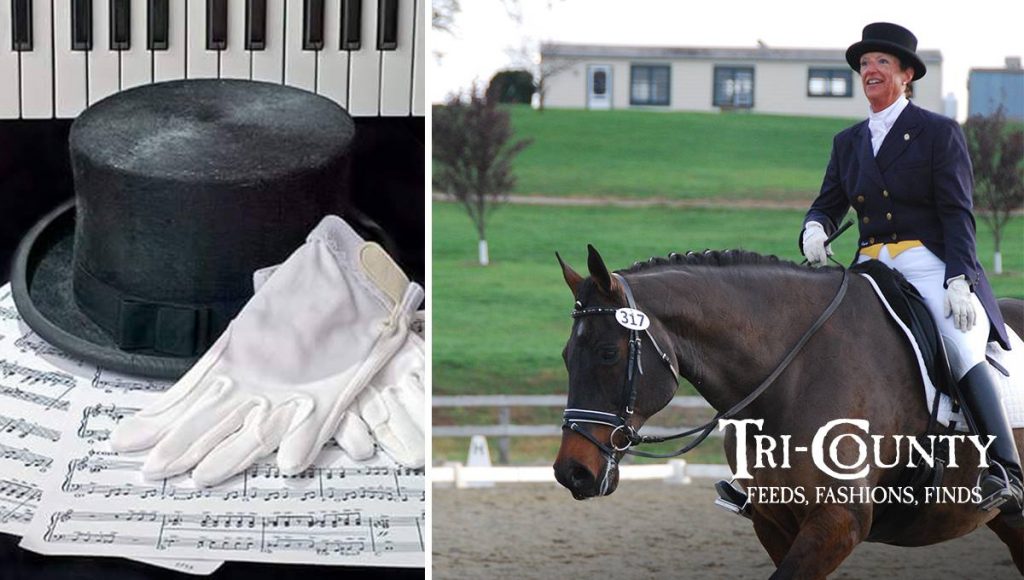 c
Musical freestyles are an exciting combination of the technical and artistic aspects of classical dressage ridden to music specifically chosen for you and your horse. Designing a musical freestyle on your own, however, can be time consuming and often frustrating. Perhaps you don't know how to get started, what rules you should be aware of, or how to keep the cost down. This lecture is designed for anyone who wants to know more about the creation of musical freestyles. Participants will learn how to establish BPMs, what to consider when selecting music, thoughts about creating choreography, and rules governing the development of musical freestyles.