Sen. Jill Vogel delivers a message to Middleburg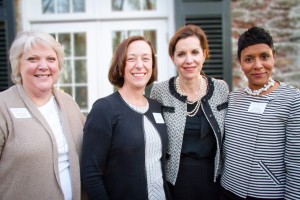 — One of the great things about going to the Middleburg Business and Professional Association's Biz Buzz is that you just never know who will show up. The surprise guest at MBPA's April mixer was state Sen. Jill Vogel, who arrived just in time to discuss the construction project on Washington St.
"I work on all kinds of issues, but nothing has been as painful for me personally as this road construction project, or what I refer to as road destruction project, in Middleburg because I sit through it every day," Vogel said at the Biz Buzz, held April 12 at Foxcroft School.
Besides the everyday annoyances of dealing with the construction project, there are also financial impacts to consider, she noted.
"It's an economic issue for our town and for our business owners, and the pain that it is causing is real," Vogel said. "Having watched this unfold and wondered how much longer can we stand it, … I quickly got in touch with VDOT to determine what we could do to stop the hemorrhaging and do as much as we could to mitigate the short-term damage."
While Vogel works to limit the worst of the ill effects from the construction, Middleburg is working hard to ensure that customers continue to have access to our fine shops and restaurants. Although it seems like the construction can't end soon enough, you can rest assured that the end is in sight. By this fall, Middleburg's main street will be clear of construction and we'll be even more beautiful and pedestrian-friendly than before, with new crosswalks at the National Sporting Library and Museum and between the post office and Middleburg Common Grounds (that's right—no more jaywalking to get your cup of coffee).
In the meantime, there is still a lot of excitement in town, as we build upon our national reputation for excellence. Most notably, USA Today has nominated Middleburg as one of its 10 best small town weekend escapes, but we need your votes to grab the No. 1 spot. You can vote every day until April 25. Please click here to vote and share the link with your friends!
Also of note on the press front:
Virginia Living featured Middleburg in an article about Virginia's outdoor life;
Forbes.com profiled My Virtual Paige founder Michelle Myers in an article highlighting how necessity spurred her entrepreneurial spirit; and
The Loudoun Business Journal named several locals to its "Women 100 List," including Sandy Lerner (Ayrshire Farm), Sheila Johnson (Salamander Resort & Spa), Punkin Lee (Journeymen Saddlers), Susan Byrne (The Byrne Gallery), Betsee Parker, Mayor Betsy Davis, Vicki Bendure (Bendure Communications Inc.) and Melanie Mathewes (National Sporting Library & Museum).
MBPA's membership rolls also continue to grow, with a total of 92 members so far this year, including 16 new members, MBPA Board Member Melanie Mathewes reported Tuesday. The association's newest member is Amanda's Regal Canine, a dog grooming shop owned and operated by Amanda Zeller, a nationally ranked competitive dog groomer. Amanda expects to open her shop, which will provide grooming services for pet and show dogs, next month at 105 W. Marshall St.
Also opening in May will be Aliloo Rugs, which has moved to a new location on Madison St.
Spark Performance, another new member and new business, has already opened up shop at 116 W. Washington St. Owned by Sarah Becker, Spark Performance focuses on reversing the effects of emotional and physical stresses through hypnosis, neuro-linguistic programming, and life and performance coaching. For more information or to schedule an appointment, please contact Sarah at 540-326-8165.
If you're a business owner and you haven't joined or renewed your membership yet, it's not too late! You can find more information about the benefits of joining here. To join or renew, please submit a check with an information sheet to Middleburg Business and Professional Association, P.O. Box 1384, Middleburg, VA 20118. The annual dues for 2016 are $250.
Also, be sure to mark your calendars for these upcoming events:
Remember: The next Biz Buzz will be held May 10 at Middleburg Academy from 5:30-7:30 p.m. (with food provided by Back Street Catering). We look forward to seeing you then!
[su_slider source="media: 20878,20877,20879,20876,20875,20874,20873,20872,20870″ width="540″ autoplay="1000″ speed="10000″]