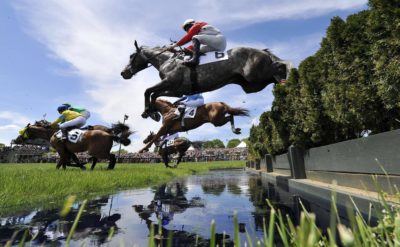 The Virginia Gold Cup steeplechase races are a celebration of hunt country tradition and one of the largest outdoor social events held in Virginia.
The Virginia Gold Cup is held the first Saturday of May at Great Meadow in The Plains, Virginia. Additional activities include terrier and pony races before the main event, hat contests on Members Hill, vendor tents and booths, parachute demonstrations, classic and new car displays, and countless tailgates.
Viewing areas are divided into three basic sections: North Rail, South Rail, and Members Hill. Members Hill overlooks Winners Circle and has the best view of the course. All three sections include private tents, public viewing areas, and tailgate spaces. North Rail is geared more toward young professionals and social groups; South Rail is where most corporate tents and family-oriented outings congregate.
For tickets and additional information, please visit here vagoldcup.com.