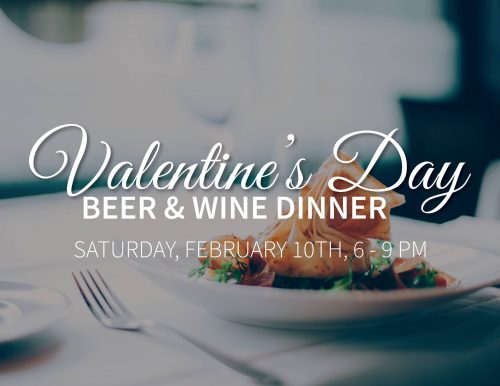 Make special plans with your sweetheart! Market Salamander is teaming up with Fair Winds Brewing and 50 West Vineyards for an exclusive beer and wine dinner. Enjoy a five-course meal with your choice of a beer or wine pairing. Feeling adventurous? Do a beer and wine pairing, half glasses of each will be available.
Menu:
Welcome Drink and Small Aperitif:
Citrusy Bean Bruschetta-Navy Bean and Oranges with cucumber and tomato on Rustic French Baguette
50 West 2016 Sauvignon Blanc/Fair Winds Sessions on the Abyss-Session IPA
1st Course:
Food-Pan Seared Scallops with Herb Brown Butter-Sea Scallop, brown butter, herb trio and lemon
50 West 2016 Chardonnay/Fair Winds Siren's Lure-Hop Forward Saison
2nd Course:
Grilled Halibut with Grapefruit Salsa-Halibut fillet with fresh grapefruit, basil and Fresno
50 West Rose of Sangiovese/Fair Winds Howling Gale-West Coast Style IPA
3rd Course:
Dry Rubbed Brisket-Sumatra Roast Dry Rub on Braised Brisket with a Dark Berry Coulis
50 West Ashby Gap/Fair Winds Raspberry Sour
4th Course:
Flourless Chocolate Torte- Whipped caramelia chantilly, raspberry-cocoa nib lace, pink peppercorn kisses
50 West Port Style/Fair Winds Ghost of the Mariner-Imperial Stout
Five-course meal and beer/wine pairing is $98 per person.
To make your reservation, call or email Megan Agregaard at 540-687-9720 or magregaard@market-salamander.com.