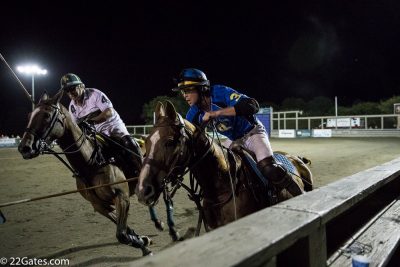 It's Saturday night. Looking for affordable fun for everyone? Whether you're a family of 4, on a hopeful date, looking to wine and dine clients, or just looking for THE place where everyone will be, Twilight Polo is for you.
First, arena polo is super fast and right under your nose. Secondly, everyone watches from an elevated berm that is tree-lined and covered with a lush carpet of grass. Bring a blanket and basket for a personal party, or reserve a railside box for 6. You'll be arm and arm with friends like you, looking for a hot time on a cool night. Bring the kids! They love the massive tug 'o war in the arena at half time. Cheer for our mascot, Polo Bear, who leads the kids on a 2-lap race around the arena! Plan to stay late. After the feature match, everyone dances in the pavilion to the DJ.
And throughout each evening Greenhill Winery will be on-site with a selection of wines available for your purchase and enjoyment.  What could be more perfect?  Virginia wine in Virginia horse country while cheering your favorite polo team!
New customer appreciation pricing! $30 per car at the gate; $25 online in advance!
2017 Dates:  May 20th-September 23rd
Every Saturday evening (excluding July 1st and 8th)
Gates open at 5:30 p.m. The first game begins at 6 p.m.
2017 Twilight Polo Themes
August 5 – Wizard of Oz

August 12 – 70's Disco

August 19 – All White Party

August 26 – Fiesta

September 2 – Star Wars

September 9 – Antique Car Night

September 16 – Escape from the Zoo

September 23 – Grand Finale
All themes are currently tentative and subject to change. Please call to confirm all themes.
Organizing a Special Party?
Upcoming birthday? Company picnic? Customers in town? If you are hosting a party for 6 to 60, Great Meadow offers several entertainment spaces to suit your party and budget.
For more information please contact our office at 540-253-5000 or send an email info@greatmeadow.org.